Remember life pre-selfies? If you're Gen Z, you literally won't. But trust us, consumers have not always been so ready to record their own image with an outstretched arm.
Now our social media streams are full of selfies. Our vacation destinations, weddings and nights out are surrounded by people taking them.
Revelling in one's own image is not new to fashion, or art. A selfie is just a self portrait gone digital, thanks to smartphones. Even prehistoric man made selfies, tech now just means we can create them faster and distribute them more widely.
But the impact of this capturing and sharing is huge for consumer industries. Beauty, as we all know, is seeing a gigantic boom. Whole product lines have been created around perfecting selfies, including strategically lit phone cases you can thank the Kardashians for.
So it follows that trends in fashion have been influenced by selfie-taking.
Selfie trends you need to know about
Though selfie-ing has been adopted across age groups (as my own father's texts prove), it's the digitally native millennials who've taken to it with gusto.
Over half of social media selfies are posted by millennials, who will take an average of 25,700 selfies in their lifetime. That leaves only 4.6 years in the average lifetime without a daily selfie.
It follows that anything this consumer is doing so often would influence the market. In fact, tracking the user growth at Instagram alongside key millennial retailers Boohoo and Missguided show how fast fashion's growth is closely tied to social media increases.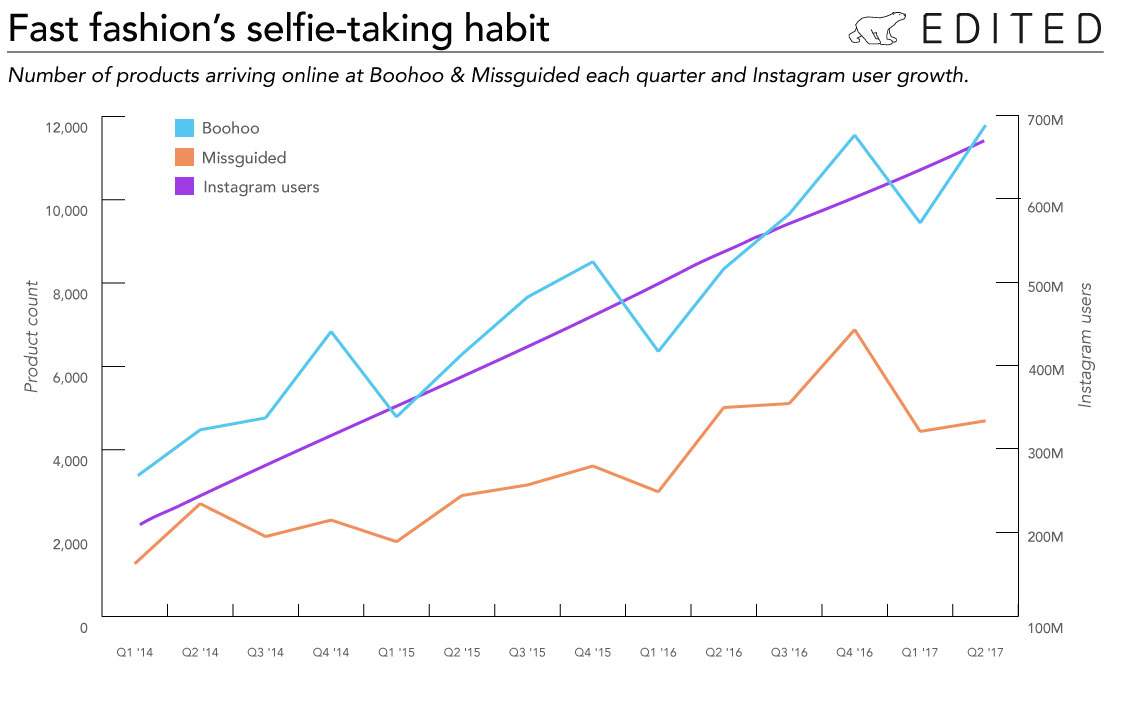 Missguided and Boohoo have both launched their businesses in pro-selfie times – and so, they, better than any others, understand this consumer's behaviour.
Social media is journalling for millennials, advertising one product: the self. Online presences are curated to show who you are and how you're different from someone else.
In forming their shareable narrative, this consumer chooses to explore the way he or she looks. They want to shift and change that and fast fashion's swiftly moving trends and low prices make for the ideal partnership.
Being "selfie-ready" is now a thing. Like "beach body", there's an impression that a selfie requires some effort. There's even apps for fine-tuning them. In reality, no one woke up like that.
And that's why fashion retailers are profiting from selfies. Trends are being steered by the selfie-taking pastime.
Take the earring category for example. Trends there have shifted in the selfie's favor.
Check out the best-selling styles this time last year:
Nothing remarkable there. Then see how retail has responded to consumer's self-capture with large, attention-grabbing styles. (Side note: an oversized bag used to be fashion's way of appearing slimmer. Are large earrings a trick to make one's face look narrower?)
We looked at five of the world's largest fast fashion retailers and found that they've increased their earring arrivals by 162% in the last three months, compared to the same period in 2015 (May 16 – August 16).
And it's not solely the mass market cashing in on furniture-about-the-face. The luxury market has increased the number of styles it stocks by 49%.
Here are the best-selling styles in the last three months, so different from a year ago:
What the selfie-taking consumer is looking for is product that says here I am, this is who I am and this is what I believe. And that's why slogan tops have been performing so well across mass market and luxury.
Recent best-sellers in tops:
Pixel-popping palettes
The industry has even seen behavior around color shift. Below we've compared the color of bestselling fast fashion tops in the last three months with the same period in 2015.
As phone cameras have got sharper, social media feeds have got brighter. That's reflected in the stuff that consumers are buying: the enduring presence of millennial pink in design and now bold yellows, reds and oranges.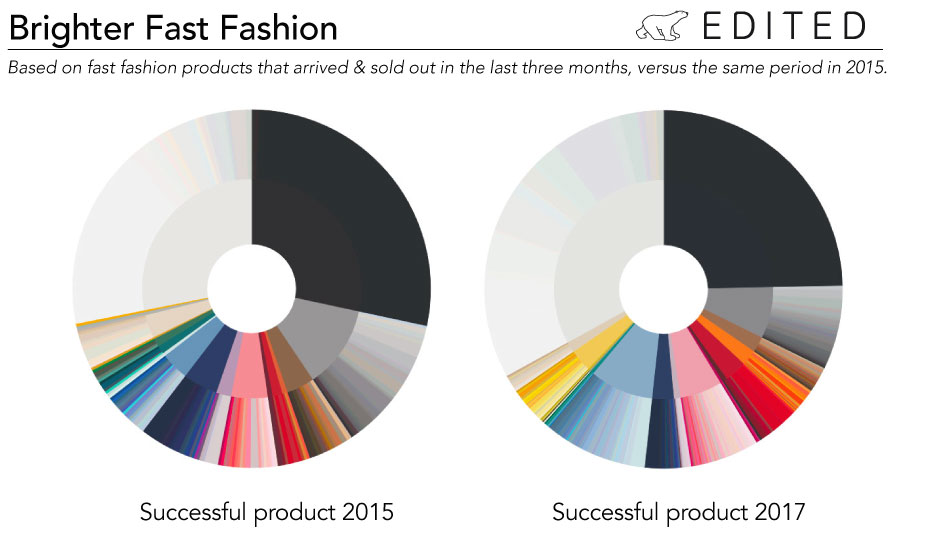 How to capitalize on the selfie-taking market
As the millennial shopper is cutting back on apparel spend, it makes sense to lure them with product that speaks directly to selfie sport.
Statement items are selling roaringly well across every market – think of Gucci's tricked-up loafers, bags and dresses in their lurid palettes and bold prints. It's no coincidence that Gucci chose the meme-campaign last year to spread its message. This stuff is made for the screen and the look has had enormous impact.
You want to sell to selfie-taking millennials? Make it bright and slap a slogan on it.
To make the most of selfie culture, pursue stand-out products that feature unusual fabrics, extra sparkle and adornment and most crucially, bold color.
Items which can be customized or personalized are invaluable to this market too – helping convey uniqueness to form digital personae.
Remember, selfie-taking isn't unique to either gender, so think about slogan tops and bold color usage in menswear.
And once you've done all that, get your customers to share their snaps! Some of the most genuine marketing around right now is customer-generated selfies. Guaranteed they're already doing it in your product, just encourage your shoppers to tag you!