Unless the glossy headlines have escaped you, we are now in Wedding Season. That means less than a month away from the UK getting a new princess – and one with an accent at that!
For those that want them, the delicious details of the upcoming royal nuptials are being teased. That includes the musical arrangement for the ceremony, the VIP flower boy and bridesmaid, Harry's weight-loss regime and the cake flavor, lemon elderflower. Won't say no to a slice.
But this one day is just the (rather trendy) icing on a towering cake of an industry worth over 300 billion dollars a year globally. And it's an industry going through some rather significant changes.
An industry in flux
Thanks to factors like secularisation, housing prices, rates of higher education and spending too much time on Instagram, millennial couples are supposedly waiting longer to tie the knot.
In the US, marriage rates are falling and couples are having smaller events when they do 'I do'. But when we say smaller events, the average wedding cost in the US is still a decidedly not-small $26,720. In the UK, the 2017 average climbed to £27,161 – up 9.6% in just a year.
That's a rather considerable wedge of cash considering 51% of couples pay for their event with little help from family and 32% of couples fund the whole shebang themselves.
The internet's role in weddings
The internet has overhauled the entire process of getting hitched. Wifi is even responsible for the introduction of so many couples.
Today many couples source their venue and book their vendors from the comfort of home. And the 64% of brides who use Pinterest for inspiration probably have something to do with the declining demand for wedding planners.
Couples are doing it their way. So it should be no surprise to know that more are picking their wedding garb online too.
That's something we've been tracking avidly over the years. And though we can't claim to know a scrap of data on Meghan's dress, we do know every other dress out there.
Wedding trends in 2018
Mass market bridal became a hot topic in 2016 when H&M and ASOS launched bridal offerings which included a $93 wedding dress.
But last year J.Crew pulled out of its popular wedding line and now Gap has announced this will be the last bridal season for Weddington Way. Topshop hasn't introduced any bridal looks this year.
Are brides saying 'I don't' to fast fashioning their wedding?
Mass market bridal in decline
Data shows that's quite possible. So far this year, just 40% of bridal dresses available online are retailing in the mass market. In the same period last year mass bridal dresses accounted for 63% of the mix.
Not a lasting relationship: mass market bridal is down 23% from last year.
Meanwhile, luxury is growing. In Q1 of 2018, Net-a-Porter has increased its bridal offering by 110% on Q1 2017, and its median price point has lifted by 33% to $1,935.
That makes sense. Given how slick most fast fashion businesses are these days, they're stealing regular shoppers from premium and luxury. Momentarily it seemed like these same businesses would eat into the bridal market too, with greatly hyped product launches luring shoppers away from premium price points.
But the reality is, for those brides who can afford it, this is a day when spending a little more is possible. And with average age of brides climbing, there's potential for a bigger pot to purchase from.
Not to mention that as consumers we're getting more comfortable spending larger sums online. Trusty, fast delivery and seamless returns have made this process all the smoother.
Still, there are options out there for the frugal bride. In fact, 20% of the market is priced under $150. That includes affordable bridal lines at ASOS, Pretty Little Thing, Free People, Missguided and Debenhams.
But the point is, bridal is growing online, not specifically mass market bridal. And as it grows, the market's cadence is shifting too.
Take a look at below to see how new arrivals are happening earlier in the year than they have historically.
The outlier categories
So brides aren't about to descend upon the mass market for their dress, but there are categories ripe for mass market price points. Accessories and footwear are obvious choices for offering a bridal range, but there are other departments thinking about the opportunity.

Bridal jumpsuits are up 109% this year and bridal nightwear has grown it's bridal market share by 4% in just two years. Silk nightgowns and bridal party personalised pyjamas are trending upwards thanks to social media creating a day-long content sharing opportunity.
Bridal swimwear is climbing too – be it for bachelorette trips made more possible with cheap flights or honeymooning. Two years ago ASOS had 1 item of bridal swimwear, this year they have 40 items.
Menswear still has a long way go online, with very few retailers pulling together engaging edits which speak to a range of guests and grooms across suiting and accessories.
Are you looking closely at those outlier categories?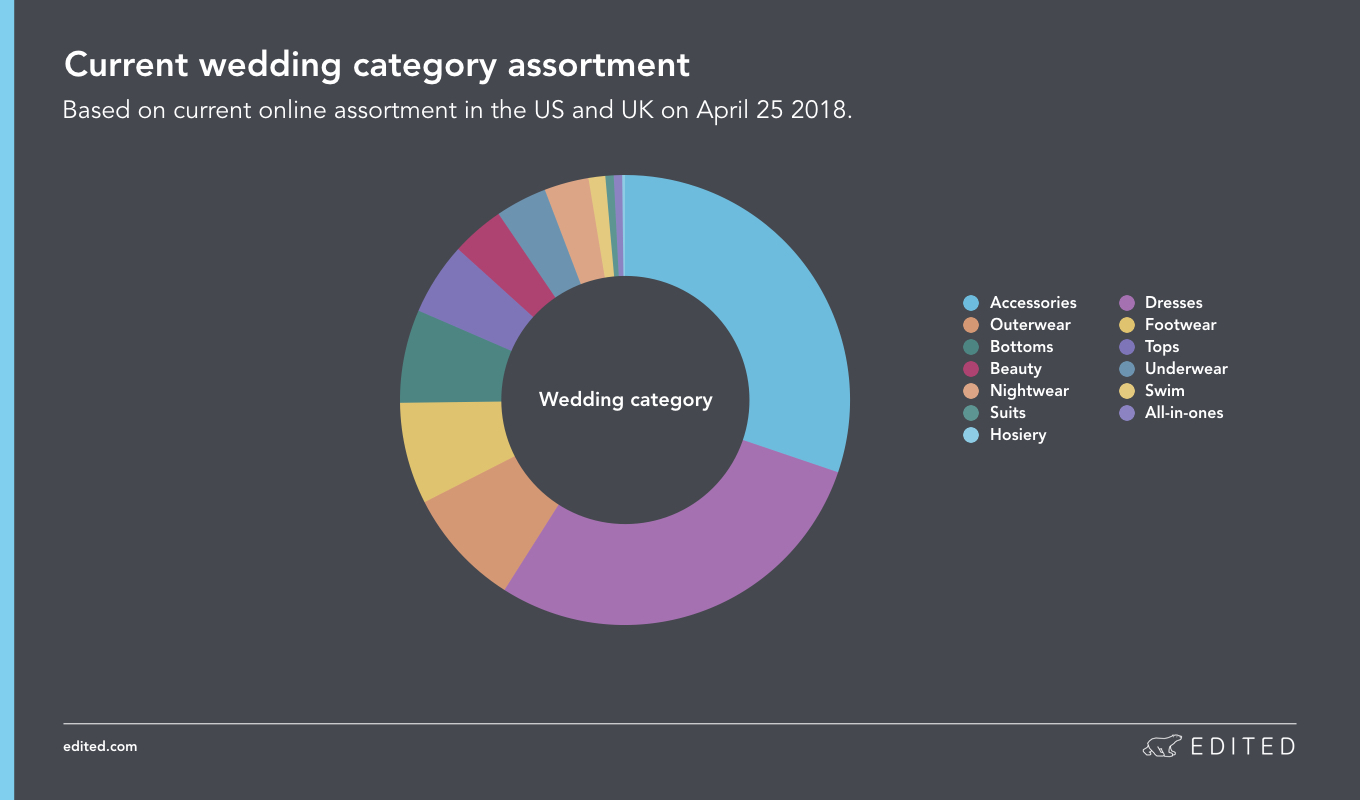 Dressing the wedding party
One segment the mass market is excelling with is bridesmaids and of course, guests. Below you can see the price weighting on bride and groom apparel versus other guest's attire.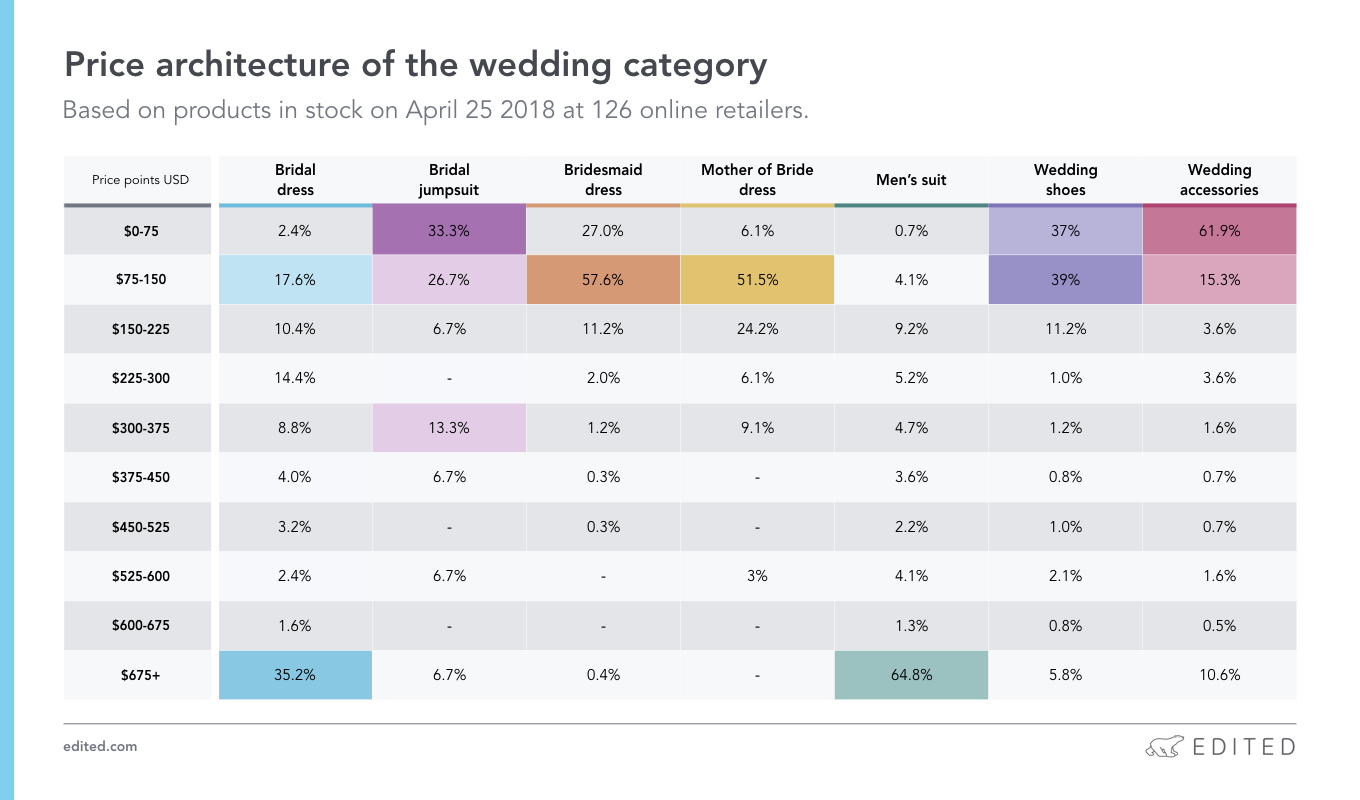 And here we've pulled out the bestselling bridesmaids dresses from the last three months on the mass market. Consumers are loving those blush tones!
Closely mimicking fashion trends, modest, sleeved bridesmaid dresses are up 560% in the last three months compared to last year. It's no wonder spring and summer fashion trends are influencing wedding attire, given the increase in mentions wedding is receiving in retailer newsletters: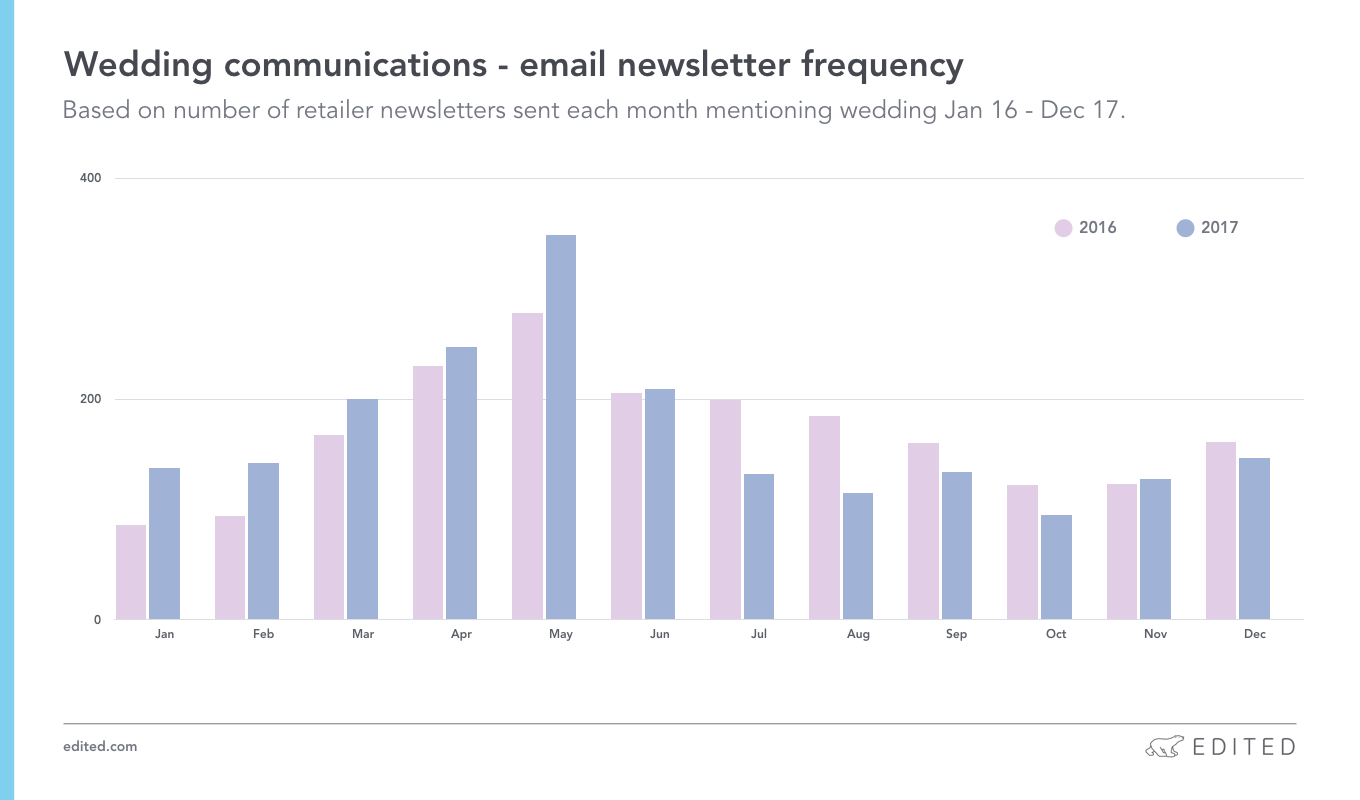 Retailers are talking about weddings more (which means an increase in trend content) and earlier in the season. It's worth noting that retailers are moving away from communications in the second half of the year.
So how can we keep this category gaining momentum? More trends! Here are the freshest tends from the Spring 2019 Bridal Shows.
Runway bridal trends for Spring 2019
Dramatic plunge necklines.
Non-traditional color palettes.
Statement sleeves and off-the shoulder shapes.
Clean, minimal shapes inspired by the 90s.
Barely there lace and embroidery effects.
Ruffle hemlines.
Sheer upper bust panelling.
Here's hoping that Meghan got the memo…
If you have EDITED access, our analysts have compiled commercial reports on bridal nightwear, mass market bridal and bridal runway reports. If they sound like your jam, get in touch with us and we'll tell you more!