If you work in a creative industry, there's a special December day you probably look forward to. And no, not that day. We're talking about the day on which the color-indexing pros at Pantone announce the Color of the Year for the 12 months ahead. And while we've written about why we believe color forecasting is dead, we respect what Pantone does, and such is the press hype we can't help but pay attention.
This year, Pantone baited every 'mind blown' .gif enthusiast by announcing not one, but two colors of the year for 2016. And no, it's not because the experts couldn't decide. Instead, the choice to go with Rose Quartz (a soft blush pink) and Serenity (FKA baby blue) is a statement about, "societal movements toward gender equality and fluidity, the consumers' increased comfort with using color as a form of expression, and an open exchange of digital information that has opened our eyes to different approaches to color usage that challenge traditional color associations." Beautifully put.
So let's put the spotlight on the EDITED color software and use some data to see how Rose Quartz and Serenity are retailing ahead of their much-hyped 2016. While we're at it, we'll analyze how well Marsala, 2015's Color of the Year, performed.
Current Palettes
It's not too shocking to expect baby blue and pale pink make big strides in the new year, they're already firmly entrenched in apparel retail. Unlike some other major stars from 2014's love affair with pastels, baby blue and soft pink are still going strong. Lemon sorbet, pistachio and lavenders aren't so much.
Using our Color Analysis feature, we can see exactly how any brand or retailer break color down across its offering. (We've recently made it a lot better too, so EDITED users, log in to see how your competitors are stocking into every color).
Below shows how pale pink and baby blue are currently stocked by some leading retailers. The outer ring shows every shade, and very instance of that shade, our software sees in apparel industry worldwide. The inner circle shows an aggregate of those shades, giving a measure of the key shade areas each retailer stocks into.

H&M currently gives pinks the highest weighting within its range – 7%. Making it the most dominate shade after black, grey and white. J.Crew, Topshop and Zara all have higher stock of baby blue than pale pink – as much as 7.6% (J.Crew). Zara and Topshop have pale pink farther down in the pecking order at 2.2% and 2.3% respectively. Those two have more emphasis on black than J.Crew, while Zara's 8.6% weighting of browns has been powered by the 70s trend in stores now.
Is it likely that retailers will increase their emphasis on blue and pink in the light of Pantone's decree? Well, lets look at Pantone's 2015 prediction, Marsala, an earthy wine red. In the December of its announcement (2014), 1,813 new marsala colored items arrived online. New arrivals had grown by 216% by August 2015.
The chart below shows that growth, as well as the growth of Rose Quartz and Serenity (it's helpful that our software lets you search by Pantone reference for this stuff). You can see clear spikes at points in the year when new season stock arrives. Fast-moving retailers were able to act on December's announcement and lift the amount of Marsala in their offering by February. The major action kicked in in August.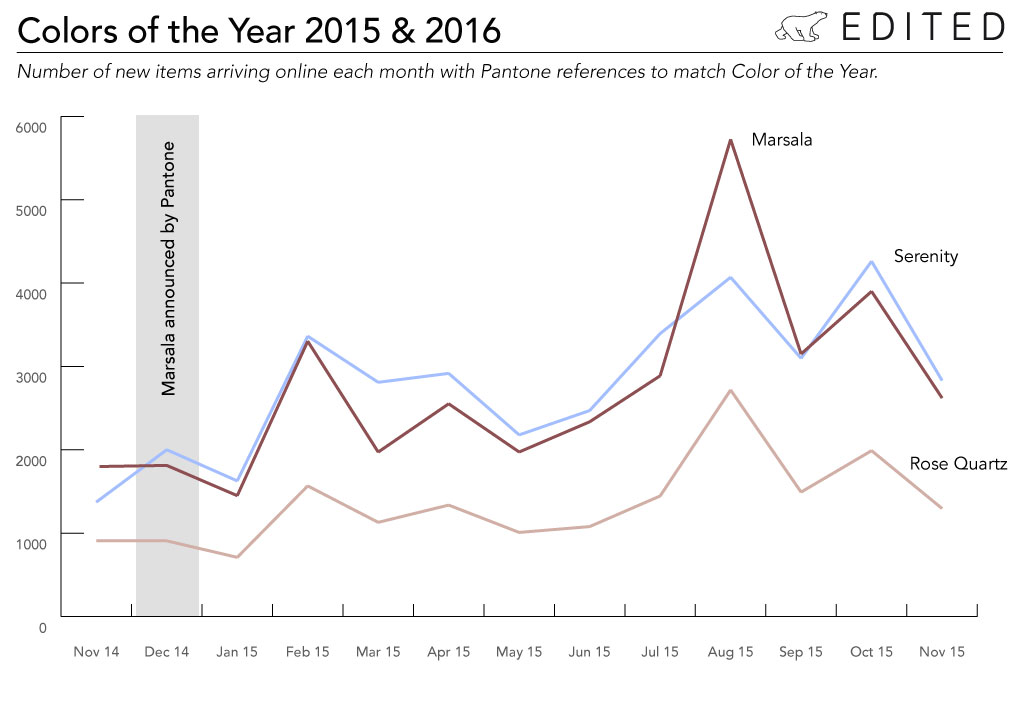 So how did Marsala perform?
Marsala has done 'ok' in retail. On the US and UK market, 9,690 new Marsala-colored items arrived online during 2015, of which 10% sold out and 2% were restocked. The majority of items were in the accessories category, 49% of new products. It's an easy category for retailers to place speedy orders in response to Pantone's news. Tops came in next, representing 14% of new arrivals. However, 38% of Marsala products are currently on discount, by an average of 33%.
Best-selling Marsala items of 2015:
The real color of the year according to data
The verdict is out on Marsala for 2015 – certainly there were items which sold well (see above for the top products) but it wasn't an out and out success for everyone. In fact, some colors performed far better. Data reveals some interesting findings when cross-comparing number of new arrivals for each shade with the levels of full-priced sell outs with replenishment. Navy shades performed better than retailers anticipated, representing 5.3% of 2015's newness but 6.3% of 2015's success stories. After black, white, grey and brown (perennials of the apparel world), it was the best-selling color, so it's our color of 2015. Red also deserves a mention, outstripping retailers' expectations.
Navy is 2015's color of the year, performing better than retailers had anticipated.
Today's market: Rose Quartz vs. Serenity
There's nearly three times as much Serenity on the US and UK markets as there is Rose Quartz. Average price on serenely-colored items is higher too – $53.07 compared to $41.99. While there's a higher rate of sell through on Rose Quartz, Serenity gets restocked more frequently than its counterpart, suggesting retailers see it as more of a core color than the pale pink.
Who's placed well to cash in on the colors' moment in the limelight? Salvatore Ferragamo, Gucci and Prada are the brands with the highest number of Rose Quartz items currently, and Armani Exchange, Tommy Hilfiger and again Salvatore Ferragamo have the highest numbers of Serenity. Yoox and Nordstrom are the retailers with the highest offerings of the two shades.
While 65% of Rose Quartz is in accessories, 6% is in the underwear category (it's third largest after beauty), which is reflected in the best-selling items of 2015. Perhaps Pantone's prediction will encourage retailers to bring the shade into outerwear. Or at least underwear-as-outerwear, a trend lined up for Spring 2016.
Best-selling Serenity-colored items of 2015:
Best-selling Rose Quartz-colored items of 2015: