As this year's Fall men's fashion weeks relay their way across the globe, it's easy to forget just how recently menswear became the 'wear' to watch.
In 2014, menswear grew at a faster global pace than womenswear – up 4.5% versus 3.7%. And by 2019 menswear is expected to reach $40 billion in worldwide sales. Opportunities? Let's investigate.
The first thing brands and retailers need to do is ask themselves two questions. One, is there more growth ahead, or has the menswear wave already begin to crest? And two, if there's room to grow, what will the menswear customers who've been treated to an invigorated shopping experience in recent years expect moving forward?
So let's start by answering the first question. To do that, we decided to gauge the temperature of the market by analyzing how menswear retailers increased or decreased the size of their offerings over that last year. We compared the number of new menswear products brought online for Fall 2015 with the number introduced for Fall 2014 (arriving between September 1 and December 31). Immediately we found solid proof of retailers growing their menswear investment across the breadth of the market, from luxury through to value. Let's look at just a few of them.
Representing the multi-brand retailers, Nordstrom grew its menswear offering by 26% and Mr. Porter by 33%. Premium retailer J.Crew grew its men's offering by 68% and contemporary luxury brand Acne by 47%. At the mass market end of the scale, Zara saw smaller margins for growth, upping menswear by just 3% over the year. By contrast, H&M went in aggressively, increasing its men's offering by 260%.
H&M's menswear drive in 2015 was huge, launching men's social & growing its Fall offering 260%
Let's take a second to unpack that a little. H&M's menswear drive in 2015 was enormous – and it was a lot more multifaceted than just a seriously bulked up offering. It was a perfectly executed, 360 degree marketing dragnet that proved just how valuable H&M sees the menswear market becoming in the next few years. In addition to the increased offering, the initiative was supported by the launch of a beautiful menswear Instagram account and a reinvigorated focus on menswear in email newsletters. The menswear push also extended into the retailer's headline capturing collaborations, such as 2015's H&M x Balmain collection – of which 43% was for men. Quite a move-on from 2014's Alexander Wang collaboration with its 27% share of menswear.
Measuring menswear's full potential by price
Comparing average prices between men's and womenswear also revealed a few interesting insights. For example, in the luxury market, the average prices on jeans and bomber jackets are higher for men than they are for women. That carried over into the mass market where, again, jeans and bomber jackets (as well as footwear) are priced higher for men than for women.
But that's only significant if those items are selling out, and doing so at full price. So our next step was to look at full price sellouts of those key items over the last three months in the mass market. What we found was conclusive. Every sold out item type from our sample came out with a higher average price on the men's mass market. Safe to say, the menswear shopper will pay more for the good stuff.
We underline "for the good stuff". Given they went out of stock at full price, these were items with high demand. Retailers wanting to achieve a good level of full price menswear sales should study the hits.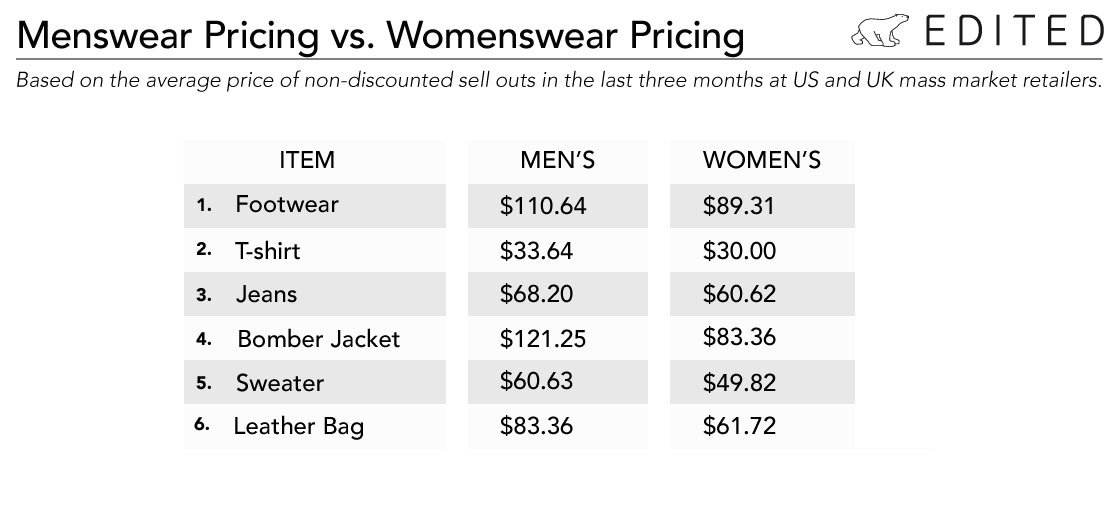 With the market looking favorable for menswear, what growth can we expect to see over the next twelve months? Here are our top tips.
1. Seek Bespoke
Regardless of gender, consumers are undergoing a generational shift, becoming incredibly image-conscious. That translates into fashion-informed shoppers that favor retailers whose wares are closely aligned with the runway. With the menswear market catching up to womenswear, style-conscious men will open their wallets in order to differentiate. Bespoke and customizable product will cater to this shopper, who prioritizes a beautifully crafted product with excellent fit over slavish devotion to trend.
Better still, offering bespoke services online will cater to the menswear shopper seeking a frictionless experience.
2. The Social Climb
For the most part, the apparel industry has lagged in its adoption of social media for menswear. At retailers that cater to both sexes, men's product usually gets placed in the background of Instagram imagery, barely gets a look in on Facebook and is tacked onto the end of womenswear-focused newsletters. That's changing, and will continue to do so during 2016. Many retailers have recently added men's-specific social accounts, including H&M, ASOS and New Look.
Social content for menswear needs its own formula. It can't follow the same strategies as womenswear content. The ways those two shoppers buy is very different. Messaging focused around integrity of brand and a story behind the usefulness of products is a compelling direction for menswear.
3. Performance Pieces
Now that activewear's reach is vast, the industry is seeking ways to optimize on the moment. Performance-wear is ready and waiting in the wings. The message in athleisure's strong sales results is that we want functional clothing which suits the demands of our active lifestyles. And the menswear shopper seeks function over trend. There's huge potential for semi-tailored clothing with athleisure influence and attractive properties like high washability, wind, water and wrinkle resistance.
This Winter, outerwear retailers have suffered at the hands of unseasonably warm weather. If you look at the items which are selling well, they're technical pieces incorporating performance fabrics in lightweight forms. Designers during the current menswear shows are packing their collections full of wearable pieces. The way their products will stand out is through added capabilities and technical properties.
One of our favorite pieces of product marketing ever comes from Ministry of Supply, whose co-founder in December ran a half marathon in one of his brand's high-functioning tailored suits. In fact, he broke the world record for running-in-a-suit. If that ain't performance art, we don't know what is.