It's that time of the year when retailers start planning for the biggest discounting events on the calendar. Last year, Black Friday and Cyber Monday combined broke all previous records reaching over $14bn in sales in the US market.
Cyber Monday alone has become the biggest online shopping day in US history, with American consumers spending a whopping $7.9bn.
As these events continue to exceed expectations, retailers are becoming smarter about their strategies to remain competitive.
To measure these discounts over time, you could trawl through archived competitors' email newsletters or stockpile old catalogs. However, these days technology can help you make quicker and more informed decisions. Using the EDITED data platform, retailers like boohoo and John Lewis can quickly understand how Black Friday discounting has evolved over time, as well as the key categories being reduced. Here's how to plan for your most successful Black Friday ever…
Track when your competitors start promoting
In 2018, retailers began promoting earlier than before. Enticing customers with pre-Black Friday offers or advertising a countdown in newsletter communications helped build momentum for the event. In the US, Kohl's and Old Navy were the first retailers to start promoting with newsletter communications at the end of October, earlier than the past two years. On October 13, Old Navy called out its upcoming pre-sale event, penciled in for November 15-18. By October 31, Kohl's were advertising "Black Friday deals: 20% off" to start the following day.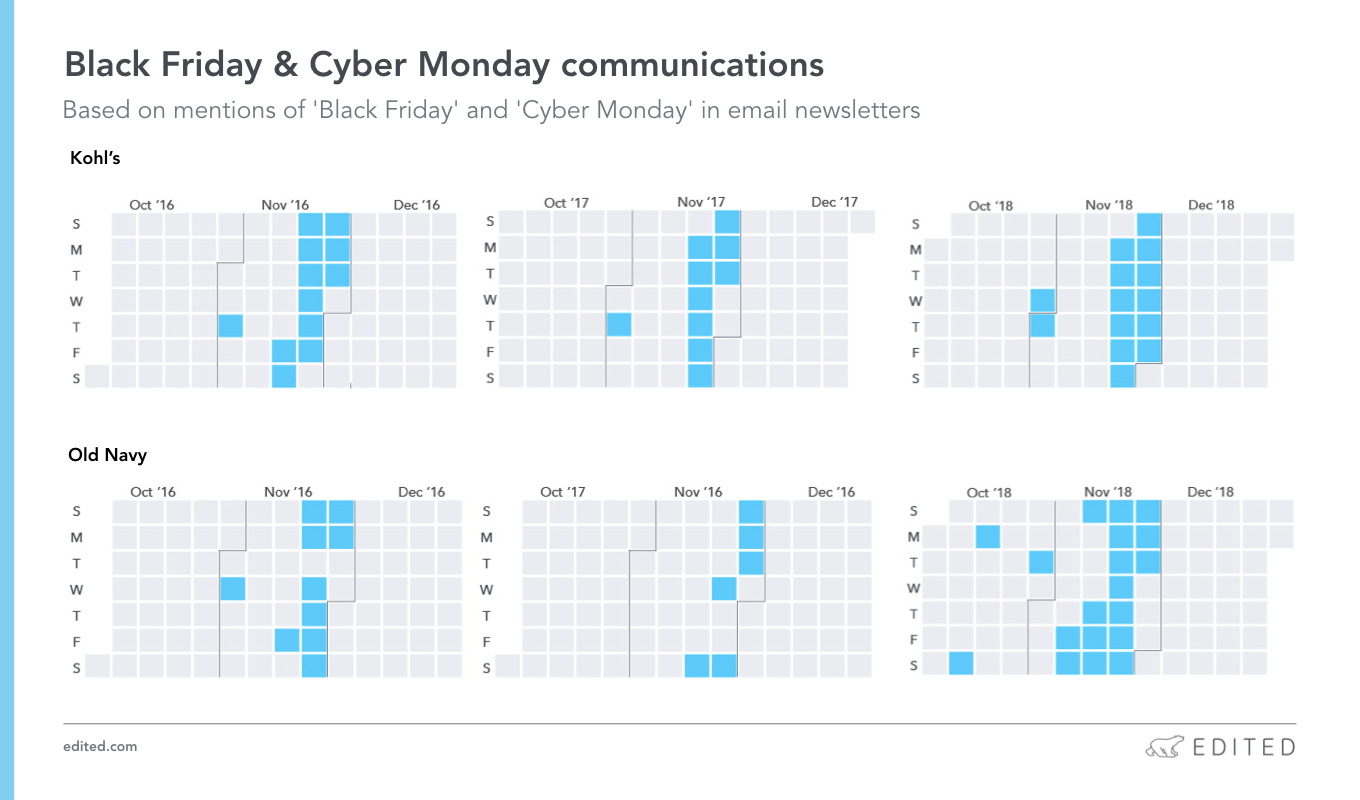 Other US retailers following suit with early promotions, including Carter's, Hollister, JCPenney, and more.
In the UK, Gap was the first retailer off the mark in early October pushing 'The Other Cyber Monday' sale with 40% off full price styles and an extra 15% off sale. Jack Wills swiftly followed, encouraging customers to sign up for exclusive deals alongside I Saw It First calling out presale offers.
Get started here by monitoring when your competitors are discounting in real time.
Understand the key messages
Discount codes of 'up to 30% off' was a repeated theme for promotional messaging as well as 'up to x%' blanket offers. The retailers advertising the heaviest percentage for the latter were Nordstrom with 'up to 60%' off, Revolve with 'up to 65% off' and Kate Spade with 'up to 70% off.'
But did the promotions match up to the reductions taken? Using EDITED's discounting-over-time analysis, you can measure the actual percentage taken compared to what was advertised.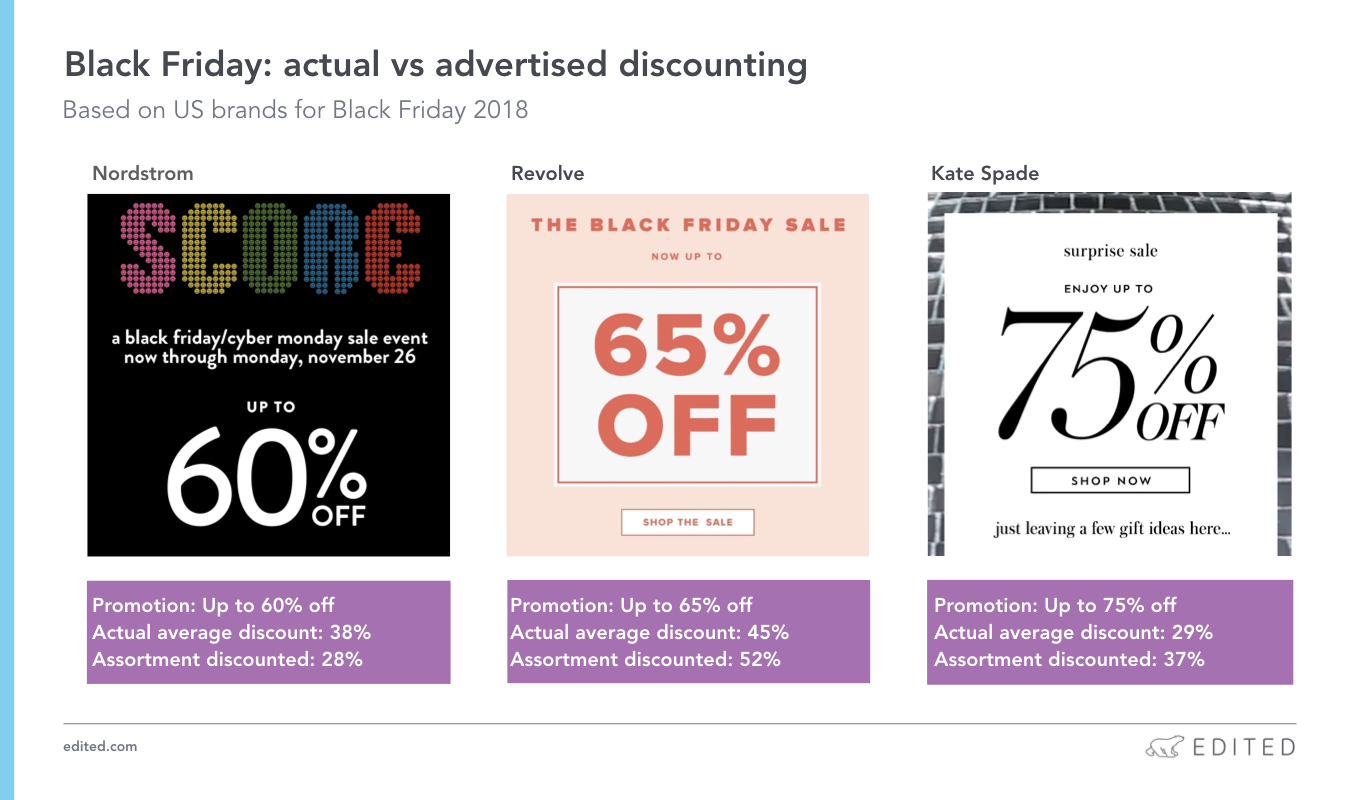 In the UK, mass market retailers favored 'up to 50% off' with Boohoo advertising the deepest, increasing to 'up to 70% off' on November 25 and then 'up to 75% off' on November 28.
Despite the messaging for these events, a Cyber Month discounting strategy appeared to be in place for many mass market retailers. The actual level of discount shows products were reduced at a relatively flat rate from the beginning of November until Black Friday and Cyber Monday. This means that consumers did not have to wait until the actual event to shop at a reduced price.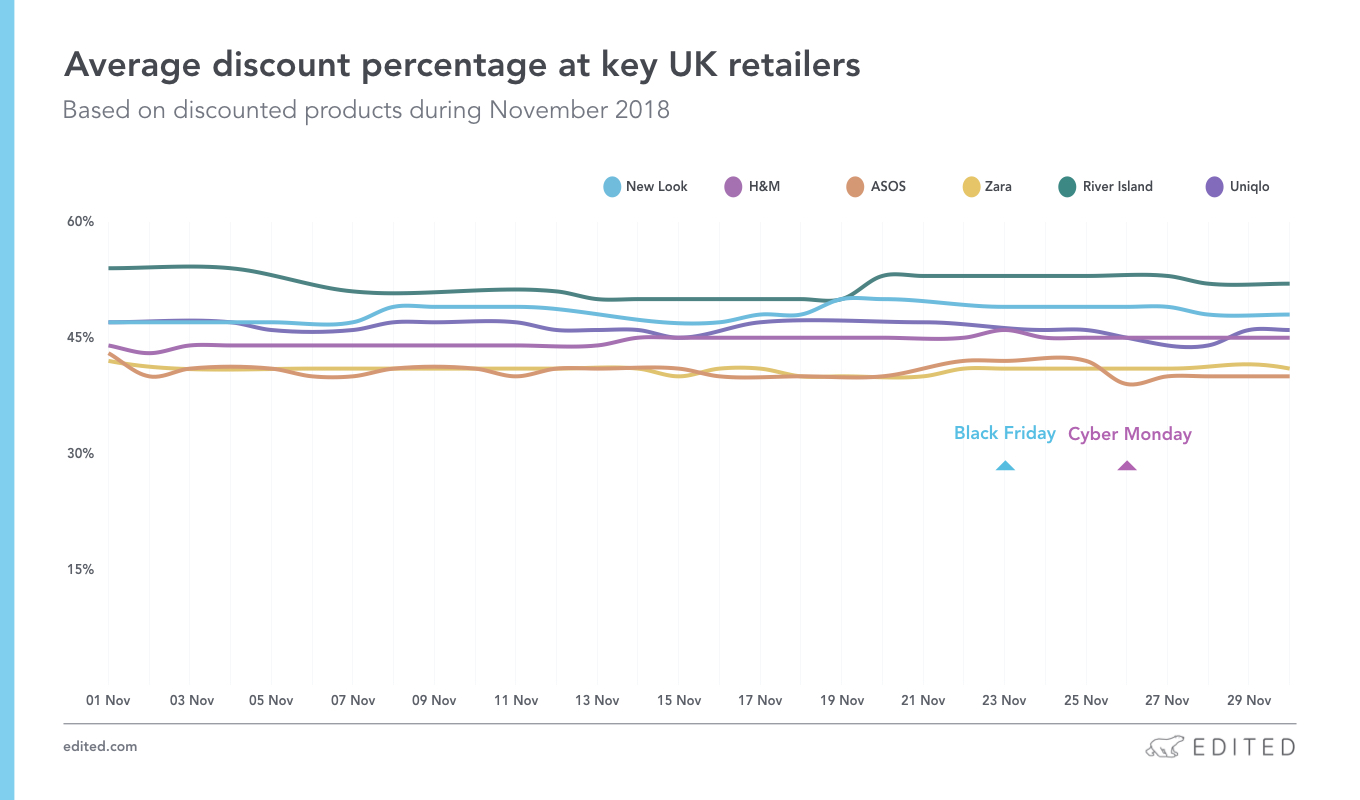 Educate yourself on discount evolution
Are your competitors discounting more? There were some slight changes in the overall strategy of the US market from previous years. While 85% of product available was reduced the week of Black Friday, down from 87% in 2017, slightly deeper discounts were taken. 38% of products were discounted at 40% off or more, compared to 34% in 2016. The US market also focussed on clearing older stock before the festive period instead of reducing product specifically for these events. Only 7.2% of products available over the week were discounted for the first time.
While it appears Black Friday discounts have peaked overall, not all retailers followed suit. Nordstrom, Forever 21, Revolve, and Lulu's deepened their promotions over time, particularly in line with the popularity of Cyber Monday sales.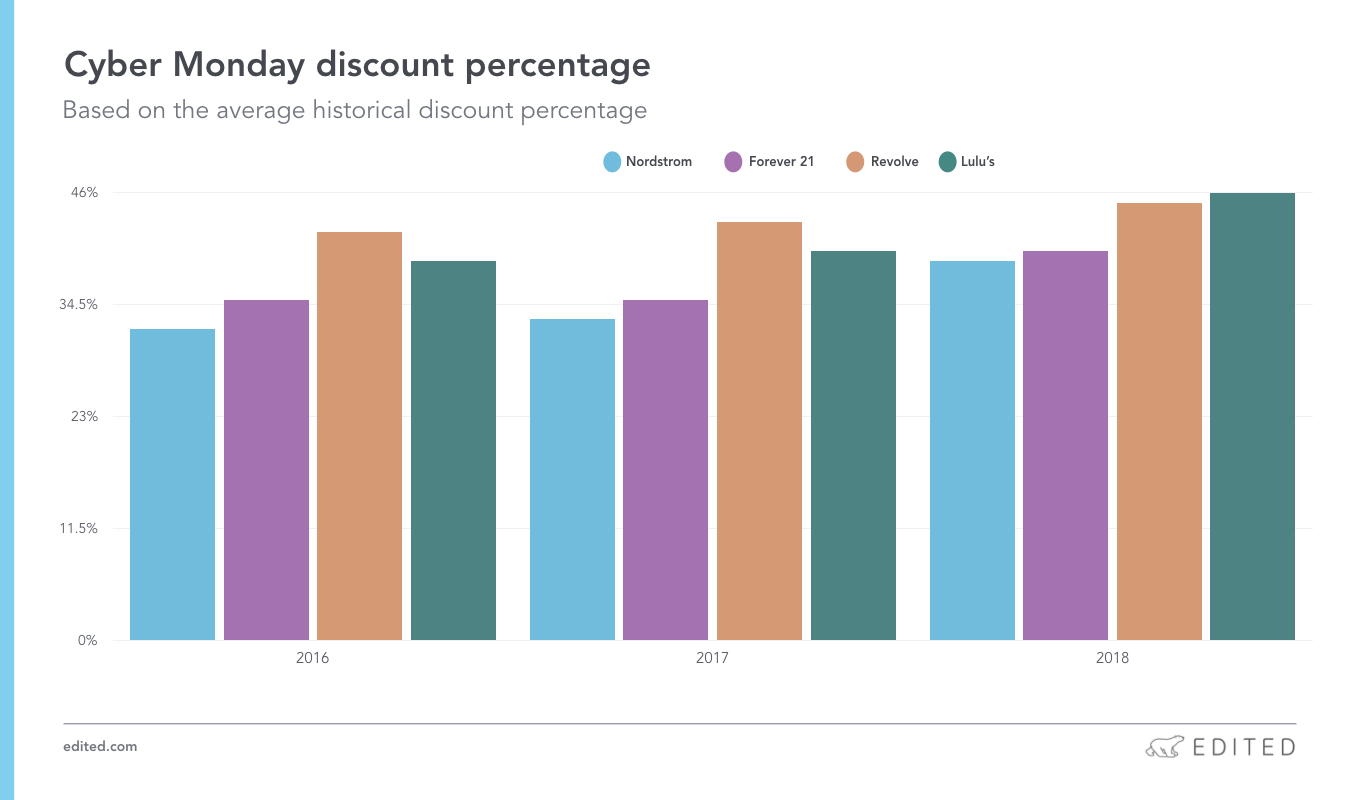 In the UK, strategies remain quite stable YoY; however, as seen in the US, there were some exceptions. Luxury retailer Liberty London saw the most dramatic increase in the amount of product reduced on Black Friday, marking down 75% of items available compared to 2.7% in 2017.
Know the categories to cut
In 2018 across the US & UK, tops were the category that generated the highest level of discount, making up 26% of the assortment in each region. Accessories and bottoms each made up 15% of discounted product in the UK compared to 21% and 13% in the US. The UK also reduced a higher percentage of footwear and beauty than the US, at 13% and 7%.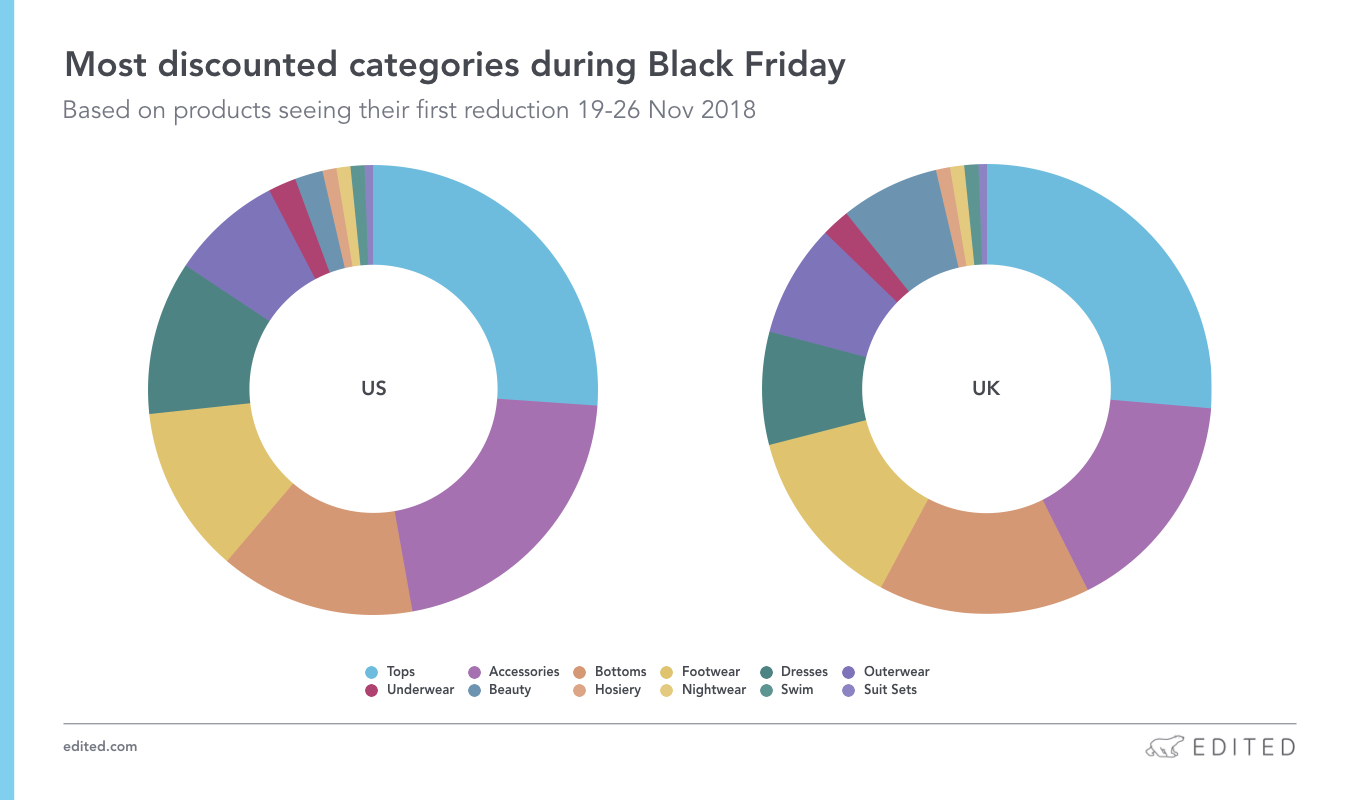 How to execute effectively for 2019
Keep presale engagement in mind to stay in line with your competitors and drive traffic to your site. The peak timing for Black Friday and Cyber Monday newsletters in both regions was the week leading up to the events, a pattern we can expect will take place in 2019 too.
Want to get shoppers salivating? Promoting free shipping for these sale periods gives customers a greater incentive to buy. Discount codes are being used more as an alternative to "sale" messaging, creating a less promotional-driven image for brands.
Items with smaller discounts such as 10-20% off still saw a high sellout. This proves that products don't have to be heavily reduced to move. Some retailers are preserving their margins by taking lower discounts on newer items, saving the more aggressive markdowns on hard-to-shift styles.
And, of course, there's no replacement for hard data when you're tackling your trickiest discounting decisions. Get in touch here to learn how EDITED's retail platform can help engage customers without sacrificing margins during peak sale periods.
EDITED customer? Log in to read the full analysis of Black Friday planning for the US and UK.
Want to know more about how EDITED can help your business?
Request a live demo with one of our product specialists.
GET A DEMO →