In light of London Collections: Men, which has been a global hit this week, we've decided to put UK trend-led retailers, Topman and River Island, head-to-head in today's retail analysis.
To compare the two retailers, we use Market Analytics software, which stores historic data and tracks commercial products in real-time, and is the most accurate way to gain insight into the their retail strategies. In this analysis, we'll focus on:
– Product
– Pricing
– Retail calendar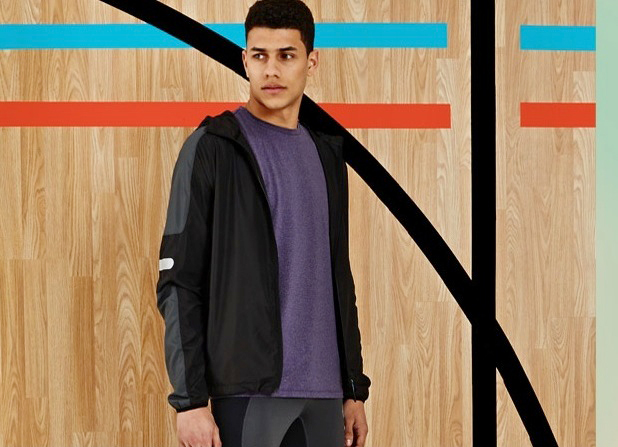 So let's begin by looking at the scale of the retailers' offering.
Round one: Product
Topman's offering is marginally larger, with 5,354 products online on the 18th June 2014, compared to River Island's 4,783. Those extra products are found within Topman's tops and accessories categories – categories which both retailers agree are their two largest.
The two retailers have similar statistics around their offerings: Topman has a current rate of discounting of 34.7% and River Island 35.6%. The proportion of their ranges discounted by 50% or more is incredibly similar too – for Topman that sits at 15.7% of their current offering, and for River Island 14.9%.The two retailers' ability to return sold out product to store is near-equal too: Topman's replenishment rate sits at 11.5% of their current offering and River Island's 11.6%.
It's certain that these two follow each other closely, however, Topman have a higher sell out rate: 8% of their current offering has seen sell out, compared to River Island's 3.1%. This is what allows Topman to have dropped 40% more new products into stores in the past year than River Island have. Topman appear to be the trend leader, with higher uptake on their new lines than River Island have. Their presence in the London Collections: Men's schedule cements this.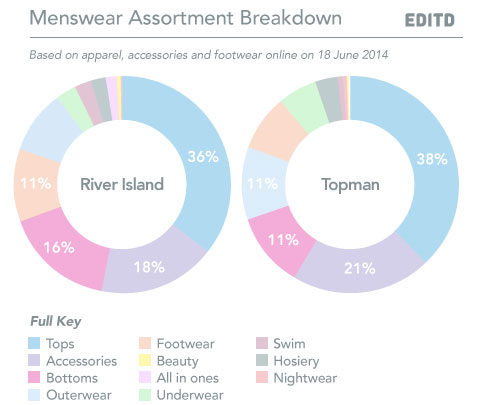 Round two: Pricing
The bulk of River Island's offering sits between £15-£30, with the average price point being £25. Topman meanwhile have a broader price spread, with the core of their range priced £12-£35 and a higher average price point of £28.
Looking at their price architecture visualizes the way Topman's range extends out beyond that at River Island – extending all the way to £340, compared to River Island's top price of £175. Topman stock into each price point higher than River Island do, except at the £40-£60 mark, where River Island beat Topman in breadth of offering.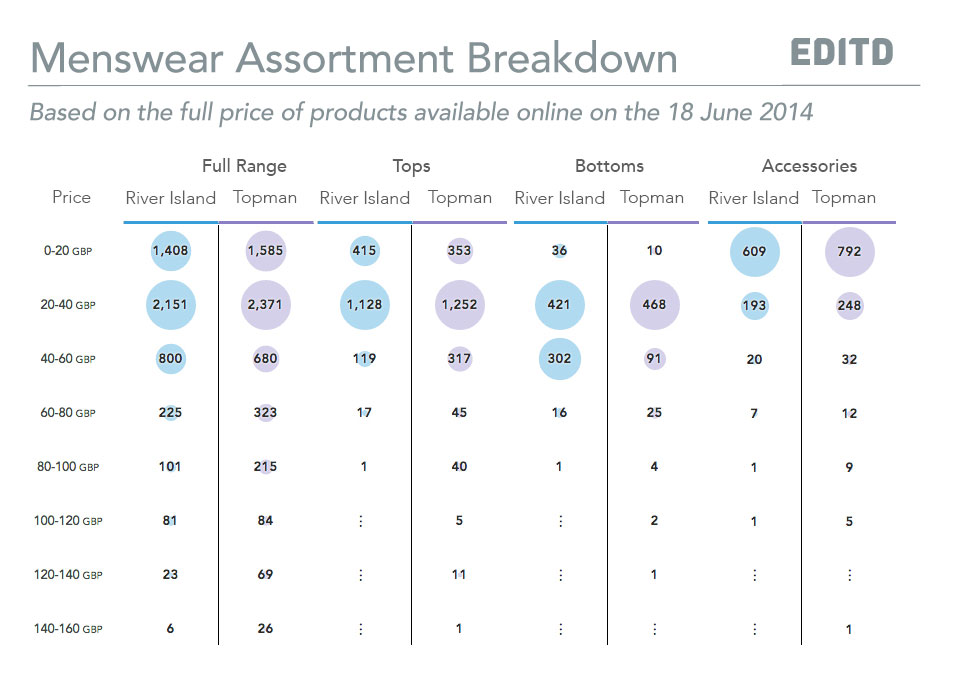 In fact River Island use this price point as a differentiator – River Island beat Topman in the second and third largest categories too: accessories and bottoms.
River Island should use this tactic in their tops category too as Topman currently outstocks them at the £40-£60 mark. It could be a valuable price point to demonstrate design-led pieces.
Round three: Retail Calendar
The calendars of Topman and River Island operate quite differently. The month in which Topman had the highest rate of new products in the past 12 months was May. River Island's summer season peaked two months later, with the largest number of products arriving into store in July. River Island's quietest month for arrivals was December, while Topman kept their foot on the gas until January: their quietest month.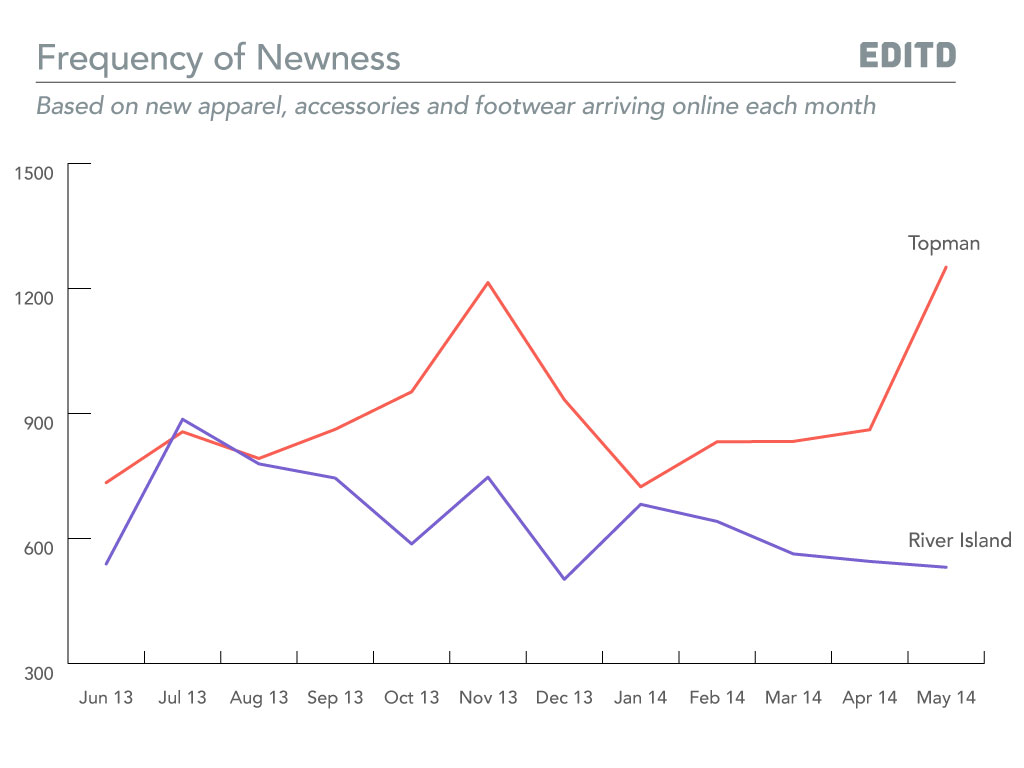 Discounting calendars are different too – Topman created the most price drops of the past 12 months in May, River Island however hang on until June. The month with the least discounting for River Island is August and for Topman, September. The attention each retailer gives their high discounting season differs too: Topman's email promotions during their high sales period were made up on 6 mails featuring full-priced stock, and 5 promoting sales. River Island meanwhile push their sales harder. In their email newsletters (which promote women's, men's and kids' offering) in their high discounting period of June '13, they had just 3 non-promotional emails compared to 7 sales promoting. Often, menswear discounting was promoted when womenswear was it. It appears they were struggling with their men's formalwear during this time, as they pushed discounting here throughout the month.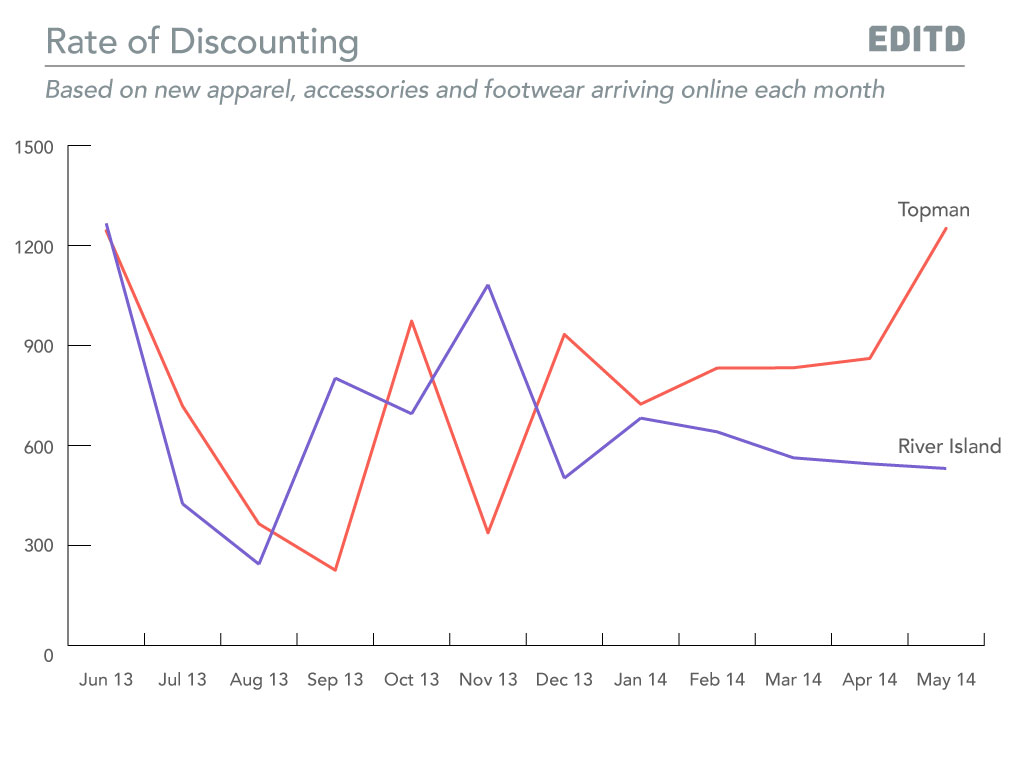 Who was more successful for SS15?
Overall winner: Topman
Looking at products, which have arrived between the start of the Spring/Summer season 1st March 2014, and now, 18th June 2014, we can see that Topman have had 289 full priced sell outs, compared to River Island's 92. Better still, Topman were able to restock and sell out for a second time on 14 of those products, whereas River Island haven't had any of their replenishments sell out again.
So what's working best at Topman – whose offering clearly caters to the faster moving trends? A Jaded Evil Eye Short Sleeve Shirt, in celestial monochrome print at £50, chino shorts and £57 Lacoste trainers have all been recent hits. Surreal prints and takes of tropical florals are selling well too.
Topman have already brought some of Fall 2014's trends to market, and their consumers are already shopping them! Take the £15 black roll neck longsleeve top for example. It arrived on the 7th June and is already out of stock.
Interested to learn about the biggest commercial menswear trends for Spring 2015? Go to our Resource Centre and download a free copy of exclusive Menswear Trend Report Spring 2015.
Download Here