To celebrate a month of menswear runway shows, we've not only launched our Menswear Spring 2015 Trends Report (free to download and available here), but we are also putting a spotlight onto key menswear brands and retailers to understand strategy.
This week we look at the retail data of two bastions of the US premium market: Ralph Lauren and Brooks Brothers, to understand who's leading the field.
1. Assortment
The two retailer's menswear offerings are very similar in size – with Ralph Lauren's offering only 100 items larger. Both retailers agree that around 38% of their offering is made up of tops and both of their second and third largest categories are accessories and outerwear.
Where their assortment differ is in the bottoms category – Brooks Brothers carrying only half as many bottoms as Ralph Lauren. Given their 92.7% current rate of reduction on bottoms, it would appear this is wise: keeping their offering small until they correct their product, which appears not to be selling well. Brooks Brothers give outerwear a higher weighting than Ralph Lauren, which is precarious as they have a 92.7% rate of discounting on this category. There's deadstock here – 23% of outerwear currently in stock at Brooks Brothers arrived during Spring 2013.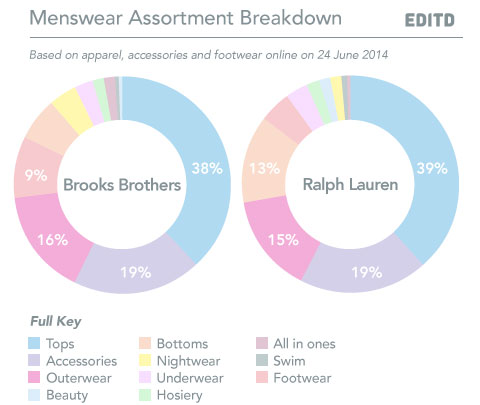 2. Pricing
Brooks Brothers have a higher exit price point: $10,500 for a crocodile weekender bag compared to Ralph Lauren's exit price of $5,895 for their Cooper bag. The core of Brooks Brothers offering is priced $64.40 to $208.60 and the core of Ralph Lauren's menswear offering is priced $59.99 to $155.00 – noticeably lower for the runway exhibiting brand.
Analysis of Ralph Lauren's price architecture shows it to be well-balanced around entry price points, but reveals some inconsistencies in offering around $200-250. Hereafter, in each $100 increment, the retailer pushes the majority of its pricing over the mid-line, e.g. there are only 16 items priced $400-450, but 62 products priced $450-500, showing that the retailer tightly lifts its pricing. It's quite a risky tactic, leaving the lower end of each hundred open for Brooks Brothers to poach consumers.
Brooks Brothers have a very evenly weighted price architecture – if they can improve upon issues in their product offering, they can maintain their brand image and drive discounting rates downward.
3. Discounting
Brooks Brothers have a higher rate of discounting than Ralph Lauren menswear – 68.6% of Brooks Brothers' offering is currently discounted, compared with 61.2% of Ralph Lauren's men's. Drill down further into the data and it becomes apparent that Brooks Brothers are giving more generous price slashes: 9.6% of their current offering is reduced by 50% or more, compared with 2.3% of Ralph Lauren's.
It's worth noting that Ralph Lauren's POLO range receives a lower rate of discounting than the their other ranges (Purple Label, Black Label, Denim & Supply, Big & Tall, Golf and Tennis) and a higher replenishment rate, with 14.6% of POLO Ralph Lauren products replenished. Brooks Brothers introduced their Red Fleece line for a younger customer in early 2013. However, unlike the POLO range, it has a higher rate of discounting than the mainline – 75% of the current Red Fleece offering is discounted. Brooks Brothers are clearly still navigating relatively unknown waters with this younger line – it may take a couple more seasons to settle.
4. Product
The main, and defining, strategic difference between the two retailers is revealed by their replenishment rates. Brooks Brothers have a 19.7% rate of replenishment on their current offering (the global menswear average at the moment is 10.7%), compared to Ralph Lauren's menswear rate of 11.6%. Ralph Lauren introduced 75% more new menswear stock this season than Brooks Brothers have. Ralph Lauren refresh their offering seasonally, reflecting new trends and giving them a reason to present on a global scale with their runway shows. Brooks Brothers are a reliable retailer who will restock their offering of classics, updating with newness only after it has graduated from trend stakes.
Brooks Brothers' bestsellers reflect this – bags, traditional shirts, pocket squares, ties, socks, boxer briefs all are consistently restocked at full price, and sell well. 43% of products which are in stock currently, at full price and have been replenished at least once, are tops: signalling this to be Brooks Brothers' bestselling category by a large margin. 23% of bestselling items are accessories – their next most successful category.
The margins between categories at Ralph Lauren are narrower – 28% of their bestsellers are tops, 26% accessories. Their Classic Fit Mesh Polo is unsurprisingly a bestseller – having been consistently restocked and added to with colorways and increasing in price from $89.50 to $98, since first being seen by us on the 1st December 2011. Pilot sunglasses, boat shoes, loafers and driving shoes are all bestsellers. This season the introduction of espadrilles has been a success.
The most noticeable difference in bestsellers between the two retailers is that prints, specifically plaids, sell very well for Brooks Brothers, but don't feature heavily in Ralph Lauren's bestsellers except in boxer briefs. Plaids, always popular at Brooks Brothers, further lifted in November 2013, and have sold consistently since. The retailer should build into this with more experimental colorways – it's a trend included in our free download, Menswear Trend Report Spring 2015. Meanwhile, they should steer clear of non-classic trends, like menswear printed trousers. They introduced these in their Cotton Vintage Print Pants at $128 on the 21st April. By the 6th June, these were already discounted by 50% – a misjudgement by the retailer who shouldn't sway from their strategy of classic pieces which have stood the test of trend resilience.