We're excited. We're about to share a game-changing software update with the industry and you're the first to hear about it. EDITED users are about to get unprecedented insight out of the homepages and email newsletters of competitors, on a global scale.
What does that mean? Well, over the past five years we've been meticulously capturing and archiving every email newsletter sent out by thousands of brands and retailers, in real-time. More than that, we've also been storing their homepage and key category page updates. That's created a vast database, the world's largest in fact, that we call Visual Merchandising.
It's a marketing and promotional goldmine. Retailers like Topshop, Saks and Farfetch currently use this software to understand what their competitors are saying, and when, to track promotional activity in their market. It means buyers, merchandisers and marketers are able to uncover the hottest themes and products to entice their shoppers, dig deep to understand why a specific category didn't perform well last week or to plan exceptional campaigns for discounting events.
That was all well and good but we're innovators, which means the job is never 'done'. So get ready, Visual Merchandising is about to get an incredible update: that vast-supply of content is going to be searchable.
An all-new, very shiny & incredibly powerful tool
We added in analysis tools, transitioning Visual Merchandising from a five year old archive into a fully responsive piece of software primed for deep level competitor insight. For a start, we've made the whole thing searchable. The software has been taught to locate text and identify words within images. Want to know how retailers you follow talked about Halloween? Just type in 'Halloween'. Want to know who's already discussing frills and which products they're featuring? Give that a search too.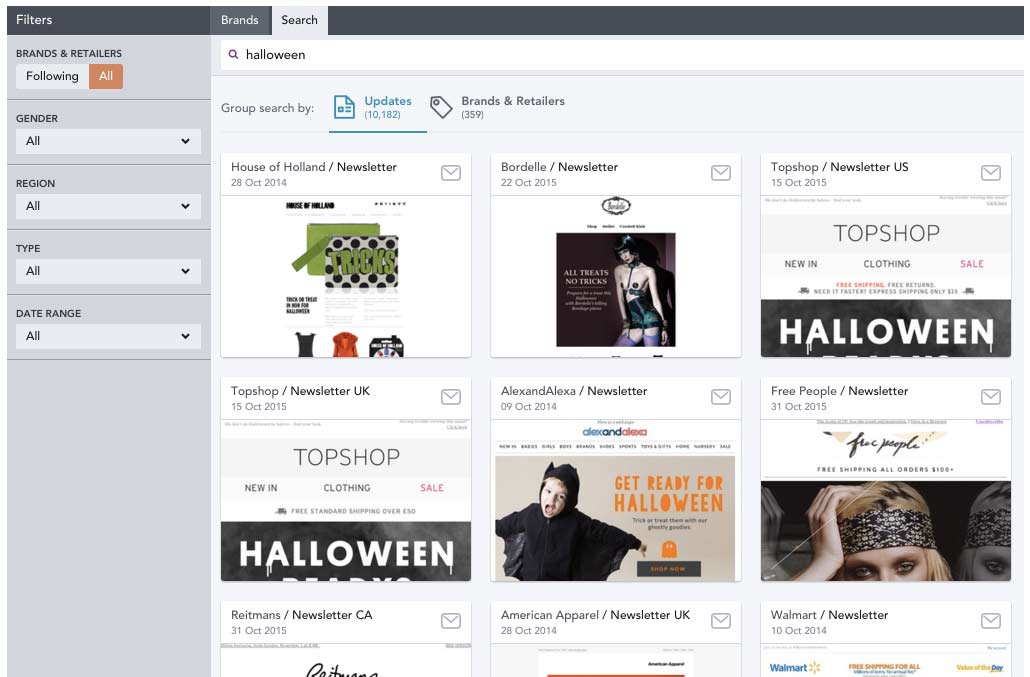 Having a global database searchable by keywords is an incredibly powerful feature which retailers can use to:
Know which categories and product their competitors are emphasising.
Innately know their competitors' promo calendar and tactics. And better it.
Understand which communications work best for their market.
Reveal themes and align with successes.
Understand their own sell-through and plan for promos with a high degree of accuracy.
"The update gives us 20/20 vision, allowing us to better understand when to promote items" @JackWills
And excuse us while we geek out a moment here, but Visual Merchandising offers dual vision when paired with our commercial database. It's the kind of stuff that makes e-commerce teams' hearts race.
For example, using Market Analytics you can see exactly how many of your competitors have brought flared denim in for Spring – 527 new styles have arrived online since the start of 2016. Then fuse that with Visual Merchandising to discover unexposed opportunities. Only three retailers have mentioned flared denim in newsletters and one on their homepage in that time. Retailers are ramping up their stock of flared denim, but not yet communicating it to their customers. Get in fast.
527 flared jeans new in Jan,but only feature in 3 retail newsletters?Visual Merchandising superpowers
And because 1,400 brands and retailers with close to two million updates over five years is vast, we made it possible for you to star the brands you're specifically interested in. They'll appear as top priority when you open the software, cutting out external noise for particularly targeted teams.
What this means for consumers
You'll also feel this at the receiving end, we promise. We've all had uninteresting newsletters clog up our inboxes and thought to ourselves 'nup, I'm not the kind of person who's about to buy a 8ft rabbit run on a Tuesday morning.' Many of us have logged on to a sale site, only to find traffic has overloaded the page. We're in a retail age where consumers should expect communications from retailers to be relevant and highly-targeted. The experience retailers create online should feel beautifully planned, and now it will. EDITED's Visual Merchandising will facilitate that for brands and retailers around the world.
Retailers will be timing promotions to best suit their customer and market, they'll be faster out of the gates with new trend editorial and will be creating visuals that take your online shopping experience to new heights. We're excited to be a part of that.
And stay tuned, because we've used our new tools to take a look back at Visual Merchandising in 2015. A beautiful, insight-rich infographic is heading your way shortly.