We ship a new feature every week, on average, and about one major new feature every month. So we thought it'd be nice to bring you up to date with the latest on EDITD.
Over the last quarter, there's been more than 30 new and improved features. The highlights are a major update to our colour analysis, a price indexing feature, and a brand new product assortment breakdown.
All this is available for our customers, starting today. And they're all designed to help you do what's most important in retail – to have the right product, at the right price, at the right time.
Major updates to Market Analytics
Analyze product performance by color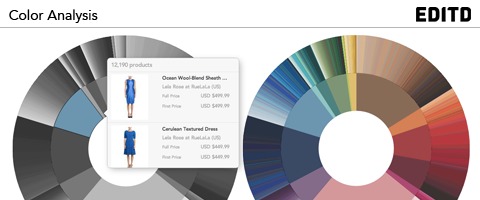 Color Analysis means EDITD customers can see which colors are performing best. You can see which colors were most popular last season, or a couple of seasons back, and understand the latest arrivals into store. It's simple to break down your competitor's assortment to understand which colors they back, and spot opportunities in the market.
With the holiday season coming up, it's easy now to have the best selling colors covered.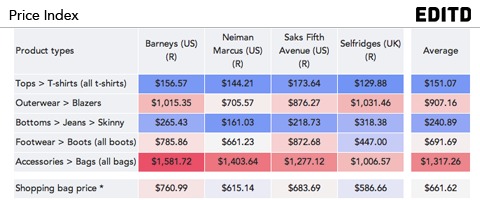 Index pricing across retailers
The Price Index feature lets you easily compare retailers against one another, across any product type. Compare prices, or entire ranges – either against entry price, average or max price, and see it indexed, or as the original price. This kind of shopping bag analysis would have taken you hundreds of hours to prepare, but now it's available instantly.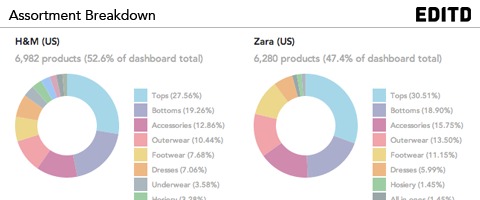 Stock the right products with Assortment Breakdown
When you're building new season product mix, real-time assortment insights are so crucial. You want to make sure that you have the right product, across categories, and that you're in-line with the competition.
You can also use this feature at a strategic level, understanding how a competitor is weighing their offering, and how that changes between seasons and across time. Planners and merchandisers can identify weaknesses in competitors' offerings and optimize their own strengths.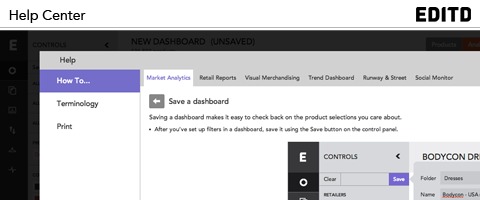 More updates
Help when you need it
We've added a new help center to the website that gives you context-sensitive help and on-site training.
It's on the ? button in the control bar.
Follow a trend
Trend Dashboard is a trend leader board, powered by commercial and social data. It tracks every men's and womenswear trend in real-time. The latest update means that you can now follow only the specific trends you care about.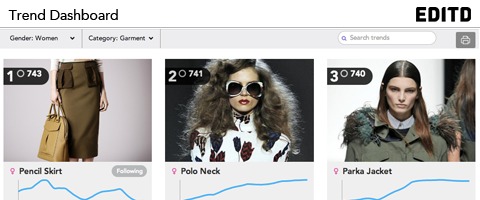 Buyers and designers are using this tool to understand trend lifespan when range planning. And merchandisers can spot when to run promotions. In store, visual merchandising teams can optimize product displays which resonate with their shoppers.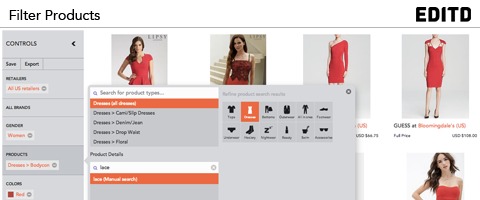 Easy to use filtering & quick start templates
Most of our customers use EDITD across their entire business – strategic people right through to BAAs. So, we've made it easier to get started, no matter who you are.
In Market Analytics, we've re-worked the filter panel so you can just select and remove product filters. It's completely intuitive – new users have been able to access deep insight within clicks.
And we've added example dashboards when you create a new one, so you're not just starting with something blank.
Printing and exporting
Sometimes, getting data out of EDITD into a tool like Excel is important if you want to pivot our data against your internal data. You can export option charts and product information, just click Export at the top of your filter panel.
We've also improved printing to PDF or paper, so you can share what you find at planning meetings, or with colleagues. There's a print icon at the top right of the screen anywhere you can print.
There's a lot more to share too, so if you're an EDITD customer, log in and check out all of the new features here.
Excited about our new features? If you'd like to see our product live, contact us at [email protected].