In part one of our Marks & Spencer retailer spotlight, we highlighted shifts in discounting patterns in the last year, some weaknesses in email newsletter campaigns and discussed the price positioning and customer profile.
Our market analytics software helps retailers to see what items do and don't sell well for M&S and as well as their competitors across different seasons. This data could avoid them from costly mistakes.
Today, we'll look in detail at M&S product – at recent bestsellers, as well as trends that haven't worked in SS14.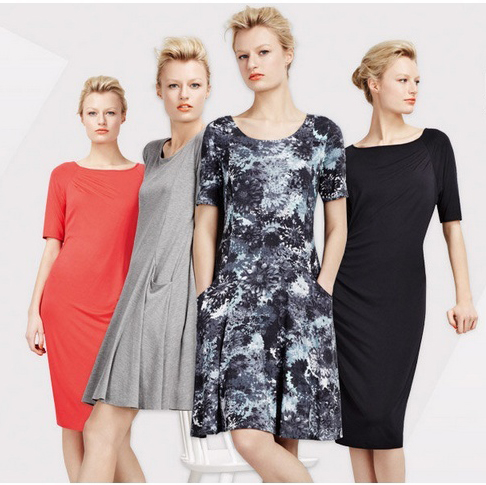 Trends picked for AW14/15
The last month's new womenswear arrivals show early hints of the direction M&S are taking for AW14. Amongst these new products are some hits and some misses, which demonstrate the retailer isn't fully back on track for the coming season. The trends suggest a fragmented customer profile, again attempting to appeal to too many. The £39.50 Brick Print Scuba Shift Dress, at mid-thigh length wouldn't appeal to the more mature shopper, nor would the "Live life without rules" £17.50 Limited Edition embellished tee really resonate with the customer in M&S to pick up their dine in for £10 meal deal… Meanwhile, the faux leather dungaree at £59.00 is another potential risk that will alienate M&S core customer base.
But all is not lost – there are some great products which will appeal to many M&S's core customer, whilst still being fashion-forward. The difference is style over trend in these items. Take the Autograph Beaded Embellished Blouse for £65 – it is sleeved, a tick for the more mature shopper, but doesn't shy away from being bold. There's a great £99 woollen checked coat, and a Petal Ditsy tea dress, which at £39.50 hits a key price point, has sleeves, a great print and good length.
On the whole, the new M&S menswear arrivals are more succinct, but not entirely immune from some dubious trend selections too. Though Bob Dylan and Mohammed Ali are no doubt popular with the male shoppers at M&S, the style of printed t-shirt they have been placed on is more expected at George or Burton – this style of distressed slogan tee is widely used by the value market. The 'If lost please return to my wife' cufflinks may also be a little off the mark.
M&S' Bestselling trends
The £39.50 Bright Orchid Print Tunic Dress, which arrived on the 23rd June 2014 sold well, (selling out, being restocked and selling out once more by the 23rd July) and attracted positive online reviews. Skimming through these reviews shows the average age of happy customers of this dress is 55-65, and beyond. The £21 Indigo Collection Butterfly Print Cover-Up Top dropped on the 1st March and has been restocked. It pays homage to the successful kimono trend, but crucially, also works well with the DNA of the Indigo Collection.
What SS14 trends didn't work?
When M&S try to go too far into the trend market, it backfires. The temptation for informed and inspired designers and buyers is to push towards newness and detect new trends early. However, the best designers and buyers will continually edit and reshape those directions to ensure its rendered in a way relevant to their core customer. At times, M&S fail to do this. In SS14, that meant a space print cropped jumper (which would have sold well for Topshop or Urban Outfitters) was slashed in price from £39.50 to £15, and sizes 12-18 remain in stock. A quilted bomber jacket in baby blue and white was discounted from £55 down to £27, with size 10 and 14 still available. In menswear, a loud tropical print polo shirt was originally £27.50 but now sits at £13 with all sizes still in stock. Fast fashion trends are synonymous with bargain prices. M&S need to use quality and finish to justify their price point, not try and stretch to appeal to the Gen Y consumer.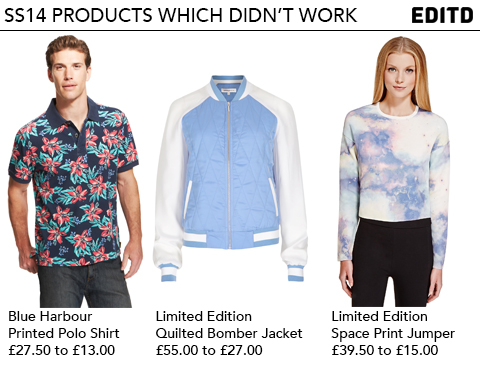 Unclear Product Assortment
And it seems that is where the errors keep returning to – too broad an offering trying to take in too many consumers. Analysing data around the way M&S weight their various own-brand ranges, shows a segmented and fractured picture:
A concern would be that the shopper doesn't really know what to associate with in the brand offering. What differentiates Limited Collection and Limited Edition? What defines Per Una and Indigo Collection? And is the North Coast customer different from the Blue Harbour customer? The collections are too many and for the most part, do not have distinct enough handwriting – there are trend items, casual and more formal items across most of the collections (Indigo Collection is an exception – it's DNA is imprinted across the range). Within Blue Harbour and North Coast there are classic preppy tees and shirts, as well as much more fashion forward printed tees or on-trend shirt prints, which would alienate some shoppers. If M&S want to keep appealing to a broad range of consumers, they could categorise things in a simpler way, for example "Classic Tees" and "Fashion Tees", steering the correct consumer to the correct product.
Retailers and brands use this kind of data to gain full market visibilities and define their competitive advantages in a challenging marketplace. Learn more about how you can use EDITD to make sure you have the right products, at the right price, at the right time.
Get your EDITD demo here.