With London Fashion Week Men's wrapped and three cities to go, menswear is enjoying a moment in the spotlight.
Not that it hasn't earned it; the segment has been booming for the last few years. Its sales are projected to hit $40 billion globally by 2019 and this season's menswear shows have been surges of energy that look dead set on meeting the goal. They're also full of promise for 2017.
Things feel positive from the outside, so lets look under the hood to see if current market data paints the same picture.
Growth is happening, just a little slower
The good news is, menswear is still in growth mode; in the U.S. and U.K., it's still even accelerating at a faster pace than womenswear. A sample of key retailers shows us that new arrivals in womenswear increased 2% in 2016 compared to 4% in the men's department.
However, when you drill down into retailer-specific data, it's apparent that faith in menswear's growth potential isn't uniformly pious. A year ago we reported on the strong increases in Fall menswear at H&M (increased 260% in 2015 versus 2014), Nordstrom (up 26% at the time) and J.Crew (up 68% at the same time).
For those and other retailers Fall 2015 (based on arriving between September 1 and December 31) was a peak boom, one unmatched in 2016. For Fall 2016, H&M scaled back new arrivals by 1%, Nordstrom pulled back by 27% and J.Crew trimmed down by 48%.
Mr Porter's Fall 2015 growth of 33% was pared down to 26% in Fall 2016. Meanwhile, its sister Net-a-Porter increased womenswear by 34% in the same period.
So who shouldered the growth? Zara, for one. It increased its menswear offering by 18% in Fall 2016, up from just 3% growth a year previous. And in premium contemporary brands, Acne (UK) more than doubled its fall offering in 2016.
So there are some mixed messages in menswear growth on the general market right now. It's worth reminding ourselves here that most of the industry has been sprinting towards e-commerce gold for the last seven or so years, each season outpacing offering and sales – heavily influencing the enormous growth in fast fashion as an indirect result.
What we're seeing now is a leveling out, guided by the realization that more is not better. We're seeing some department stores and luxury brands scaling back, appropriate to their markets.
Our advice to retailers is to monitor closely what your own competitors are doing rather than run away with the broader headlines on the menswear market.
It's a weather-led segment
In 2016, Q4 menswear sell outs increased by a whopping 57% compared to Q4 2015. Even better: full price sell outs grew by 33%.
Hold on, it gets better: even though 15% more products were discounted, the number of those products which sold out flew up by 150%! That means that stock was moving better in Q4 2016 than the year prior.
Drill down into pricing and an interesting story emerges.
Looking at the average price on key products which arrived in Q4 2016 versus 2015, we see the most growth in coats (up 18% to an average of $655.61) and sweaters (up 25% to $193.08).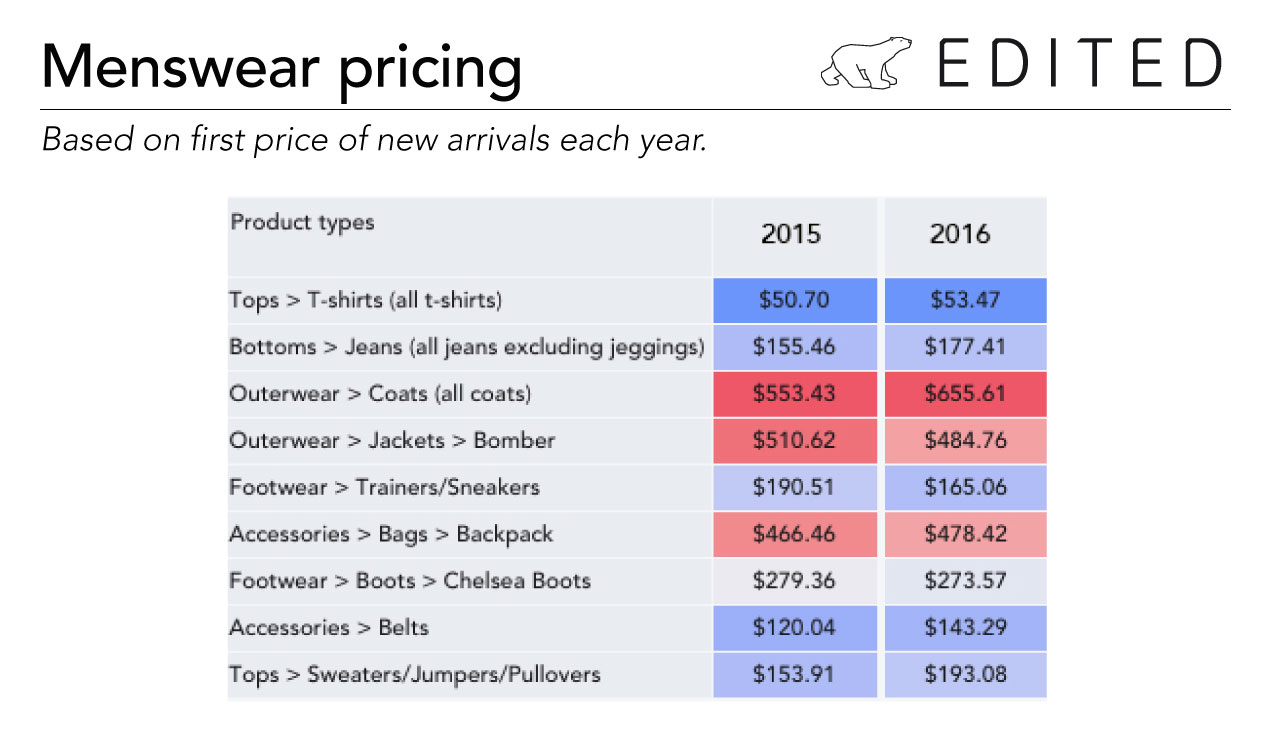 What's going on? Well for one, fall weather in the U.S. and U.K. more or less behaved like it should have. There were far fewer of the 'unseasonable weather' bouts that plagued retail in Fall 2015.
Menswear is particularly impacted by weather because the male shopper is typically driven by functionality and tends not to plan ahead like the typical female shopper. Men's retailers should tap into that with reactive marketing to promote weather-appropriate gear. Here's hoping that spring will get here when it's supposed to!
Menswear is particularly impacted by weather – typically the male shopper is driven by functionality.
And while we're talking about pricing, it's worth noting that key trends saw their average price fall in Q4 2016: bomber jackets down by 5%, Chelsea boots down 2% and sneakers down by 13%. The high visibility of those trends is pushing price point down.
Changing popularity of menswear brands
It's interesting to compare the most-stocked brands of the 2016 with 2015. Calvin Klein saw big gains come from riding the wave of trend-led appreciation of all things 90s, climbing up to 8th place from 18th a year before. Hugo Boss was knocked from top spot in 2015 to fourth in 2016, with POLO Ralph Lauren taking its place. Paul Smith climbed three places to be the second most-stocked brand of the year, followed by Ted Baker, up a place.
Despite the ongoing popularity of athleisure, Nike was kicked out of the top ten most-stocked brands – which didn't include any sports brands for 2016. Selected Homme entered into the top ten from 12th position into 10th.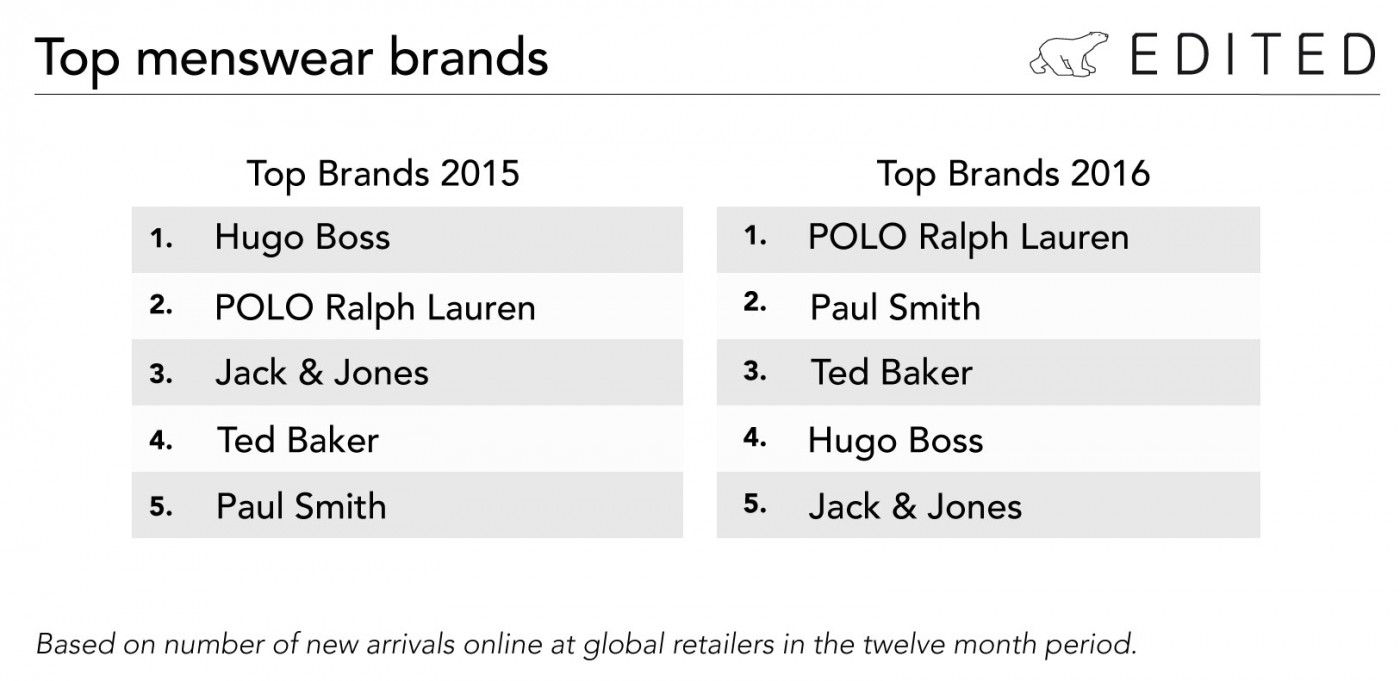 The leading menswear opportunities
Cohesion between genders
This runway season is reiterating the crossover in men's and womenswear. Vivienne Westwood, Sibling, Astrid Andersen, Cassely Hayford, Christopher Raeburn, YMC and Nigel Cabourn have shown both men's and women's looks on their runways. Burberry has gone a step further, announcing that it's scrapping its separate menswear show. In its place there'll be a combined collection at London Fashion Week in February.
There are a few factors contributing to that decision. The changing role of the runway versus the wide reach of social media means that for some brands dual shows aren't cost effective. But there's a consumer shunt here too. Awareness that gender isn't necessarily binary is slowly, but surely growing and more than that, unisex apparel is in vogue, thanks to streetwear's influence.
That's resulted in an industry where increasingly trends simultaneously hit men's and women's markets. Take outerwear trends like puffer coats, track jackets and souvenir jackets: all have been major sales drivers across both markets. And for Spring 2017, the athleisure themes look identical for both segments. There is still a slight lag in menswear, but it's closed dramatically over the last few years.
Increasingly trends simultaneously hit men's & women's markets. That's a huge boon for retailers.
Retailers with sibling brands – like Topshop and Topman – could exploit this market trend with crossover communications which upsell the other brand. For example, around Valentine's or holidays, a promotion for Topman shoppers at Topshop could bring new shoppers into store. Or how about styling menswear items with the womenswear looks in seasonal campaigns?
Fast fashion growth
Zara isn't the only fast fashion retailer upping the stakes right now. In 2016, Boohoo, who introduced BoohooMan in 2013, launched its first dedicated menswear site. For Fall 2016, when group sales rocketed 55%, there were 84% more new items in the BoohooMan line than in Fall 2015 and it's performing well.
Not only does BoohooMan have a higher average price point than women's, but its discounting rate is lower and sell out and replenishment rates nearly identical.
Missguided, another fast growing British e-tailer, will this spring launch its first menswear collection and Lipsy are also considering a men's line.
Growth in this end of the market is interesting on two counts. Firstly, it's a thumbs up for e-commerce, suggesting that the male shopper is increasingly comfortable to shop online without having already established a brand loyalty as an in store customer.
Secondly, and perhaps most exciting for the broader men's market, is the increased demand for very trend-driven pieces at affordable prices. Fuelling men's appetite for trend will not only give retailers more ways to talk to their shoppers but will ensure newness that's so critical for healthy retail.
Our London menswear trends for Fall 2017 are now live. If you're an EDITED user, log in today to get up to speed on key themes, colors, prints and shapes for next season.