With your summer holiday on countdown, you may cringe at the idea of considering Black Friday in May.
But pros in the apparel industry are seasoned time-travellers, used to thinking across multiple timeframes and mostly out of sync with the weather they're dressing for.
Right now, many are prepping their discounts for Q4 (and many more would have done this 6 months ago!). We've taken a look back at last year's performance and have some suggestions for how you approach discounting this Thanksgiving.
Let's start with recapping some findings from last year's analysis (which is critical reading ahead of your 2018 planning).
Key points from Black Friday 2017:
Over the mammoth sales weekend, discounting was up from 2016.
The number of products selling out more than doubled.
The luxury market discounted most.
Online was the winner, in both the US and the UK.
Full-price sales rocketed too.
Black Friday and Cyber Monday as two distinct shopping days are blurring into one long, hard-hitting weekend.
Cyber Monday outshone Black Friday
When all the figures were in, US retail scored $5 billion on Black Friday, climbing 17% from 2016.
Despite Black Friday being the most-hyped by retailers and consumers, Cyber Monday was the largest shopping day in US history with $6.59 billion in sales.
And if those stats didn't already have you salivating: one in three discounts in US retail were on apparel and accessories. Let's get to work on some analysis.
How much and when?
In the US, 14% of products on the market received a first discount through the month of November, compared to 8.5% of the UK market, 8.3% of the Australian market and 7.3% of the French market.
Interesting is the active South African involvement in Black Friday, with 15.8% of the market receiving discounts through November – evidence of just how globally influenced that market is becoming.
Looking at the number of first discounts each month in the US since January 2016 we can understand the scale of the price-slashing pandemic gripping the market. Not only did reductions grow 60.5% in November, but the entire fourth quarter became dramatically more promotional.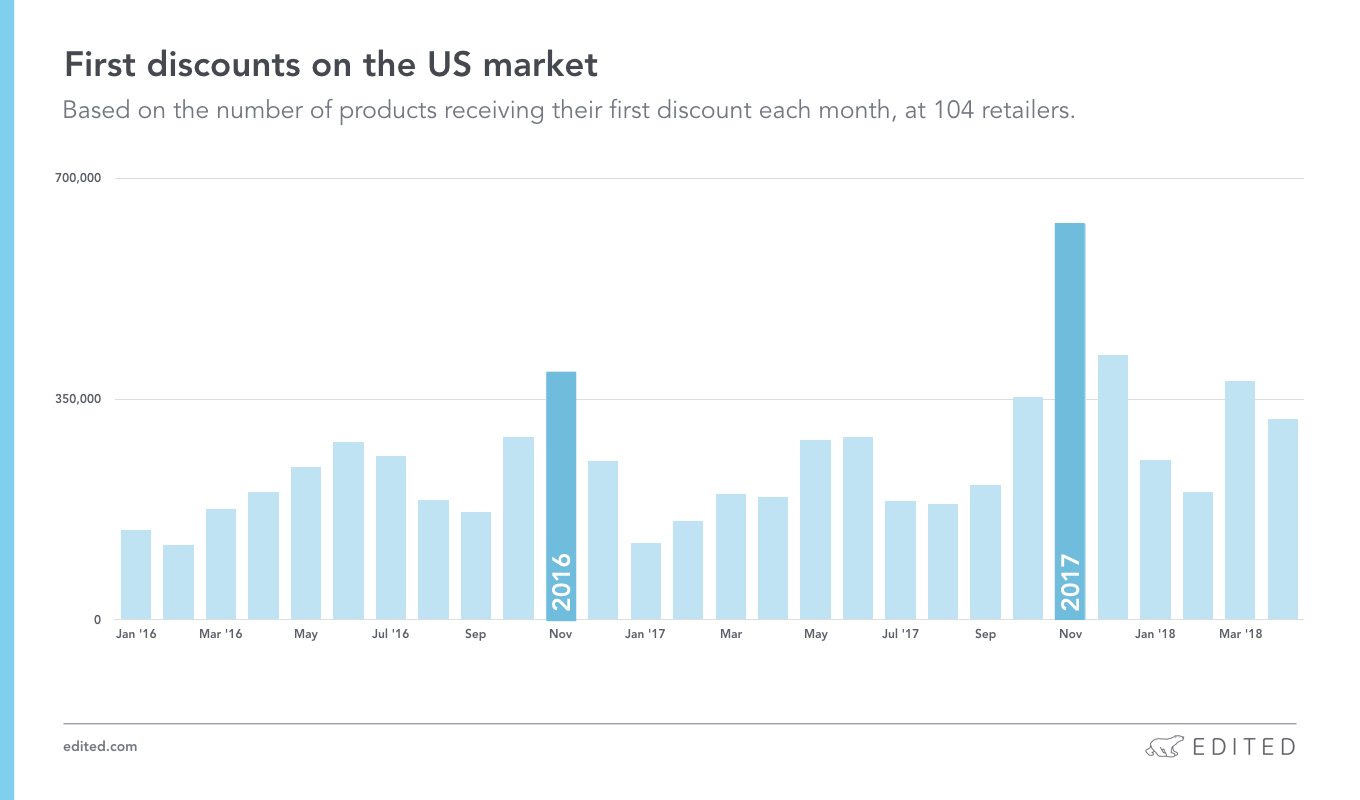 As a result, Q1 this year was well up on the last two years, putting the market in a fragile place ahead of Black Friday 2018. How can retailers optimize the holiday without giving it all away?
Discounting without selling your soul
Don't leap on discounting for the hell of it. Though that huge spike in November will have you reaching for the red tags, raising the number of first reductions by 60.5% only lifted sell outs by 47.2%. That stinks of needless margin sacrifice.
Black Friday prep starts now. How can you discount without selling your soul?
Instead, research exactly what and by how much to reduce. The most common first discount through November was 30-40% off, with 40-50% off being more common than 20-30%.
In October and December, the most common first discount is 20-30% off. Retailers are much more generous with their price slashes around Black Friday.
The chart below shows how much discounting activity was the first discount (in blue) versus how many actions were on products that were already reduced (purple).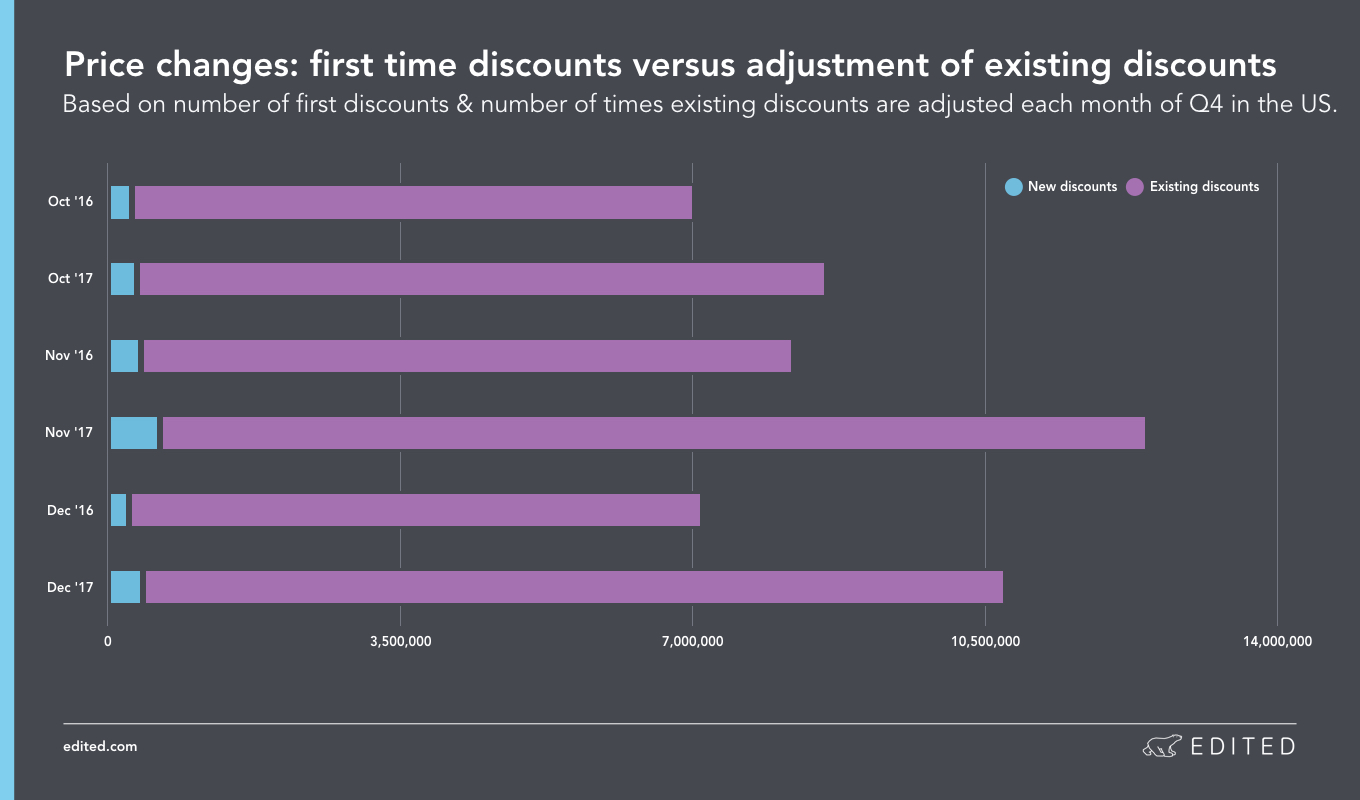 Want to see how EDITED can help you identify the product, pricing, and promotional opportunities within your business? Get in touch.
Where would you want your reductions to sit?
Actions on already discounted products were up 51% in November 2017 compared to November 2016. That's behind the 60.5% growth of first timer discounts. Retailers are looking to newness for discounting.
Where do you want your reductions to sit? In the purple bar of multiple price adjustments? Or in the much smaller blue bar of newly reduced product? That's the part that's going to entice the consumer.
Focus on differentiated & valuable
When looking to identify the parts of an assortment that will appeal to shoppers with a 30-40% off first reduction, it's critical to ensure that you have a differentiated product offering.
Focus on value proposition – it's better to have a smaller assortment of get-it-now reductions on hot product than widespread 20-30% reductions which match the categories of your competitors.
And don't roll out the same discounts across regions, do your research. J.Crew offered 40% off US shopper's purchases, and 20% off in the UK. Banana Republic had up to 50% off five full-price items for the US and 30% off an unlimited number of full price items in the UK.
Don't give too much away to markets that aren't responding as favorably as the US. The UK saw a decline in sell outs in 2016, despite a lift in the number of discounted products. In 2017 that led to big declines in the number of products retailers discounted, and thus sold out, in November.
Check out what goes on in your market and cross-reference that with what's worked best in your business recently.
Promote like a pro
The way you reference your reductions in comms matters. The chart below tracks email mentions of 'sale' and 'Black Friday' in weeks 40 to 52.
It's a hugely competitive time to be communicating anything to shoppers. Black Friday mentions are needed to cut through the existing noise of the sales promotions.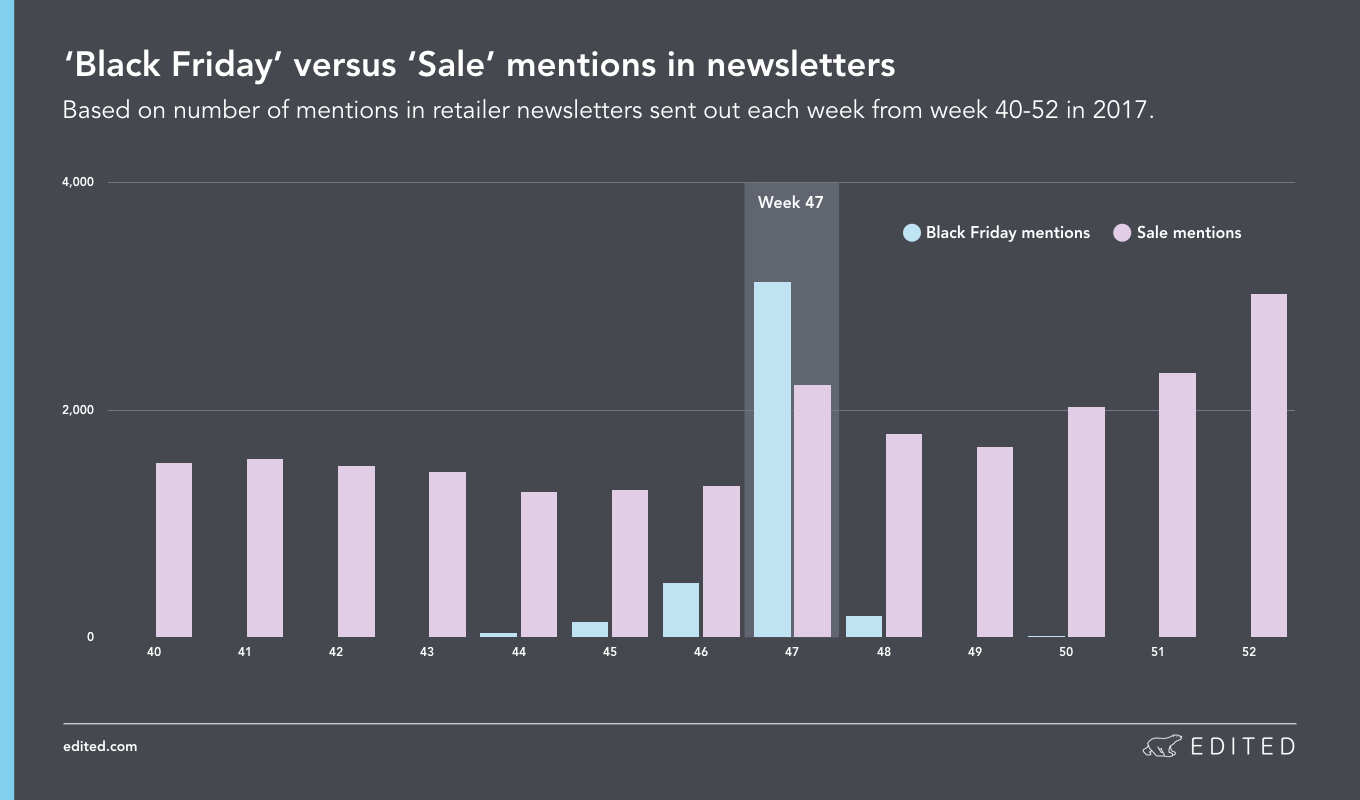 The most common ways to engage subscribers ahead of Black Friday 2017 was through 'insider access' sign ups, sale previews and offering access to build wish lists ahead of shopping a sale selection.
If you have EDITED access, check out these reports on some of the best campaigns from 2017 in the US or in the UK.
Consider your aftercare
No doubt you put a lot of planning into growing your following around Black Friday. If they converted, purchasing from your sale stock means these are shoppers you've picked up at a premium.
So how are you going to keep these new shoppers in the weeks and months beyond the discounting frenzy?
Your aim should be converting them to a loyal, full-price shopper as swiftly as possible. Start planning engaging, useful and trend-informative content for the weeks after Black Friday.
Don't lose face, and needless margin, this Black Friday. We're here for you.