Whether you've eaten a Big Mac overseas or tried to navigate the purchase of a luxury handbag on a foreign language website, you've encountered the international pricing game.
As digital eroded geographic borders, we consumers have become more used to seeing the way products are priced elsewhere. Sometimes that can be frustrating, but it's something the industry has to do.
The balance is in finding the right price for the right market.
Localized pricing
There are two approaches to localization. On the one hand you can simply convert your price to the local currency. Not even McDonalds do that, but it's a trap that newer or smaller brands can fall into as they expand their markets.
It's a method that doesn't really work because it doesn't take into account the local market values. Instead, complete localization requires retailers to understand local retail environments deeply, know the competing products, market trends and consumer preferences.
Of course, that suggests pricing must be elastic in order to really connect. But seeing as true localization is also about knowing how much local customers are willing to pay for your stuff, localized value must also be considered as elastic.
International pricing is about an elastic approach to both price AND value.
Thankfully, they're both things that we can use our data to see! Let's take a look.
Pricing around the planet
For a full women's outfit on the mass market –a blouse, pants, ankle boots, underwear and bag– Indians get it cheapest, averaging in at $165.02.
South Africa and Brazil both clock in at under $400, but in Canada the same combination will set you back more than three and half times the average price in India, at $592.19.
That means the differential in cost of apparel outstrips the general cost of living here. The Canadian-bought outfit costs 259% more than the Indian-bought outfit, whereas the cost of living in Canada is only 105% more.
As for India, one of the fastest-growing internet economies, it will be fascinating to track how price shifts for apparel sold online within the country.
Cost of living vs cost of apparel
In the chart below you can see the average price of the full womenswear outfit in mass market retail at a selection of key countries. That's plotted against Numbeo's cost of living index for the capital cities of each country. Numbeo's index is drawn from localized data on things like cost of groceries, entertainment, transportation and accommodation.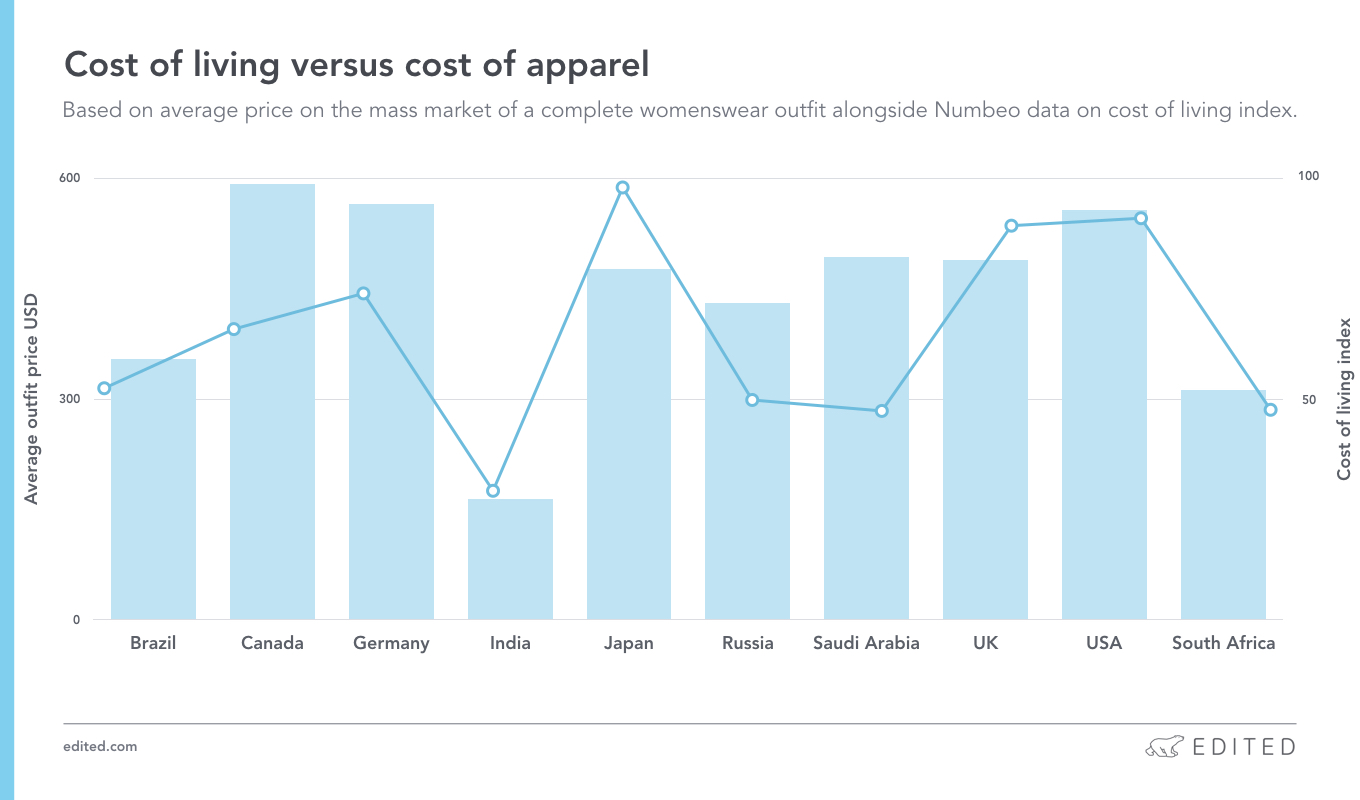 You can see that when the blue bars extend beyond the line graph that cost of apparel outstrips the cost of living index. And when the line graph extends beyond the bars, average apparel price is below the index for cost of living.
That reveals some key pricing opportunities in countries like Saudi Arabia, Japan and Russia.
But our data can go a whole lot deeper. Here are some more insights from international pricing.
If you're Canadian, shop at H&M
If you're Canadian, you might be feeling pretty sorry for yourself with that highest average price point. However, all is not lost – your saving grace is H&M, where median price point comes out at 29% less than the global median for the retailer.
In fact, at H&M only Turkey comes in lower, with a median price point of $17.24, compared to the global median of $24.69. Hong Kong suffers a price point 31% higher than the global median. That means there's an enormous 70% variation in median price between Canada and Hong Kong H&M.
That's seen even more acutely in specific categories, as the price architecture for women's dresses at H&M shown below reveals. Take a look at the varying entry and exit price points, as well as the rectangle which depicts where the bulk of the assortment is priced.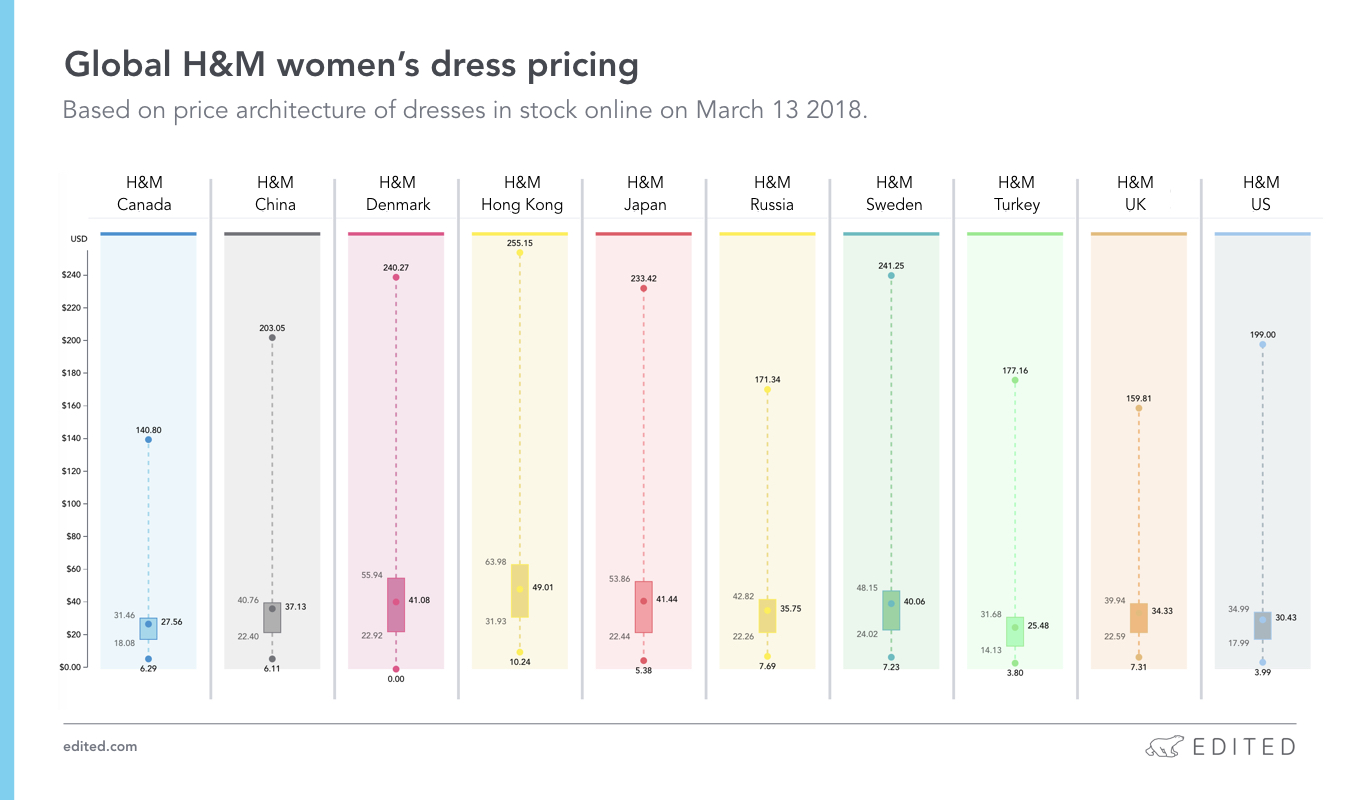 This kind of price data is invaluable to retailers looking to launch into new markets, but it's also critical to brands tracking how their products are stocked around the globe.
Pricing as a brand
There are associated risks in global pricing. You can alienate shoppers who travel frequently or price compare internationally. But it's also a driver of tourism for luxury.
The best position for a brand to be in is controlling the international pricing through its own e-commerce stores and tight relationships with its retailers.
That's clear in a product like Saint Laurent's Spontini bag, which is currently retailing at Net-a-Porter for the equivalent of $1,462 in Saudi Arabia and $1,905 in Canada – 30% more expensive!
That's not Net-a-Porter's mark-up, that's set by the brand, as evidenced by varying price differentials across different brands at the retailer globally. In Canada you can get a cheaper Marc Jacobs bag than Saudi Arabia (the brand has less distance to travel) and Canadian brand Boyy is 19% more expensive on Net-a-Porter Saudi Arabia.

The problem arises when the brand doesn't have full control of the way international retailers price its product. Givenchy is one example of this, as the brand doesn't have its own e-commerce presence.
This chart shows a break down of pricing on women's Givenchy shades, which are cheapest in the UK and most expensive in Australia. (So that explains the number of Australians in our London office).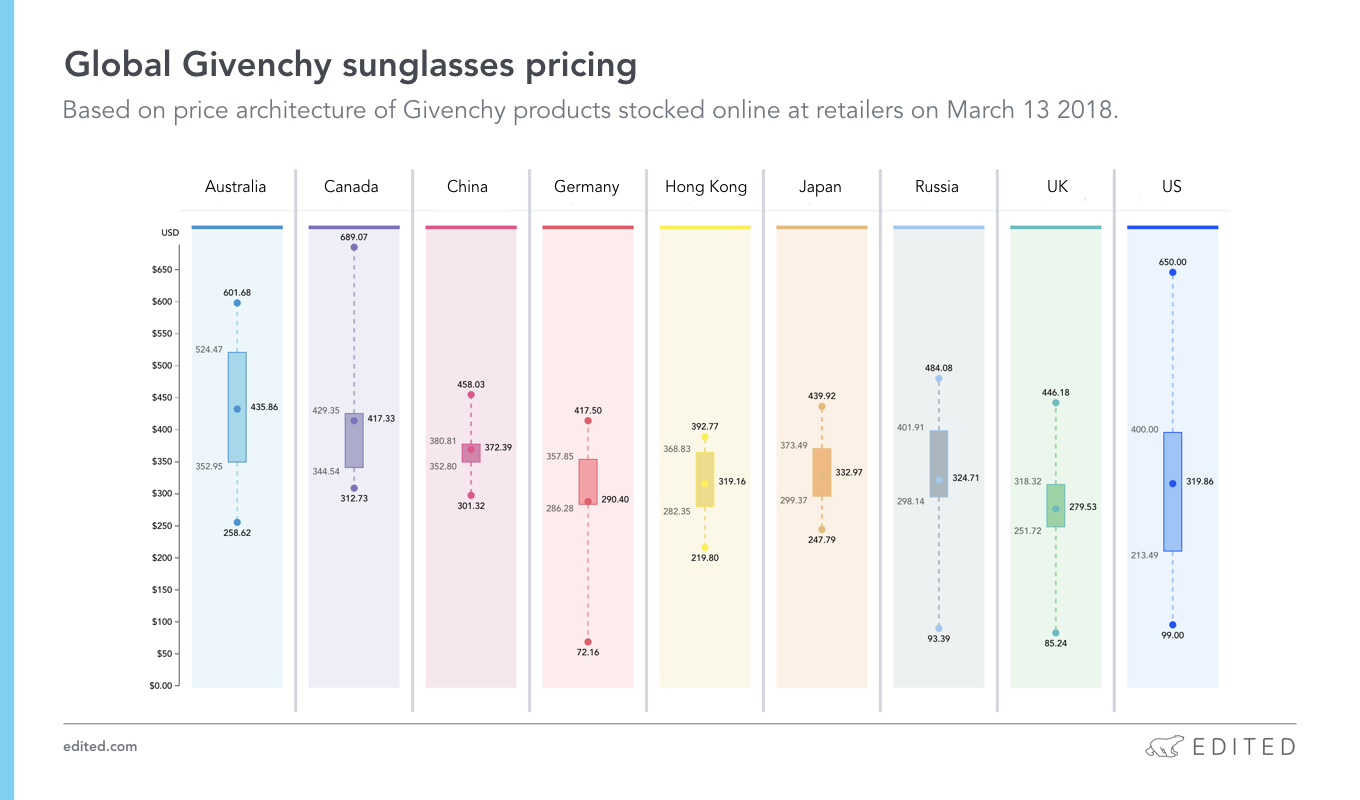 Those price challenges aren't unique to luxury brands – they are a consideration for any brand that wholesales on a global level.
Shifting value of a trend
Retailers and brands need to watch trends to understand when localized markets are saturated in order to adjust price or product before consumers cool off altogether.
That's demonstrated by charting men's Adidas Boost styles, within four of the brand's key regions. The bigger the emphasis on lower price points, the more of a commodity the style has become. Germany and Australia places a higher value on the style than the UK or US.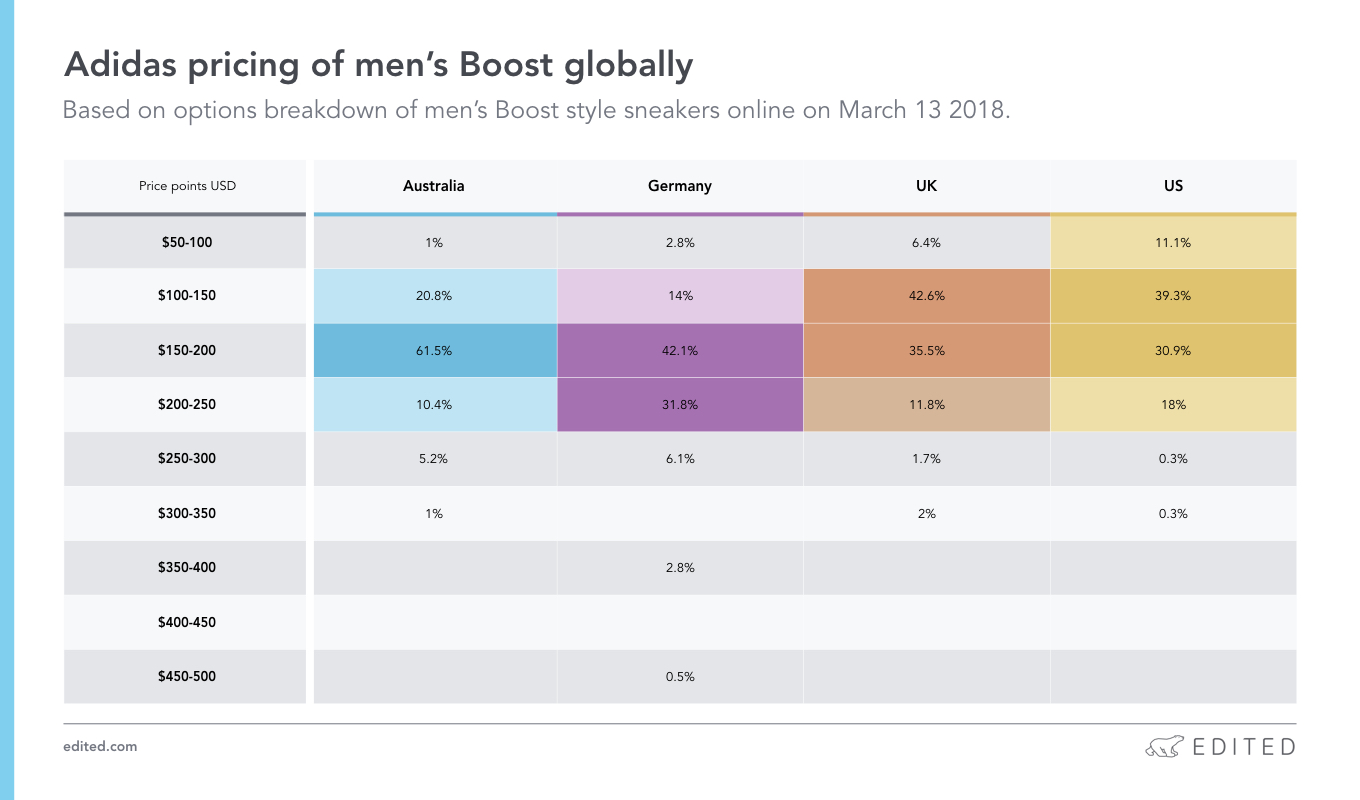 As the world continues to develop at differing rates economically, technologically and in diversity, we're going to see even greater consumer lifestyle and wealth diversity. In consumer markets it's critical to stay on top of pricing amid those shifts.
Get in touch today if international pricing is something you'd like help with!