We've seen hybrid performance workwear on the runway and growth in moisture-wick apparel on the market.
The average person will spend over 90,000 hours at work in their lifetime. So with over a third of your life potentially spent in an office cubicle, comfort, performance and adaptability are important. This week we're looking at a new breed of garment that takes you from the office to the gym.
With an increasing number of people taking an interest in having active lifestyles and a work-life balance, workwear has evolved to fit our lives.
Smart performance materials are on the rise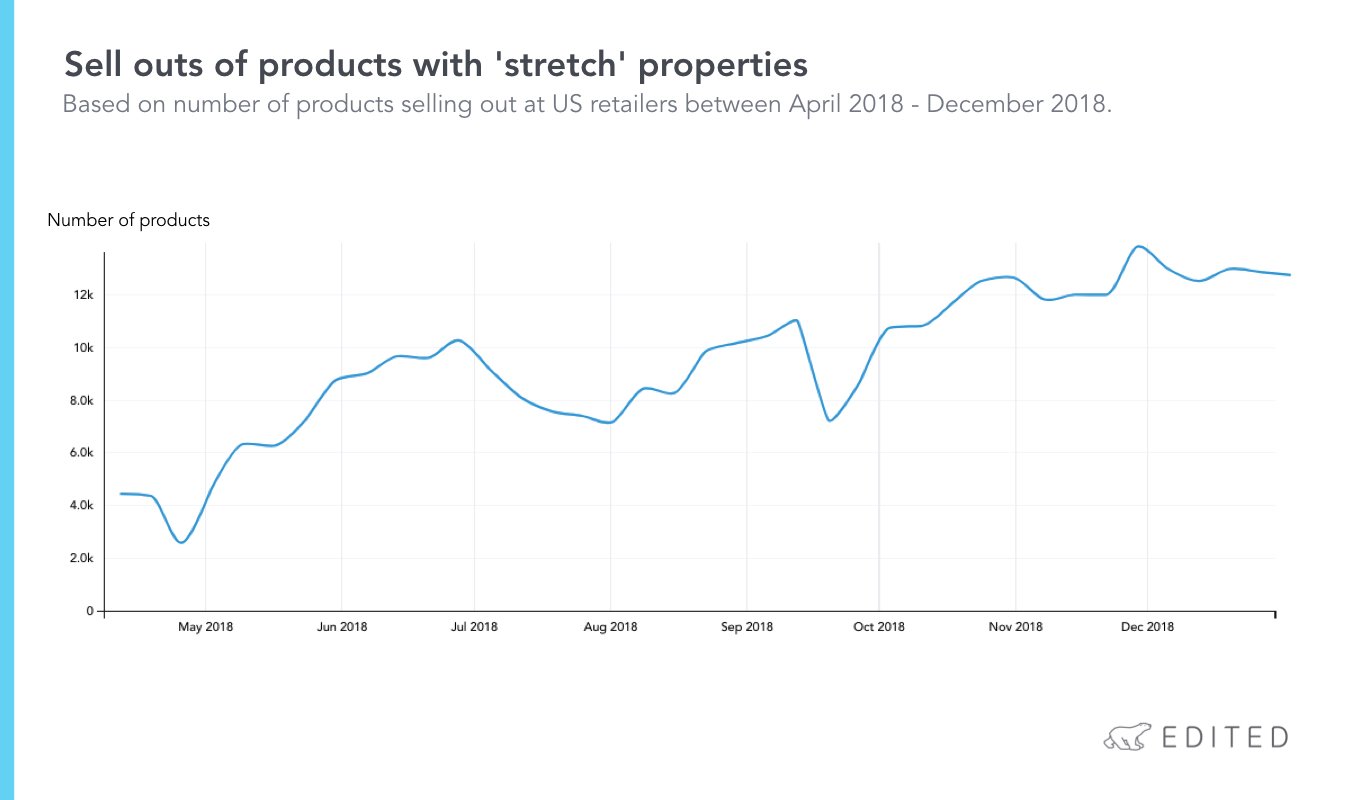 Now that technical fabrics are substantially more wearable, brands such as ADAY have set out to use "technical fabrics, a conscious supply chain and innovative production processes." The end game is to create high-performance staples that last longer in consumer's wardrobes!
Bonobos 'Italian Performance Suits' are water resistant, lightweight, wrinkle/stain proof and stretch for extra comfort. For more casual workplaces they offer stretch jeans and cotton bomber jackets with stretch lining, therefore bridging the gap between 'traditional' workwear items and the crossover items that consumers will wear all year round. What more could a city commuter want?
The UK has seen growth 64% YoY in men's workwear and tailoring that is described as having stretch fabrics or breathable technology. Similarly, that category had a 26% increase in workwear trousers that have been described as having stretch/breathable properties, 15% in suit jackets and 51% in blazers.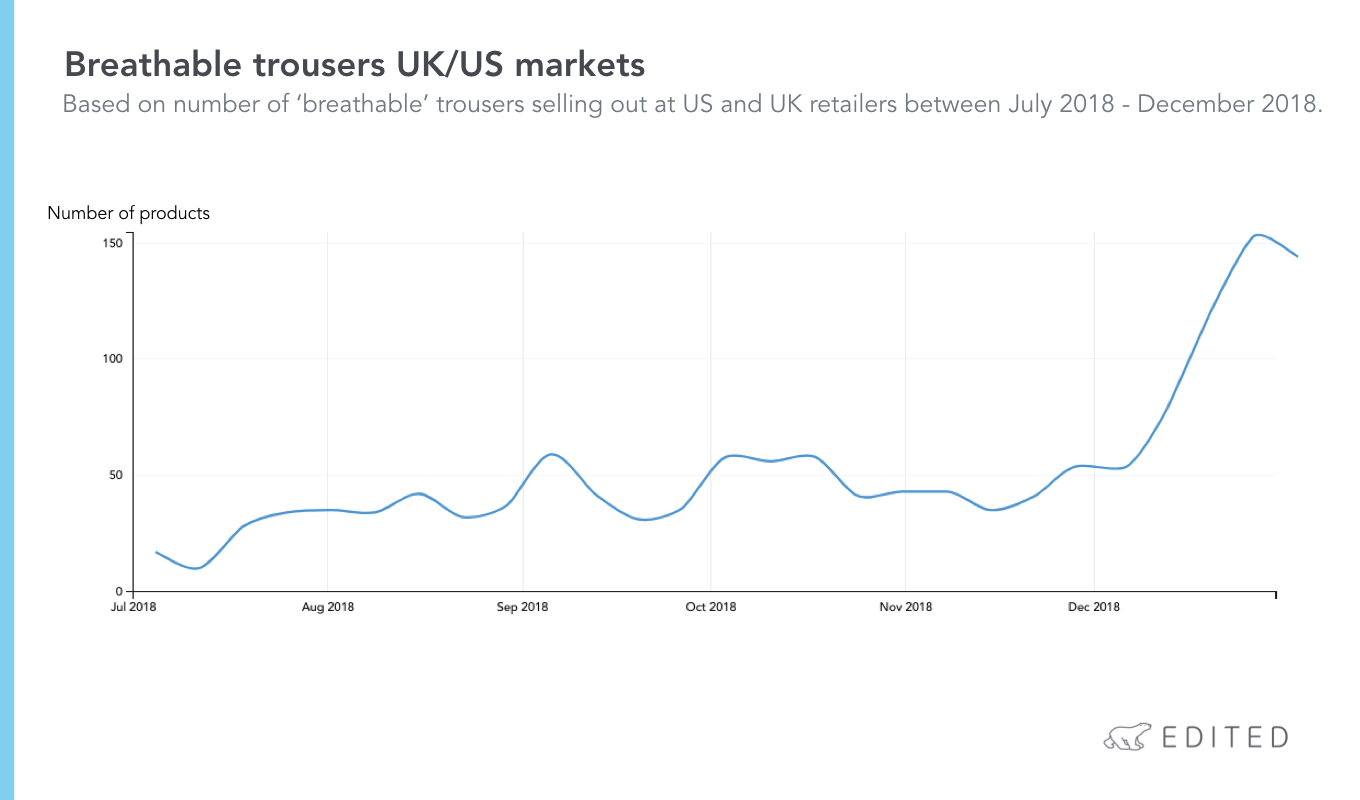 The growth isn't stopping, folks
Menswear is big business. The UK market is worth £15bn and is expected to outperform womenswear entirely by 2020. In the US, the menswear market is the biggest in the world and is expected to continue to grow by 2.0% annually.
Menswear also has a much more blurred line between workwear and weekend wear. Chore coats and trucker jackets aren't just for the office, they're for the everyday life.
Making the case for comfort, the average US commuter spends 200 hours a year traveling to work, while over the pond, the average UK worker spends a whopping 400 days of their life commuting (sigh). It's clear to see we spend A LOT of time getting from A to B and need all the help we can get when it comes to comfort in our office attire.
Performance workwear also speaks volumes when it comes to everyday mobility. T ransport options for city dwellers blew up in 2018. Private companies like Lime and Jump offered dockless e-bikes and scooters in cities at the touch of a phone. With that, more and more of us are flirting with the idea to jump on a bike and use pedal power to make our way through the city.
The big picture
Performance qualities are becoming less of a nice-to-have addition and more of a requirement in modern-day workwear.
The clothes we wear have evolved to fit with our lives rather than act as a piece of uniform.

Brands that have been stocking up on this trend include Uniqlo, Rhone and Lululemon. Lululemon's office travel assortment for men has been a big hit with a reported 30% sales growth in Q2 2018. It brought together the best of both worlds: style and comfort.
Even Nike, the iconic sportswear brand, jumped on the workwear hype. Collaborating with Carhartt, they created a collection of sneakers featuring a performance twist whereby lining the shoe with wool for added warmth, with fabrics forming the rest of the sneaker, including durable ripstop, mesh and corduroy.
How to incorporate Fall '19 trends in your assortment
These trends cut through the runway as well as your office. Pitti Uomo showcased a laid back approach to tailoring with nods to sportswear influences as well as technical fabrications.
While not every guy can sport chore coats and work pants at the office, you can adopt small details that contribute to a sportier workwear vibe such as double zips and side stripes, as seen at Iceberg's show.
In the London shows, khaki, dark navy and espresso browns remain core colors for Fall within suiting and workwear. For work-ready patterns, pinstripe suits and houndstooth proved popular across outerwear on the runway. Checks were the star of the London & Milan shows – a strong trend to get in your assortment.
We've just published our Milan Fashion Week Men's trend reports from Fall 2019's runways. If you have EDITED access, log in for the reports. Or talk to us if you're not and would like to know more!