Luxury retail is changing and online is where the biggest disruptions are playing out. Today's competitive retail climate means no longer can the majority of luxury brands be aloof and aspirationally unreachable – they have to engage in a conversation with their customers, becoming more transparent than ever before. Price architecture is widening and new geographies being approached, as brands seek to offset slowing growth and currency fluctuations.
The luxury shopper is changing too – he or she isn't dwindling their days away with lunching and boutique browsing – they're time-poor, career driven professionals with a global mindset and lifestyle: they're digitally savvy, comfortable with purchasing products online. Yoox and Net-A-Porter's recent merger is just one stirring in a market undergoing transformation.
Promising signs of growth in 2015
As a result of those changes, EDITD data shows aggregated year-on-year growth in US and UK online luxury of 12% in the first three months of 2015.
The US and UK online luxury market grew 12% in the first three months of 2015.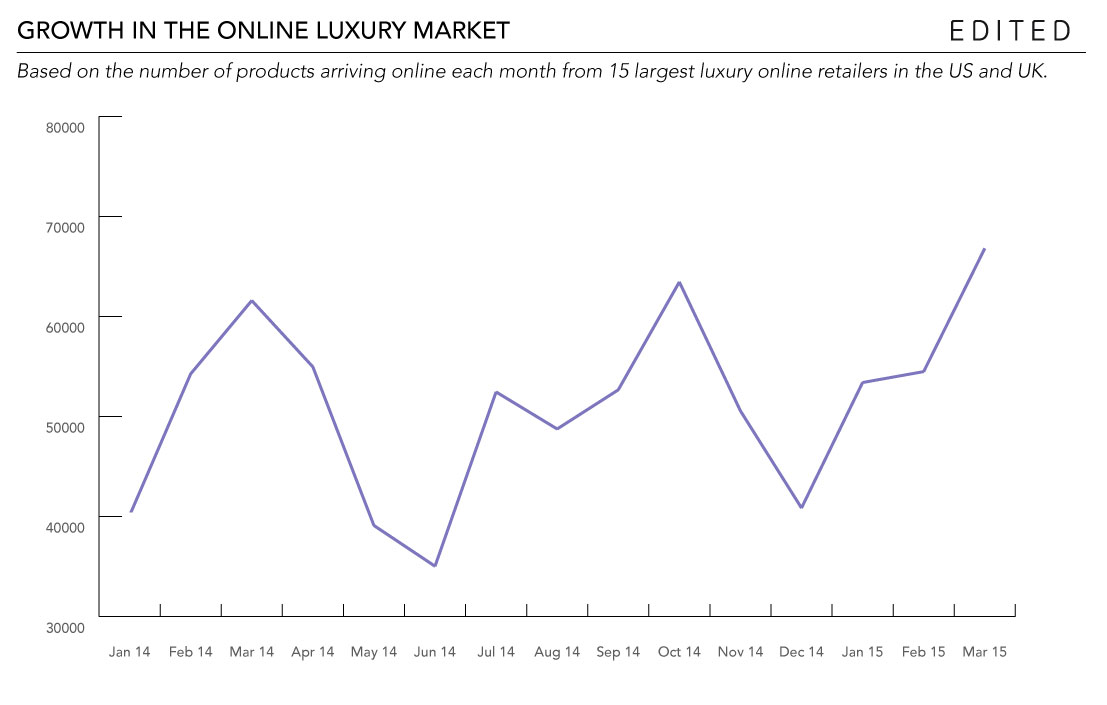 Those figures are derived from the increase in new product arrivals at the 15 biggest luxury retailers, over the last year. Though the recent growth is pretty seductive, the market still undulates, with clear peaks and troughs. This will not be a whirlwind revolution of the luxury market. Instead, retailers are in testing mode – trying something, acting upon it, moving forward.
Online luxury retail is carving out its own identity. Its peak seasons are March and October – not February and September as fashion magazines would have us believe. Low seasons for new luxury arrivals are June and December. The mass market also has a lull in June, but not December, when products are fed into stores right the way up to the holidays. Luxury retailers merchandise to a different calendar, and communicate holidays differently.
Net-A-Porter (NAP) for example, is not talking about new stock in February, they're focusing on fashion week, when it would be remiss to confuse the customer with new season, which compared to runway is already old. That is a balance which online luxury retail will need to tackle in the coming years. In October the luxury market can communicate ski season, not Halloween and come November, NAP are promoting holiday shop when mass retailers are going full pelt for Thanksgiving and Christmas. These nuances will become amplified as the online luxury market grows and continues to forge its own character.
Peak seasons in online luxury are March and October.
10 biggest online luxury players
Farfetch's product assortment far outstrips other online luxury retailers, thanks to their unique structure. Merging with Yoox will certainly lift NAP's dominance online, but it's the retail department stores, which are the silent assassins. Their product reach, established brand and bricks and mortar presence are a threat to pure play luxury retailers. As the online capabilities improve at retailers like Saks and Harrods, growth will rocket – these retailers are brand names with global admiration.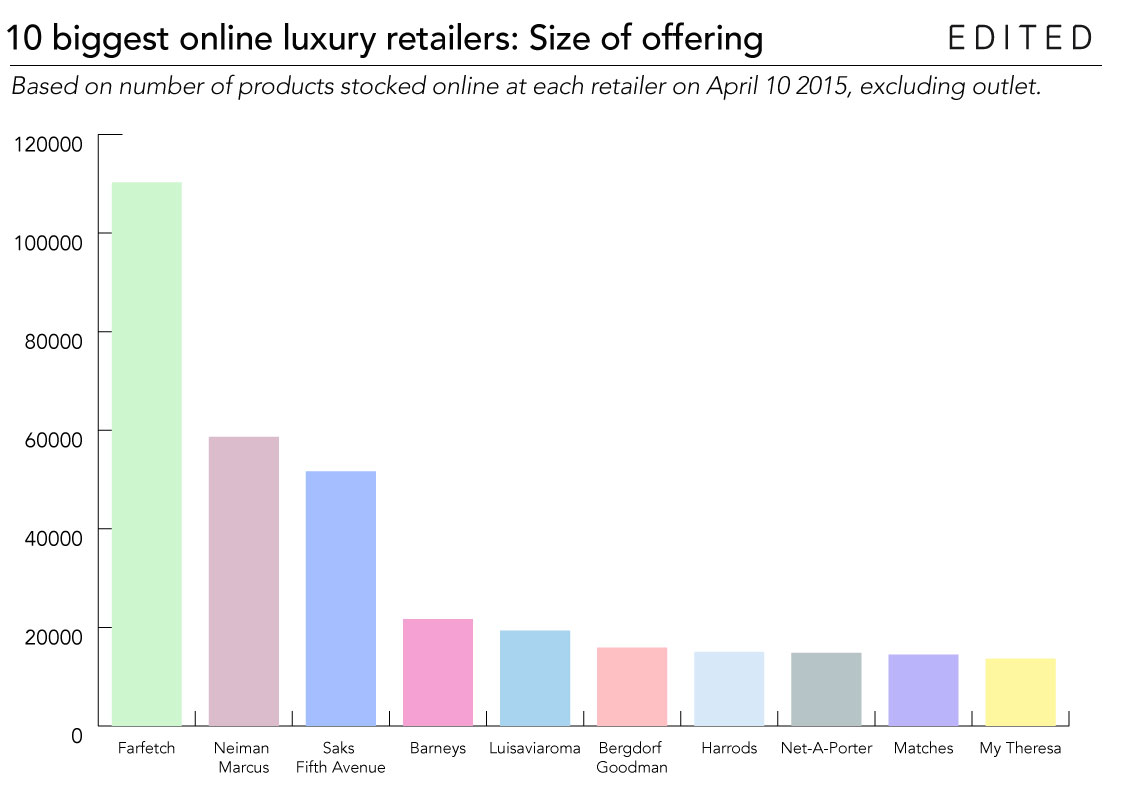 Online luxury is growing, and at a healthy rate, but its path to success won't be as clear cut, nor rapid as that which online mass market retailers have enjoyed. Luxury retailers who try to emulate the successful strategies of mass market, or even premium, will be disappointed – the product price point, designer brands' control and consumer expectations call for an entirely different experience online. Only once that niche has been fully explored will luxury rocket online.
[editd-banner image="https://edited.com/blog/wp-content/uploads/2015/03/History_calendar-view.png" header="Want to know more about how EDITD can help your business?"]Request a live demo with one of our product specialists.[/editd-banner]