Sleep has become a major business – one estimated to be worth between $30 to $40 billion. How has the up-selling of sleep impacted apparel retail?
New mattress companies have made us want to haul our store-bought old faithfuls out onto the streets. Arty campaigns from bedding start-ups have us burning anything below 1000-thread count and restyling our bedside tables.
Our phones even want to let us know how many z's we got through the night. But what's going on with our pyjamas?
A lot, actually. The sleepwear category has grown 18.8% in the last year. That's more than other hot categories, like active (up 18.2%) and footwear (up 15.9%).
Sleep has become a multi-billion dollar business. Nightwear is in on the game, growing 19% in the last year.
You might be doing it year-round, but sleepwear has seasons
Track that growth, here shown as new arrivals month to month over the last two years. What's instantly clear is the seasonality of sleepwear.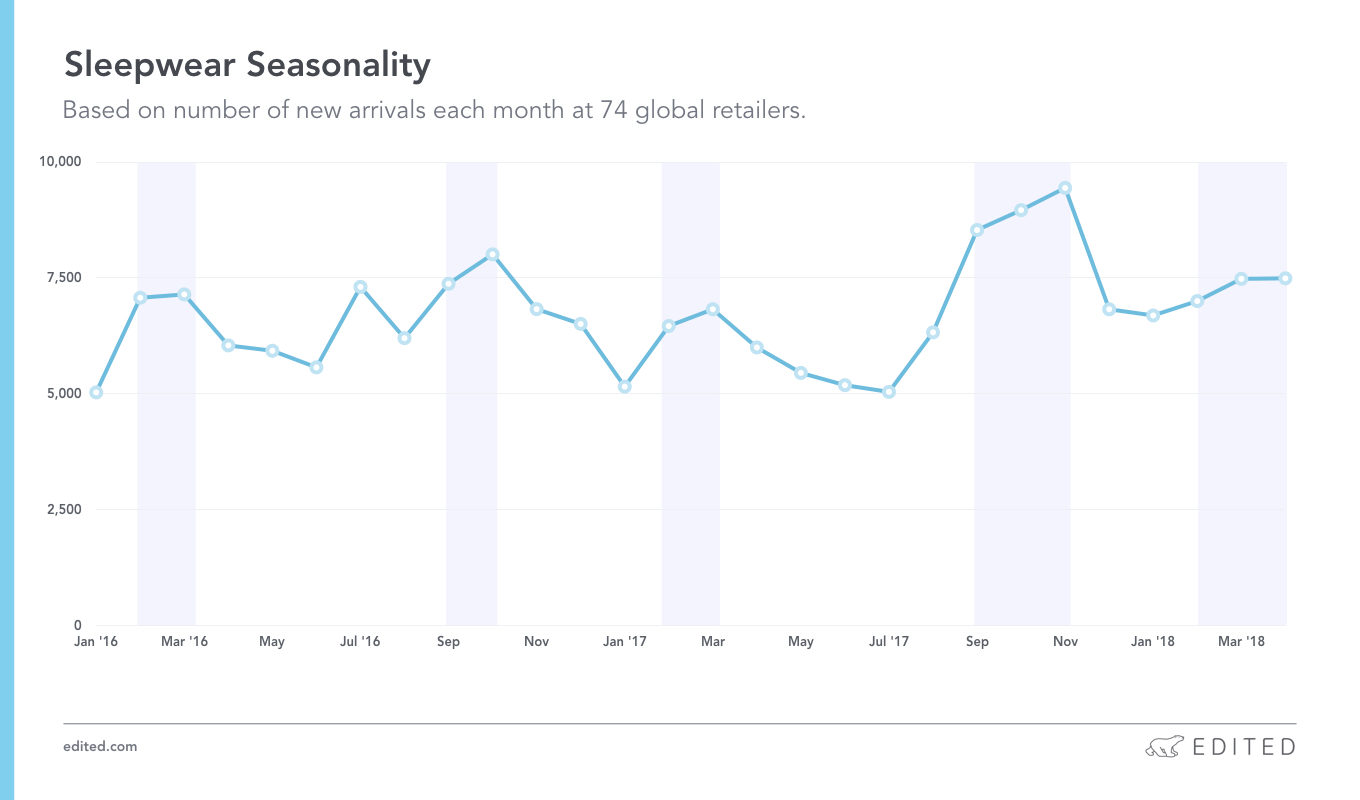 Historically there have been lifts in late Q1 and early Q3 – key points when the weather changes. Those concentrated periods of new product tended to last for two months before sleepwear becomes less consistent through the remainder of the year.
However, it's really interesting to see in the data that as of Fall 2017, the new arrival period extends for three months. This year has been strong right from the start. Let's dig into exactly what nightwear is coming in.
The sleepwear assortment
Not all sleepwear was created equal. Consumers are used to value in this category – 70% of all sleep apparel retails on the mass market and just 5% is in luxury.
We're looking at a tough category where 20.5% of the assortment is sold as a set – pyjamas – with an average price of $57.71. The chart below shows how nightwear breaks out, with fairly even emphasis across pyjama sets, robes and nighties.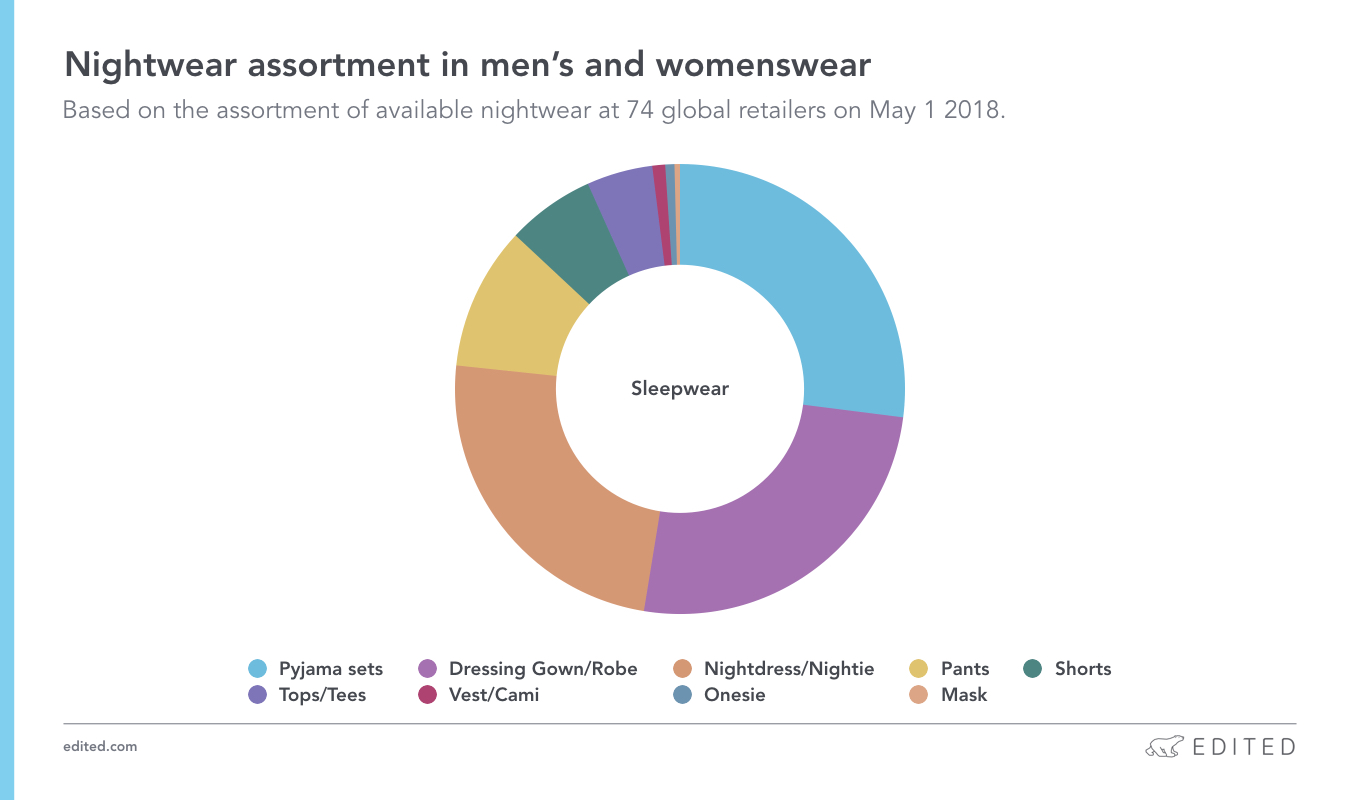 TIP: Log into your EDITED account to track the seasonality of shapes. Look at whether consumers buy more pants in the winter than summer or if new arrivals of vests lift as the temperatures rise.
It's also clear to note how the onesie craze of 2015 and 2016 is all but dead – onesies now only account for 0.5% of the sleep category – roughly the same number as sleep masks!
When it comes to price, robes are vital for giving the category some lift. The average price on a robe is $102.82 – more than 17% of robes are priced over $100.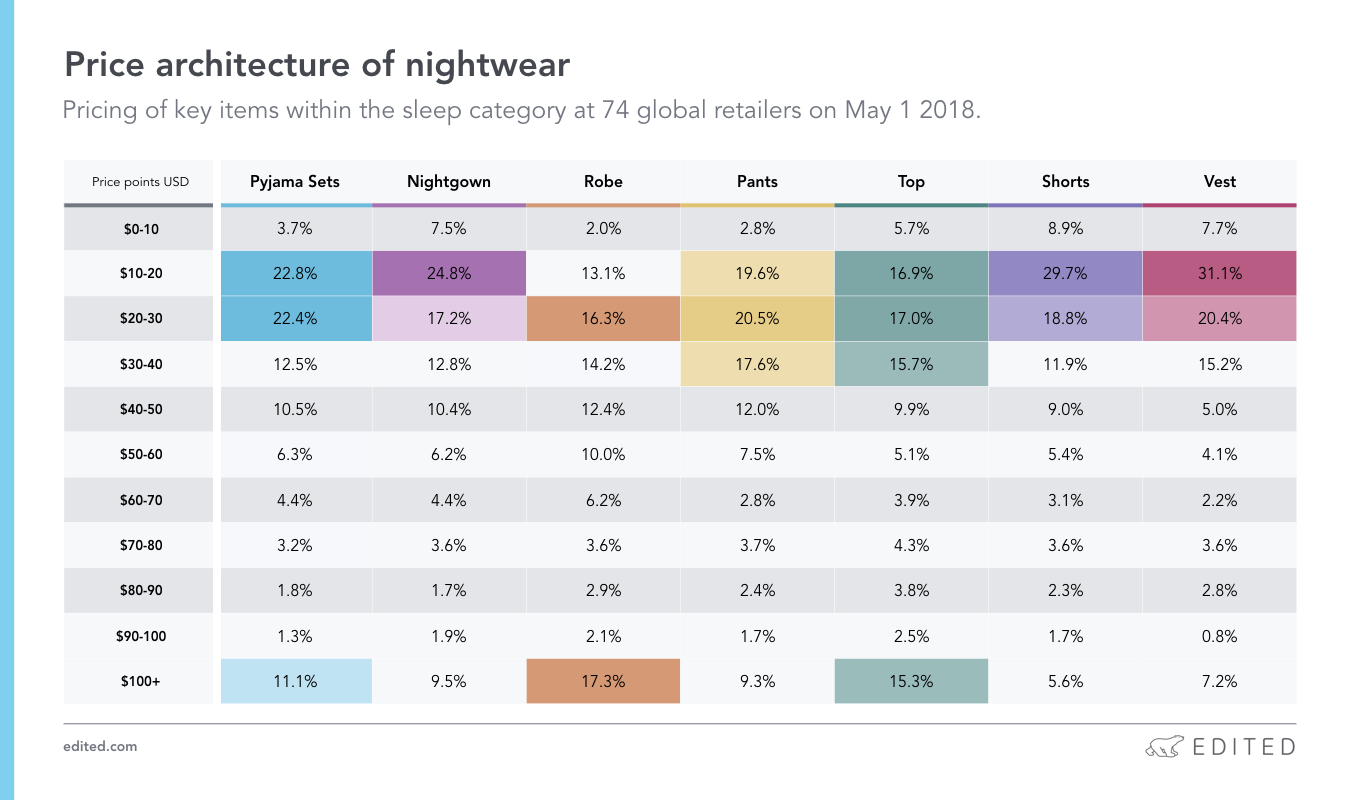 Meanwhile, shorts and vests are bottom-heavy, sinking most of their product below a $30 price point, despite being more trend-led.
It's worth reflecting on the transition from sleep/nightwear to 'loungewear'. We detected a 73% increase in brands mentioning loungewear on a category landing page or homepage, which is just behind the 63% increase in sleepwear.
Products identifying as loungewear tend to skew luxury – with luxe accounting for 15.4% of the category versus nightwear's 5%. But more on that lifestyle upsell later…
Prices tumble in Q4
Currently 45% of the sleep market is discounted, by an average of 31.6% off. Compare that to the whole retail average right now – 49% is reduced by 35% off – and sleep has got a few critical percentile points in its favor.
In fact, the only categories with lower discounting rates than sleep right now are swim and underwear. Incidentally, we've covered both of these niche categories recently.
Here our new week-to-week view of product history shows that weeks 43 to 52 are vital in the calendar for discounting on the category. It's a key category for Black Friday discounting as it's often a family-buy and a fun gift over the holidays.

Sleepwear trends
Sleepwear is a category that fast fashion doesn't pay much attention to. ASOS does best with over 700 womenswear sleep items, but H&M has under 80 and Zara has none. For that reason, sleep isn't a category that has been driven by trend – it's those retailers who put pressure on other areas of the market to innovate.
But there are retailers who've spotted the opportunity. European retailer Oysho stands out with its trend-forward sleepwear offering which is driven by mainstream trends. For Spring 2018 that means tropical prints, high-waist pants and frill-trimmed white cotton night dresses you can imagine street-styled with sneakers.
And that's the key – the sleep category should be looking to bridge that bedtime/home-time gap so well that consumers can mix items up.
It's no different to what consumers are doing with activewear in and out of the gym. And we're all used to wearing more comfortable and casual apparel. This really could be loungewear's moment!
Here are some of Oysho's top moving products based on full-price sell through and/or replenishment:
Other opportunities to look out for:
Bridal sleepwear – we discussed all things bridal last week, and noted then the increase in bridal sleepwear on the mass market. Think beyond just the bride, as Instagram is creating 'content moments' for the entire bridal party as they prep on the day, or even at the bachelorette.
Airport outfits – Boohoo has recently had airport dressing edits on its homepage and brands like ADAY have grasped the opportunity in today's more global consumer. It's genius because most consumers don't even consider there's a need for different clothes to fly in until they see them. This is a great opportunity for businesses to use their sleep team's expertise in a new way to engage their shoppers.
Restorative sleep – Under Armour has a sleepwear range that's aimed at athlete recovery. It uses a bioceramic print on the inside to temperature regulate and ensure the wearer gets better sleep. This line is selling well and opens up other ideas where apparel could actually improve sleep. With the current trend for home scents, is there a way to infuse sleepwear with snooze-inducing essential oils?
It's a lasting trend
You might think it crazy that sleep should be getting more important, but we can pin it back to some rather huge consumer trends. Social media and the immediacy of live 'stories' means that we've opened up our private spaces.
Consumers are very deliberate in their purchases and styling of home – making elevated choices around things like kitchenwares, ceramics and houseplants. They're all aspects of the creation of self that is gripping consumers today.
Selfie-culture laughs in the face of 'behind closed doors' – closed doors simply don't exist any more. Make sure your pyjama offering is ready for the big reveal!
For this article, unless stated, we looked at nightwear across men's and women's at 74 global retailers. If you want access to that data on the category, and a whole lot more, drop us a line right here!