After nine sweltering days of New York shows, Spring 2017's trends are shaping up nicely.
For retailers, it's been a monumental fashion week for one reason in particular; it marked the first time Fall 2016 buy-it-now collections from the likes of Ralph Lauren, Thakoon, Tom Ford and Tommy Hilfiger ran alongside traditional Spring 2017 collections.
So, what's that mean for assessing new season trends? It means that themes and products are crossing seasonal boundaries now more than ever. Consumers aren't reinventing themselves anew each season, they're adding in items that reflect them in the present, incrementally updating the person they already are. Now requiring retailers to pay even closer attention to fabric weight, palette and timing than ever before.
These top 8 trends are Spring 2017's key pieces that are also good to go now, if that's how you operate.
1. White shirts
The classic white shirt is having a moment in retail right now. It plays beautifully into the current androgynous mode and appreciation for a relaxed silhouette. Zara is having a field day with the garment – introducing it in oversized, longline and frill-adorned styles in the last few months.
So it's good news that the trend carries on for Spring 2017. But that said, keeping customers interested will take some work. First up: styling.
Spring 2017 is all about the dishevelled. Take the classic garment in your offering and see what can be done with a longer sleeve or a twisted collar stand: muss it up a bit. Or make like Prabal Gurung and 3.1 Phillip Lim and include a white shirt dress – Gurung's was feminine, Lim went for boxy clean lines. Exhausted those? Then deconstruct the garment, as at Alexander Wang. Take the visual cues – the high quality cotton, the pen pocket, the placket – and work them into a new garment altogether.

2. Sequins
Shine is working well in retail right now. Metallic shoes are just about everywhere. So how to move lust for the lustrous on and secure a premium price point? Sequins! New York's runways glistened. The stand-out use was at Alexander Wang, where iridescent sequinned dresses and midi-length skirts managed to look sporty and streamlined.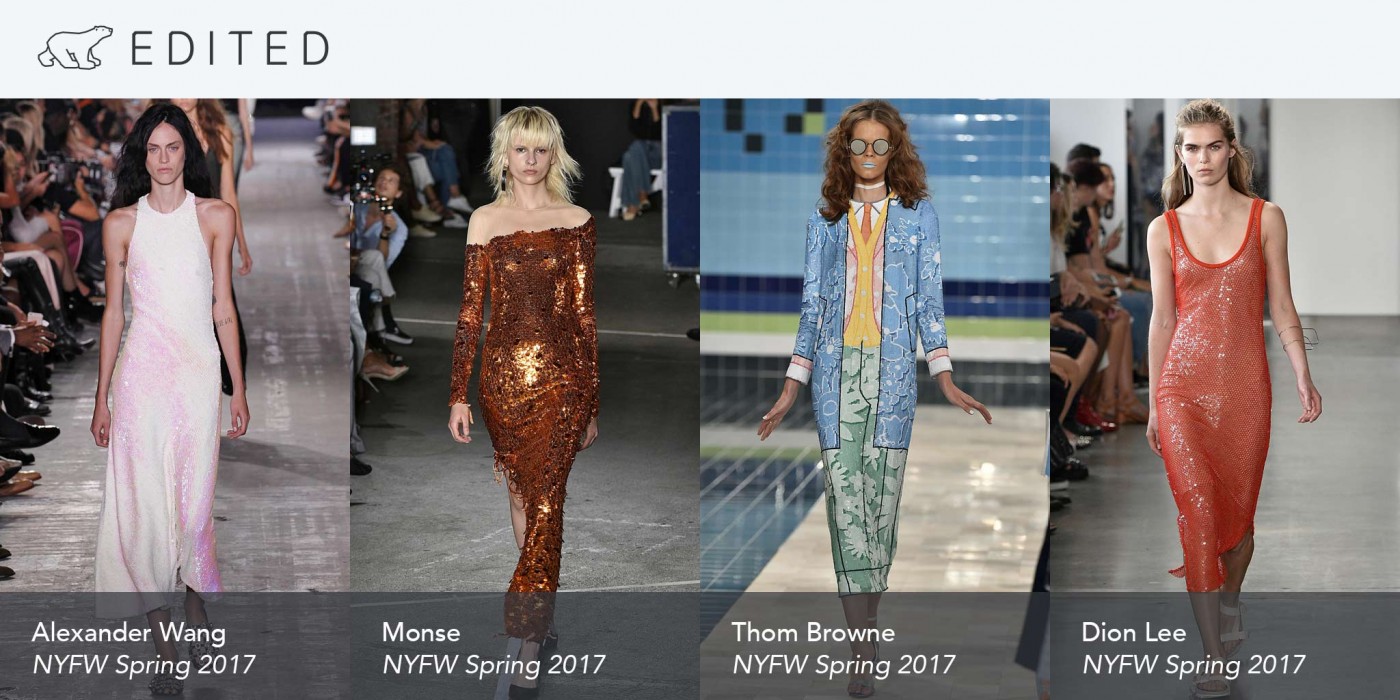 3. Ruffles
This trend was Spring 2016's biggie. Fast forward to now – ruffled sweaters, long sleeve dresses and shirts from Gucci through to H&M are arriving into stores for Fall. After years of unforgiving bodycon and ab-exposés, consumers are onboard with volume. Keep it up for Spring 2017 by asking yourself 'would the red-dress emoji woman wear this?'. If yes, that'll put you in line with the ra-ra layers and flounces at Altuzarra, J.Crew and Rosie Assoulin. A flounce-trimmed wrap skirt screams summer holiday, while a frill edge jogging bottom would work from the top of the season.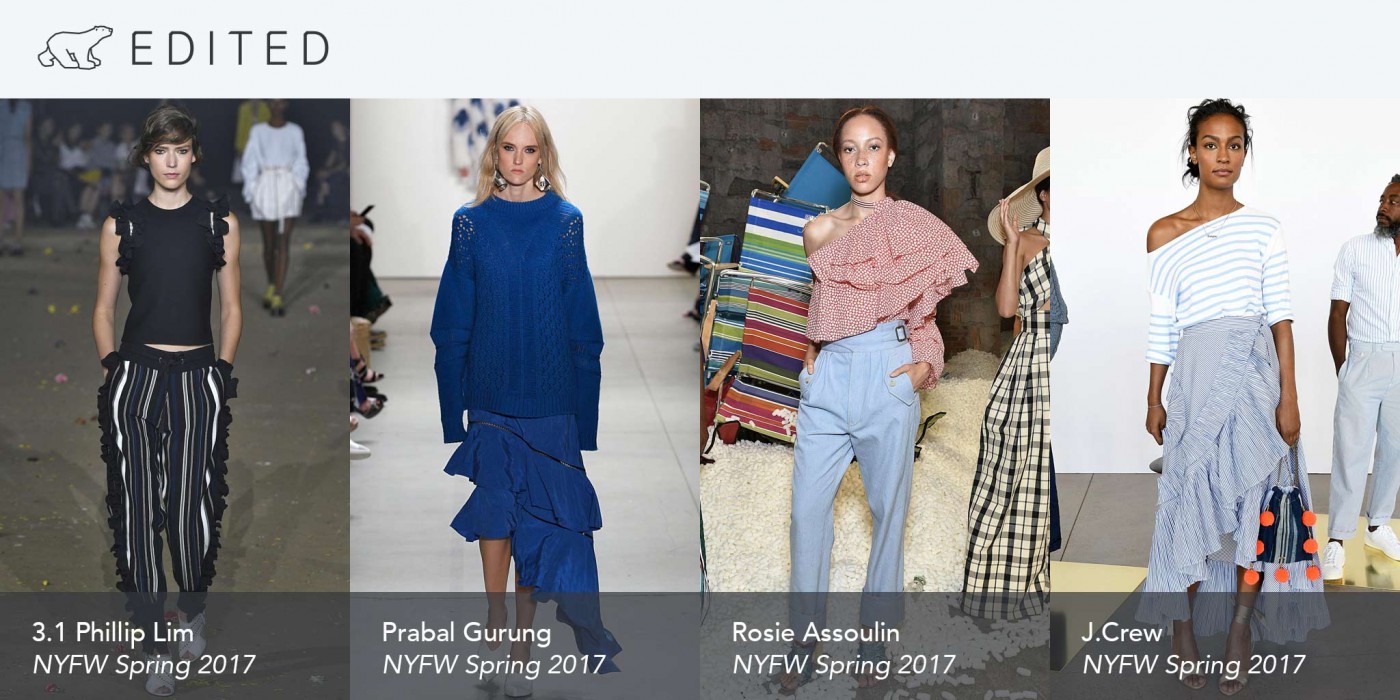 Spring 2017 trends. Ask yourself: 'would the red-dress emoji woman wear this?'
4. Off-shoulder
Erogenous zones go through trend phases too. The abs are out (you can breathe), and no one can remember the last time they saw cleavage. Instead, another critical Spring 2016 trend stays put: bared shoulders. Data shows that in Spring 2016, tops performed fractionally better than dresses. ASOS, Topshop, Forever 21 and Zara all backed this trend heavily – we'll expect them to go in for another round come March.

5. Corset Detailing
While lingerie trims have been knocking around for a few seasons, the appearance of corset detailing feels fresh. Rodarte and Zimmerann used hook and eye fastenings to sex-up otherwise chaste dresses. Elsewhere, there was ribbing and waist cinching and – perhaps one of the most versatile – Alexander Wang's waist-laced bralets, whose straps worked their way through cami dresses.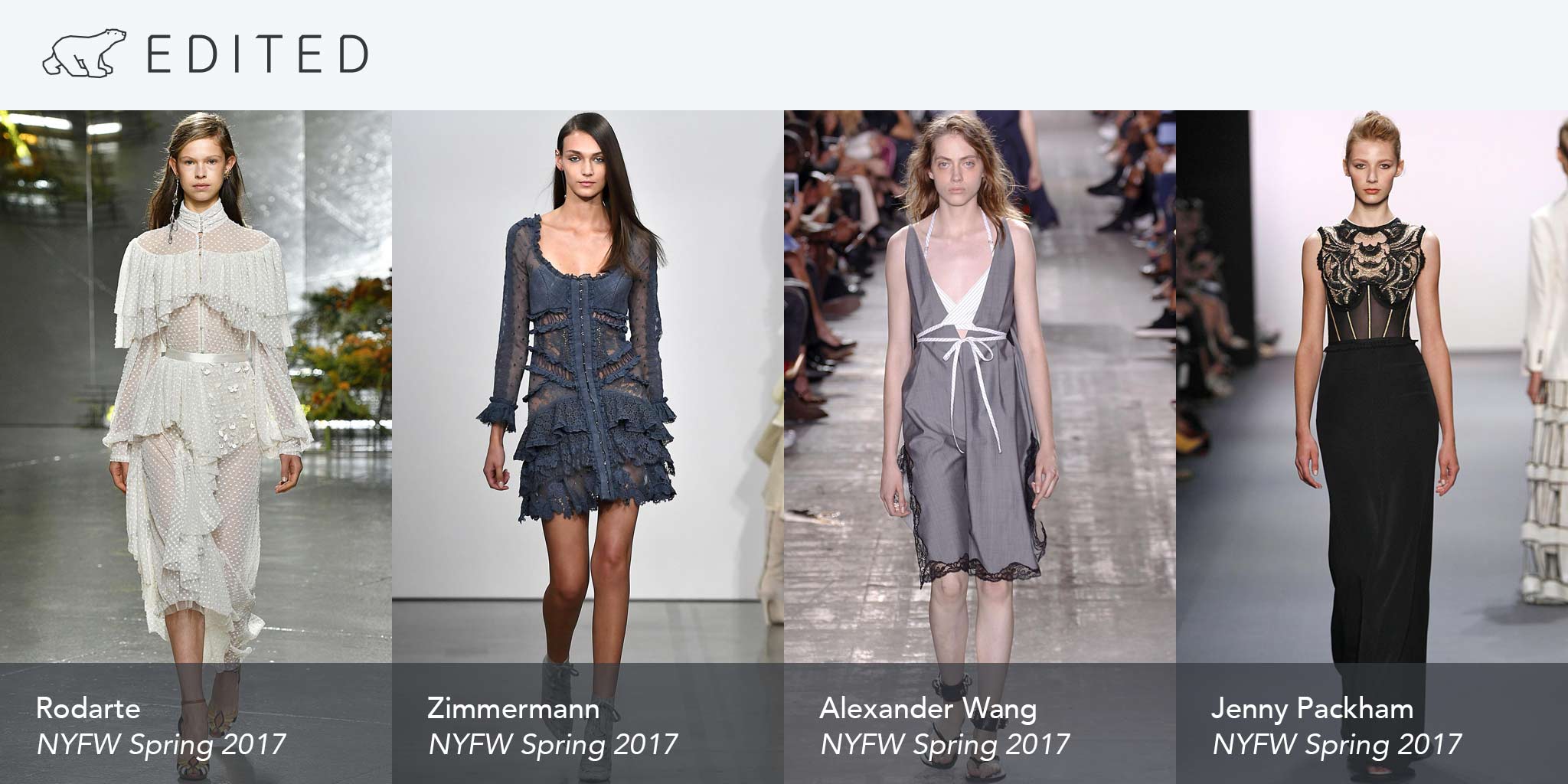 6. Statements
The great thing about buy-now fashion is that more than ever designers' social commentary can really bite. Timed right, it's got a whole lot of viral potential, or at least a sold out line. Whether or not the designers showing at New York have instantly shoppable items, there was definitely a loudmouth mood in the air. Political, gender and sexual statements worked their way across tees, sweaters and dresses, daubed with anger or carefully rendered in embroidery. This is great news for retailers: find the buzziest ways to connect with your own consumers and you've got an instant win.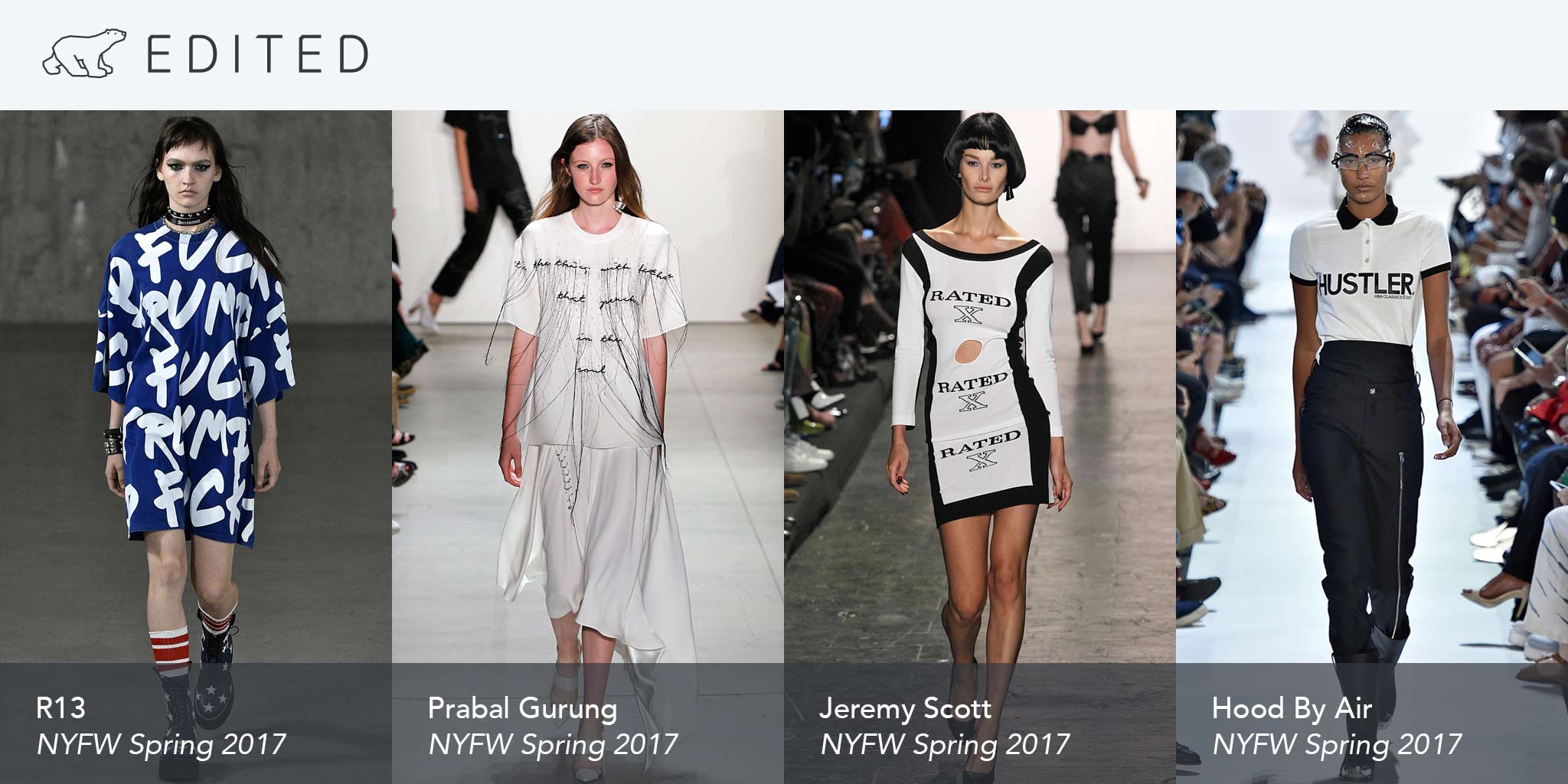 7. Standout Sleeves
Billowing leg-o-mutton and bishops sleeve take some chutzpah to carry off, so in an era where trends are shared across every price point, that makes them ideal for a luxury market eager to find trends of its own. Let's be real: no one in New York is going to be wearing a full leg-o-mutton in August. Instead, this trend will fill that tricky space between February and May perfectly.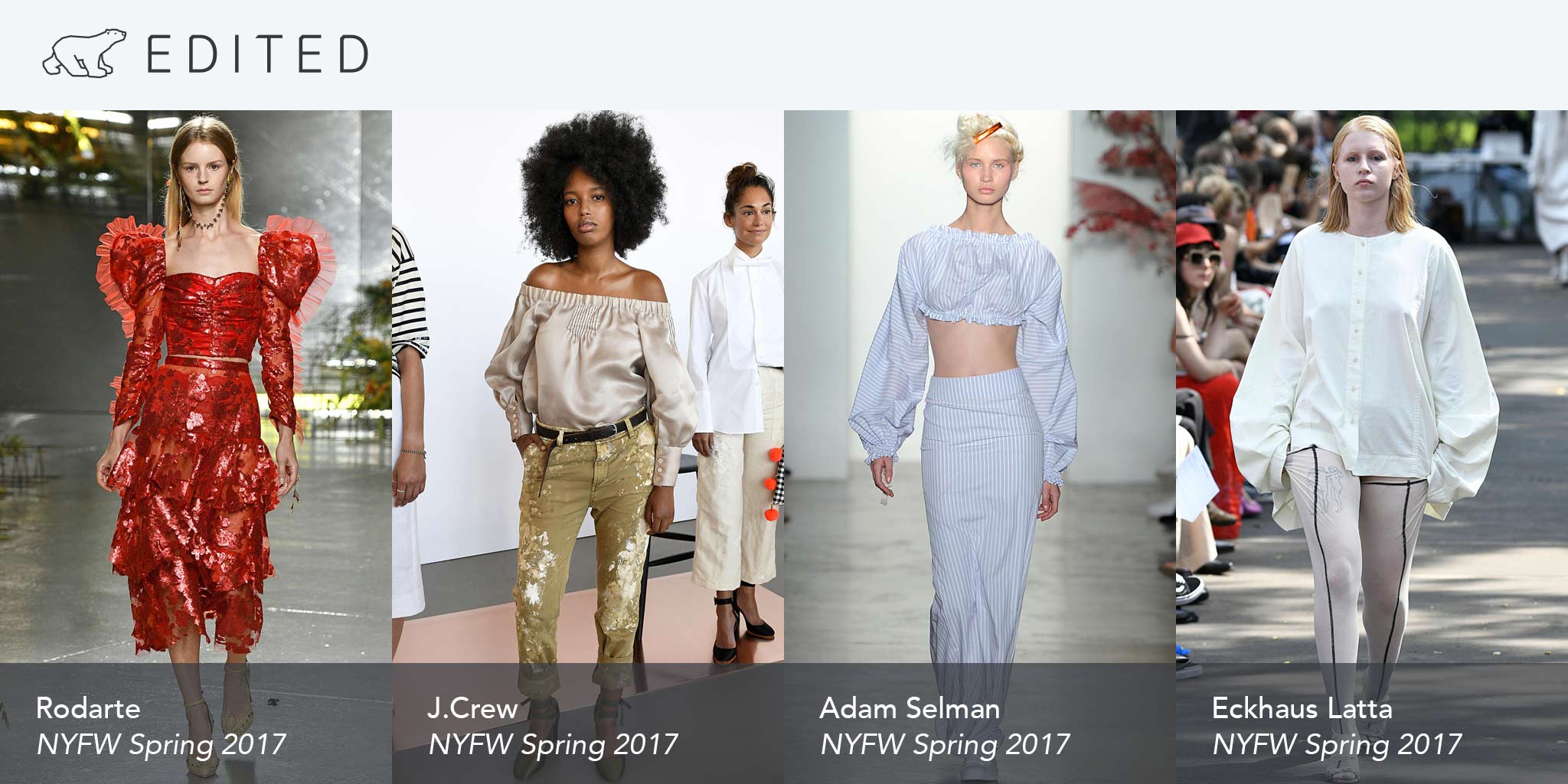 8. Asymmetry
Dishevelled styling, asymmetric cuts and haphazard layering gave off an insouciant air that screamed luxury. Spring 2017 is off kilter, it's the season where you can do a one-sleeved dress, a lopsided skirt or the kind of wrapped knit that looks different every time the wearer dons it. Michael Kors sent out a trench coat with an asymmetric fluted hem that felt at once brilliantly new and very familiar. Call it retail heaven.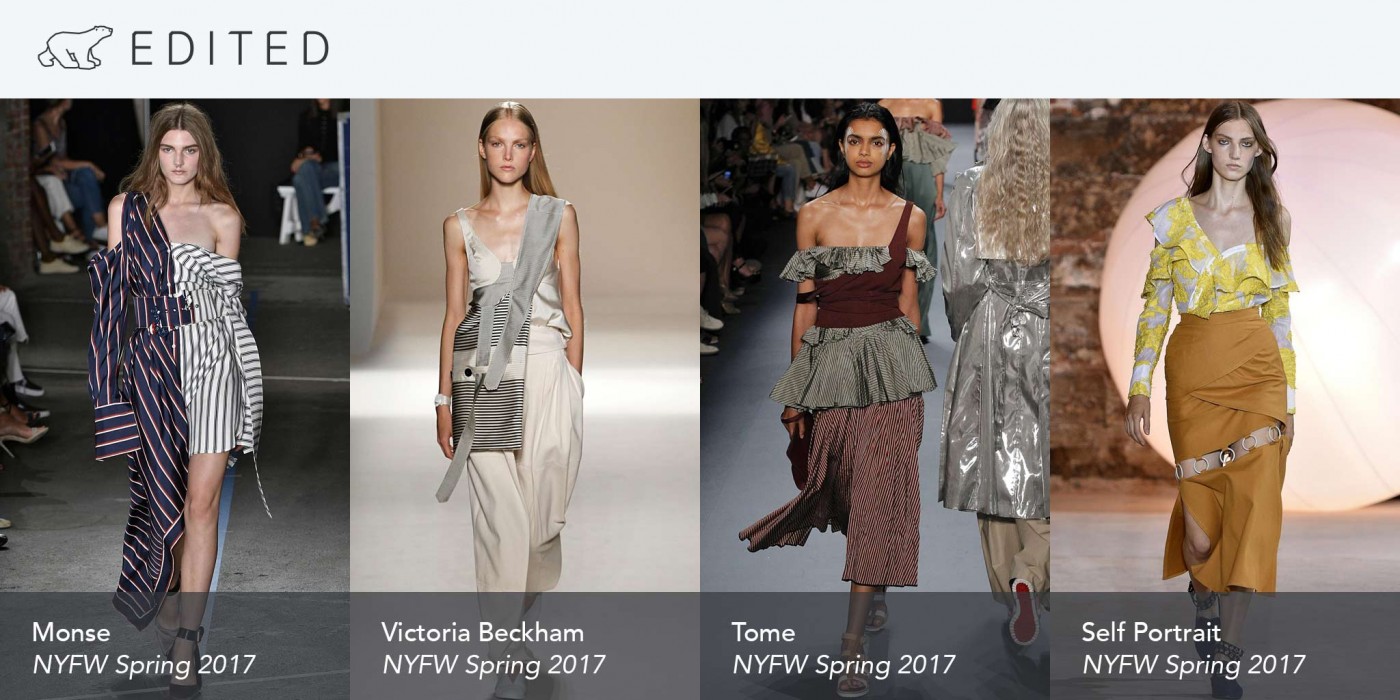 Stay tuned next week, where we'll be covering London's shows. In the meantime, join us on Snapchat where we're answering your trend questions.