This week, it came to light that New Look have been selling 40,000 kimonos a week since April, which has contributed to their sales lifting by 9%. The kimono is a trend, which EDITED market intelligence platform detected as growing following last September's SS14 shows, when the garment featured on the runways of Roberto Cavalli, Valentino, Gucci and Dries Van Noten.
Data shows a spike in the number of new drops of kimono products in October 2013 – the earliest signs of the trend gaining commercial pace, with early adopters ASOS, Boohoo, River Island and Missguided releasing their styles. However, the trend's impact really took off in February when new kimono product arrivals begun their climb for the summer season and peaked in July this year. Consumer demand begun to climb between April and May. In July, New Look introduced the highest number of kimonos in any month: 118 styles of kimono priced £12.99 – £34.99.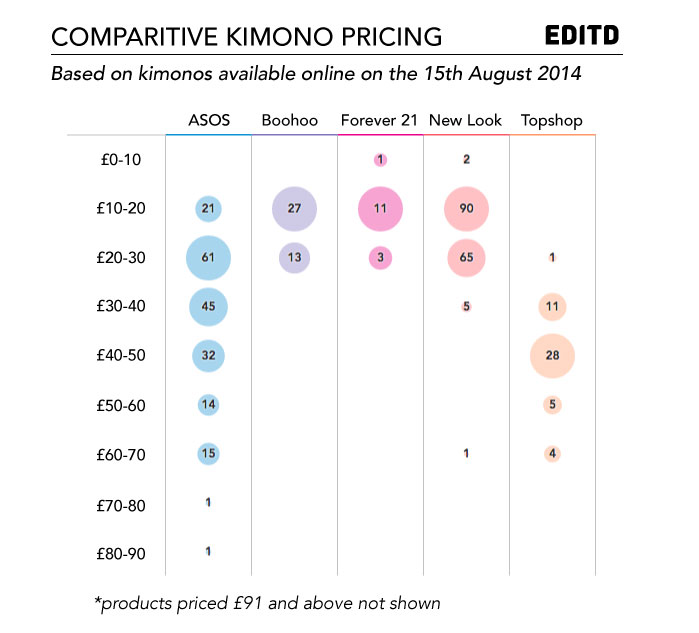 New Look currently have 162 kimono styles in stock, with 34% of them seasonally discounted by more than 20%. ASOS are the retailer with the highest number of kimono options in stock, followed by New Look and then House of Fraser. Proving this to be a transatlantic trend, US department store Nordstrom are the fourth largest retailer of the trend.
New Look's success with the kimono trend was bolstered by the retailer's excellent communication: kimonos have featured in 17 of their email newsletters since March 2014.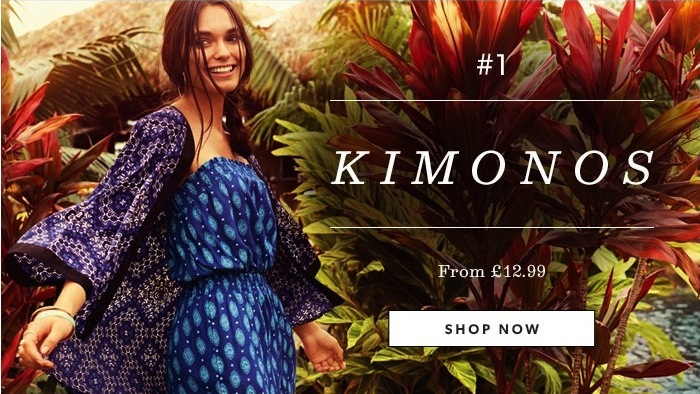 Kimono trend in AW14
ASOS Australia are the retailer with the highest number of kimono sell outs between February and August this year – given that it's the Southern Hemisphere's winter, this bodes well for the trend continuing well into Northern Hemisphere's Fall. The kimono trend has continued to be backed at designer level for AW14, with Burberry, Roberto Cavalli and Etro showing kimono style capes or wraps in wools.
Retailers still looking to invest in kimono trend should look at the data around pricing and discounting to understand whether it's still relevant for their market. We're expecting updates in velvet and wool, as well as kimono sleeves being worked into tops. The popularity of the lightweight layer will translate into Fall with the duster coat. This garment has already been promoted in savvy New Look's new season trends. Watch this space.
Next week we'll be revealing SS14's best selling trends. Will the kimono feature? Sign up to our Insider Briefing today to find out.
New Look's Bestselling Kimonos:
New Look's Kimono Newsletters: