Face facts: we're working longer hours, for more of our lives. The average American full-timer spends 47 hours a week at work.
How have shifting dress codes, increased casualization of corporate offices and 75 million working-age millennials changed the work wear category?
Work wear versus workwear
Before we dive in, we should address the distinction between what we're calling workwear and work wear. Workwear we're using to refer to practical clothing people wear for manual, or messy, work – be it uniform or overalls, cargo pants and the like.
For this piece, we're looking at the apparel people choose to wear for work, in environments like offices. Some retailers call the category wear-to-work, others workwear.
But in separating the two, we shouldn't disregard the significance of true workwear. The functional workwear market is set to reach $700 million by 2026.
And when you look at the fastest-growing sectors – healthcare, personal care, social assistance and construction – workers are going to need more apparel to suit those demands.
That means more apparel that is super durable or has properties like water resistance and temperature control. Things the garment industry has learned from the sportswear boom can be applied to this sector.
Workwear as a trend
To add in a layer of complexity, workwear proper has become a trend lately, seeing a surge of 'workwear jackets' or shackets, and utilitarian cuts of denim. Streetwear brands have taken on workwear aspects like hi-vis, which has appeared in garments from Yeezy, Heron Preston and United Standard, among others.
New arrivals of workwear-inspired items have spiked 560% in the last three months compared to the same period one year ago.
For certain, some of this workwear is being worn as work wear…
What a work wear assortment looks like today
But how are people dressing for the office these days? Dress codes have certainly shifted, making it harder to identify what in a retailer's assortment is being purchased for work and what's not.
We've homed in on items that are described by retailers as being for the office, to reveal changes in the very definition of the category. Below we can see a shift in women's office wear in the last two years, with emphasis moving off skirts, and instead into pants.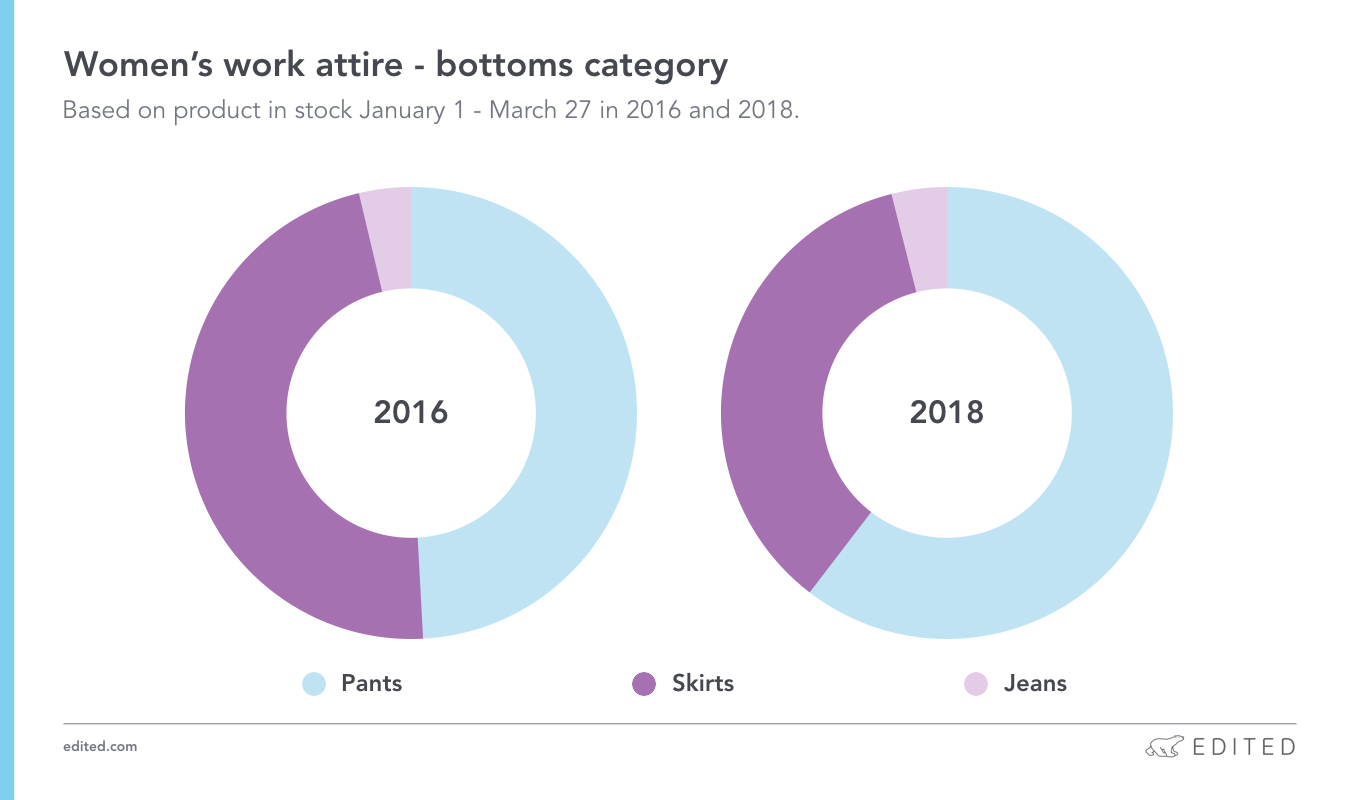 Did activewear kill work apparel?
There has been much chatter about activewear taking over all aspects of our life. Tracking the number of new officewear apparel items reveals there has been a noticeable curtailing in the last year.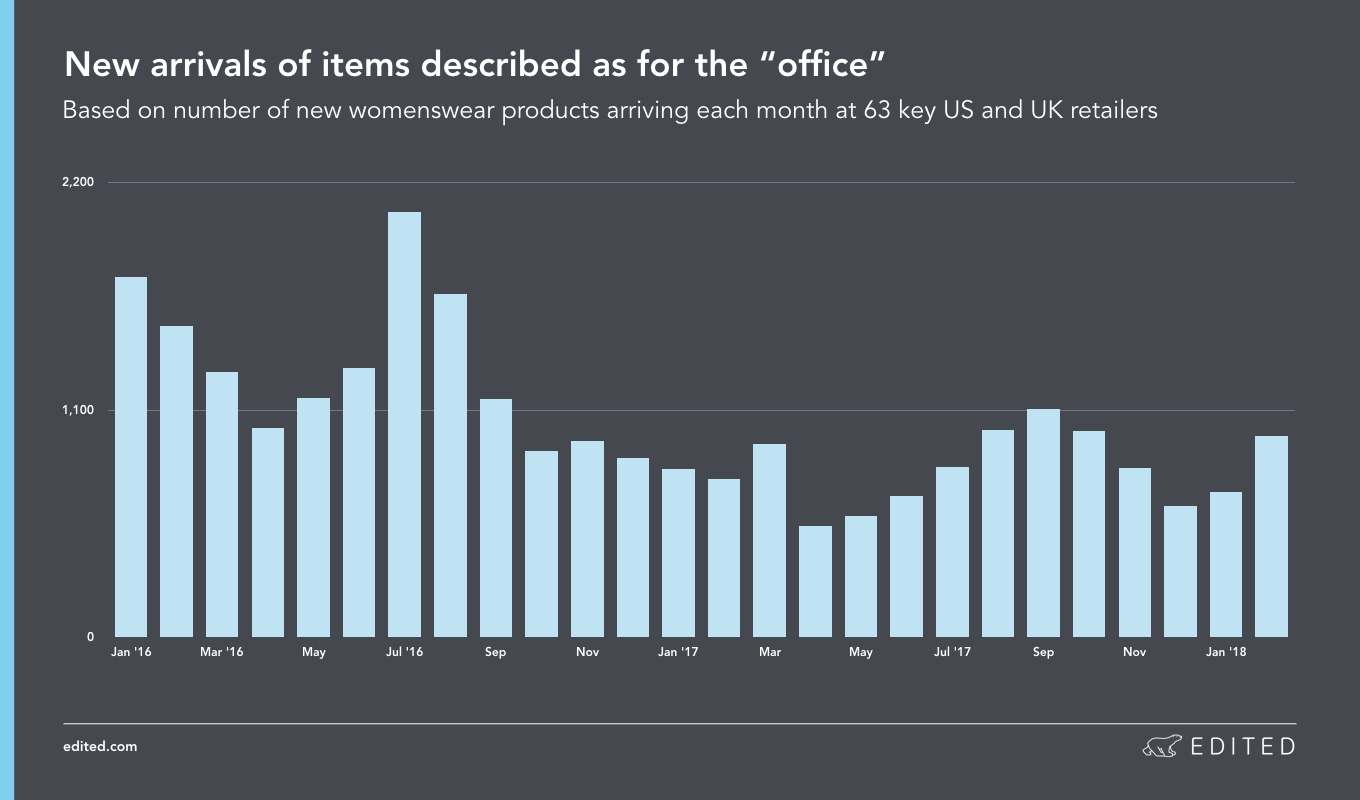 But, if you're in an office right now, look around you. There aren't really that many people wearing leggings, sports bras and tank tops. The biggest crossover here is certainly in footwear, where sneakers are being paired with smart casual daywear.
And specific men's categories show growth rather than decline. Take suiting as an example.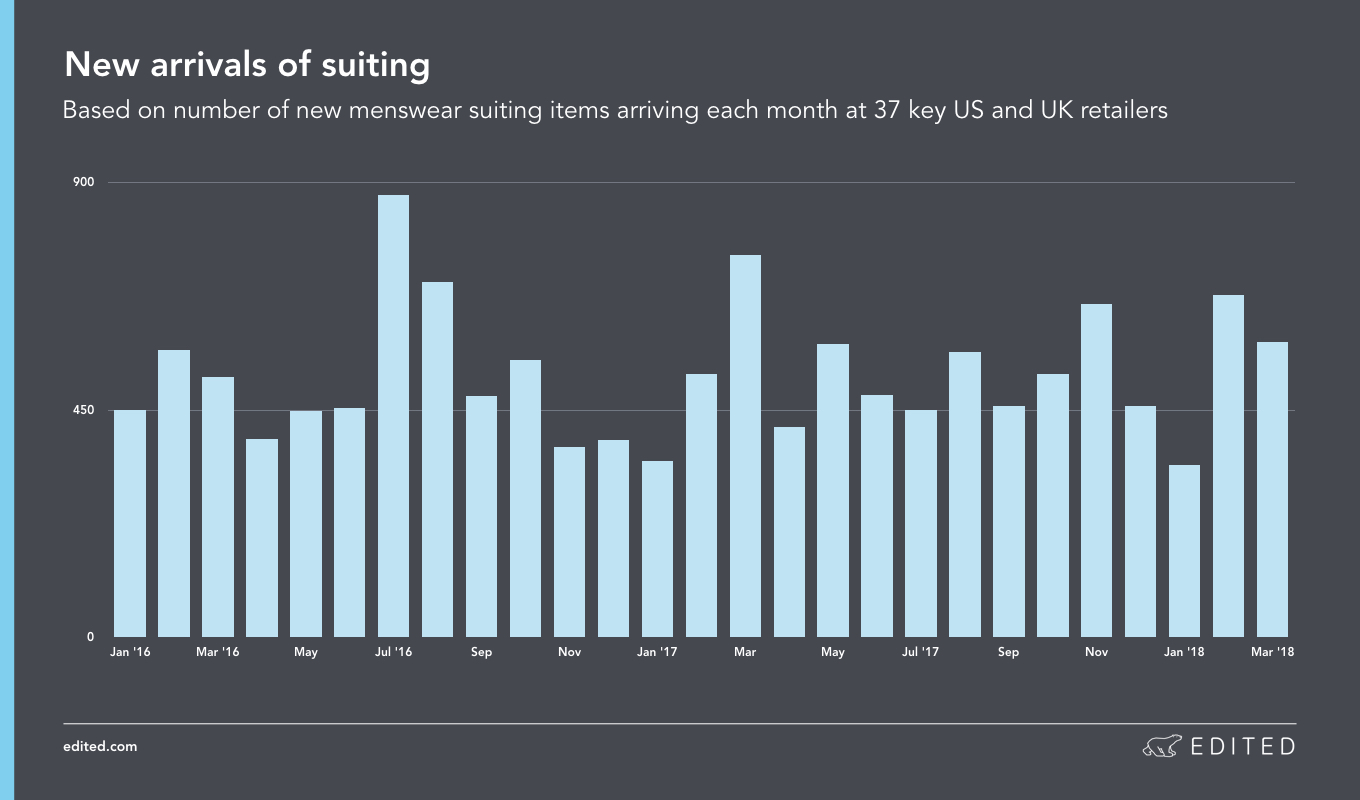 There is strong year-round backing of this category at major retailers, and a strengthening in the early summer months thanks to increased presence of trend in the wedding category. And price point on suiting has grown consistently, every six months since January 2016, from $841 to $1,018.
Office stuff is still there, albeit with trend-influenced shifts like the move away from skirts to the current emphasis on pants. What is changing is the way retailers are selling it, with fewer pieces aimed specifically at the "office".
WeWorking our wardrobes
Could that be in part thanks to the co-working economy? The timing of the decline of office wear and the increase in co-working spaces isn't a coincidence.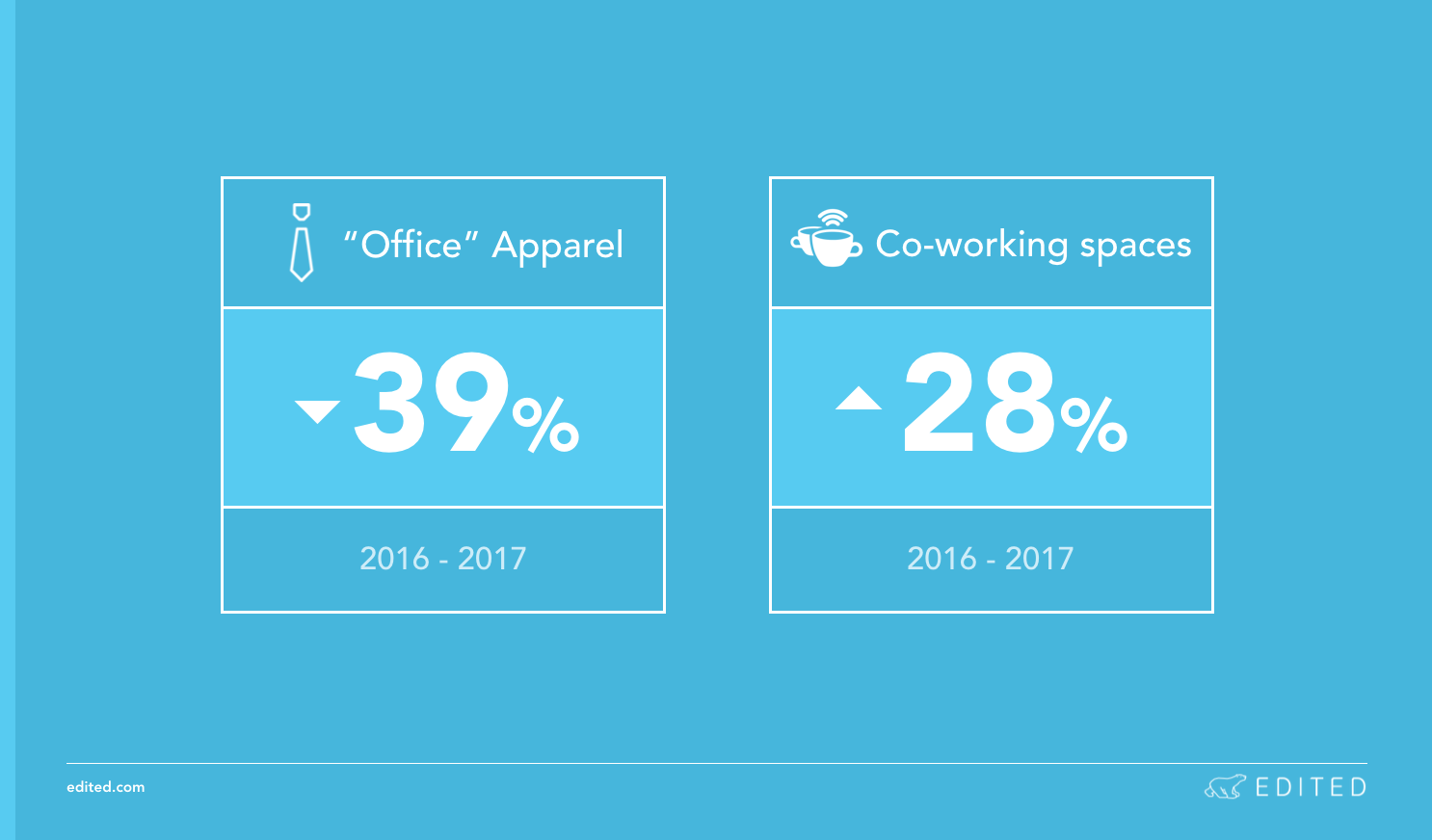 The bulk of employed consumers aren't working in co-working spaces. But the impact these engaging, flexible spaces have had on the broader workplace is enormous.
Office apparel has declined 39% in the time that co-working spaces have increased 28%.
Co-working environments, made possible thanks to the digitalization of work, break down so many workplace norms, from hierarchy to formality dress codes.
Companies have sought to mimic these environments for their corporate locations, as a drawcard for personnel. Finance and legal fields aside, these days there just aren't as many professional environments requiring staff to be suited and booted five days a week.
WeWork, and its scores of counterparts, are influencing what millions of people wear for work with their trendily-designed spaces.
J.Crew cleverly tapped into this in recent collaboration with WeWork and Linkedin. Alongside events, the retailer's work wear campaign was modelled by 'real' WeWork-ers.
Communicating the category
Work is still important and making statements through our apparel isn't ever going to go away. But there are changes in the way consumers shop the work wear category, that retailers need to adapt to.
If an item is too identifiably 'for the office' consumers, with more casual workplaces and a blurring of work and leisure time, aren't going to justify the purchase. Instead, consumers are buying items that have multiple uses.
Flat, athletic footwear that's comfortable, denim that can be dressed up with shirting and lightweight trend-led jackets that can be paired with smart dresses or weekend casuals. In the winter, bold-colored sweaters or oversized shirts are paired with tailored pants, statement ankle boots and jewellery.
The trick is in finding the balance between 'traditional' work wear items and the crossover items that consumers will covet regardless of environment.
Here are some of the ways retailers are doing exactly that. Gap has cleverly combined casual work wear with its maternity offering, something few other retailers are doing well.
The future of work
Where will we be in five or ten years time? Will everyone be dialling into the online office from the comfort of their pyjamas? The good news is that maybe the future of work doesn't look that different.
Studies show that Gen Z's actually prefer corporate offices to telecommuting and many companies are bringing their remote workers back in-house. Retail just needs to strip away the dullness that's associated with work apparel in order to grow this segment in line with the change in consumers.
Need for trend
To do this, work wear is crying out for more trends. A retailer who was able to spot that shift away from skirts in the bottoms category would have been able to plan product and content accordingly to new season work-appropriate trouser trends.
And right now, blazers are having a fashion moment, with Q1 new arrivals up 29% from last year. (And specifically, pink blazers, which have grown 98%). Consumers are ahead of the newness, with sell outs up 65%.
Spotting these moments with time to react is the make or break of the work wear category.
The runways are bustling with work wear items and are a vital source of new direction. For Fall 2018, that looks like solid stripes in suiting, smart sweaters and metallic accessories that lift a look.
We've just published our full work wear trend reports from Fall 2018's runways. If you have EDITED access, log in today for men's and women's reports. Or talk to us if you're not and would like to know more!