Inhale. Yes, we're a quarter of the way through 2016. Let's take a moment to reflect on the hits and misses in Q1 before powering into Q2. Exhale.
Much like we did earlier this week for womenswear, we've looked the data behind menswear's first quarter of 2016, and it's revealed some interesting things. From changes to pricing, Q1 discounting patterns, trend colors to the successful products, read on to learn about all of it; as well as why now's the time to treat yourself to new underpants.
The Big Boys
Yoox led the season, introducing more than 84,000 products in Q1. That's a 24% tumble from Q4 2015, when the retailer ramped up for the holiday season. That pattern is seen across the board, top five retailers La Redoute and House of Fraser both scaled back on new products by 14%. The menswear market in general shrunk 9.7% on new products from Q4. Farfetch bucked the trend, introducing 59% more products in Q1 than Q4 2015.
The brands with the highest number of products stocked is particularly interesting and highlights activewear's gigantic stronghold on retail and lifestyle.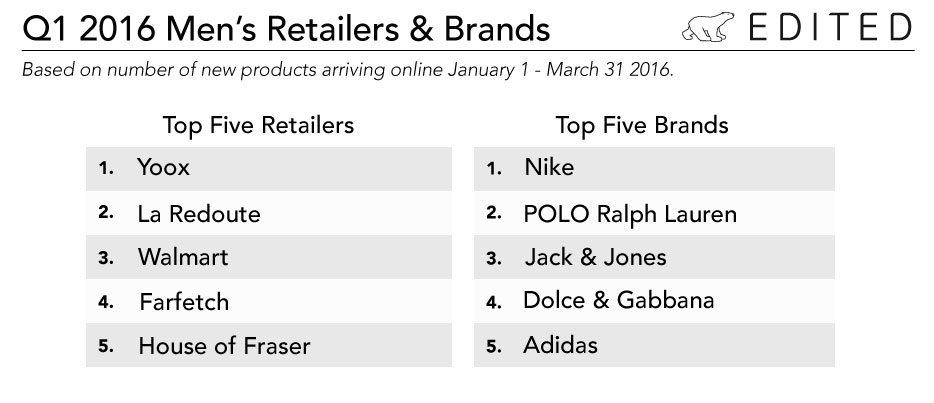 While Nike retains its stronghold in number one spot, Adidas' fifth place ranking is three steps up from eighth place in Q4 2015 and fourteenth in Q1 2015. The brand has grown the number of its products on the market by 14% since the last quarter in a bid to catch up with Nike. Not retaining their places in the Q4 top five are DSquared2 with product numbers down 35%, and Diesel, down 12%.
The 4% price hike
Median price on Q1 2016 new arrivals has grown 7.2% from Q1 2015 and 5.9% from Q4 2015. In the same timeframe, womenswear was a little more erratic, growing 10.3% from Q1 2015 but falling between Q4 and Q1 2016. Menswear's growth is steady.
Taking that further, we can analyse how retailers are pricing key menswear items. The chart below shows a price index of the average price on six different products at full price in Q1 2015 and Q1 2016. Four products have grown in price: jeans are up by 4%, hoodies up by 5%, bomber jackets up 5.9% and boots up 13%. Two products are on average cheaper now than a year ago: backpacks, down 1% and underpants, down 12.8%.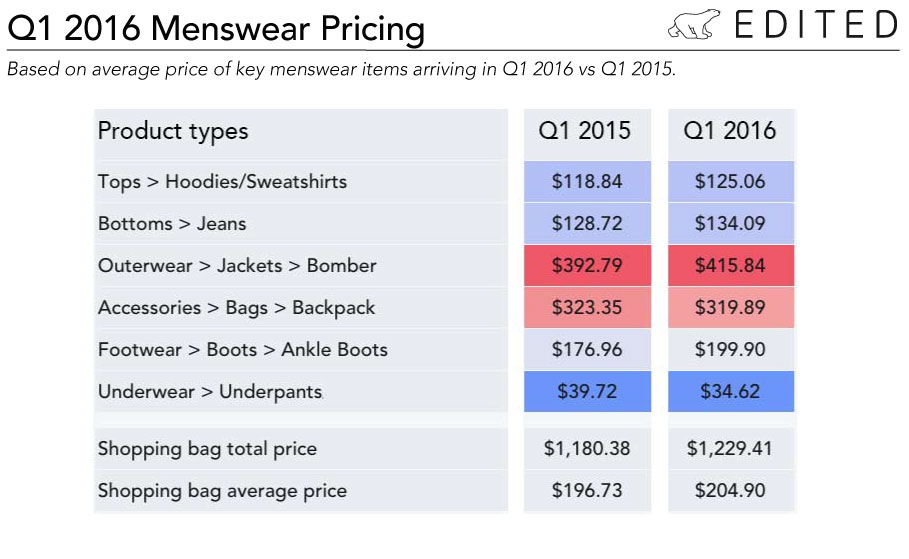 These sample items show the average basket total is up by 4% from Q1 2015. The global inflation rate for 2015 was 3.3%, so you can see that apparel retail is just a touch ahead of the global rate.
Basket total on men's hoodie, jeans, bomber, backpack, boots & undies is 4% more in Q1 '16 than '15.
At the same time as they've gently increased prices, retailers have also cut back on discounting. In Q1 2015, 23% of new products ended up discounted within the quarter. This year retailers have reigned that in to a more palatable 15%.
Black Leads the Q1 Palette
Black, as ever, dominates the Q1 palette, though its down by 19% from Q4. Also down is red (by 20%), purple (by 4.4%) and navy, down 1%. Palettes in the first quarter of this year are led by an 18% increase in new arrivals of whites and 18% increase in blues. Summery shades of pink grew by 9% in menswear in Q1.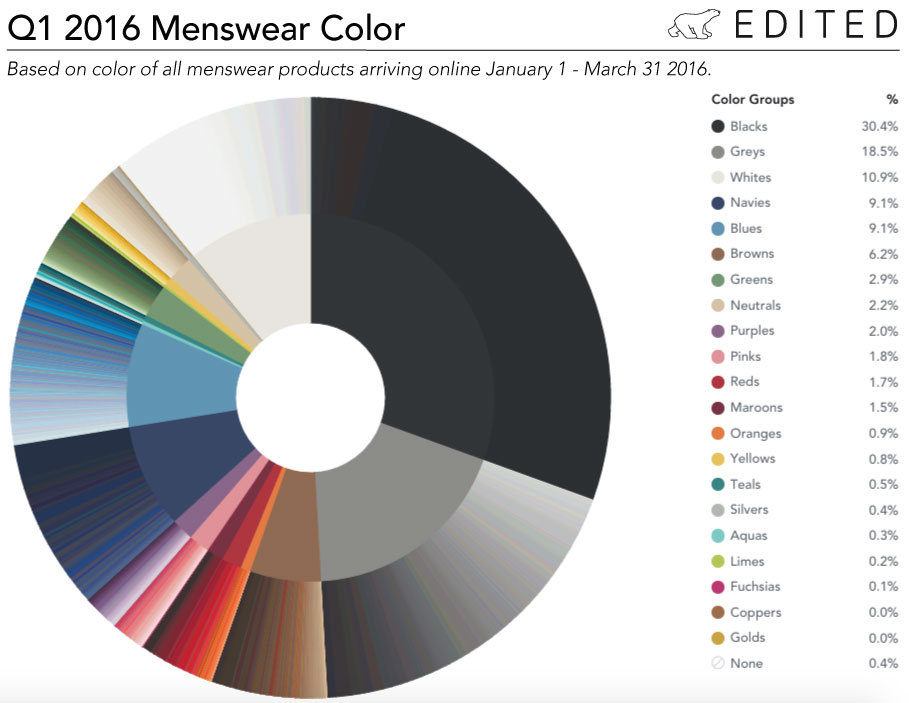 That's strongly correlated with the colors of the bestselling products, where 33% of top performers are black and 20% were grey. Despite navy being down in Q4, it still made up 9.5% of sell outs and white represented 9.2%. Mirroring womenswear, the maroon color trend is on the decline. Though maroon was the ninth most-stocked shade, it was only the eleventh best-selling, suggesting retailers expectations of the trend outstrip the demand.
Mixing the Assortment
The menswear assortment hasn't undergone as many dramatic changes as womenswear, but they haven't been absent entirely. Most notable is the 2.5% decrease in market share on the bottoms category compared to Q1 2015. Outerwear also lost 1.8% of its market weighting. Retailers stung by unseasonably warm start to winter and likely shifting their focus elsewhere, loathe to introduce new, high cost items late in a flat season. Tops have taken a slight tumble, dropping 0.5% of their weighting.
In growth mode is footwear, which has climbed by 1%. That's reflected in it being one of the top three performing categories (based on number of full price sell outs of new arrivals) for Q1, just behind tops and accessories as we'll now explore.
Leading Top Trends
Tops, the most-stocked category were, understandably, the category with the most 'top movers' – products which arrived online during Q1 and sold out within the quarter without any price reductions. Leading the category was longline tees which sold well in both short and long sleeve styles from value retailers like H&M through to luxury at Farfetch. Zip features were a detail of this oversized trend for some of the successful shapes.
Another stand out success was Fendi t-shirts, featuring both their bag bugs (which are also selling amazingly well across accessories and footwear in men's and women's) and abstract Granite print. If that's not your bag, the more conservative gents out there have been snapping up plain navy shirts, which have sold well for Liberty, Matalan and Universal. Lastly, logo-ed sweaters are performing well in activewear and for premium brands. Hugo, Acne and Adidas have all had Q1 hits with simple black or navy crew neck sweaters featuring their recognizable logo or motif placements.
Achingly Cool Accessories
The menswear accessories category was led by fast sell outs on baseball caps, most notably from New Era. Chronograph watches sold well, spanning a huge range of prices, from $39.99 at Target, to more than $6,000 for a Bremont watch at Nordstrom. And the backpack trend marches on, despite its 1% decline in average price point compared to a year ago.
Footwear Of Fancy
Men's footwear, up 1% from Q1 2015 is becoming increasingly directional. There were successful tasseled loafers and woven loafers, but the key styles for Q1 were suede boots and brown brogues. We'll expect those loafers to take over as we move further into the Spring season.
EDITED users, don't forget to log in today if you want to see men's, women's or kidswear Q1 reporting at category-level!