In four days time, men's fashion week kicks off here in New York, following on from a month of shows globally. Though runway is the current focus, it's a good time to be in the broader menswear game.
Why? Well, for starters the men's footwear and apparel industry is set be worth $460 billion dollars by 2020. For context, that's 25 times NASA's annual budget. And those guys do incredibly exciting things, like hurling satellites at asteroids.
That supersonic growth in men's outstrips womenswear. But as well as making retail more money, the characteristics of menswear are shifting too. For starters, the luxury market is growing fast. According to Euromonitor, it alone will be worth $33 billion by 2020 – a 14% increase from 2015.
Data shows men's is hotting up
Add in our data and you get a real sense of why menswear is pretty exciting right now.
We tracked a sample of US retailers over the last 4 years and found in Q1 of this year, new menswear arrivals had grown by 38% compared to 2013. The same retailers have increased the number of brands they stock by 27%, resulting in more varied and competitive assortments.
Even better news is that the product is connecting. There was a 31% increase in Q1 sell outs this year compared to 2013.
Why is menswear changing?
These shifts in the market are led by changes in lifestyle. For one, we're all dressing a lot more casually. There has also been a big surge in the availability of product of any kind, thanks to e-commerce and the accessibility of fast fashion prices. That's driven interest in, and adoption of, men's trends.
And finally, retailers have figured out how to sell to men. The segment no longer comes as an afterthought to women's. Retail is affording menswear its own cadence and tone.
How that's impacted the shop floor
Times are a-changing, and retail, being a sensitive thing, has of course changed too. For starters, the average price of menswear has climbed. It's up by more than 60%, to $232 right now. Below you can see how the price on specific products has shifted, with men's backpacks and bombers leading the price point growth.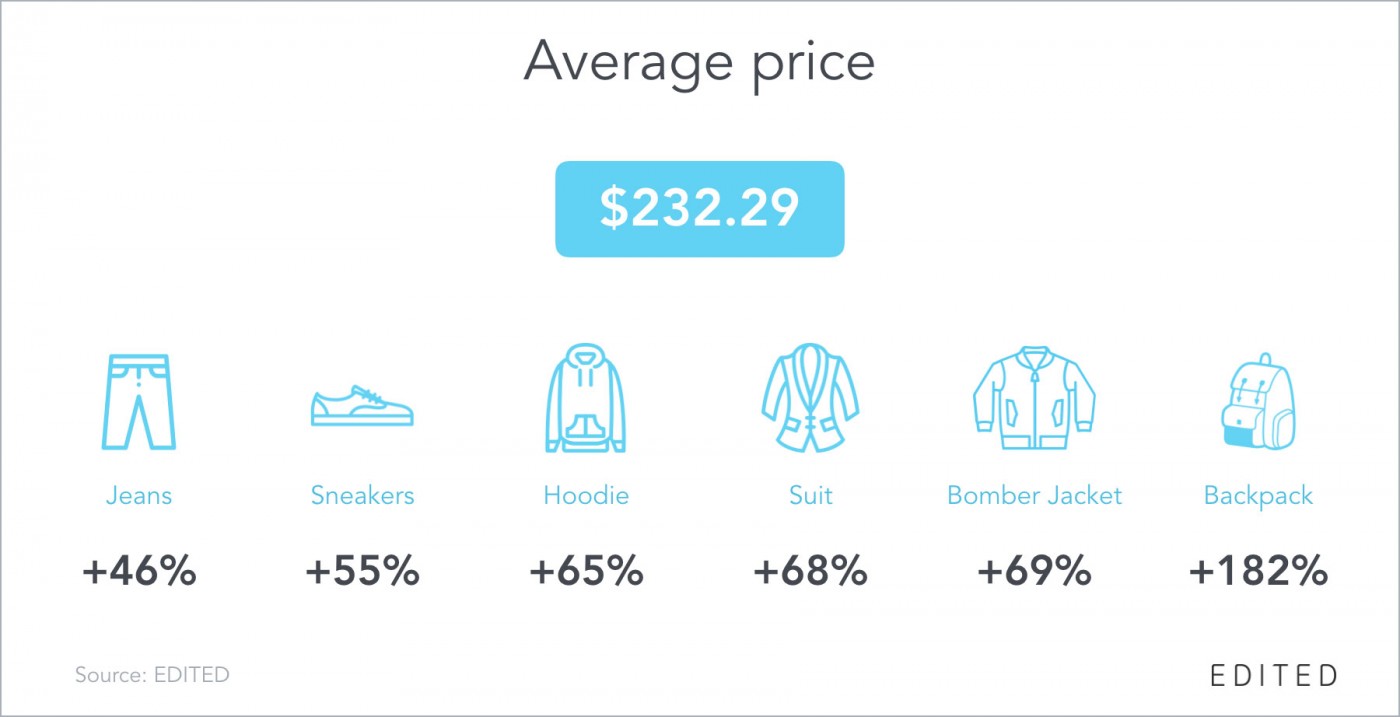 But don't be fooled, that's not because menswear is becoming more expensive across the board. It's because the market is opening up. And that's the really exciting part.
The menswear market is becoming more inclusive
Although the under-$50 price point has grown in volume by 9% since 2013, it's actually lost 8% market share. In 2013, it represented 40% of the menswear market. However, in 2017, products under $50 account for 32% of the market.
So even though there are more cheap clothes out there for men to shop, there's also more at higher price points. The over $400 price point has grown its market weighting by 6.5%.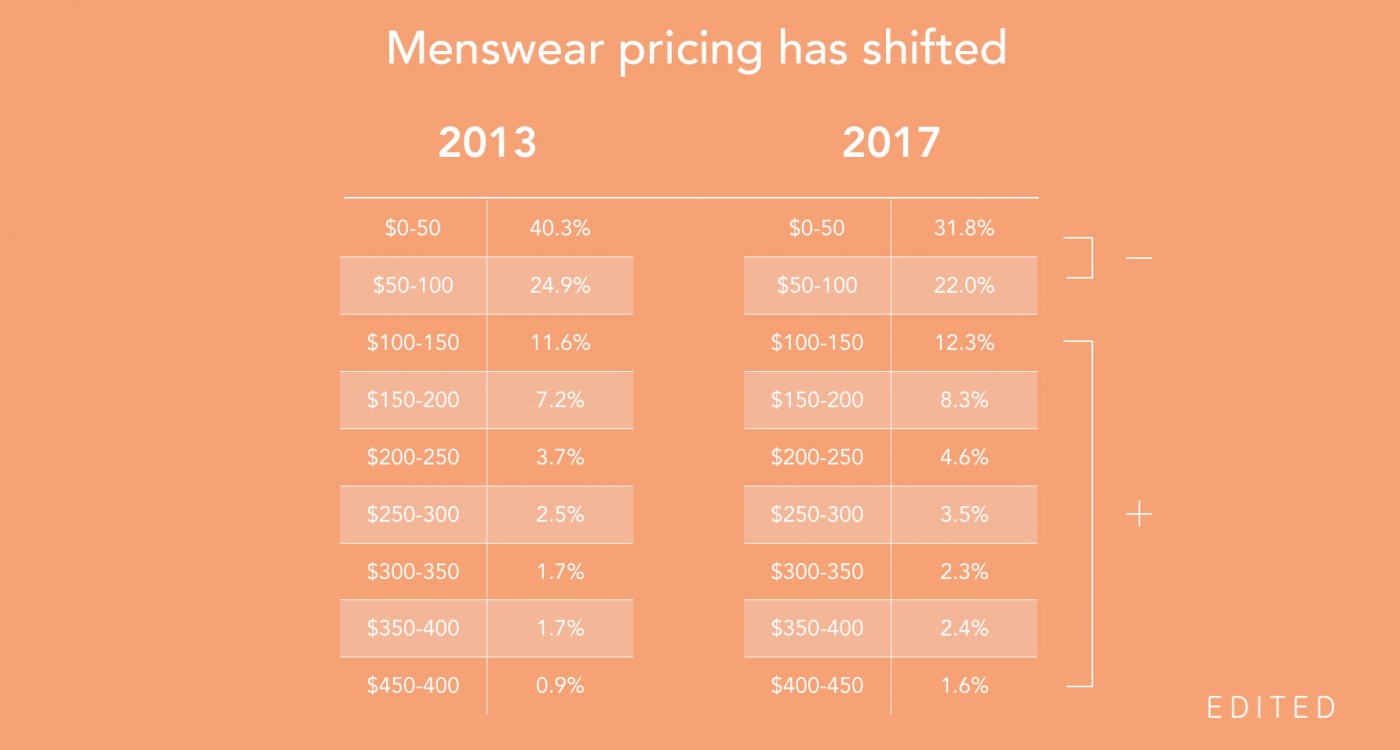 The menswear market is becoming wider and more inclusive. Which is great news for retailers looking to expand. We've found one specific opportunity that requires their attention. Let this next chart do the talking: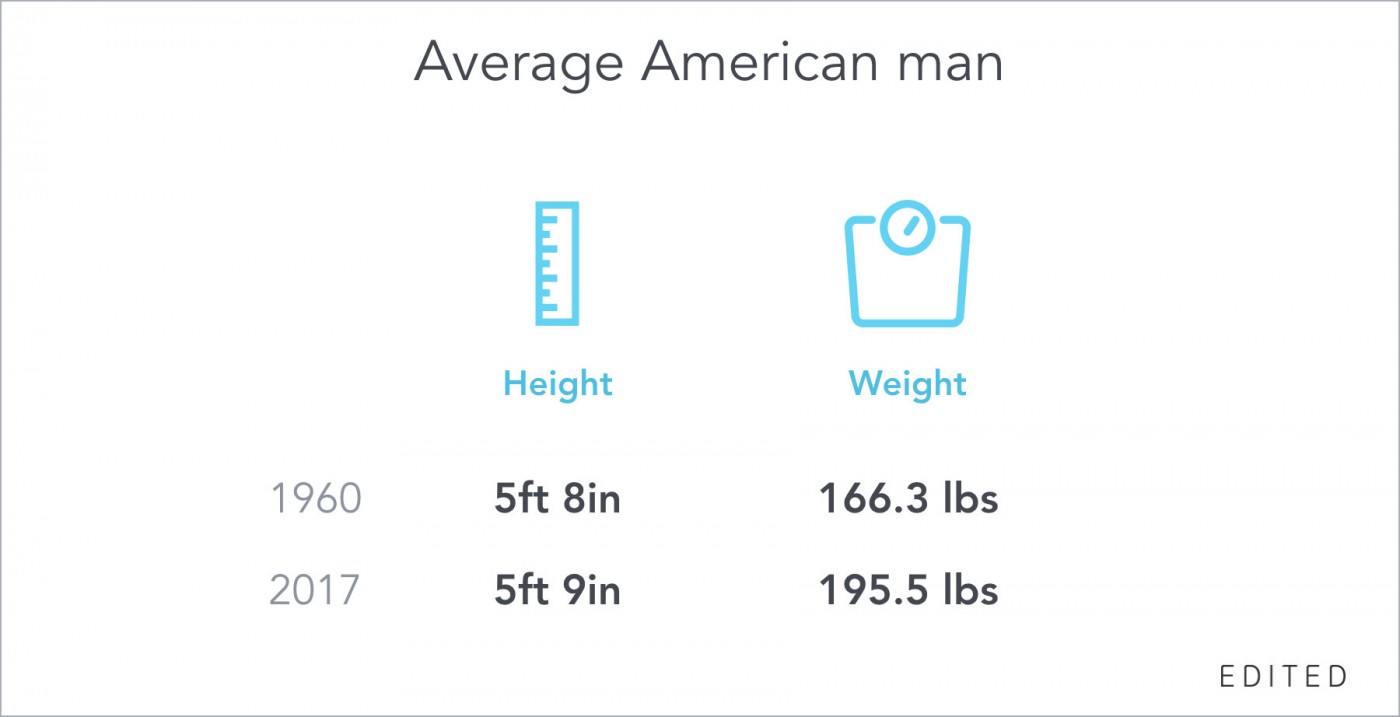 Without naming any names, men are getting bigger. The same is true of women if we really have to go there.
The difference is, women's retailers have been great at latching onto that opportunity. New arrivals of women's plus size apparel grew 375% in Q1 of this year compared to 2013. Last year, sales of women's plus size grew 6% to $21.4 billion.
Meanwhile, new arrivals of men's plus size have shrunk by 54%. Men certainly haven't shrunk though. Hear those missed opportunity alarm bells ring out!
Men have grown and so too must the male plus size market.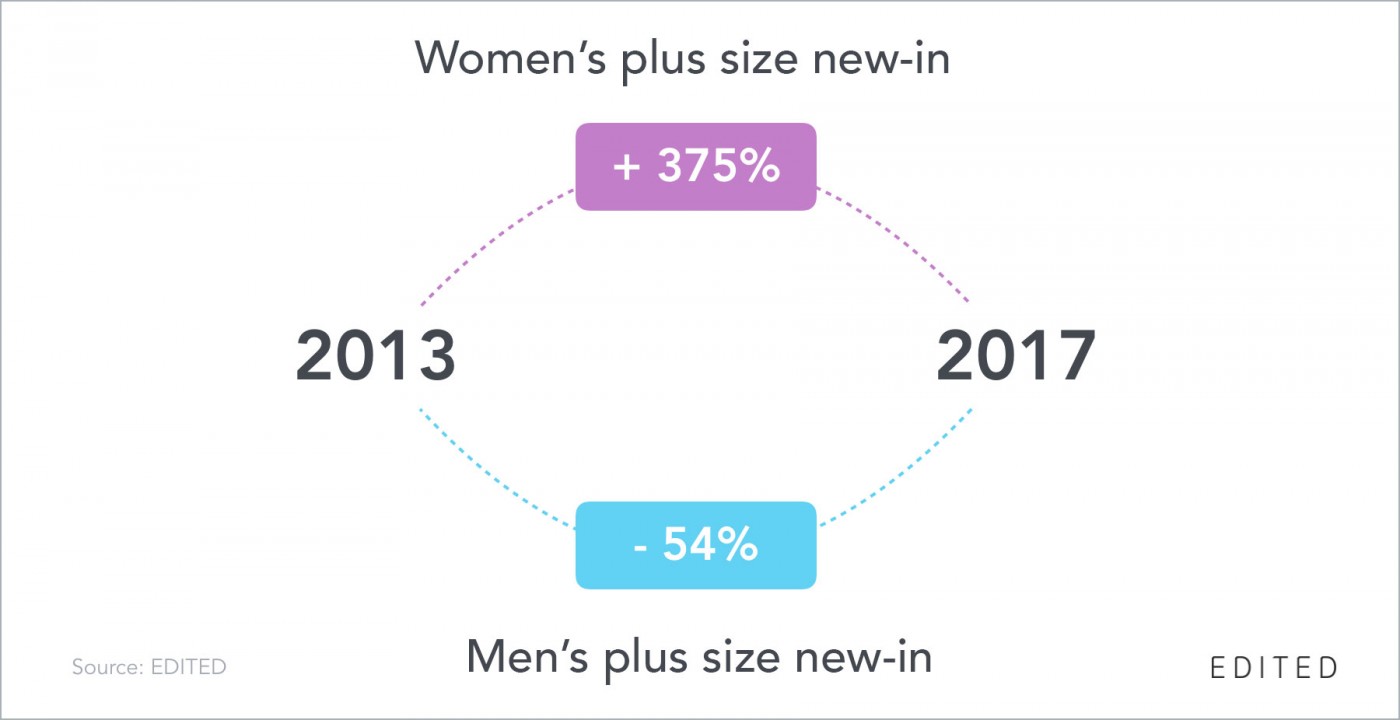 Some shining examples
In the UK – which has led fast fashion in the last ten years – there are a couple of savvy retailers who've leapt upon the opportunity. River Island and ASOS have both launched plus size ranges in the last year.
ASOS was first, with its ASOS Plus line launched in December. It runs up to 4XL and they also have a Tall line for heights of 6'3″ and over. The range sticks to the same brand DNA, focusing on trend-led casuals.
The retailer has launched nearly 1,000 Plus products since December, with a 68% focus on the tops category. There is big opportunity here to build out the other categories – the retailer's main line only has a 47% focus on tops.
The product is popular. It takes a Plus item 51 days on average to sell out, nearly three times as fast as a mainline ASOS item.
One of the winning features of ASOS Plus, is the pricing is identical to the main line. Rightly so: no one should paying more based on body shape, but that's exactly what the lack of inclusivity in apparel has forced shoppers to do for years.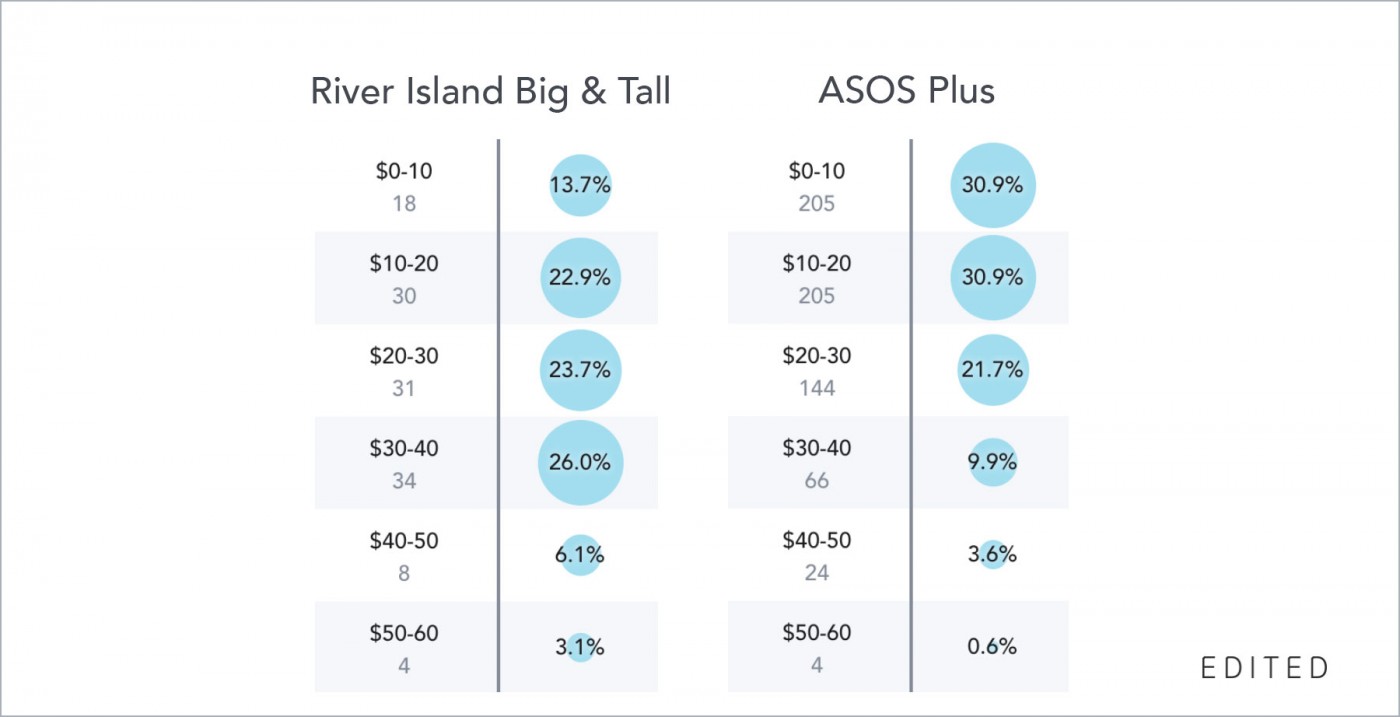 River Island's line Big and Tall launched on March 6 this year, running up to 4XL too. Combining plus size with height could be an oversight here. Fit experts, Alvanon say there's no data that correlates weight and height.
The line focuses on casuals, covering shirts, denim, outerwear, knitwear and underwear. Its price assortment skews a little higher than ASOS and the line currently has lower sell-through.
Trend-led men's plus size is still under-exposed
These trend-forward retailers are leading the way for men's plus size, but there's still a huge amount of uncovered ground. Namely, footwear, occasionwear and sports apparel. The opportunity for any trend-led retailer who enters these gaps is vast.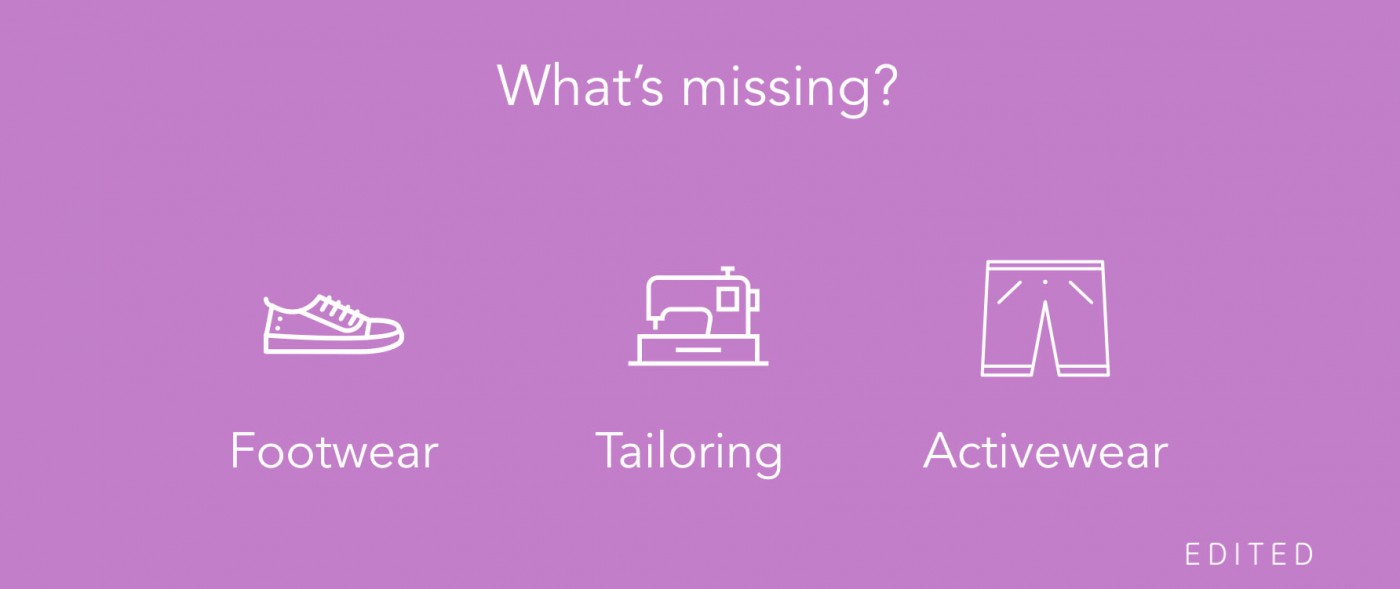 Which demographic are you narrowly missing out on? Could your existing product DNA and price point speak to them? We're excited to see where this one goes next.
We discussed all things menswear at our latest EDITIONS event in NYC last week. If you weren't able to make the event, which gave the stage over to retail experts from Givenchy, Equinox, former Burberry and Loose Threads, we've recapped some of the wisdoms they shared here. Stay tuned for the next EDITIONS events in London, New York and LA.