New York Fashion Week has had some moments: Moncler's freezing outdoor performance as implicit salespitch, Rihanna's Puma debut, designers debating the future of runway, Yeezy.
But a week's worth of moments won't shift the dial when it comes Fall 2016 retail. Here's what will:
1. Lurex
Shimmering, shining lurex, how you wooed us. The metallic fiber was at New York in abundance. Stand out pieces? A midnight blue pleated lurex pencil skirt at 3.1 Phillip Lim. The marsala toned midi-length sweater dress at Suno. And the many, many sparkling turtlenecks layered under plunge neck dresses, pinafores and suits. Retailers, you will need this piece in your offering.
Why it works for Fall 2016: Fabric was a big focus for Fall 2015, with retailers adopting premium textures like suede and fun faux fur. Shoppers have warmed up to fabric experimentation and lurex will look fresh for the new season.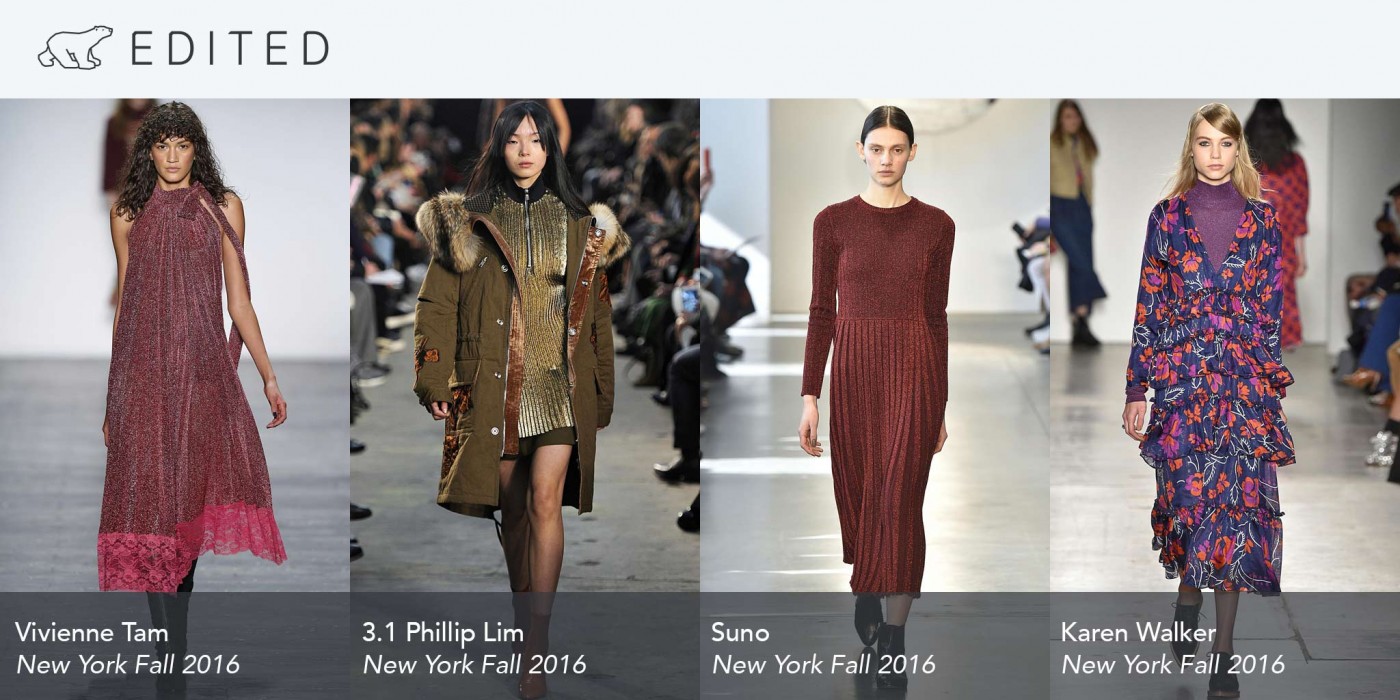 2. Sweater Dresses
Driven by athleisure, the retail success of the statement sweater and New York's continued worshipping at the alter of 1990s, there are three ways to tackle this garment. Firstly, go a little alluring, like Opening Ceremony's clingy number, Dion Lee's cold-shoulder version or Jason Wu's fitted off-shoulder style. Second option is to take a sweater and make it bigger or longer like the oversized jumpers at Alexander Wang or the longline knits worn over skirts at Edun. Lastly, max out on casual with a hoodie shape.
Why it works for Fall 2016: Casual, functional and ideal for layering, retailers won't get stung if weather is a little unseasonably warm. There are ways to make this luxe (texture, embroidery, fancy knits) or it can be served up super simple as an extension of your core jersey offering.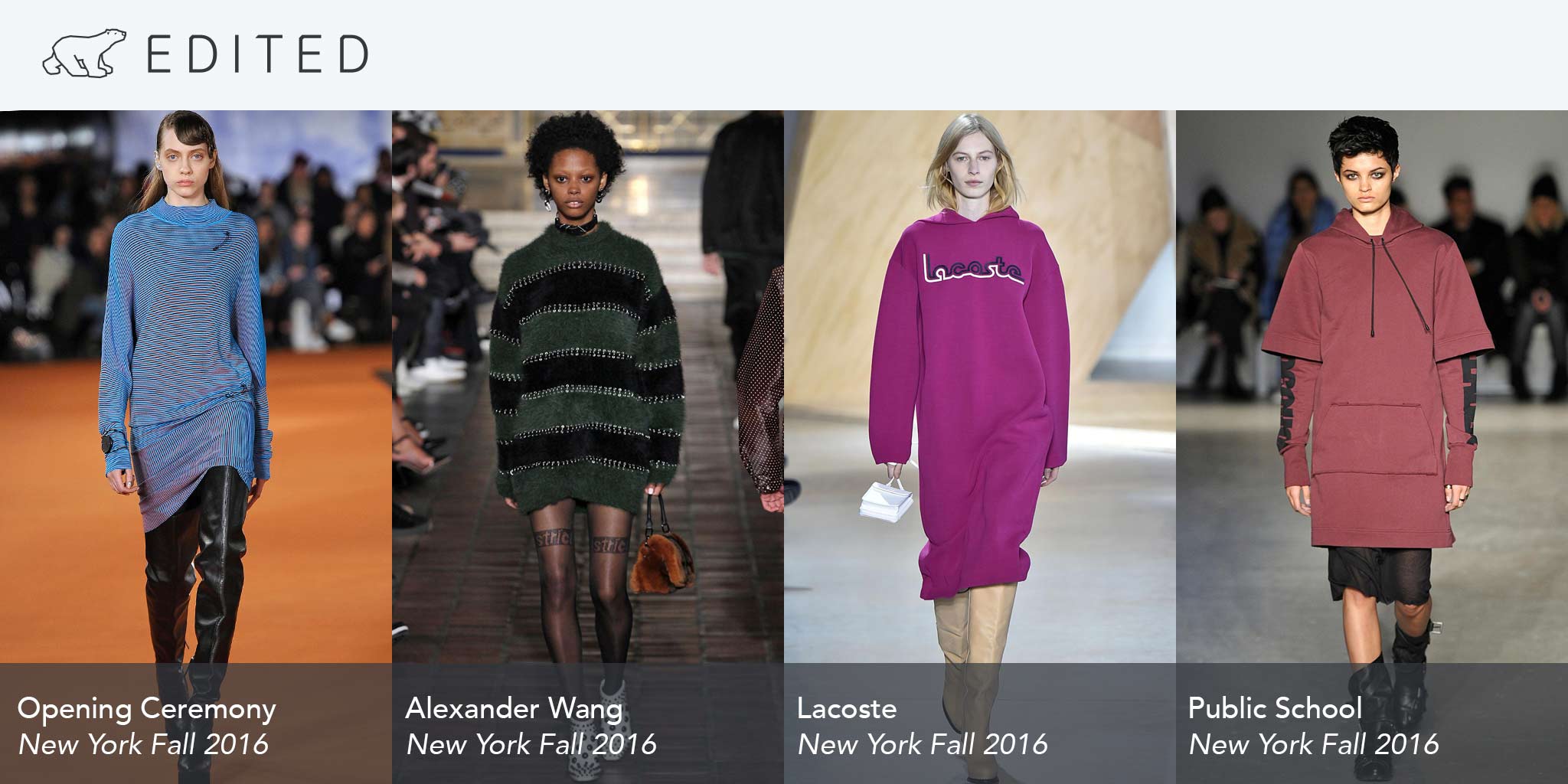 3. Knee High Boots
Because the above sweater dress is essentially a winter muumuu, we're going to need to style that up with a pair of fine heels. For Fall 2016 those heels are knee high boots.
Why it works for Fall 2016: They're a little bit 70s – yes, that vibe lingers on – and pair well with the proliferation of midi lengths in skirts, dresses and cropped pants.

4. Turtlenecks
They're back! Turtlenecks will survive their summer hiatus and reappear as the lead layering piece for Fall 2016. They were worked into long sleeved tops (so often worn beneath dresses), formed the neckline of knit dresses and were dramatically oversized in sweaters. Seen right the way across New York's runway, there is no doubt this shape will make the leap to retail in Fall 2016. Yeezy went one step further, working high funnel necks into cropped shearling outerwear.
Why it works for Fall 2016: Just because consumers bought into the trend for Fall 2015, don't let that deter you. The way this garment is being styled as a layering piece means that shoppers will want more than one in their wardrobe – translate this piece in seasonal palettes, work it onto more complicated dress shapes, add a ruffle, like Derek Lam did, and add it to the chunkiest of oversized knits.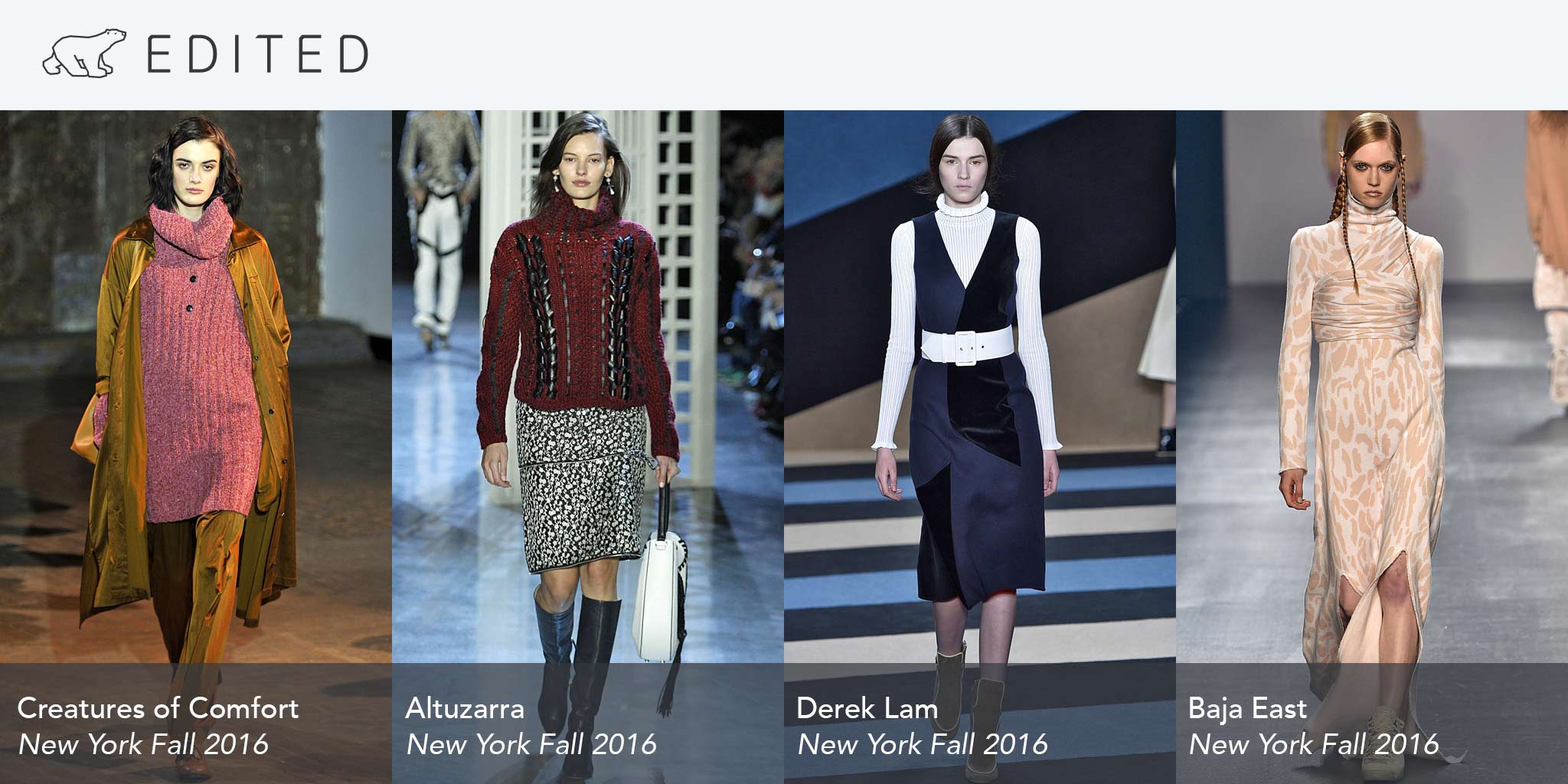 5. Tracksuits & Pajamas
Let's chill. Netflix optional. There are two ways to do this in Fall 2016. First up, embrace the athleisure look and get on board the 90s adoration express with a tracksuit. It's a powerful piece, drawing upon both the bomber jacket trend and co-ord sets which have been hits in retail. Metal loop zips, like those at Zimmermann, will add extra 90s kudos. If your customer prefers a more feminine look, let pajama dressing carry through to Fall. Allover prints and silk pjs carried suggested louche sophistication at J.Crew, Tommy Hilfiger, Baja East and Creatures of Comfort.
Why it works for Fall 2016: Spring 2016 is unbuttoned, footloose and fancy-free. That air of ease needs to move into winter and this trend delivers. Topshop Unique's silk 'Elystan' pajama tops from Spring 2016 arrived in stores just a few days ago and are selling out in both the US and UK markets already – pale blue doing especially well. Incorporating tracksuit or pajama styling into loungewear pieces and weekend looks is the path to success. Only a small portion of shoppers can carry off J.Crew's pajama suit in the workplace!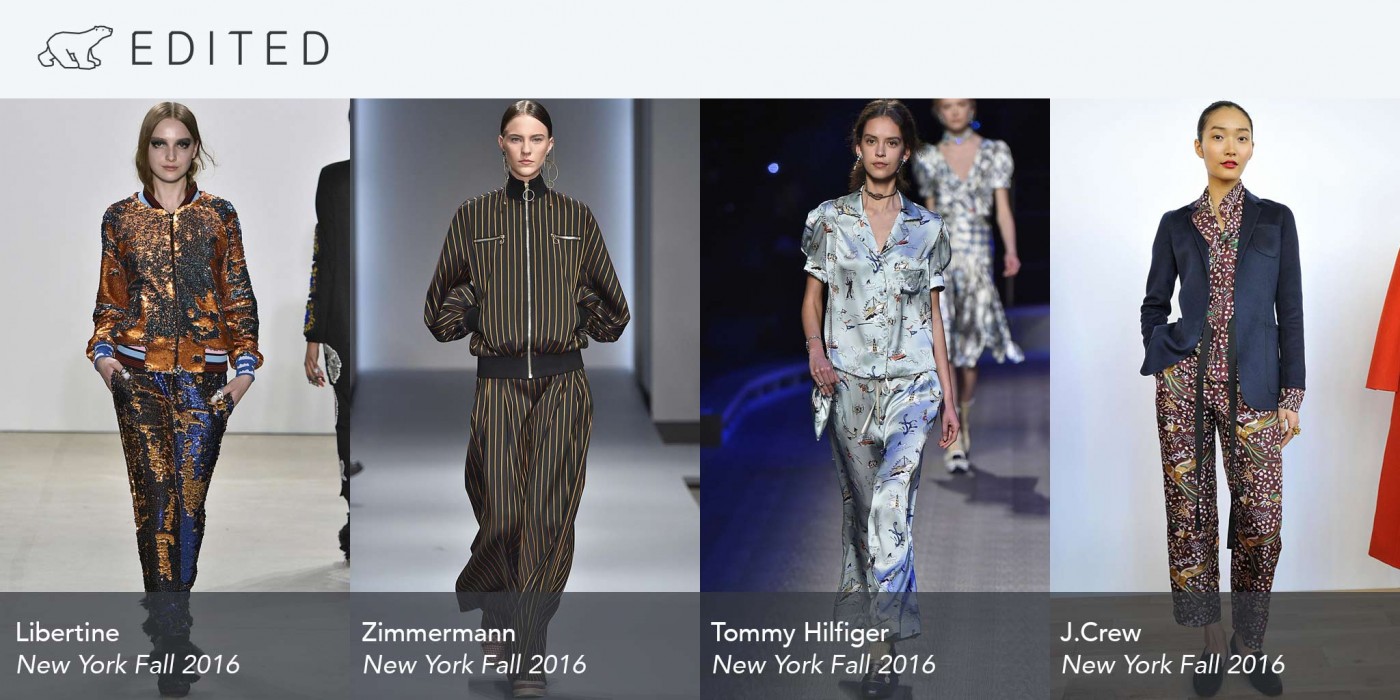 6. Velvet
Crushed, luminous or sleek, velvet lives on for Fall 2016. This time round, it got colorful, worked in the season's wine tones or shimmering in pale pinks, rich golds and dazzling teal. Worn head to toe, the look is full luxury. Velvet shoes completed the look at Opening Ceremony, J.Crew and 3.1 Phillip Lim.
Why it works for Fall 2016: While the runway showed us velvet suiting in seasonal shades, it's the colored blazers which will work best in retail. The shopper can pair these with denim or workwear tailoring for a lighter take on the trend. Velvet footwear around party season will be a good late-season entry.

7. Palettes
New York's key color stories for Fall 2016 worked their way through wine shades, with merlot burgundy, deep grape and heady claret. That contrasted nicely with the military theme's artillery of khaki greens. Head to toe looks in purest white are risky for the winter season, but will stand out all the more for it in the trend-led and luxury markets. Halting red was seen in head to toe looks at Banana Republic, Prabal Gurung and Alice + Olivia.
Why it works for Fall 2016: Those boozy tones are riffing on last season's supremely successful maroon shade, just adding in a little more purple to emphasize newness. The khaki tone which has already sold well in outerwear should be brought into other garment categories, in a range of hues. Other tones the mass market will embrace include rust and chocolate shades, ice blue and vivid orange.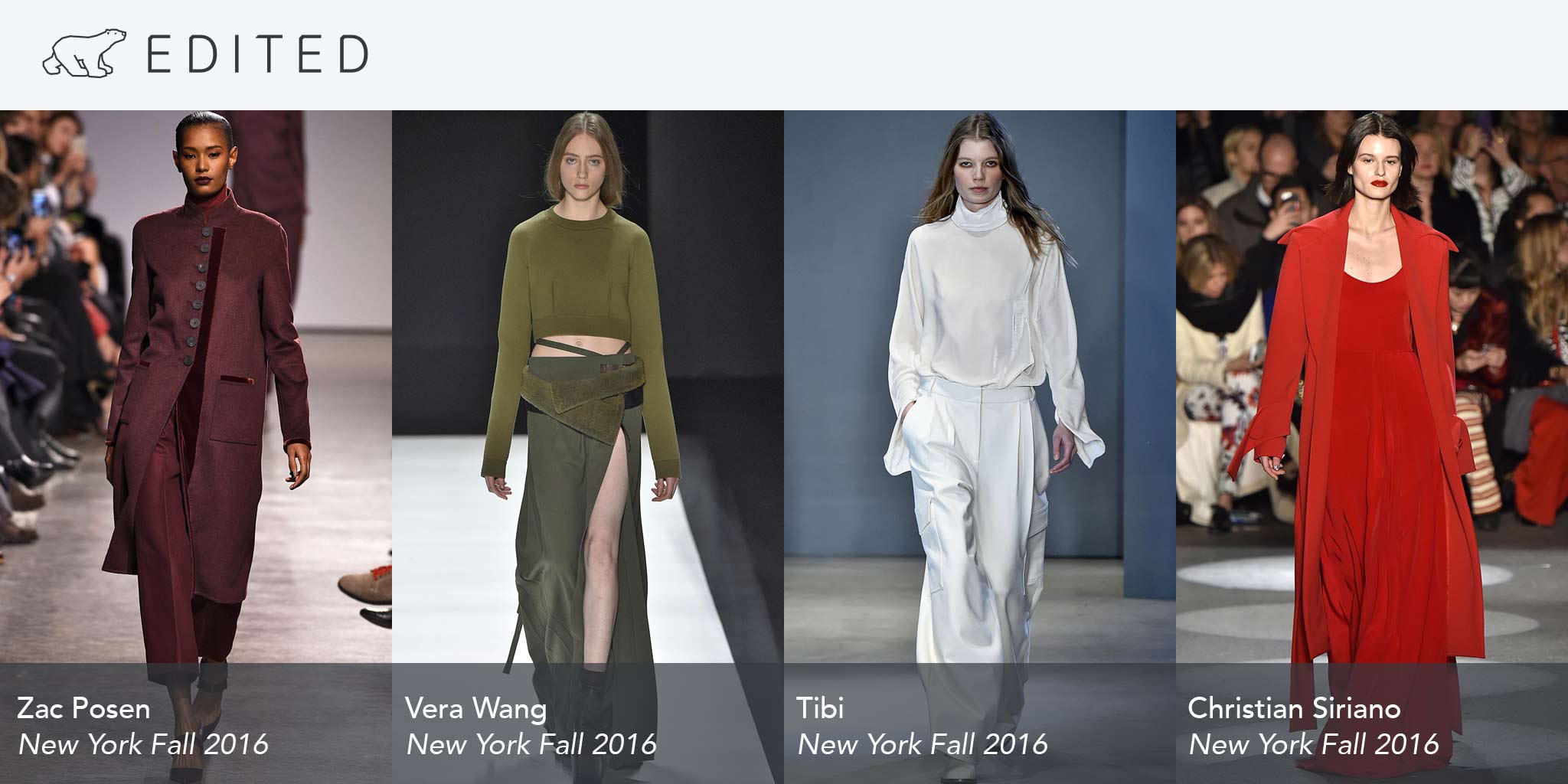 8. Windowpane Checks
Clean, graphical and bold without being fussy. Fall 2016's windowpane plaid was worked into sporty pieces, outerwear, accessories and dresses. Make it oversized and play with the print's orientation in layered looks, just like Rag & Bone.
Why it works for Fall 2016: The classic red lumberjack plaid is in need of an overhaul – it's been selling well for three Fall seasons. This reworking is fresher and more contemporary, suiting it to a broader range of garments than homely red plaid could hope to achieve.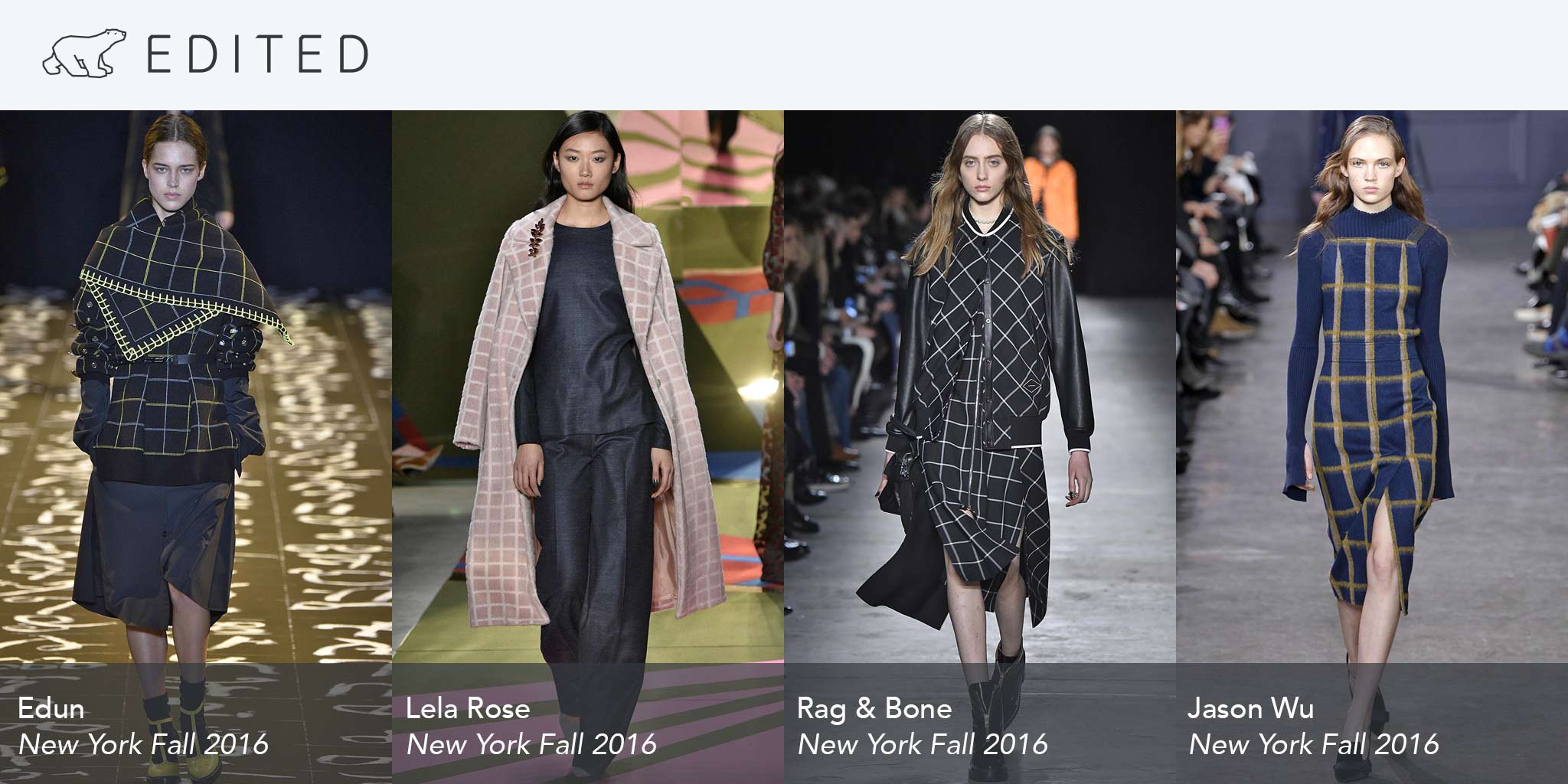 Of course, there were stacks of other trends: a flurry of winter updates on the printed prairie dress, and hordes of slip dresses (on how they'll be worn in winter climes, your guess is as good as mine) included. We'll watch those trends develop in other cities to see whether they'll hold big commercial sway. Sign up to our Insider Briefing and you'll be the first to know when those trend round-ups land!