Pregnancy, everyone's doing it: Kate Middleton, Chrissy Teigen, half of the Kardashians (plus their surrogate).
But how about retailers?
Maternity is a two billion dollar a year business in the US alone, and with more women in work, for longer durations of their pregnancy, there are more developed bumps to dress in a wider range of apparel than ever before.
While Kate Middleton's pregnancy is expected to create an uplift in maternity sales, so too are the many celebrities and mommy bloggers documenting their pregnancies through social media.
The upshot of all that is:
Maternity has grown 200%
That's since the start of 2014. And the chart below shows pretty solid growth since early 2015 across some of the biggest retailers in both the US and UK.
Category expansion
Unlike other segments, categories in maternity have remained static through that growth.
There's only marginal wins for a retailer expanding their maternity assortment into categories like outerwear. Most of us know from the Christmas Day walk that we have coats in our wardrobes that can wrap around a modest bump.
Instead, where maternity does well is on those essential day-to-day categories women will feel most comfortable in.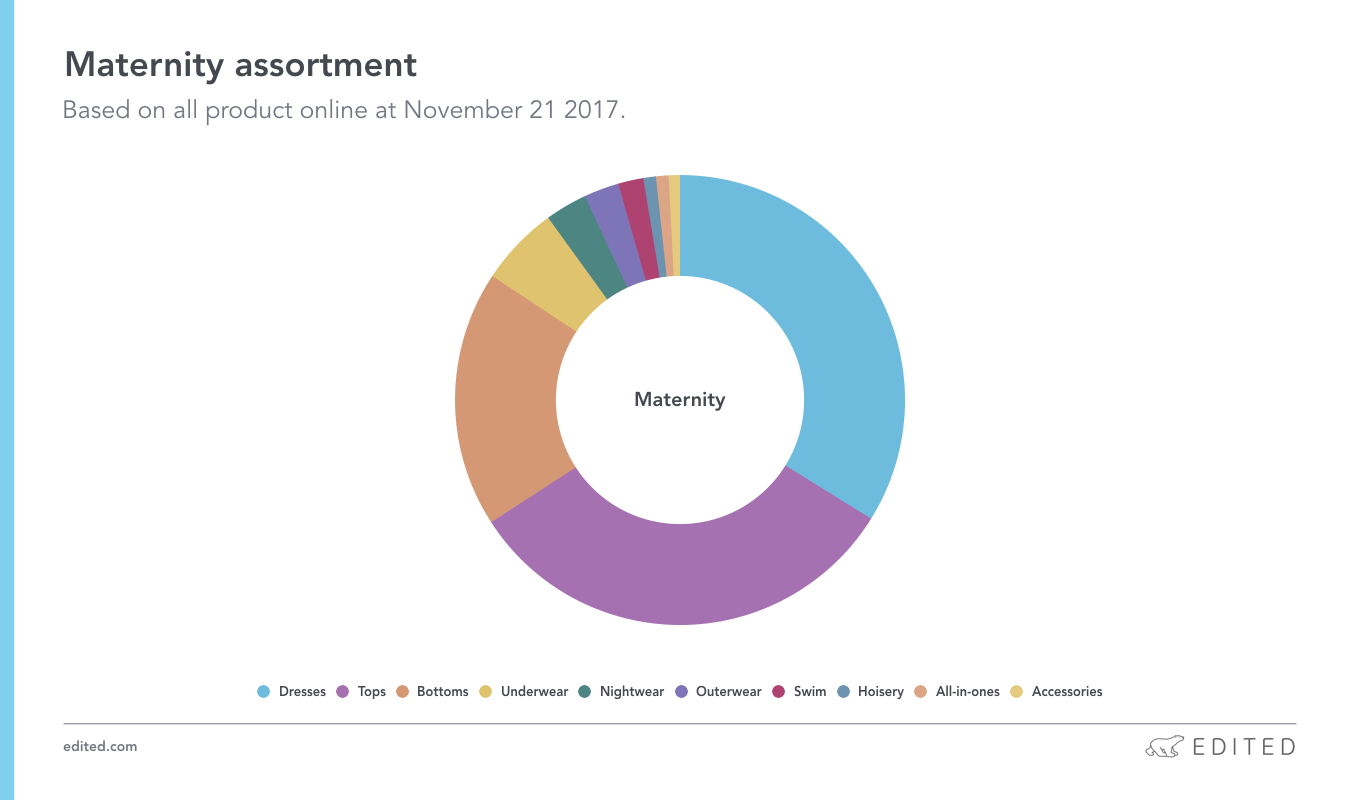 One mostly overlooked opportunity is maternity activewear – its growth rate lags behind the rest of maternity, despite shifts in wellness awareness in society and the rise of pregnancy-friendly exercise like yoga and barre.
Maternity price point
The price architecture of maternity is shifting too. Emphasis is moving away from the lowest price points and has been absorbed by the $25-100 range, showing the uptick of mass market retailers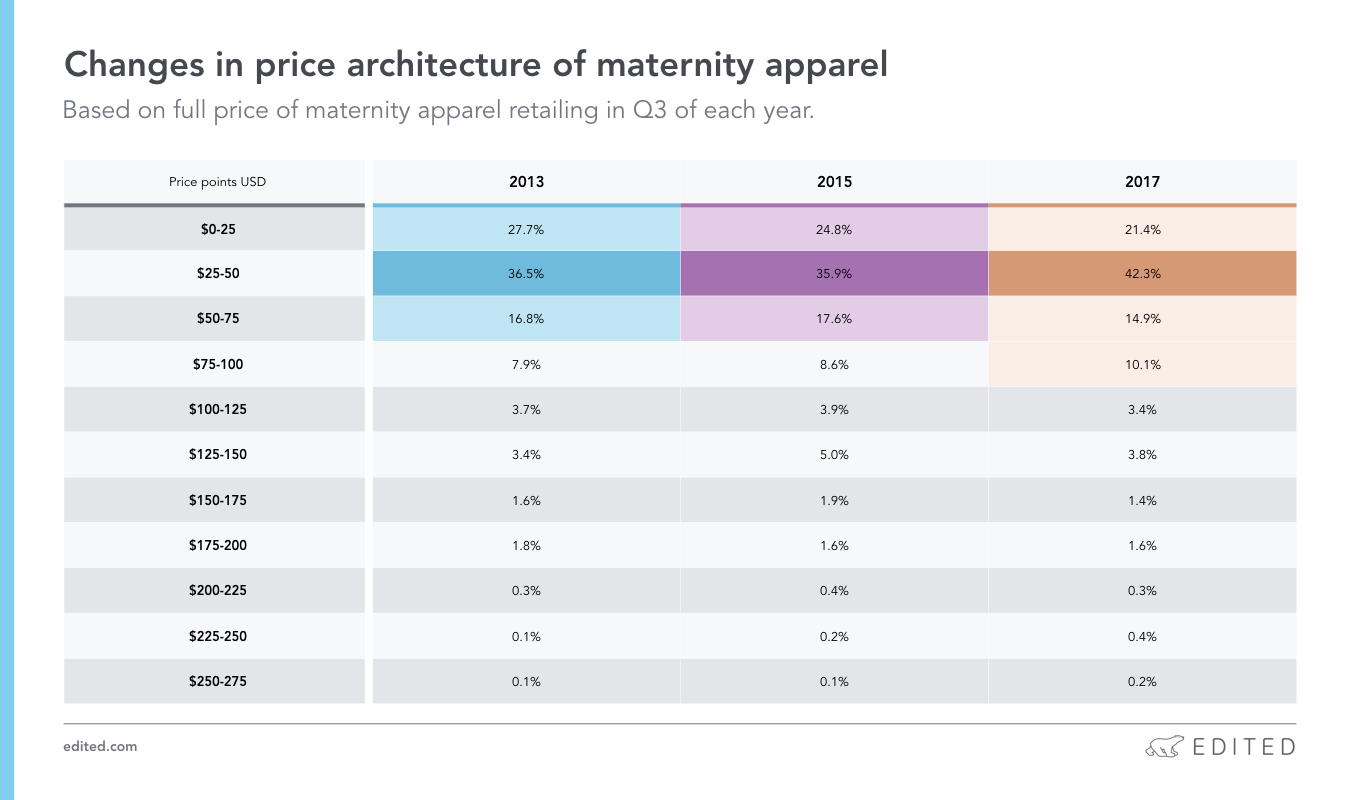 Many women don't want to spend a lot on maternity clothing. And some women get through their entire pregnancies without having to buy specific 'maternity' clothing' – praise be for jersey.
That's why in the bestselling garments, there's not a huge amount of trend. Instead, useful things like bump-hugging leggings and skinny jeans, nursing tops (which have grown 528% since 2013), black wrap dresses, striped tops and loose-fitting day dresses sell best.
It's private label business
The biggest online retailers of maternity are Macy's, ASOS, Nordstrom, Zalando and Boohoo. The brands with the most SKUs are all private label: ASOS Maternity, Motherhood Maternity, A Pea in a Pod (both Macy's private label), New Look Maternity and Boohoo Maternity.
Retailers are having to come up with their own lines because – despite the market growth – there still aren't many brands getting involved.
Luxury takes leave from maternity
Luxury and maternity don't go hand in hand. Naturally the high price point of luxury isn't best suited to a silhouette that is only temporary.
However, just 0.006% of the luxury market we track is maternity apparel – half of which is underwear – which seems like a missed opportunity given that 6 million women are pregnant in the US alone each year.
Net-a-Porter has just 15 apparel items for maternity, ten of which are reduced to clear.
Maternity apparel represents 0.006% of luxury, yet social media means women document more pregnancy fashion than ever before. Missed opportunity?
Almost 3,000 items on Farfetch (at 2.5% of the womenswear offering) sounds more promising. But click into the selection and you'll see it is just that items described as 'oversized' are tagged for maternity. That includes sunglasses. (EDITED users – thankfully our smart software isn't fooled by this. It can tell its real maternity from its oversized apparel!)
Hatch does a great job, creating maternity clothes at a premium price point, with dresses for $260 and sweaters for $270. Their clothes are designed for women to wear beyond pregnancy – style-forward pieces that are clearly designed by someone who is a mother.
Pregnant women don't necessarily want clothes to 'hide' in. And if there's a shopper that wants to put fashion first through her pregnancy, it's the premium or luxury shopper. There is untapped opportunity here.
But aren't we having fewer babies?
Globally the birth rate is in decline – most noticeably in the developed world. We're depopulating as a result of an increase of women in the workplace and the fact that more of us are living in cities, with smaller homes and higher housing costs.
Clearly, that won't happen at a rate that would render the maternity market obsolete. Though it might make for a great retail apocalypse movie if Clive Owen and Julianne Moore are available.
On the one hand, if the average number of children in a family has fallen to 1.9 in the US and 1.8 in the UK, women may not feel the need to purchase an extensive maternity wardrobe. On the other, fewer children would place less financial pressure on families, allowing expectant parents more disposable income.
Retail shouldn't panic. There is big opportunity here. But just like anything in the industry right now – don't do too much, instead do just enough of the right things.