Five years on from when we first wrote about troubles at Marks & Spencer, the once-revered stalwart of the British high street is still struggling.
In fact, things have gone from bad to worse – the retailer's full year results, announced in May, show profits fell by 64%. The retailer is also pulling out of 10 international locations.
Clothing comes under the spotlight, with sales there dropping by 5.9% in Q4 (which for M&S runs Jan 1 – Apr 1). The category underperformed on its projection and disappointed following a 2.9% growth in Q3. M&S chief executive Steve Rowe states that "improving fashion is the number one priority" and has made moves to cut back on "excessive discounting".
Aside from the appointment of Halfords boss Jill MacDonald, who isn't due to start at M&S until fall, we took a look at what's being done to steer change at the UK's old faithful.
As womenswear represents 59% of the apparel assortment at M&S, we've focused on changes there for the purpose of this analysis. Meanwhile, menswear makes up 16% of the apparel assortment, girl's 14% and boy's 11%.
The Good
Things have changed. And in the most part, those changes have been for the better.
Discounting is down
Currently, just 2.4% of the women's assortment has seen its price revised downwards. And M&S isn't drawing attention to these as sale items.
Take these linen pants, currently £25.00. When they arrived in store in April, they were £35.00. M&S has chosen to not merchandise the few discounts it has – instead, there are adjustments on price.
This makes great business sense, in a time when so many retailers are plagued by discounting. Instead, M&S is re-training its shoppers to expect the right price, even if that means M&S itself has to make adjustments to find that right price.
Looking at the last six months, the retailer is clearing product during defined sales periods in December and March. That's a marked difference from the first portion of 2016 when reductions were rampant.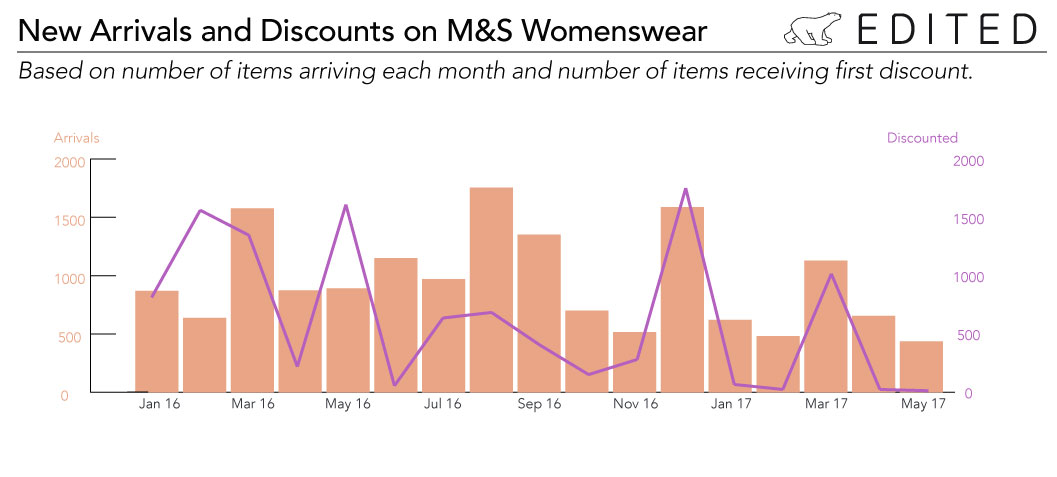 M&S is sticking to its guns on low-discounting: in Q4 items took longer to sell out than last year. Jeans, on average, took an extra 21 days to reach sell through, blouses an extra 10 days and knitwear four extra days.
That's being achieved by a reduction in new arrivals. January 1 – April 1 2017 had a 27% decrease in the number of new womenswear items compared to last year.
Some lines are being scaled back more than others. Newness in the Limited Edition brand was down 63% in the first three months of this year compared to last, down 43% at Per Una and 42% at Autograph. Meanwhile, the emphasis on beauty has increased.
Product offering has shifted
That reduction in newness is all well and good if the product offering has improved. And looking at the recent top performing products, there are signs of exactly that. These items have all performed well so far this year.
This stuff has its own DNA. It's directional — classic shapes, with modern twists — while still being in the comfort zone of the M&S customer. There are hints of trends, like the embroidered mule, but they're grown up takes on trend. Items like these, well made, featuring tasteful prints and flattering cuts, hint at a more certain path for M&S.
Communications
The retailer's newsletters have had a redesign too. A new font gives a more fashion-y edge to the emails which are following a less formulaic layout. Compared to last year's newsletter (below) imagery is now less static and more editorial in look. The same approach has been taken with site imagery, which is no longer shot on white backgrounds.
In addition to the look of communications, the tone of communication has shifted too. There were no mentions of sales in April or May this year, compared to three dedicated newsletters last year.
The Bad
Of course, not everything is going swimmingly, otherwise M&S wouldn't have seen those declines. Where are the missteps occurring?
Misjudged trends
There are still some dubious product decisions being made across womenswear brands. For example, the floral printed tunic dress below, which one customer reviewed as "too much dress". A blue version of it received the scathing reviewer comment "worst design, color and style dress I have ever seen M&S produce". Yikes.
So what's going on? M&S are still scrambling to pursue the trend-led consumer, at the risk of alienating the core shopper. Take the orange bell-sleeved shacket below. It's a runway inspired piece that could pass as edgy at H&M, but looks completely out of place at M&S. It's even been styled on a younger model.
M&S silhouettes need some attention and its trends need editing – shapeless garments and nonchalant ruffles might look androgynous and grungy on teens, but work less well on curvier figures.
The Ugly
Brace yourself, we've found the critical flaw…
Price positioning
Marks & Spencer is moving its pricing downwards. Dresses at full price are down by 7% compared to last year, blouses are down 6% and sandals down 2.5%. These aren't major shifts, but looking at the assortment alongside grocery chain Tesco's apparel line, F&F, you can spot the problem.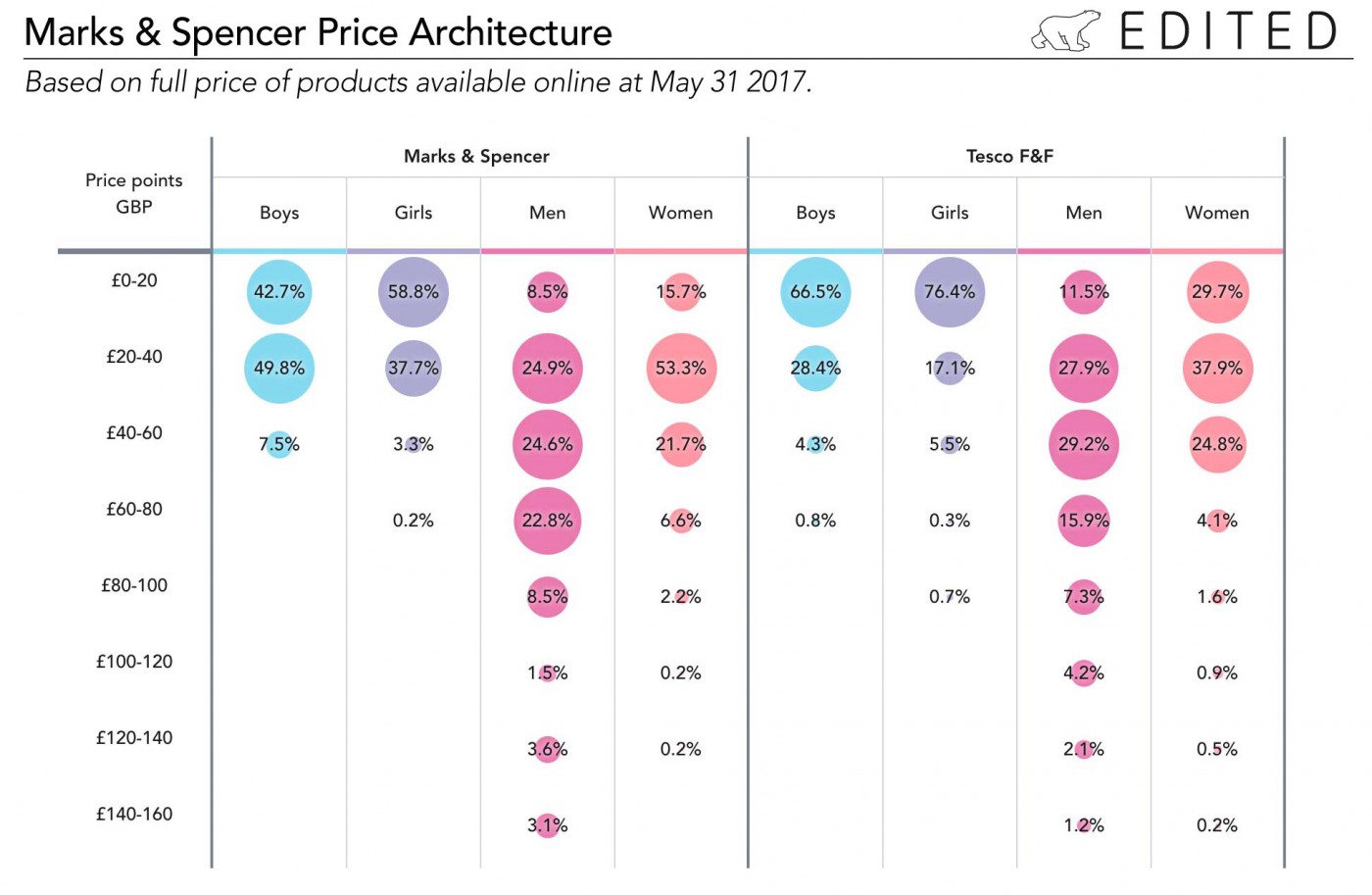 At Marks & Spencer the category that is performing well is food. The high-end groceries and ready-meals have a great reputation for quality. Because of that, it has a loyal following, despite the premium price point compared to counterparts like Tesco and Asda. The experience of food shopping at M&S is different to these supermarket chains – calmer, smaller locations with a compelling product mix.
Amid many changes at Marks & Spencer, price positioning could be the real problem.
M&S aligning itself with the pricing of Tesco apparel is a mistake. Its not positioning its apparel where it positions food and that's the customer M&S should want to capture. Tesco F&F even has a greater emphasis on the £40-60 price range than Marks & Spencer. M&S should instead be seeking to improve the quality and fit of its clothing and align its prices somewhere between John Lewis and Next.
Fast fashion has put enormous pressure on the UK high street, but not every retailer can compete with these retailers on price and trend. And not every shopper wants fast fashion product either.
To carve out a spot in this competitive climate, whether that's in the UK or elsewhere, there has to be something distinctly different about your offering. These days quality is so frequently overlooked.
Marks & Spencer has a niche, but its just not owning it.
Want to dig back in the stack to that M&S article we wrote five years ago? Here it is.