Asda's George have now overtaken Marks & Spencer to become the UK's second largest apparel retailer, after Primark. Adding to the already troubling year for M&S were the faults in the £150m February relaunch of their website resulting in a 8.1% drop in online sales (and the £150m costing also raising many industry eyebrows).
It's been some time since we last reported on struggling UK high street stalwart, M&S – July 2012 being our last in-depth data share. Now seems more relevant than ever to revisit the retailer's data – with competitor Next posting their first half sales are up by 10.7% and M&S revealing that clothing sales for them fell by 0.6% in the three months until end of June.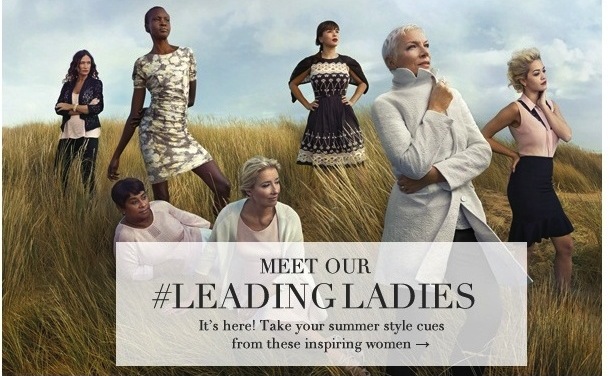 We turned to our retail analytics software to see where the retailer has improved in the last two years. Can data reveal some of the fault lines in the retailer's offering and price point?
Communication and Promotions
Our archive of email newsletters shows that M&S's mid-season sale this year ran from 24th June to 24th July. In 2013, those dates were 4th June to the 1st August, showing that not only did the retailer enter into sale later this year, but ran promotions for a shorter period.
The way in which M&S communicate needs attention. The newsletters are too formulaic and not engaging. Often lacklustre products feature, or products whose prints are not complimentary are places next to each other in flat layouts. They lack the flare of some of the good communicators in the family space: J.Crew, Boden, H&M.
M&S put effort into their ad campaigns, with their Leading ladies campaign featuring some well known and inspirational British women, including Alek Wek, Emma Thompson and Annie Lennox. However, it is also the first signs that the retailer is trying to appeal to too broad an audience, the inclusion of Rita Ora is incongruous – although very popular with the Gen Y consumer, her age group and style does not sit in line with M&S expectations.
The recent ad campaign for back to school does work well however – and this segment is where the heat is really on for M&S given the price points of supermarket uniforms. They've used sentimentality well to showcase their quality and justify their price point.
We also spotted that they used the an image (close up of a lady wearing a mac) throughout their sale period this year – the same imagery they used through sale in summer 2013. Following a £150m investment in creating a more magazine-like experience online, this is disappointing.
Pricing
The retail landscape has certainly shifted, becoming a much more crowded scene where price spirals downwards. M&S have struggled to find their USP during this shift, and have expanded to try and accommodate everyone: the more fashion informed shopper who demands a near-constant turnover of low cost trend-led product, their once loyal middle aged and beyond shopper who appreciate the retailers quality and British history, and the price sensitive family customer. This has blindsided the retailer in all aspects.
M&S need to take a couple of steps back and look at their pricing strategy in comparison to the rest of the UK high street. There are areas which they will struggle to contend; the low prices of George at Asda and Matalan do not sit in line with the retailers non-apparel offerings and would be a mistake to mimic. Marks and Spencer's price architecture is most closely aligned with Next and Gap and yet their positioning feels less concise than these two, whose branding conjures up clear imagery of the product you can expect – be it trend-led product for all the family or crisp, preppy casuals for an active life. Premium British family retailers like Boden and Joules demonstrate that there is demand for well-made product, inspired by (but not solely influenced by) British heritage but more future-forward in color palette, prints and tone. There is a gap here that is not being filled.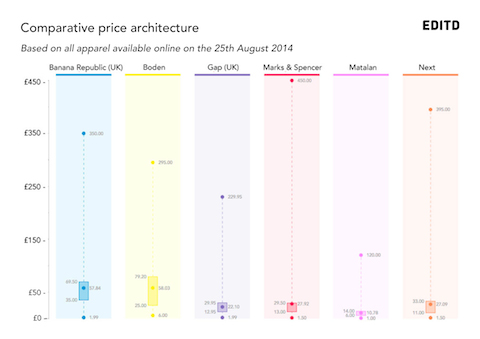 M&S should look to understand who is shopping in their successful food and nationally-loved lingerie departments, and tailor the remaining offering to suit them. The older market is under-represented and is a growing opportunity – stylish clothing with considered cuts and fits for a segment who have money to spend but are price savvy. In the crowded marketplace, customers are looking for more relevant and tailored connections to a brand than ever before. It is not possible to appeal to all.
Stay tuned for part two of our Marks & Spencer diagnosis when we look at product assortment and trend selection.