This month, Mango announced it is "strengthening its commitment to fast fashion" by lowering prices, increasing drops of new trends and ramping up monthly content. Let's see how it's going.
The Spanish retailer, who operates out of 2,700 stores in 109 countries, has promised to introduce product that's 15% cheaper in order to lure younger customers and compete against the likes of H&M and Primark.
Despite some star-fronted campaigns (currently Karlie Kloss), Mango is still an underdog on the trend-led market. It's a space crowded with—and largely owned by—shouty-er, more aggressive players. This could be exactly what it'll take to bring new shoppers into store.
The debut campaign, titled #NewPrices (because younger people like hashtags, right?), kicked off on March 17, with a splashy press release and an email newsletter. The website, which if you don't know, is beautiful, has a dedicated #NewPrices section for women and 'Essential Prices' sections in men's, plus size and kid's (no doubt women's will transition to this once the launch #campaign is over).

The product, mostly jersey basics and accessories, is great. In women's, there's a leather cross body bag for $22.99, t-shirts are $10.00-$14.00 and the most expensive item is a suede jacket for $86.00. It's perhaps a little trend-lite, with the exceptions of a couple of cold-shouldered dresses and some great cami trapeze tops.
So far there's been no product sell-outs or replenishments – we're yet to see if the offering resonates with shoppers, old or new. But we can look at the data behind the strategy shift to understand how things have changed from the inside.
Speed of new arrivals
Firstly, let's address the 'fast' in Mango's fast fashion. We're able to see the brand increased the number of new products arriving online by 22% in the last three months compared to the same period a year ago.
Typically April, May, October and November are quiet months for Mango, with as little as one third of normal levels of newness. That's not down to discounting; June and December are typically used for that. They simply bring in new season stock in larger drops and leave it to settle.
To really crack the fast fashion game, Mango will need to keep momentum up year-round. We'll watch out for that next month.
Mango's price strategy
Mango also stayed true to its word on lowering prices. Products arriving in the last three months have an average price point 14.3% lower than the same period in 2015.
Over those three months Mango grew its $0-10 price point by 156%, $10-20 by 36% and $20-30 by 55%. In the mid-range, its $50-60 and $60-70 price points have remained fairly static.
Mango increase new arrivals by 22% & drop average price by 14.3%. Is the shift a success?
That all supports the move toward faster fashion and a younger audience. But look further up the price architecture and we see that Mango also grew $70-80 by 121%, $80-90 up a staggering 400%, $100-110 by 23% and $210-220 by 75%. Mango's exit price point over the last three months has held steady at $515 (a fur coat). That's a 70% increase on the previous year's highest price.
It looks like Mango aren't quite market-focused compared to competitors Zara and H&M. The bulk of Mango's assortment sits between $27-61, whereas H&M comes in at $12-38 and Zara $19-45. In fact, 20% of Mango's current offering is priced over $70. Just 10% of Zara's and 4% of H&M's offering sits in this realm.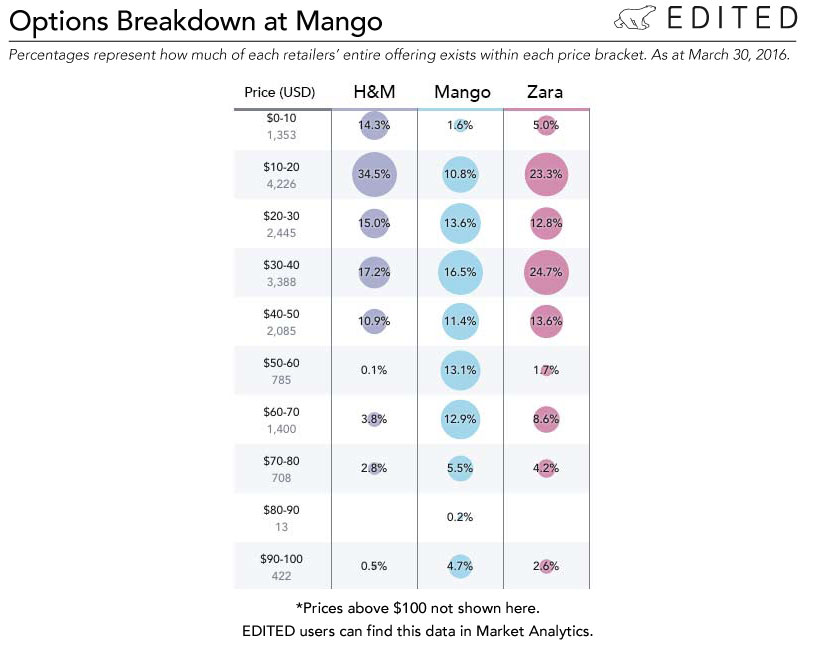 Mango, we can see you're trying to strengthen your commitment to fast fashion. But being in a committed relationship means you've got to stop playing the field, honey. You can't appeal to one and all with your assortment, not if you want customers to be brand loyal. It's time to pick where really you want to be.