While there's something magic about Madewell, J.Crew's folksy, hip sibling, it's not witchcraft. Instead, it's a pretty compelling retail formula that's got the customer hooked on denim and stripes.
The numbers alone give a glowing report. The family-run company Millard 'Mickey' Drexler purchased back in 2006 saw sales rise 23% to $301m in 2015, with comparable sales up 8%. In the same year, J.Crew's comparable sales were down 5%.
And it's not just the faithful shoppers of Madewell's own stores who admire the brand – the wider retail industry is making the right noises. The brand is stocked by Net-a-Porter and Nordstrom, delivering Madewell to a global audience. In fact, just last week Nordstrom announced it'll be adding the Madewell label to a further 20 stores this Fall.
People like this brand. Drexler is something of a pro at introducing sibling brands – back at Gap he introduced Old Navy, whose growth now outpaces the main line. Here's what you should know about Drexler's Madewell recipe.
1. They're small and agile
Part of the beauty in the Madewell line is the control.
Madewell isn't a retail giant, nor are they tiny, retailing out of more than 100 stores. What they have is an incredibly tight offering. For starters, they only do womenswear. And they don't have that much product either; J.Crew has more than six times as many items. That puts Madewell on par, at least online, with Tory Burch, Ann Taylor and Cos.
That scale helps the brand to stay relevant to its consumer – a customer group who cares about authenticity, as reflected in the focus on quality and heritage (it was family-owned for 69 years before Drexler's purchase).
In a market where most major retailers are battling a discounting legacy and too much inventory, Madewell stand out. The brand even recently announced it'll be scaling back on discounting. It's the stuff of retailers' dreams.
Madewell can do this because it's smaller and more nimble. Unburdened by a downward spiral of reductions, they have freedom to instead launch innovative marketing campaigns, like the current '24 Days of Denim', that will still entice shoppers.
In a market where retailers battle discounting legacy and too much inventory, Madewell stands out.
2. The product is focused
Madewell is categorically not fast fashion. On average, there are around 200 new products arriving each month (someone like Zara has around 1,500), and sometimes as few as 140. There are no bright colors, there's nothing body-con and there's very little visible branding. Madewell certainly don't go chasing trends.
Instead, Madewell knows what its consumers want and sticks to it: denim, chambray and unusual jewelry. Today, most retailers have a key focus category and a handful of supporting categories; Gap, Zara and J.Crew, for example, all have around a 35% of their assortment focus on the tops category. Madewell, however, has an even balance across its top three categories – tops, bottoms and accessories – each representing 20-25% of the entire assortment.
That very measured understanding of the customer filters through into the Madewell color palette. Our colorwheels below – created with our color recognition software – reveal a controlled shade range focusing on those denim blues, deep red and neutrals.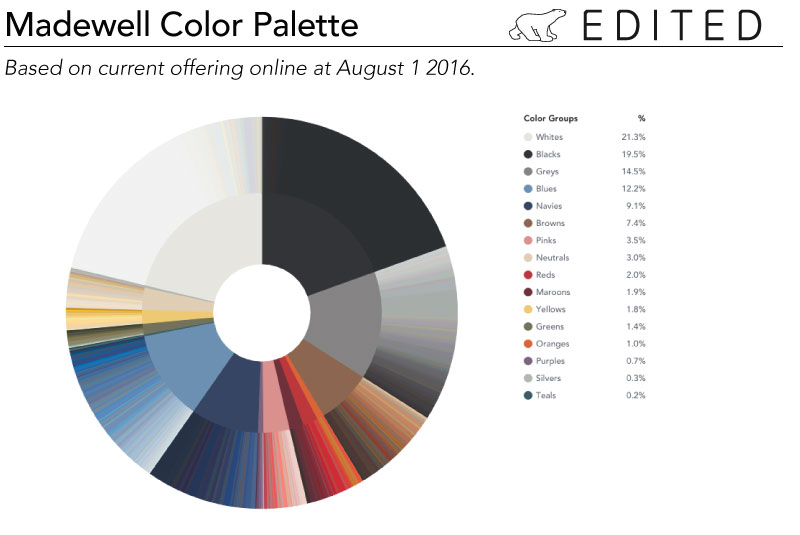 3. A unique price point
As the more casual J.Crew sibling, the perception is that Madewell's pricing undercuts the original. However, look closely and you'll see it's actually on a par with J.Crew. The median price point on womenswear items which have arrived in 2016 is identical at the two retailers – $79.50.
Although J.Crew's top price point of $3,100 far outstrips Madwell's $695, there's a fairly even emphasis on accessible, less than $100 products (77% of the Madewell offering and 79% of J.Crew's). For Madewell's market, that's a pretty unique place to be. Topshop, Cos and & Other stories have 87-91% of their current offering priced $100 or less.
Things are even more interesting when you look at denim, one of the key categories at Madewell. The median full price on denim apparel is currently $137, ahead of J.Crew's $119 and Topshop's $74. That even surpasses Levi's $129. It puts Madewell in a pretty unique spot and reinforces the quality message with consumers.
At the same time, Madewell has a smaller proportion of its offering discounted, 60% versus J.Crew's 63%, thanks to a higher sell out rate. If executed properly, the brand's intention to cut back on discounts should extend the current 77 day average products spend at full price.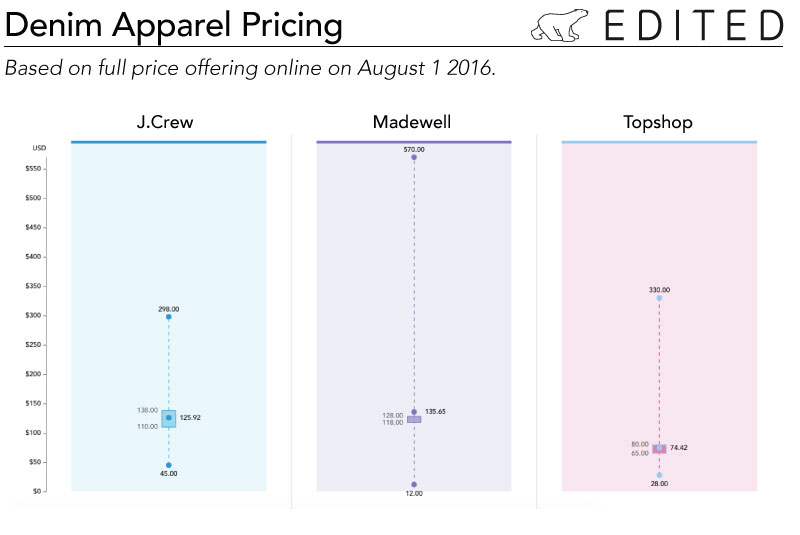 4. They're in a creative niche
Don't mistake a tightly controlled product handwriting with limited scope. Madewell achieve creative kudos through some pretty neat collaborations with other labels or artists, helping to elevate its offering beyond denim, plaids and Bretons. Currently Madewell have collaborations with Vans, B Sides, Biltmore and Caron Callahan, as well as t-shirt prints by artist James Ulmer.
And this stuff sells. Some of the summer's best sellers were from collaborations, specifically the Ulla Johnson and Ace&Jig below, which flew.
5. Money-making marketing
Madewell's pledge to cut back on discounting means it's throwing resources behind innovative marketing campaigns like its '24 Days of Denim'. Each day, the brand is revealing a new denim-related product online, luring Madewell's jean devotees to the site with their premium-priced products.
This latest campaign is exciting, but marketing isn't a new hit for the retailer who's got a solid track record for engaging email campaigns. The company's tone is personable and relatable – absolutely nailing the 'friend voice'. Here's some of our favorite newsletters from this year.
We can't wait to see what other marketing tricks Madewell has up its sleeve. But how does J.Crew feel about the rise of its super-talented, younger sibling? It looks keen to imbue the rest of the family with a touch of that success. Case in point, Madewell's chief designer, Somsack Sikhounmuong, went to J.Crew late last year.
Want to know more about Madewell, or for that matter, any other retailer? Well, you've come to the right place. Register for a demo and you'll see exactly how deep our data goes.