For some reason, work you and real you have yet to properly meet. Working in fashion can be brilliant, but it can also be a little bonkers. Enter the work persona.
Here's seven split-personality traits we've all seen in apparel industry workplaces. But cut yourself some slack – you're just trying to live your best work life!
Your work life
Good design costs! Add a pocket, functioning button stand or embroidery and you're looking to hit those big price brackets. On the jacket sample that has just arrived from the factory, you're able to persuade your colleague's conservative $85 price point up to $120. Ka-ching!
Your real life
Out shopping you're running mental costings while tightly clutching your purse. You know it cost around $28 to make, so the max you're paying is $50. And even then you spot a loose thread and ask the shop assistant for 10% off.
Your work life
You're able to pick up the phone and place an order for 100,000 pairs of cycling shorts in 13-0755 (under no circumstances must they be last year's 13-0945) before heading into a range review and confidently declaring lilac dead (despite the fact the intern is dressed head-to-toe in it).
Your real life
Not only have you had three shades of duck egg blue painted on the bathroom wall for 18 months, but every time the beautician at the nail salon tells you to pick a shade you panic, sweat profusely and end up Whatsapping a friend for advice.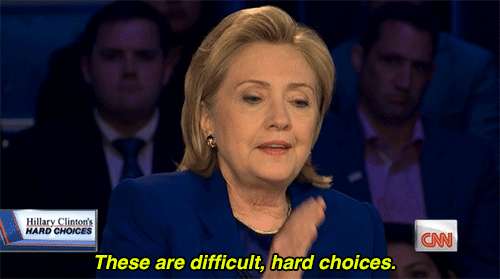 Your work life
When planning out the jeans assortment, you believe any true denim wardrobe needs a minimum of seven different jeans styles. There's the casual work pair, the smart work pair, the trend-led wide-leg, the weekend throw-on, the going-out pair, the weekend daytime drinks pair and the pair with extra stretch for weekend trips. Your girl wants them all!
Your real life
You cannot remember the last time you washed your one pair of jeans, but you do remember exactly where you bought them – it's exact same pair you've had three times prior. These trusty skinny jeans are more like a base layer than an actual garment you need to put thought into.
Your work life
Your customer strikes the perfect balance between sophisticated and cool. Think Paris meets London by way of New York. When she's wearing a low cut top, she's pairing it with a midi skirt. She wears heels, but only with a wide pant and tee. Her celebrity influencers are more Diane Kruger and Meghan Markle than Kylie or Kendall.
Your real life
You're living for the weekend, starting Monday morning with the DJ Khaled playlist. When Friday strikes 5pm, you're thirstier than a gym rat on arms day, picking up a bottle of prosecco on the race home to replicate Cardi B's latest look for the night. Thankfully you've blocked your manager from your Insta Stories.
Your work life
You've seen the weather forecast for the next two weeks and decide it's time to set up a Shop the heatwave! campaign. Over the summer, your customer will be at festivals, takes weekend trips and heads to beaches when the temps soar, so she's bound to need a couple of swim styles, the latest headband, new shades and a couple of printed rompers for the week ahead.
Your real life
Leave the house? You've got to be kidding. During the weekend heatwave, you can be found in front of the A/C unit, binge watching Bachelor in Paradise, with a tub of Ben & Jerry's. All while clad in that swimsuit you've had since you were 16.
Your work life
Your dependancy on the I.T. department to recover lost files, reinstall the network printer, unblock the supplier emails from spam and locate 'the cloud' has cost you $20 in donuts in the last month alone.
Your real life
You're a digital savant, having hacked your brother's Netflix account, synced the bluetooth speakers in the kitchen and bathroom and fine-tuned all of your Tinder pics. Not only that, but you're a master in digital espionage too, thoroughly conducting Instagram reconnaissance on all new crushes (never forgetting the tagged pics for extra intel).
Your work life
You've tried throwing a series of dirty looks at the colleague who insists upon reheating fish in the office microwave, but undeterred you'll now have to resort to a polite/passive aggressive team-wide email. Wait to see how that goes down before you lodge your complaint about whoever it is that's not replacing the toilet roll when it runs out.
Your real life
The last time you checked the back of your fridge was New Year's Eve, when the Cava ran out. What lurks there is no one's business, least of all your flatmate who has been making not-so-subtle suggestions you have a clear-out. She's probably just mad that's it's your turn to buy the toilet paper – the spare pack of Kleenex you placed on the cistern isn't buying you enough time.