Historically, July is a slow month in retail. School's out. People are saving for their vacations, or they're busy being away on those vacations. What may feel like a blissful month of relaxation for many consumers is a sluggish month for retailers.
So what do retailers do to get through the summer lull? Data reveals the best tactics and hints at what's in store this time round.
1. Launch new season
Retailers try and lure spend with an increase in new arrivals. Last year in the US and UK there was a 16% lift in new arrivals between June and July. August dropped back 7%. Even September didn't peak as high as July.
Fall collections are arriving into stores earlier and earlier. This year, Marks & Spencer promoted its 'new season' offering on May 11, the same day it went on sale. Why so early? Because today's consumer bores easily. To keep people interested retailers have responded with earlier deliveries of Fall stock. July, for example, sees a sharp increase in arrivals of outerwear and boots.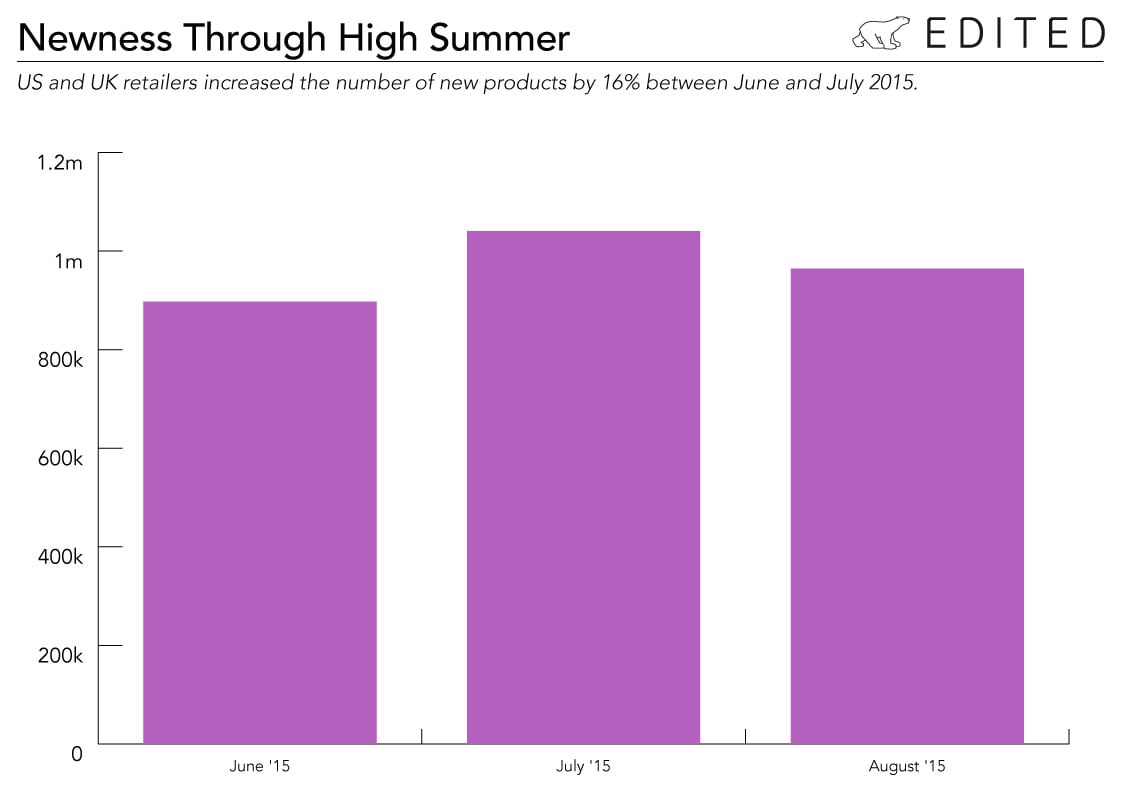 Pre-Fall collections play right into this. They're a great way to feed content and communicate newness to consumers. Retailers also launch product earlier with the hope of avoiding damaging discounts on big ticket items like coats and leather boots.
However, consumers are increasingly shopping for the here and now. If the pre-Fall product doesn't suit the lives of consumers right now it could be damaging, resulting in unseasonal items taking up valuable stockroom space.
The best way for retailers to move into the new season is through palette, print and references to new silhouettes that also suit the weather of the moment. Clued-up fashion customers will pick up on the winter trends, while not alienating the less trend-savvy consumers.
2. Make the most of July Fourth
Many US retailers take advantage of the long weekend, using it as a reason to discount. In 2015, more than 100,00 apparel products were discounted on the Thursday and Friday ahead of the Independence Day weekend in the US. That's one fifth the size of Black Friday, but still significant.
In 2015 the retailers with the highest number of discounted products were Lord & Taylor, HauteLook and Zulily. Other retailers don't mention the event at all (Barneys, Tory Burch, H&M). But Independence doesn't have to mean discounts. There are many other retailers who use the occasion to bring their red, white and blue merchandise to the fore.
Here are some of the best email campaigns:
3. Test run product or intro new lines
Speaking at our EDITIONS event in New York, Opening Ceremony's Director of Planning, Tracy Kebatta, shared that they get through July with creative collaborations and in-store events. She's in good company: last July Topshop hired Gigi Hadid to launch its Archive collection and went on a 'road trip' around the US, hosting 'Endless Summer' parties in eight cities.
Meanwhile, Armani Exchange introduced a new sneaker and boot. Warehouse introduced its denim line, WareDenim, and J Brand introduced a new men's cargo pant. If your production is flexible enough, it's also a good month to test early demand on Fall's big trends before placing deeper orders.
4. Get rid of summer stock
Of course, July is the month to clear summer inventory before August's deep discounts. That means shorts, linen and cotton sundresses, swimwear, sandals and off-shoulder tops. Well promoted, healthy discounts now will soften the blow for next month. During July 2015, a higher proportion of discounts under 25% sold out within the month than those with price slashes of 25-50%.
July discounts of 20-25% are a sweet spot. Use to scale back swim, sandals & sundress stock levels.
And once those discounts are in place, talk about them. Last July US retailers increased the number of newsletters they sent by 6% compared to June.
5. Be hyper-relevant
In a lot of places it's hot in July. Consumers aren't buying clothes because, well, they'd rather not even be wearing them. That's when it's even more important to be weather-relevant. Having content queued up for when the temperature hits 90 will appeal directly to today's consumer who shops totally in the moment. Better still, help that shopper with clothing decisions for all kinds of events. Yes, many of us have to go to work in this heat. The commute is sweltering but the office air con is arctic. Work that story. J.Crew are great at this.
6. Take on Amazon
In 2015, Amazon hosted its first 'Prime Day', a one day promotional event for Prime customers that supposedly had more price slashes than Black Friday. It's back again this year – the retailer put a call out amongst its traders to submit lightening deals – and just announced the date as July 12. With Amazon's focus now on apparel, it's certain the category will feature heavily this year.
You could counter the interest with your own promotional event, like many retailers last year. In the build up to Prime Day 2015, Walmart launched its own discounting day. As did Aeropostale with the 'Prime Time' shopping day and 'up to 50%' discounts. Bonobos who ran a humorous counter-campaign marked as non-exclusive and offered prime-number discounts of 31% and 61%. Forever 21 countered with 'Black Friday in July' discounts of up to 70% off. Target, Ideeli and Victoria's Secret also ran mid-year Black Friday discounts.
7. Take a Vacation
It's probably going to be a tough month. So here's hoping retail staff also take vacation. We know you've earned it.