The accessories category is enormous, accounting for 18% of the apparel market. It's beaten in size only by the tops category.
But aside from widely discussed bag trends, the category's other players get little room to shine. Let's fix that.
Not only is accessories big – it's growing. So far this quarter, the entire market has 4% more product retailing than last year.
Some of the biggest gains come from department stores. John Lewis currently has 44% more product in stock now than a year ago, Nordstrom 36.5% and Macy's 8%.
For many department retailers, who've struggled to capture customer loyalty in an age of direct-to-consumer, compelling accessories assortments–often on the ground level of stores–lure shoppers in.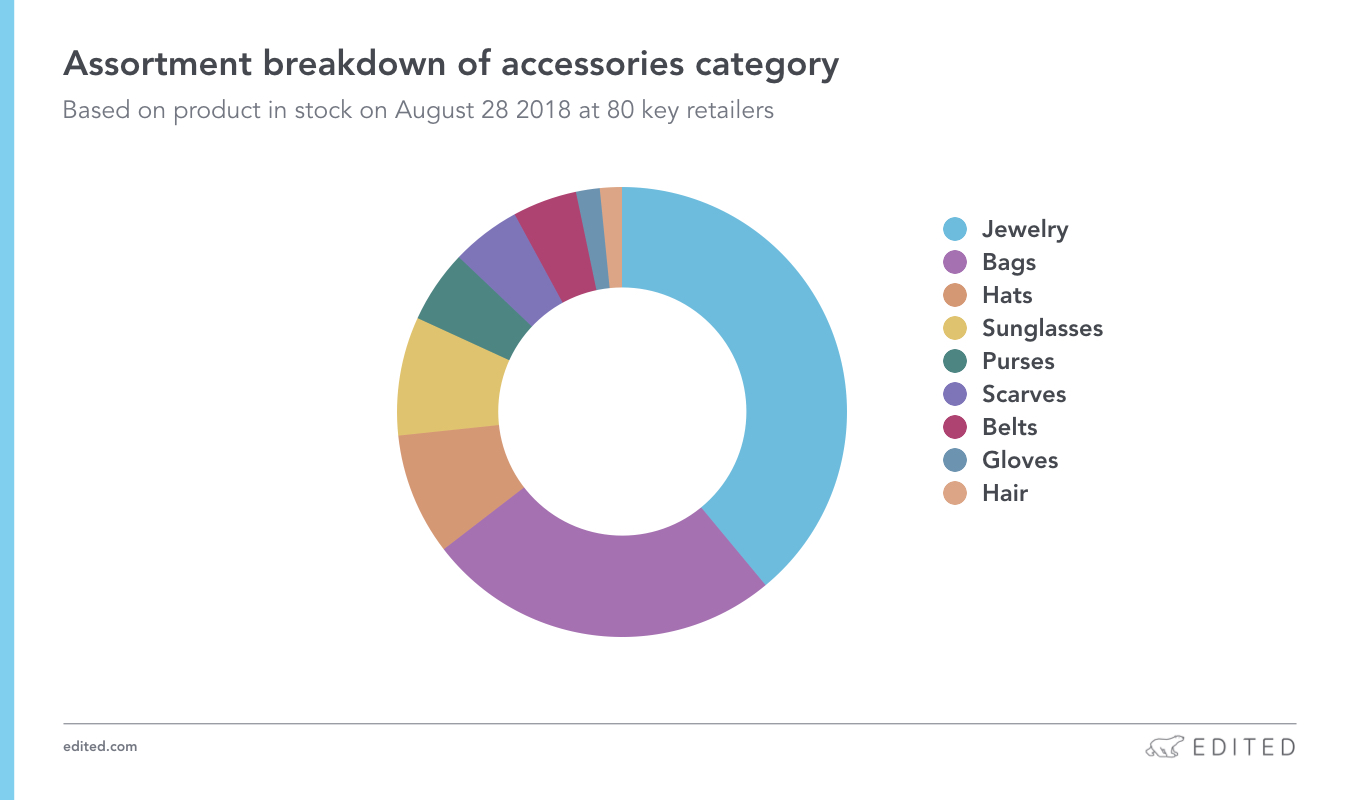 But that growth isn't unanimous. ASOS and Boohoo have both trimmed back their accessories category by an identical 16%.
What counts as 'accessories'?
We need to peel back the layers to truly understand what's happening, as the accessories category is large and varied. Something we've invested a lot of time perfecting at EDITED is how to categorize products. If you think about it, there's no universal standard for how to describe a product.
So we built artificial intelligence that uses its smarts to organize 16 million products a day. We do that so brands and retailers can accurately compare assortments globally.
Our software recognizes jewelry and watches, hair accessories, bags and purses, hats, sunglasses, belts and scarves and gloves as belonging to the accessories category. Now we're on the same page, let's look at those shrinking assortments.
So, about that downsizing…
We dug a few levels deeper on that shrinking and found a few things. Firstly, both ASOS and Boohoo have cutback the size of their entire offering since this time last year – down 5% at ASOS and 2.5% at Boohoo.
Still, 16% down on accessories outpaces the general stripping back. Narrowing in to look at just accessories, we can see immediately that jewelry is down by 23% at both retailers.
Then we peel back the final layer and, bam! We found that ASOS has cut back on necklaces by 48% and Boohoo by 34.5%. Bracelet and rings are also down, while earrings are up.
That put us onto something. Does the wider market have a necklace problem?
Necklaces in decline
In a word – yes. The below chart shows the decline in this jewelry item, which is currently has 8.6% fewer products available than last year.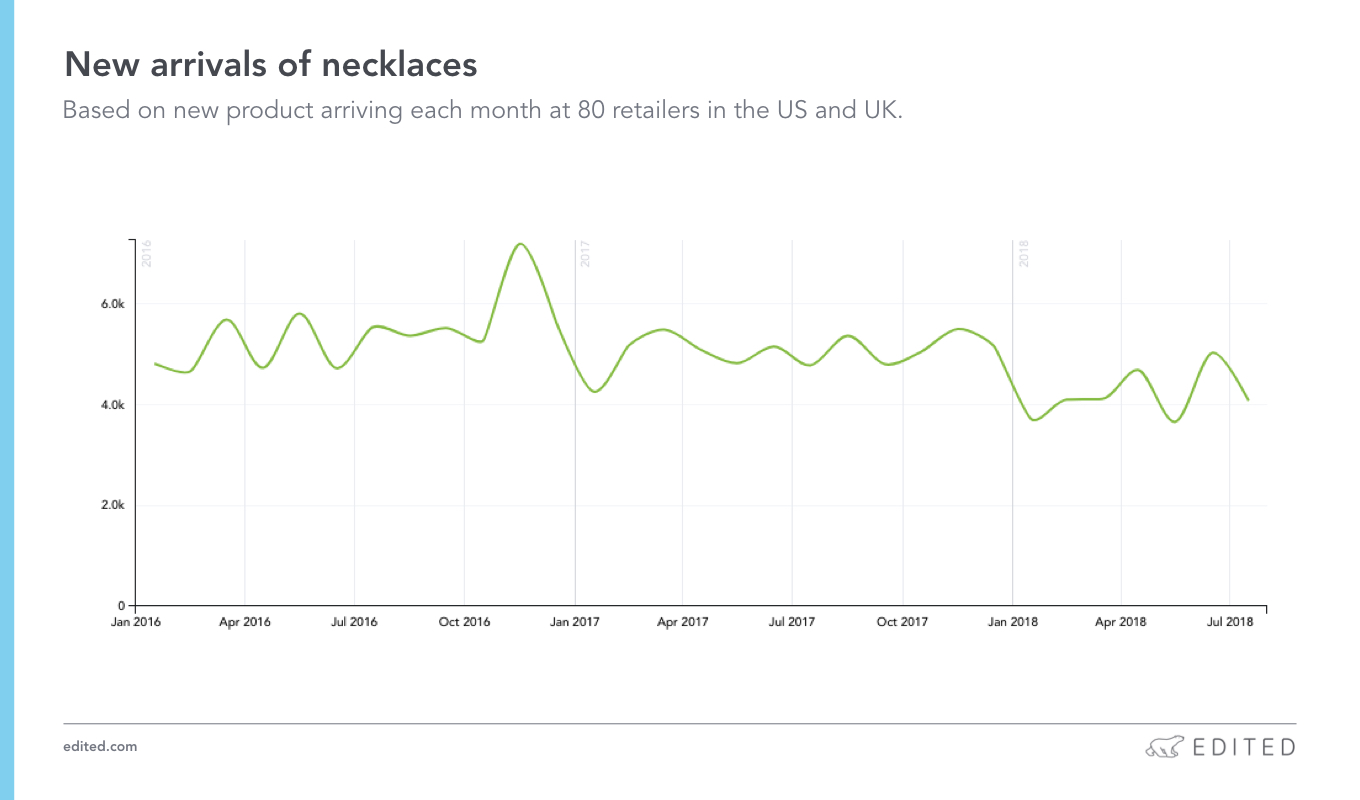 Bracelets have fallen by 2.7% and rings by 3.2%.
Earrings, cufflinks, charms, brooches and anklets have all eaten into that space, with increases from as little as 2.8% (cufflinks), up to 36% (brooches).
Here we can see just how hot earrings are.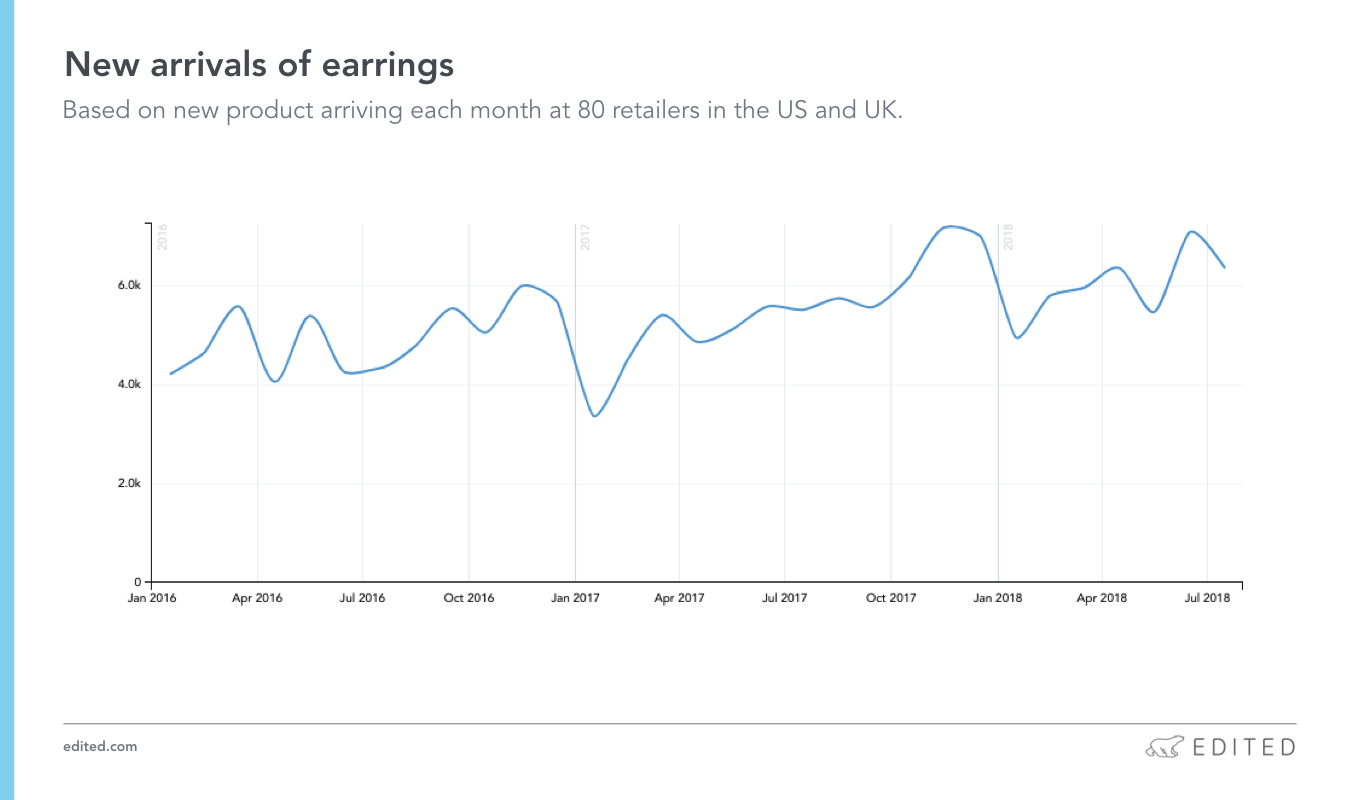 We can pinpoint exactly when earrings took over from necklaces – the third quarter of 2017.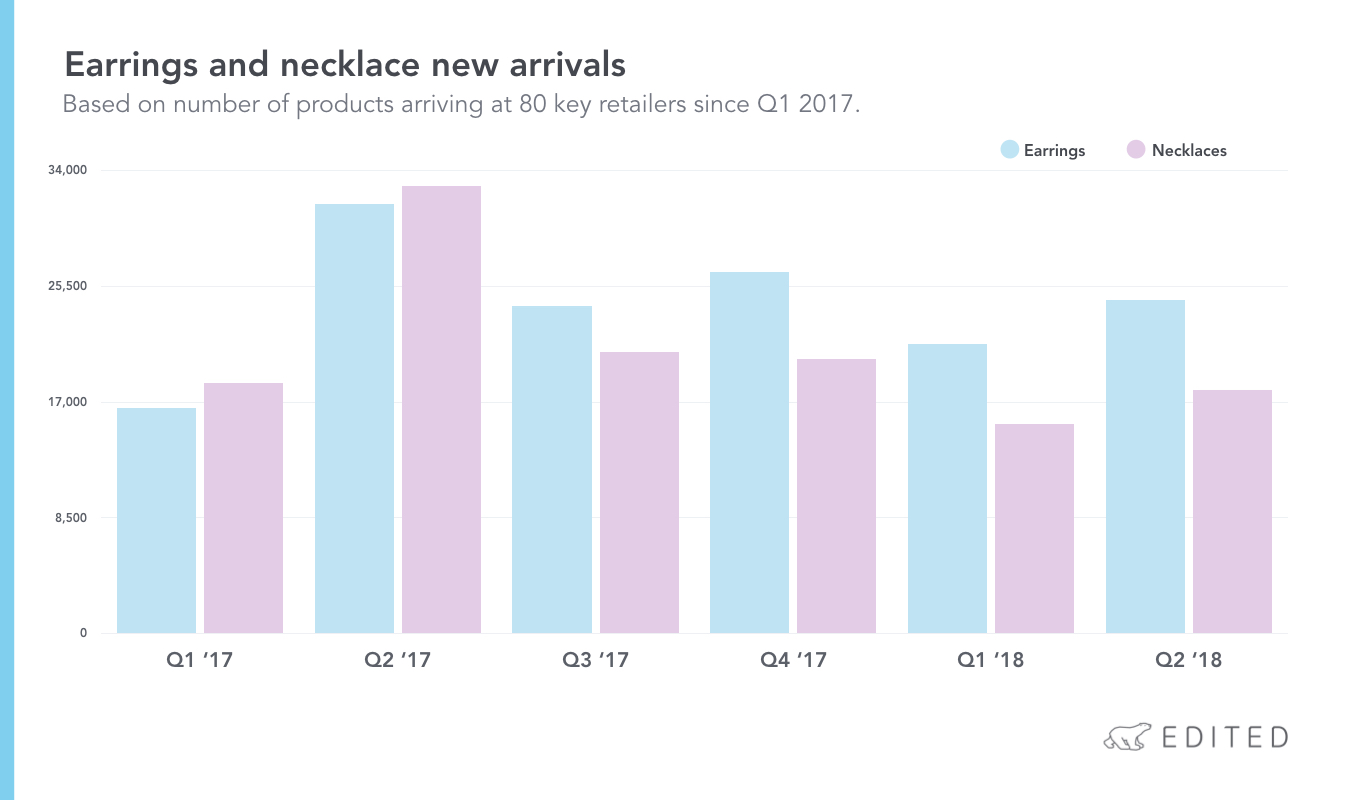 Consumers quickly followed, with sell outs lifting in December 2017 and climbing dramatically through the second and third quarters of this year.
That one-quarter delay is worth remembering for any retailers looking to back the growing anklet and brooch trends.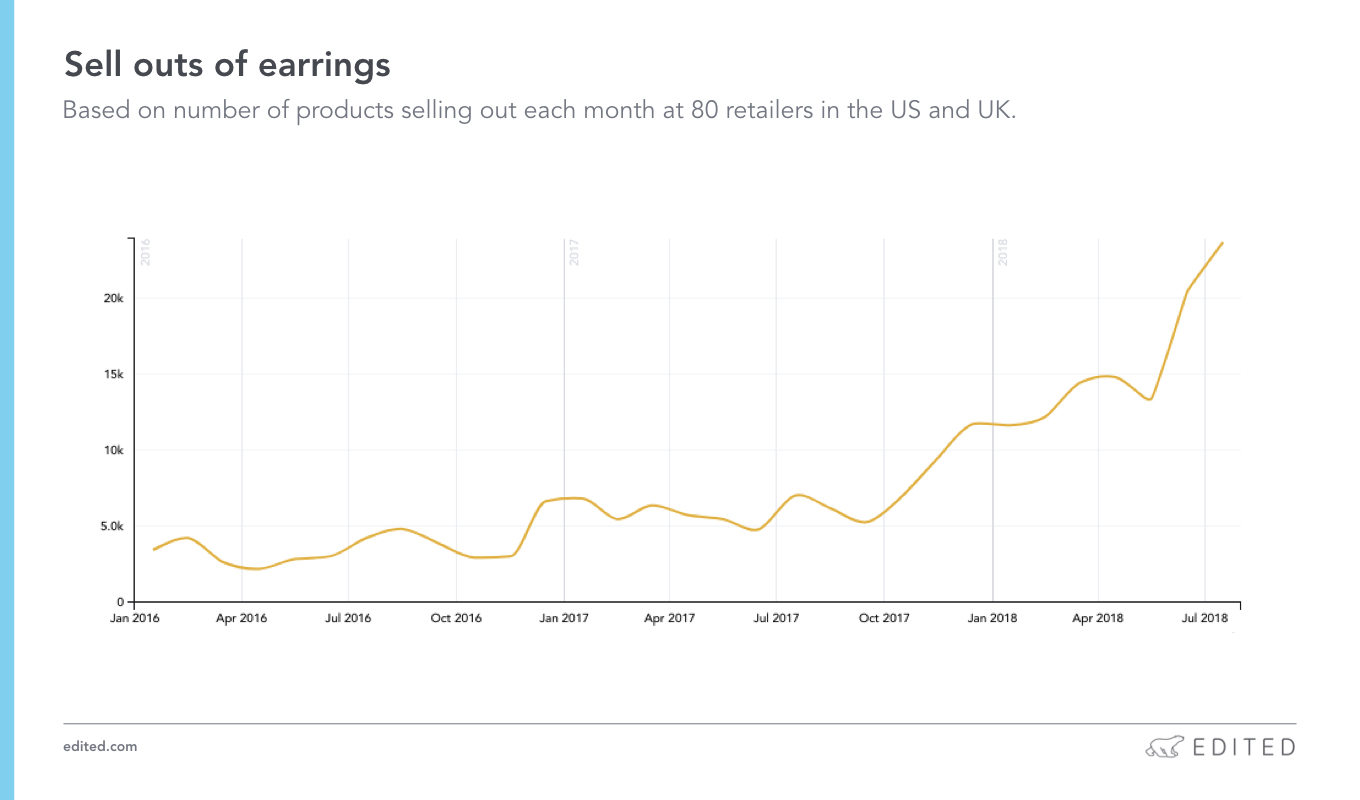 Earring trends
Statement earrings are big news, whether it's abstract gold shapes, oversized hoops, colorful tassels or bright perspex.
Singular earrings are growing at a rapid pace too – up by 29.5% in two years. There has been an increase in the trend for multiple piercings per lobe, with small hoops on the second, third and fourth piercings. That's driving an uptick in mismatched combinations of earrings.
And it turns out, the fewer earrings you buy, the more they'll cost! The average price right now on a single earring is $739.62, while a pair comes out at $417.02 and a whole pack at $21.60.
From this you should read that the luxury market's backing of singular earrings is going to drive this trend further.
Showing face
When you think about it, it's pretty obvious what is influencing the popularity of this product. It's something we reported on a year ago…selfie-taking.
Call it the Instagram effect – when you're taking pictures of your face, earrings have a better chance of getting in shot and making a statement about which kind of cool you are. And given the soaring interest in beauty, when influencers are sharing, they're sharing face. (And ear.)
For the same reason, hat and sunglasses trends have been fast moving this year, with berets, baker boy caps, oversized straw hats and tiny winged frames all taking over our feeds.
But if you're well stocked on necklaces, don't despair. Necklaces are starting to return to our Instagram feed – there's just one difference: you have to layer up multiple gold chains.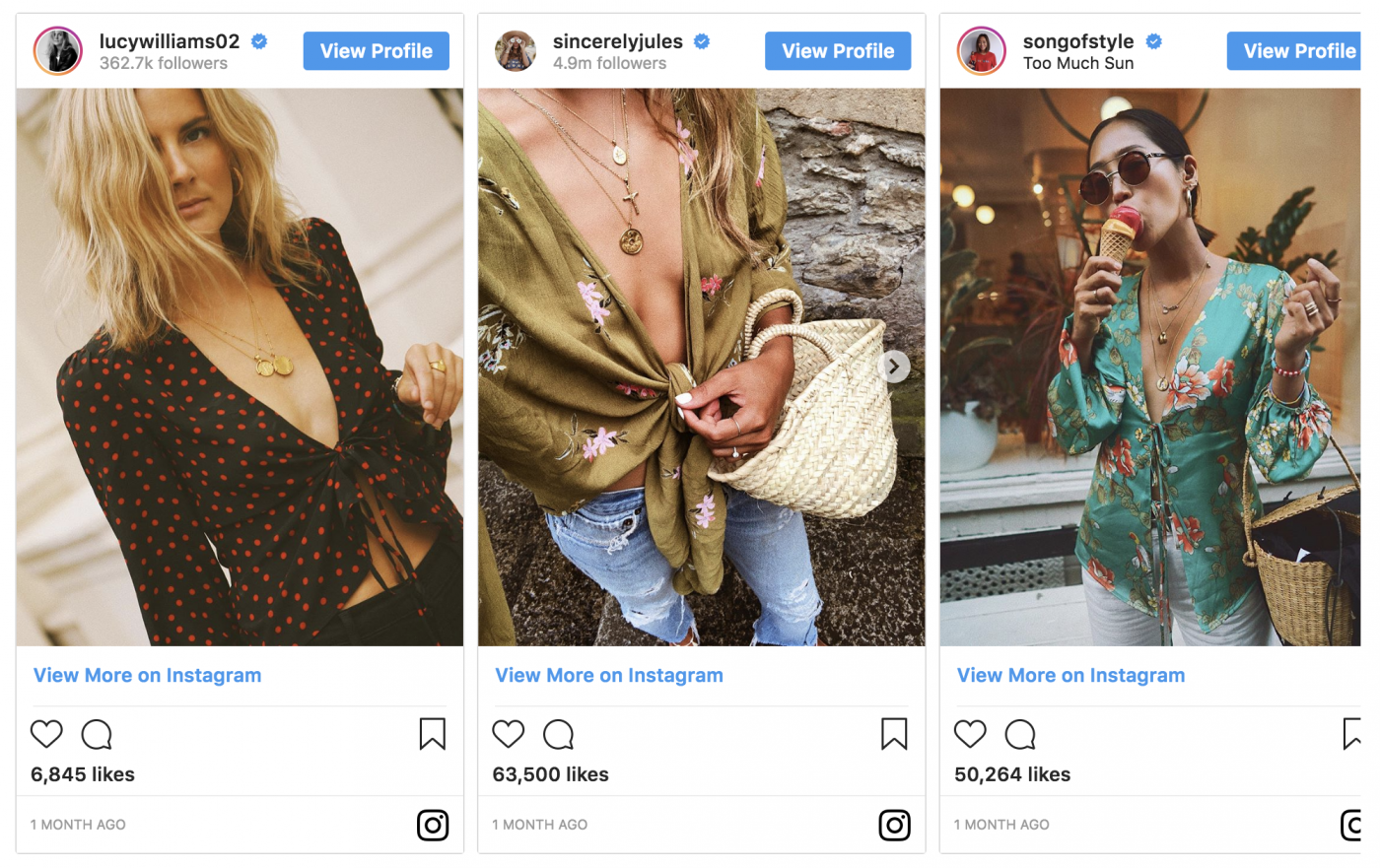 Just like the single earring trend, it's the consumers' need to show they're able to curate their look – they're beyond picking up the first thing they see and choose instead to flaunt their tastes by pairing and layering things up. It's also spurred a whole new angle of selfie-taking…
Take a look at your necklace assortment and start stripping back on 'statement' pieces, instead introducing a range of lengths of finer styles that can be built up.
Accessories trends for Fall 2018 and beyond
Pearls – Marni, Roksanda, Delfina Delettrez and Burberry are just a few of the luxury names using pearls in their jewelry lines right now. Mismatched pairs, or singular earrings were huge on the Fall runways, and will be a consumer hit by Spring 2019.
Pearls are also appearing in footwear, by the likes of Nicholas Kirkwood and bags, by Gucci and Simone Rocha. This one is going to be big.
Coins & Medallions – for this one your memo is 'anything that looks like it might have been found in an archaeological dig'. Historic coins and emblems from any of the 'ancients', whether it's Greek, Roman, Egyptian or Ottoman. Put them on anklets, earrings and pendants of varying lengths and weights.
Animal prints – A big Fall 2018 trend in apparel, the canny fashionista will be mixing her animal prints with clashing animal printed accessories. Faux fur bags, blanket scarves, acetate printed earrings and large resin bangles should be your go-tos.
Bucket hats – these were hot for Spring 2018, and showed up on the men's 2019 runways. Keep them in your assortment through next year.
Brooches – held at arms length, a brooch will make it into shot for a selfie. This item, which has had a quiet few years will make an comeback on the lapels of colorful statement winter coats. Abstract Memphis shapes and large florals will work best.
Want to know more about the runway accessory trends, as they show? Find out more about EDITED access here.