Season after season, one thing remains true about holidays: customers like sales.
Last year, online sales exceeded $1 billion almost every day during the holiday selling season. And our Black Friday data showed that products sold online averaged a 44% discount, with discounting rising 64% year-on-year. So, for many retailers who've done it tough this year, a lot is stacked on the next few months.
Broad statistics are helpful, but every retailer should know precisely what happens in their corner of the market during this critical selling period. That's why we've launched a specific tool to help you do that.
Using EDITED Market Analytics, you can analyse "Offers and Promotional Info", which specifically filters products based on promotional messaging. You can find offers associated with a product such as free shipping, online exclusives or limited offers.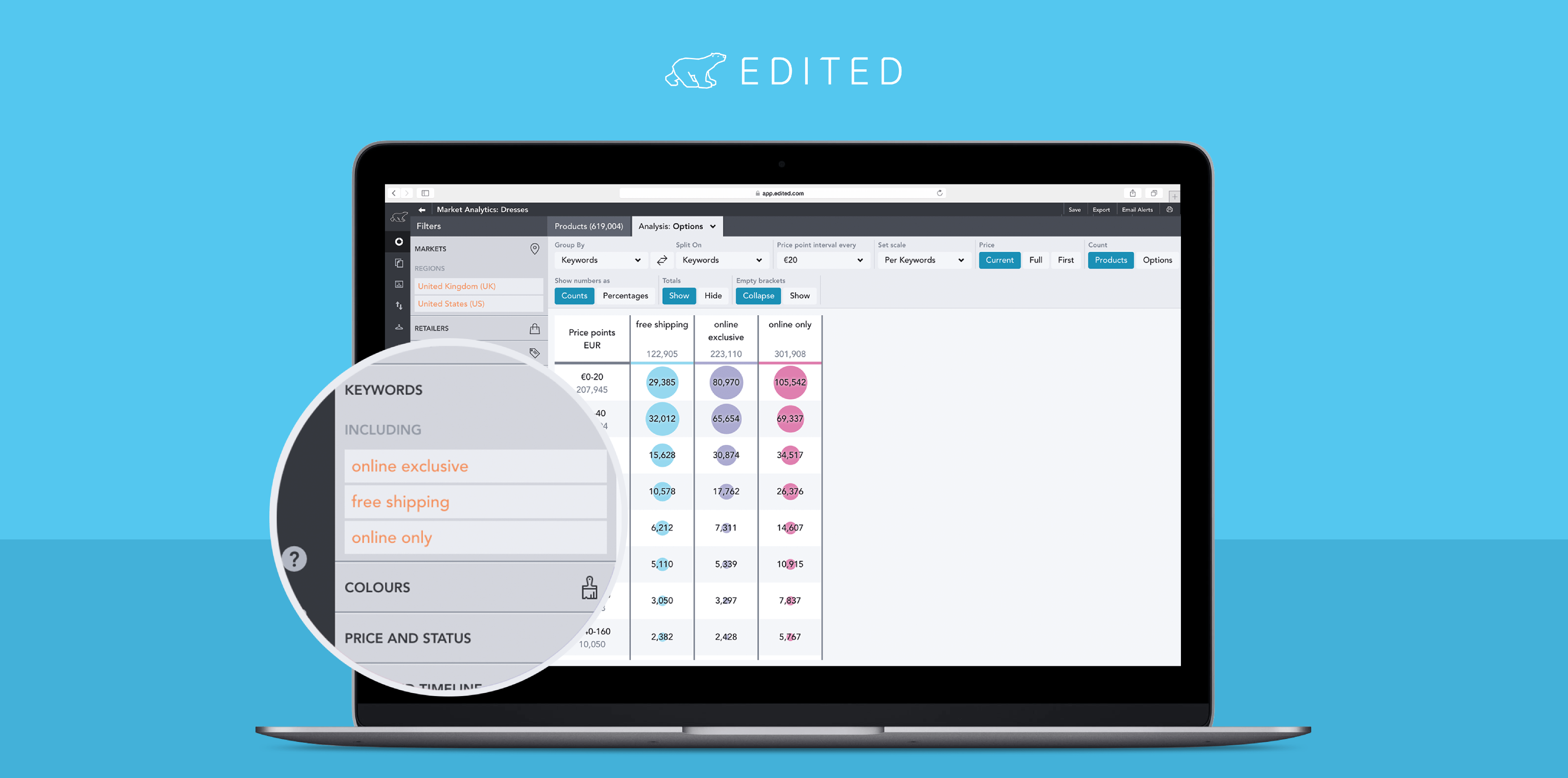 "This advanced function is a real game-changer," said kristina, Retail Strategy Director at EDITED. "It's very easy to see which promotions are working well, and where you should intensify your efforts for optimal sales – while maintaining margin."
The updated controls also let you pivot charts based on different discounting messages. You can see critical aspects of pricing and assortment side-by-side, comparing promotions, seasonal information, trend or composition info.
"Being able to analyze your assortment alongside your competitors' is critical this holiday season," said Kristina. "This powerful new tool is already being used by retailers like Joe Fresh and Boden to stay on top of any market's movements and capitalize on current best sellers."
Customers can log in now to start using this new feature.
Don't have a login? We can help you take on the upcoming holiday season with confidence and unprecedented visibility. Get a demo here.
Want to know more about how EDITED can help your business?
Request a live demo with one of our product specialists.