Millennials are a big deal to the travel industry, spending more than $200 billion annually. With an average yearly spend of $4,594 on vacations, these guys are shelling out more than even sun-seeking retirees.
In fact, 66% of millennials hold passports, whereas just 49% of Gen X-ers and 40% of Baby Boomers do. And millennials aren't just moving more for fun. A MMGY survey found millennials take an average 7.7 business trips a year – more than Gen X or Baby Boomers.
The influence of millennial travel on fashion
First up, let's get behind the psyche of all this extra movement. Unique travel is like catnip to millennials who are passionately committed to growing their identities.
We've all watched as experiences have trumped ownership in recent years. Being geographically mobile is more of a status symbol than any kind of luxury good.
Of course, these identities play out online and are fuelled by big-name travel influencers who make thousands of dollars frolicking on vacation.

Millennial tastes while vacationing are different too. Hipmunk found that nearly half of millennials prefer Airbnb to hotels – opting to stay in unusual environments over indentikit hotels. Naturally, that's seen a wave of design hotels opening around the world to try and lure the millennial dollar.
The upshot of all of this is:
Smart brands are making products which align with this lifestyle
Even established luxury brands like LVMH majority-owned Rimowa can tap into this new customer segment with clever marketing. The luggage maker has collaborated recently with Off-White on a perspex case that taps into the millennial obsession with revealing all. Prior to that there has been a greatly-hyped collab with Supreme and the second Fendi collab is soon to launch.
Rimowa isn't alone in grasping the opportunity here, Tumi collaborated with streetwear store Kith and of course, Away has shaken up the luggage industry with its direct-to-consumer model and millennial marketing.
But really, luggage is just the lowest hanging fruit in this vast millennial opportunity. All kinds of retailers are reacting with product that speaks to travel needs. Let's see what that looks like. First up…
The obvious stuff
Retailers know you're flying more often, and further, than ever before. And in fact, as cities are filling up, increasing numbers of people are travelling as part of their daily commute.
That's impacting a whole host of products we're buying. Take card holders for instance, so useful for the daily tickets and passes that get us onto our trains, into our offices and our 10th coffee free.
There are 81% more of those in stock now than two years ago. (Side note – how long will it be before our digital payment lifestyles kill the coin purse altogether? Currently it's down 6% from two years ago).
Passport holders are up by 13%, bumbags/fanny packs –which have had huge success this year–are up by 57% and eye masks (so vital for those long-haul z's) have increased their presence on the market by 217% in two years.
Other last minute add-ons like luggage tags, travel pillows and water bottles are great ways tap directly into this opportunity.
But there are also entire product categories that are seeing boom thanks to the #wanderlust-ers.
The rise and rise of swimwear
More vacation means more swim. The swim category is not only growing during key holiday months, it's also becoming less bound to the classic seasons. That's something we talked about in more depth here.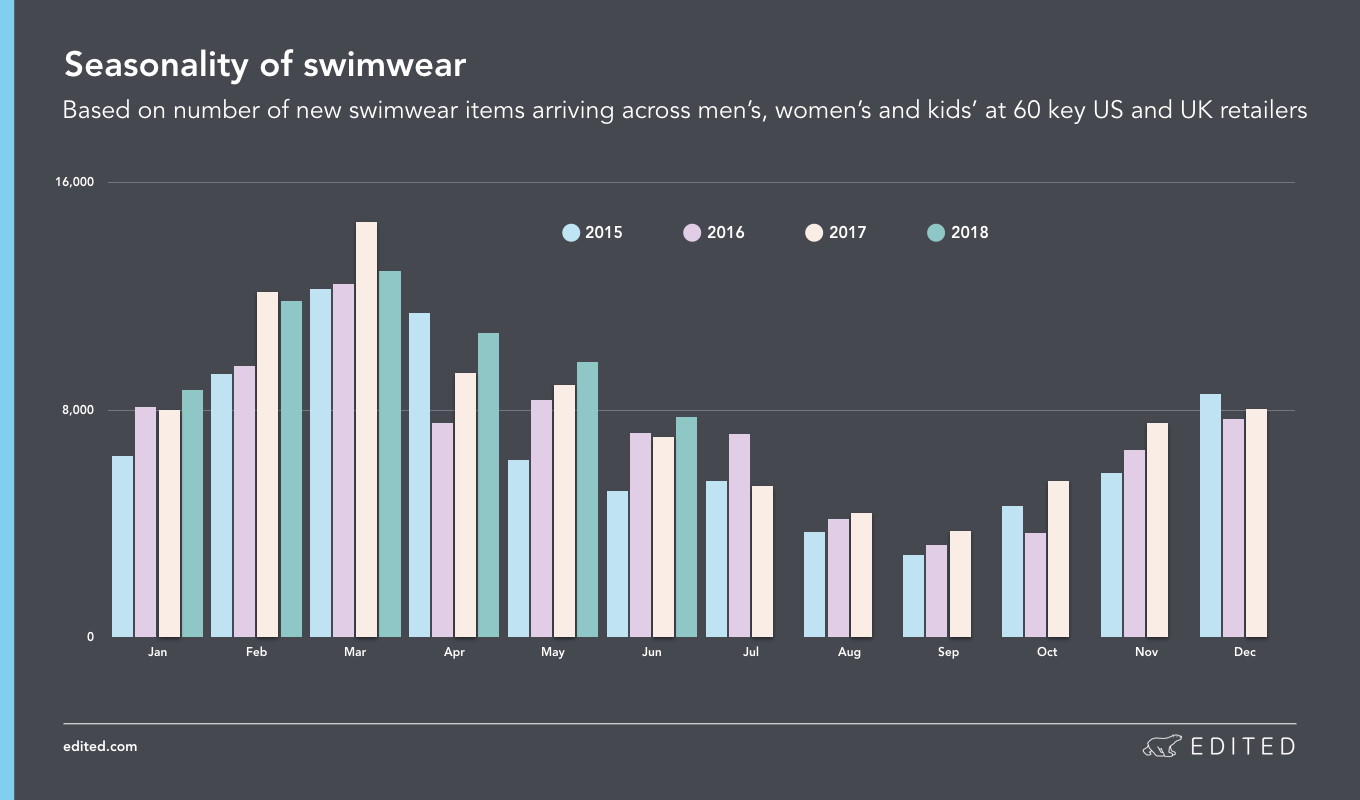 The retail science behind items like sunglasses has shifted too. Retailers are increasing newness on this category earlier in the year and consumers are responding, with sell outs lifting dramatically in Q1 and Q2.
It's also no coincidence that slides are one of this summer's best-selling footwear styles – so easily are they worn in hotels or with socks in-flight. Espadrilles, in second place, reek of travel too (sometimes quite literally) and you only have to go to one departures lounge to see where all those sock sneakers that have sold are residing.
And the pyjama category has upped its game now that social media means we're brought into the hotel rooms of the millennial traveller. Few parts of their unique travel experiences are private!
Communicating travel edits
Smart retailers have not only introduced travel into their product offering, but into the themes of their communications. We used our Visual Merchandising tool to spot that Arket has introduced a line of lightweight travel bags in a range of useful sizes.
We also spotted many airport style edits, with retailers suggesting items which travel well, are comfortable and versatile. And although there were the same number of mentions of flights and flying in apparel retailer newsletters in the first half of 2018, it's interesting to note that the peak time for these references has moved from Q2 and into Q1.
The bigger picture
There is enormous industry scope beyond all these obvious travel-category items. In fact, our increased movement will have a lasting impact on the design of all the products we interact with.
Just look at current bag trends for evidence of that – as anyone who's ever woken mid-flight to find the content of their 2016 bucket bag beneath the seat in front can attest, things like drawstring bags, backpacks and waist bags all make getting around with our stuff easier.
Wider pants are unrestricting, sweatpants born for movement and oversized hoodies for napping in places that aren't your bed.
Retailers need to think about how they can imbue performance capabilities into apparel beyond sneakers and activewear. Holiday/vacation edits will never disappear from the summer months of this industry. But increasingly there won't be a holiday mode and a off-holiday mode. Let's think about movement holistically.