Activewear has grown by leaps and bounds. So fast in fact that it's easy to forget the term 'athleisure' is only five minutes old.
But despite how much attention we as an industry have given the category, and its associated lifestyle shifts, there's still some growing up to do.
And in summer, that's patently clear.
Before we outline where there's room for improvement let's first quantify the growth in activewear. After all, there's no point telling a market to mature if it's falling out of favor. A quick check on some simple stats will set us up for what's ahead.
For this we're looking at apparel intended specifically for sports and active, not clothing that's sports luxe-inspired. The difference? Technical ability. We built a filter for that a while back to discern the two markets clearly.
So here's what we see: in the first quarter of this year, new arrivals of women's activewear were up 5% compared to Q1 2016. That's based on a sample of 31 Northern Hemisphere retailers who stock almost 5,000 activewear brands among them.
The number of products selling out is up too, by 36%.
We did a price check on three key activewear items to understand how they're positioned in the market. The average price on sneakers was up 5% to $110.55 in Q1, sports bras were up 11% to $47.62 and leggings grew 18% to $74.91.
Growth in average price point means retailers are building out their price architecture and investing further in the category. Great!
We took a look at discounting and that was up too, by 22%. At first glance that's a negative, however the depth of the first discount was lower in 2017 than last year. While the most common first reduction in Q1 for both years was 20-30% off, in 2017 there were more reductions of less than 20% than in 2016.
All that is evidence the market is still growing. And yet, there's a glitch. Activewear isn't tackling seasonal shifts in the way it could.
Basically, the two lines below need to smooth out.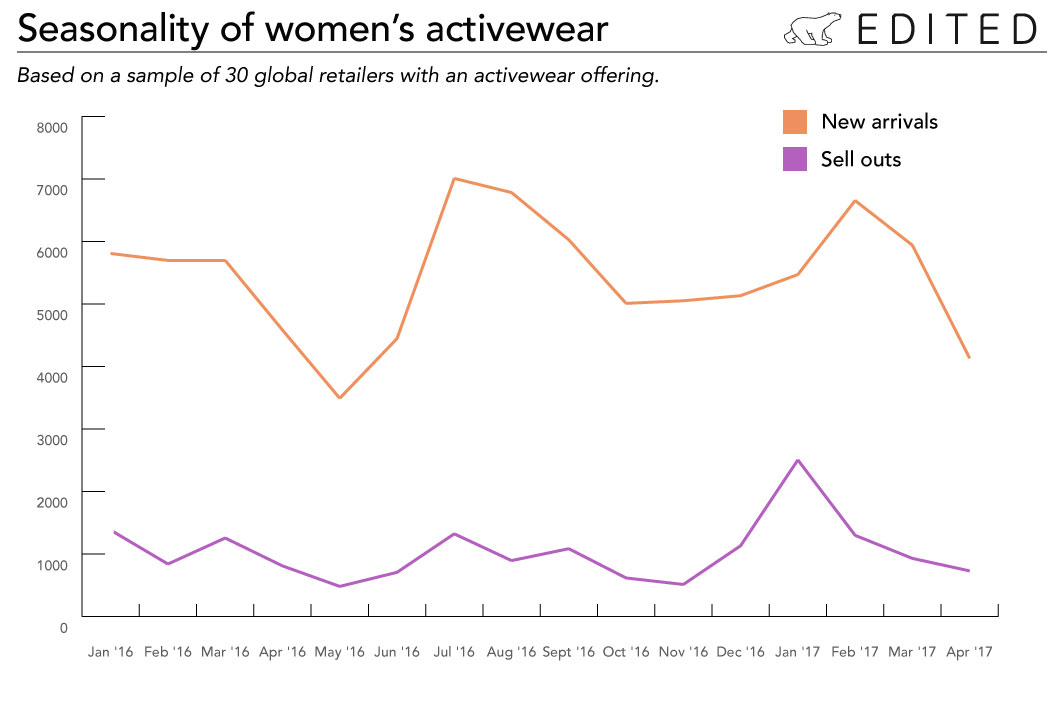 We can see from the chart above, which shows the number of new arrivals each month alongside sell outs, that retailers aren't giving activewear consistent attention year-round.
There are clear spikes of new product in the build up to back-to-school and at the start of the new year, when fitness goals are optimistically set. By April and May sellouts trail, showing that consumer interest has waned, in line with the way retailers have pulled away.
Sure, we may never meet that target of five spin sessions a week. But given that all-encompassing notion that we're dressing functionally and comfortably, it should make sense for retailers to lure year-round spend with newness, as they do in the denim or dress category for example.
That missed opportunity is plain to see when we look at color.
There is no rule that says activewear must be black. Yet retailers consistently play it safe, regardless of season. In fact, 43% of activewear summer arrivals were black or grey. The same retailers only introduced 38% of their summer offering in black or grey in fashion categories.
More of a concern is that the difference in palette for activewear across seasons is barely noticeable, as the chart below shows.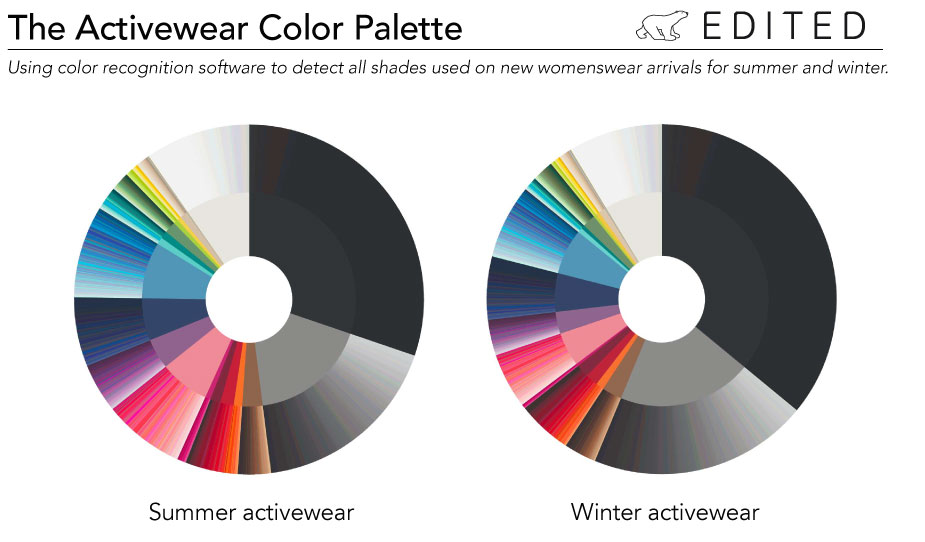 In fact, over the last three months that all-important shade millennial pink has been all but invisible on the activewear market, representing just 2.2% of new arrivals – half the rate of womenswear.
Assortment doesn't shift dramatically either. And though we understand you're supposed to get warm doing exercise regardless of season, the types of exercise people do changes, and apparel should reflect that.
Active swimwear only grew slightly last summer compared to winter. Shorts, which represented 15% of activewear bottoms in winter only accounted for 24% of the category in summer. There was even less change in capri or 3/4 length leggings, which shifted from 10% of winter's active bottoms to 16% in summer.
Missing out on trend
Part of the problem is around trend. There's not enough of it in activewear. We've already shown that retailers missed out on color trends, but looking at the new arrivals in the last three months, we can see that activewear also scrimped on some of the season's biggest print stories.
Activewear prints for the season lean towards abstract digital prints, camouflage, paint effects and marbling. Meanwhile, the fashion category backed print-mixing, foliage-led florals, gingham and feminist slogan placement prints.
Activewear is missing a trick. Women don't want to dress like a fembot in a computer simulation. They're active, not bionic.
We're talking this stuff, all new-in in the last three months and already discounted:
There needs to be a closer relationship between trend and active. Especially given the number of women who are now choosing to wear active clothing day-to-day. Retailers shouldn't be afraid, their active customer is their fashion customer.
When we start treating activewear less like a outlier category and more like technical fashion, we'll see the market really surge.
That's not to say the category is entirely bereft of trend. Some brands and retailers are doing it right, including these guys:
And when activewear ties itself closer to trend, then we've really got the goods to go seasonal, creating a year-round conversation with shoppers.
The chart below shows not only how retailers lift mentions of the category around the start of the year and the height of summer, but also the growth in mentions so far this year compared to last!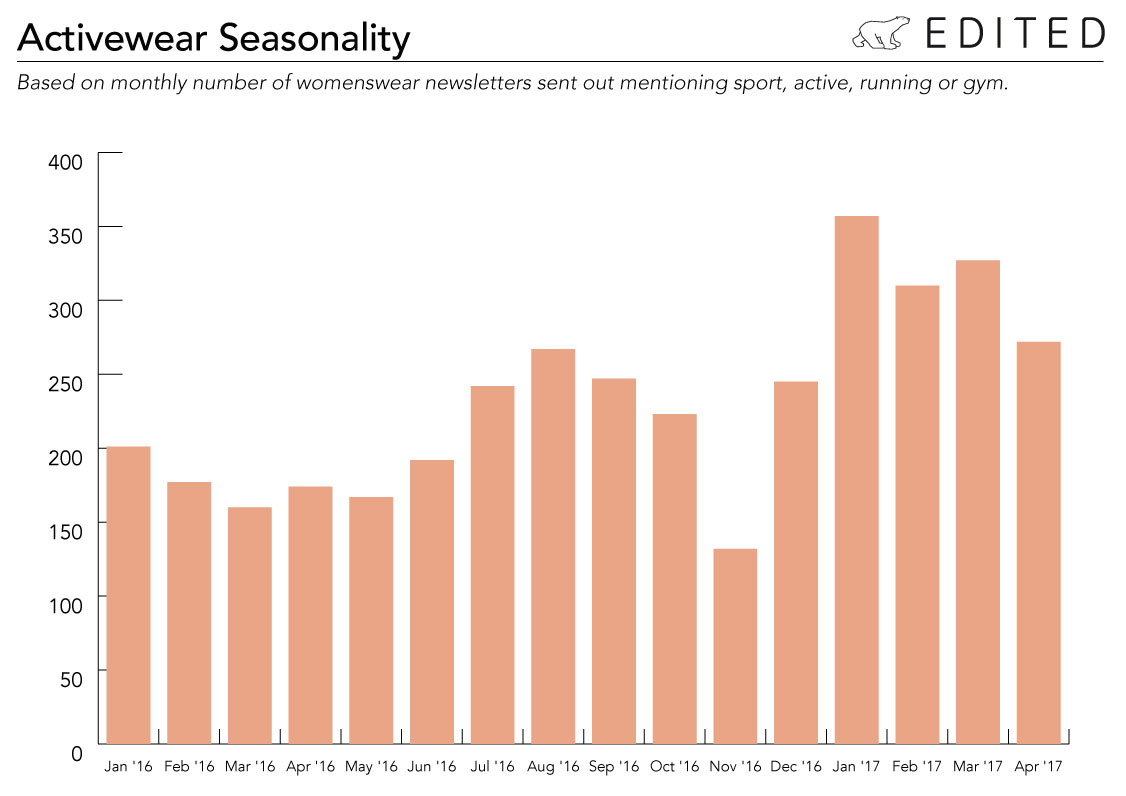 Right now the product on hand doesn't lend itself to seasonal conversation; there's only one visual identity.
Below are two examples of newsletters featuring the word 'running'. The one on the left – which features a crop top – was sent in January, and the one on the right – featuring gloves and a long-sleeve jacket was sent in August.
Fashion retailers get the need to tie conversation and product closely to their consumer's experience right now. Activewear growth won't be sustained if retailers don't learn to do the same.
EDITED users, we've got an Influencer Activewear report you should check out – it's these guys who will lap up and propel the speed of trends in the category.
In order to fully mature, activewear needs a closer relationship to trend.