Dad fashion. Aside from last year's moment in the normcore spotlight, our poor papas are not generally style leaders. We're not talking every father – David Beckham, we see you in your dapper five piece suit – just most. And for those of us with fathers in that great big swathe of dads forever sworn to fashion indifference, we're taking this Father's Day week to help you… help them. Because, dads, if you're reading, we love you guys.
So to begin, here's a list of the five best-selling dad jeans on the market. Identify which is your dad's style and read some advice on how to nudge him towards modernity, without him even realising. All in the name of Father's Day. And love. And mom's peace of mind.
1. The Indigo Denim Relaxed Fit Dad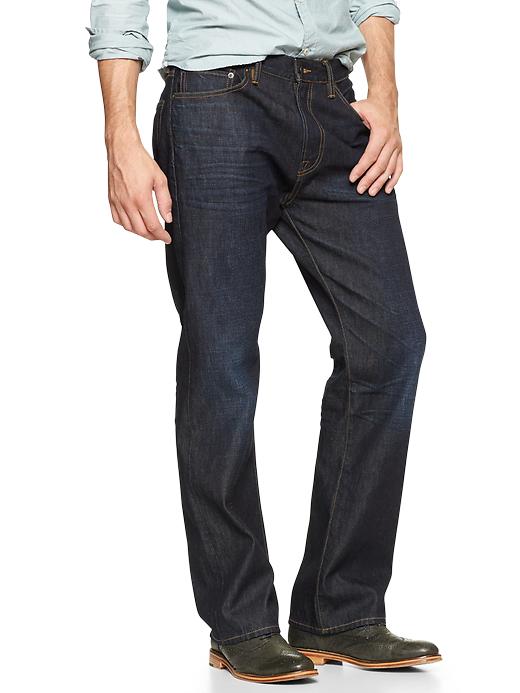 The dad who wears these chose them for himself in a rare appearance at the mall and is very proud of his fashion moment.
Dad currently wears these with anything North Face, half-zip sweaters and a short sleeved sportshirt from Dillards.
Trend For Dad to Unwittingly Nail: A dad who appreciates his dark denim should embrace the graphic side of today's fashion. We're not talking the full-Williamsburg, just some simple kicks and strong monochromatic prints. Something like the contrast-sole shoes from Camper aren't too edgy, yet they're definitely contemporary and comfortable. Try Indigo Jean Dad in a contrast sleeved top too – he'll think it's baseball, we'll know it's fashion. And make sure if Dad is wearing stripes, they're bold ones. Dad is fine with stripes.

L-R: Motel Shoes at Camper, Long-Sleeved Raglan T-Shirt at Topman, Faherty Striped Cotton Tee at Mr Porter.
2. The Stonewash Classic Dad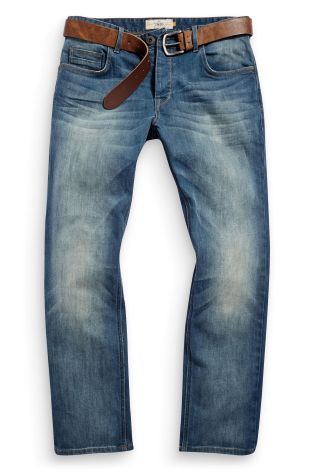 The dad who wears these would rather be wearing cargos. Because one pair of bottoms with as many pockets as four makes sense.
Dad currently wears these with a Patagonia fleece and a t-shirt he probably had before he had you. He may also pair them with the occasional plaid shirt and a pair of Active Sport Oxfords, mostly for BBQs.
Trend For Dad to Unwittingly Nail: This dad is a joy to style. He literally doesn't care what he wears, so long as mom's cool with it and it's comfortable. That said, Stonewash Jean Dad could really take to the statement sweater trend, which is set to continue into Spring '16. It's a sensible shape he already knows but with subtle nods to the contemporary. Since he'd probably balk at the price of Kenzo, and a Brooklyn reference wouldn't resonate, try some color-blocked panels or simpler prints. With a little searching, he could probably find some things at ASOS. So long as he doesn't have to find them himself.

L-R: Nicce Navy Sweatshirt at Topman, Club Monaco Color-Block Sweater, Markus Lupfer Sweatshirt at Yoox.
3. The Bootcut Jean Dad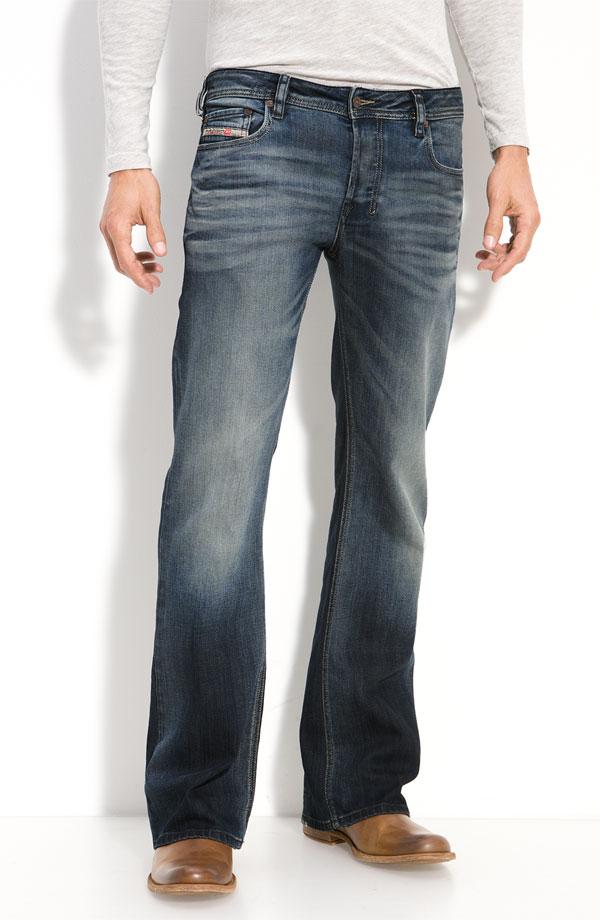 The dad who wears these is a vaguely country dad. Even though he's spent his entire life in medium to large towns. He may think he hankers for the cowboy life, but in truth he just kind of likes some Johnny Cash songs.
Dad currently wears these with plaid shirts with pearl poppers, mid-tier premium sweaters and a very practical coat that cost a lot more than you'd expect.
Trend For Dad to Unwittingly Nail: It can be hard to know how to reel Bootcut Dad back to style. After all, he didn't pick that slight kick flare by accident. Stick to the classics or he'll stick to his metaphorical guns. How about a stylish update on the polo shirt? Club Monaco does some nice garment-dyed woven chambray ones. For sweaters, look at fancier cashmere blends. Uniqlo does cotton, cashmere and extra fine merino wool at dad-friendly prices. Or try a 50s-influenced short sleeved knit, a key menswear theme. For Bootcut Dad's louder moments, you could even try a tropical print shirt. A long shot maybe, but one of spring's best-selling menswear prints. Hey, even Johnny Cash had to let his inner-Beach Boy loose from time to time.

L-R: Club Monaco Polo Shirt at Mr Porter, Wool Blend Cable Crew Neck Sweater at Uniqlo, Faherty Shirt at Mr Porter.
4. The Black Jean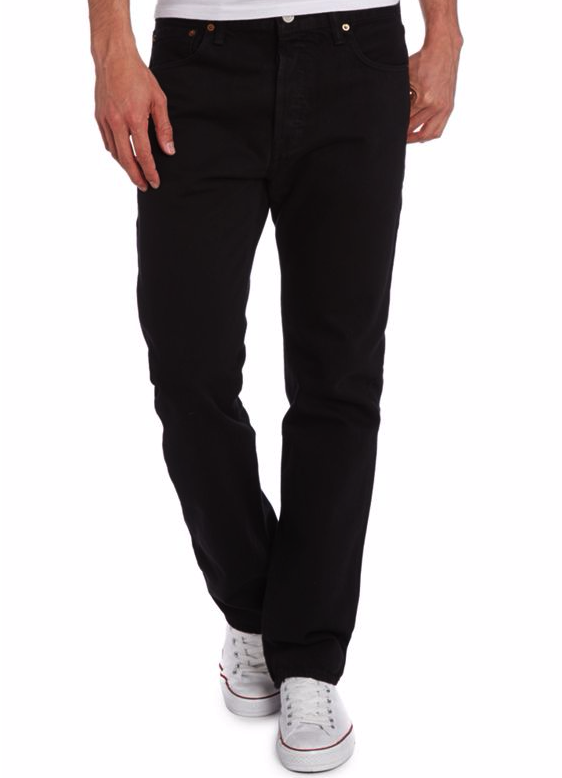 The dad who wears these will tell you he's only as old as he feels. He gets your references, tweets to remind you to call your mother, and knows his music from his Best New Music.
Dad currently wears these with those 90s band tees, plaid shirts, denim jackets and that battered parka.
Trend For Dad to Unwittingly Nail: You're not going to get him into new band shirts, so don't even think about it. The bomber jacket is perfect for Black Jean Dad – it's on trend and has been so consistently over the last two years. It's also a classic shape, and if you stay away from shiny interpretations, it won't remind him of their last fashion stint in the early 90s. Let the younger guys experiment with prints on their bombers. Allow dad to explore suede or a heavy cotton in shades of navy, maroon, grey or chocolate. The best bit is, designers have just shown the style on Spring '16 runways, meaning dad will continue to stay fashion forward for some time yet. Closely related, and perhaps better suited to the older Black Jean Dad with its collar, is the Harrington Jacket. It too is looking set for Spring '16 dominance.

L-R: Ted Baker Linen Bomber at John Lewis, Daniele Alessandrini Bomber at Yoox, Burton Harrington Jacket at Zalora.
5. The White Jean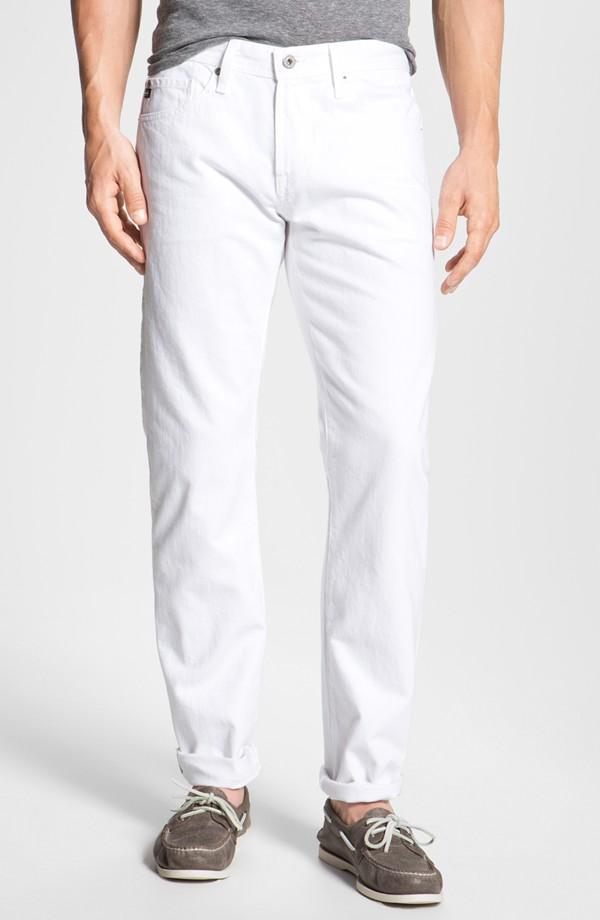 The dad who wears these is wasted again in Margaritaville. He either had an absolute blast in the 70s and won't let you forget it. Or he's just nautically inclined. He likes boats. He may even have a boat.
Dad currently wears these with a slightly-too-low v-neck tee, a Hawaiian shirt and deck shoes he's worn every weekend for the last 20 years.
Trend For Dad to Unwittingly Nail: This dad has sartorial confidence, if not lacking a little direction. The recent London menswear shows were awash with colors, prints and fabrics generally unexpected in menswear. White Jean Dad might not be ready to embrace men's lace, as shown at Burberry Prorsum, but we think he'd consider a strong floral or paisley print, a double denim pairing with a denim shirt (not enough dads wear denim shirts! They'd love them!), or even a little hint of velvet in a jacket.
L-R: Ted Baker Floral Print Shirt at John Lewis, Robert Graham Floral Print Shirt at Neiman Marcus, ASOS Western Denim Shirt.

Give it a try. But really, dads are pretty ace just as they are. Happy Father's Day to all of team EDITD's dads. Next week we'll be back with the top Spring 2016 menswear trends, fresh from the shows.