After a mind-swelling month of shows, depending on how much attention you've paid, Paris Fashion Week can either feel like the final hoorah or one party too many. We don't blame you if the $10 million jewel heist is all you can remember. Well, that, and statement sleeve after statement sleeve after statement sleeve. We're all at fashion saturation point.
We'll make this easy on you. Here are just five things to do, buy or say that will make it seem like you paid full attention.
1. Wear your jacket big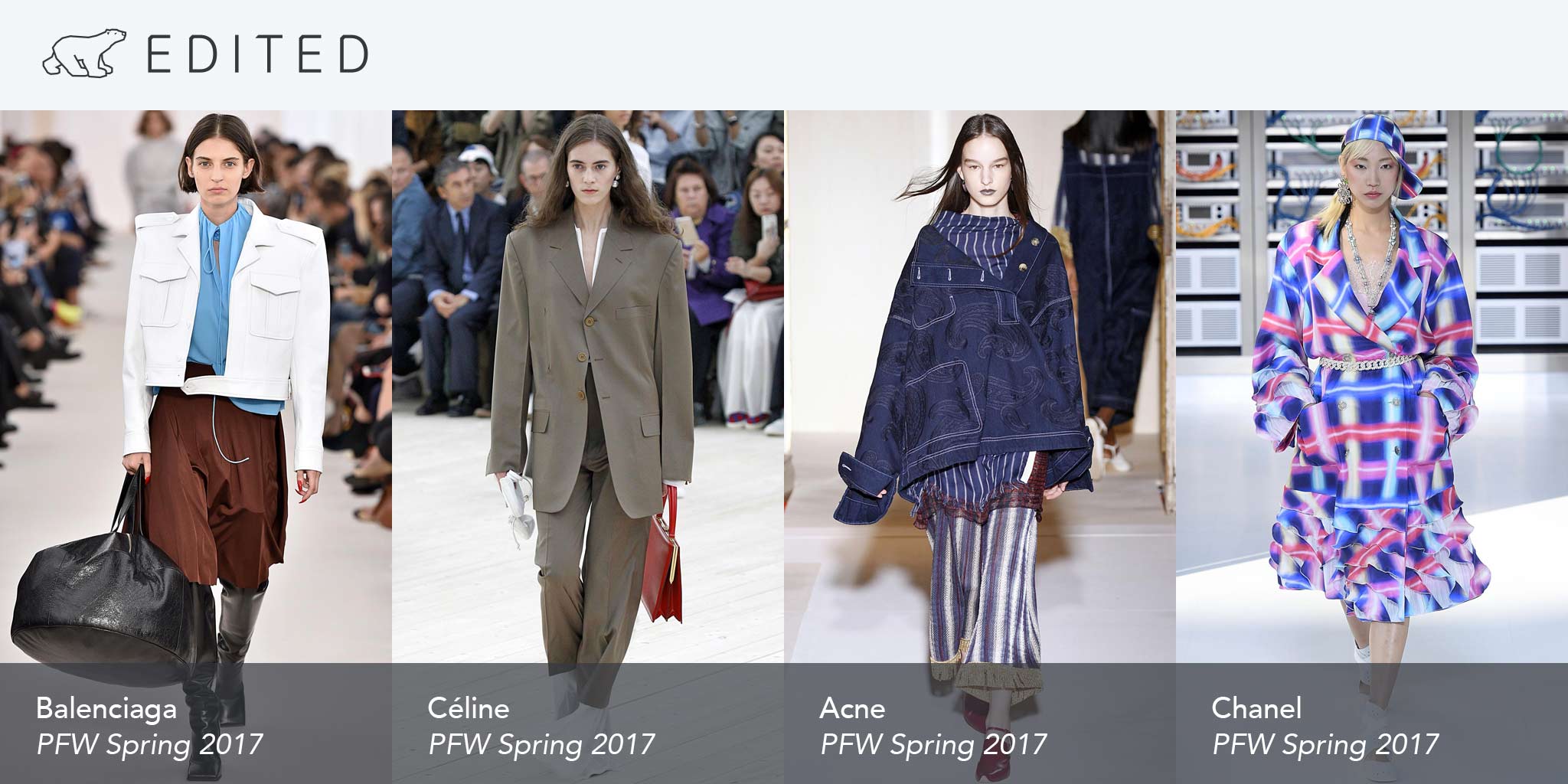 So you want to wear those little camisole dresses and one-shouldered items for Spring 2017, but you know that spring really means 55 degrees (13c) and pouring rain. What you need is an oversized jacket to keep your goosebumps stylishly under wraps. Acne's artist-meets-fisherman smock takes care of the casual end of things and there were plenty of supped-up blazers (Céline, Chanel, Marant) to strut around the office in.
Retailers, this bit is for you: We've done cropped bombers, made some good money on shrunken bikers. We've had a lovely time with elegant duster coats. Now is time to think boxy, boyish and overblown, just like you did for Fall 2016, but in the more transitional shapes suited to spring and summer. Take those familiar shapes a do them bigger: a huge biker, a giant Harrington, a dramatic trench (yes, give shoulder pads a go). The real winner will be taking the season's military jacket (which looked too costume-y in its regular cut) and giving that some street attitude, as per Balenciaga.
2. Get a red dress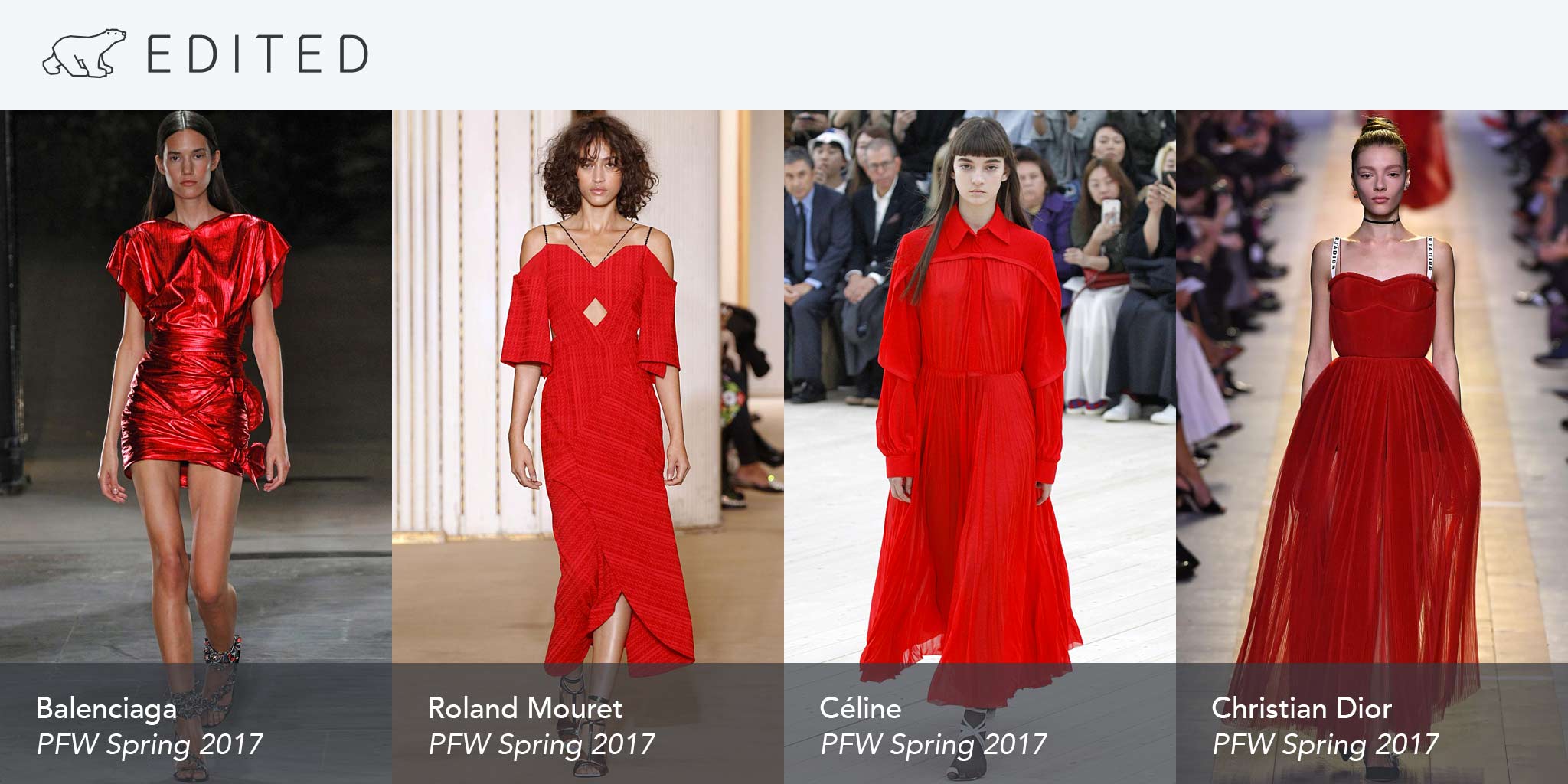 The Paris shows will make you question why you don't own one already. A bold, traffic halting red in whatever cut you like – this is more about strength of color than it is shape (though veer peasant-y for double trend win).
Retailers: If you did one of those vampy-gothic-boho dresses for Fall a) well done b) hope you came up with a better name for it than that. The red dress can be your next right-on-cue seasonal reference piece. Isabel Marant's shiny number is fun, but it's the Roland Mouret and Céline where the smart money is. Both play into that louche, oversized characteristic that's not only coming through on the runway, but is already stood out on the streets outside shows.
3. Be playful with your bag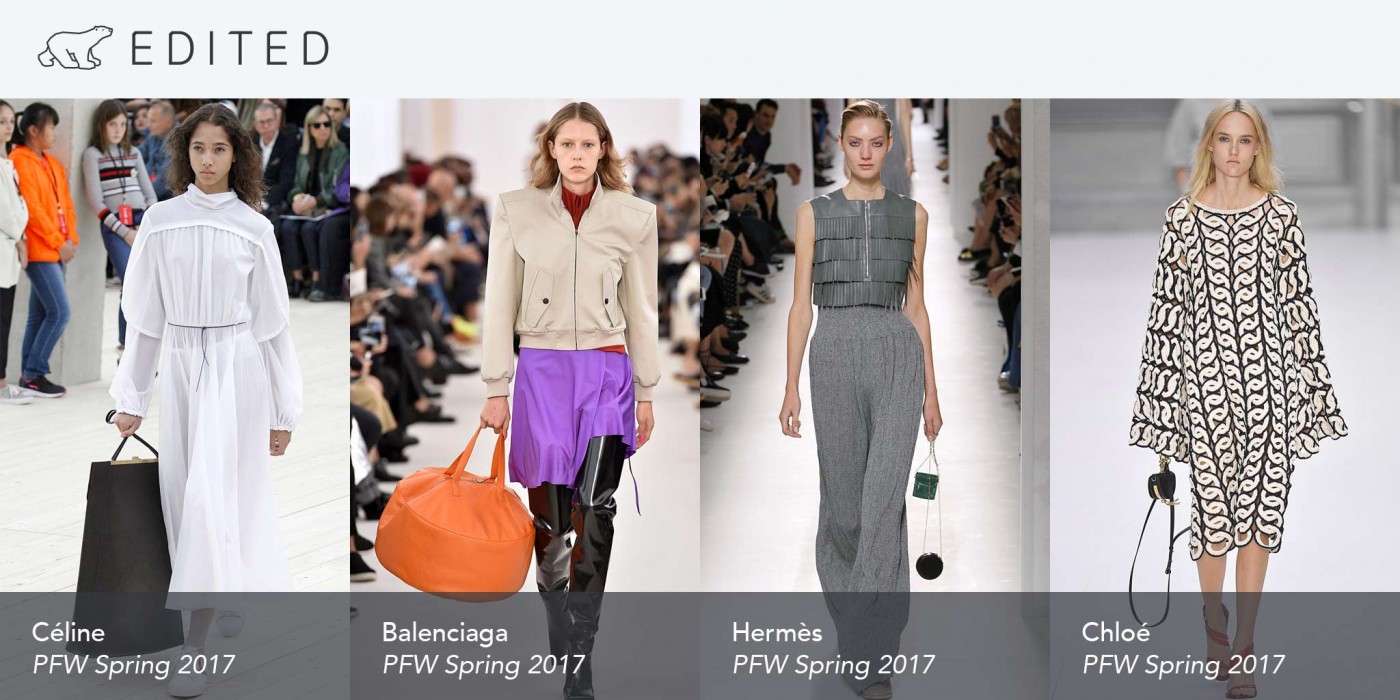 Go big or go home (and get your tiny bag). You literally get to choose this season! Continuing the jacket drama was an array of super-huge bags: leather totes, carry-alls and box bags. Roomy enough for work, exercise and a sleepover – it's the kind of functionality consumers currently love. At the other end of the scale were micro-bags, seen at Hermès, Chloé and Valentino. These teeny leather goods were carried or worn on long chains as necklaces. It's the classic luxury statement of not needing to tow around your entire life's wares (or even nickels and dimes). Your pick!
Retailers: Over 1,500 micro bags have arrived online in the last three months. More than half are on the luxury market (showing that the mass market hasn't yet diluted the story) and they sell out in an average of just 27 days. They're a fun, frivolous trend. But let's not detract from the usability of the super-sized tote. We say, do both.
4. #Freethenipple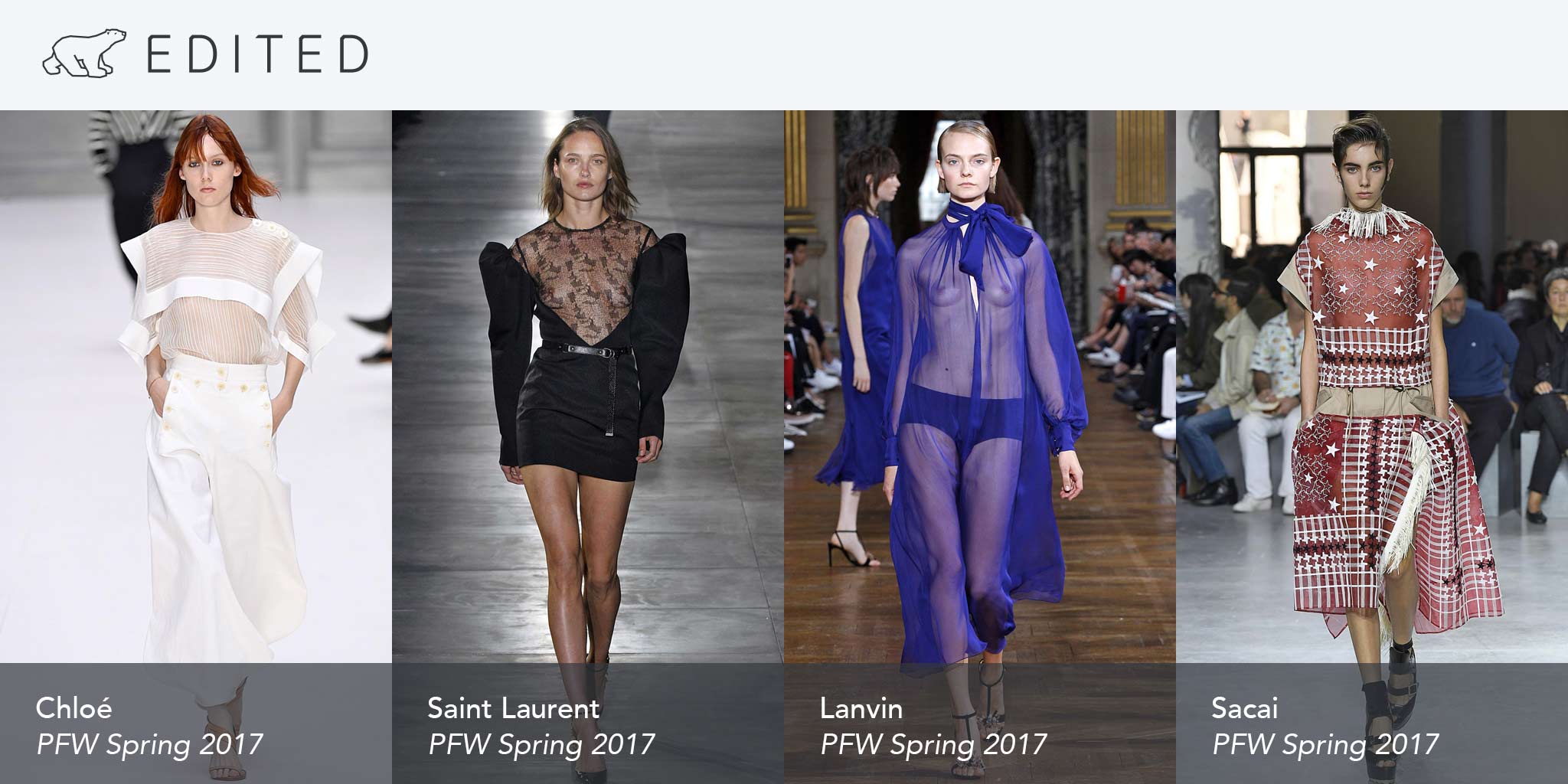 If it's your jam, Spring 2017 is when you can show it all off. Parisian designers collectively agreed on the big reveal, with super sheer fabrics fluttering down the runway. C'mon Instagram, time to get with the program?
Retailers: Not all shoppers are going to want their lovely lady bumps on display. Chloé's sailor bibbed top is a nod at the trend, keeping the headlamps just covered. But don't shy away from sheer blouses and dresses altogether: use this as an opportunity to up sell on unstructured, colorful bras and high waist panties.
5. Style with a choker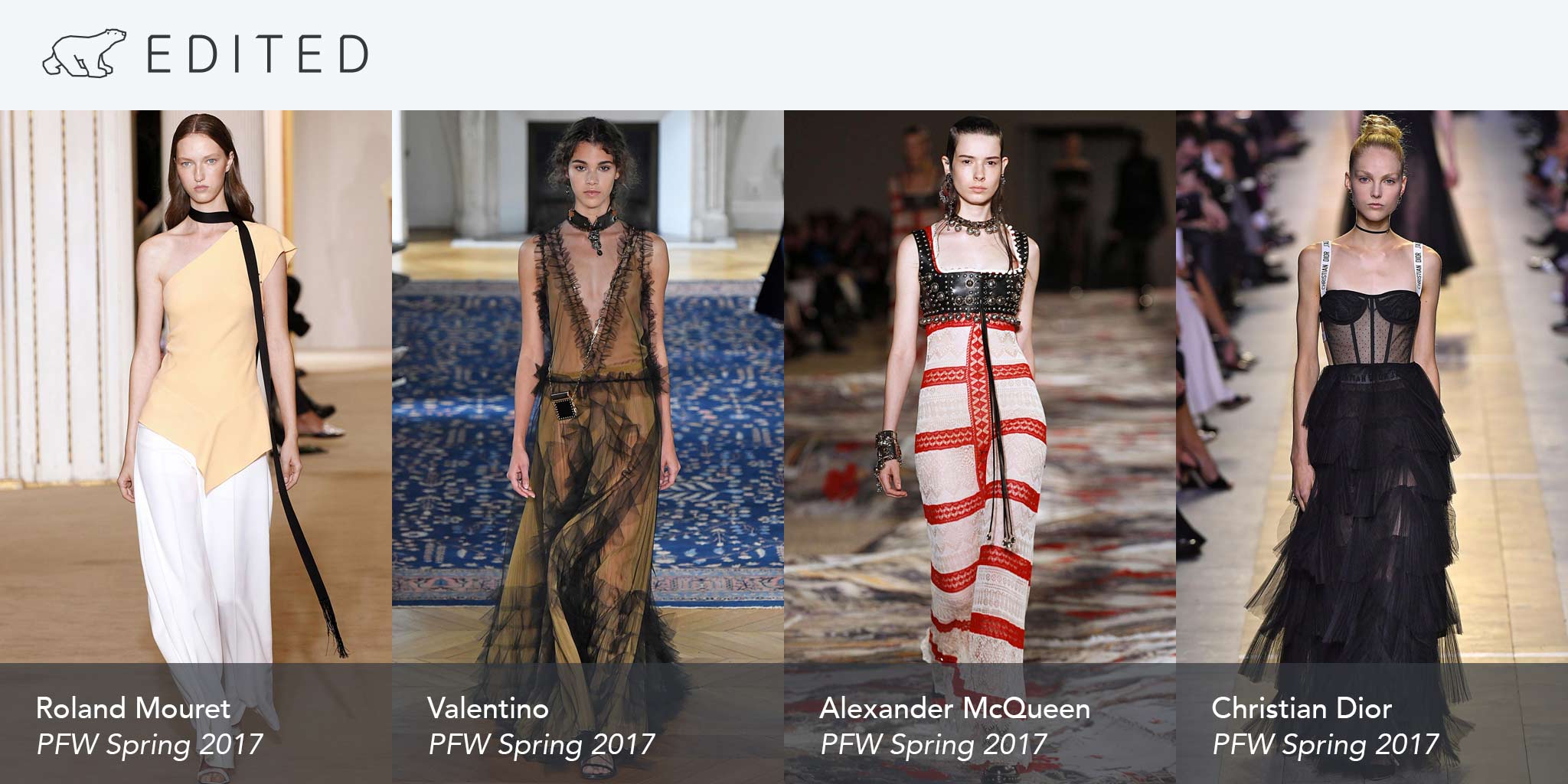 Gigi, Vanessa Hudgens et al drove this one, all the way to runway. Whether it's a long scarf like at Roland Mouret, a simple ribbon like Dior or some proper metal work, this is an easy way to lift an evening look into Spring 2017.
Retailers: In the last three months, there has been a 63% increase in the number of chokers arriving online. With an average price point of just $15, the mass market is leading the trend. However, premium chokers sell fast. Fifty-one percent of those that arrived in the last three months are already gone. Dig into the bestsellers to know what's best for Spring 2017.
Stay tuned as we round-up on the definitive Spring 2017 trends from the month. In the meantime, read up on all the New York, London and Milan had to offer.
Your cheatsheet to Paris Fashion Week. Sound like a pro even if you're at trend saturation point.