In our latest Market Report: Dresses USA 2014, you'll learn how to spot the early warning signs that a trend is about to climb, before it peaks commercially. Apparel professionals are using this data to plan ahead effectively, beating their competitors to the next winning style, and now you can share in market data too.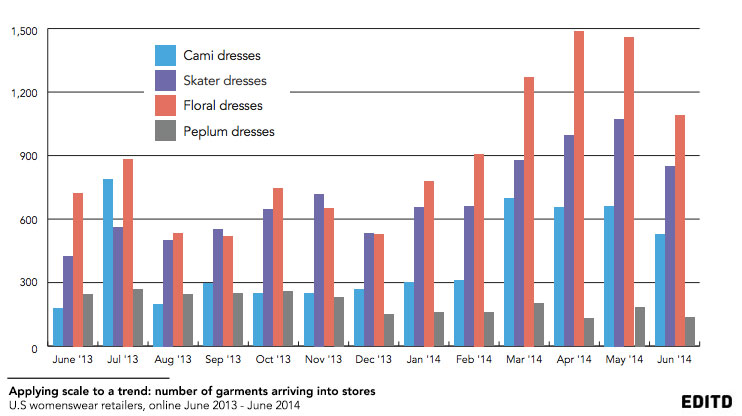 Zoning in on the U.S., we've shared data from every level of the market, from value through to luxury, in one of womenswear's most fragile categories. Blending real-time and historic data, EDITD's software allows retailers to view patterns in new products, discounting behaviour and market segmentation to understand the timing around key new trends. We've honed in on skater dresses, cami dresses, floral print dresses and peplum dresses – assessing their lifespan according to current market position.
Top moving dress trends

We've also revealed which dresses sold best for American retailers during June and July. Viewing 'top movers' (defined as garments which sell out at full price, in a short time frame) in each market segment highlights the way that trends move through markets. Floral dresses sold well across value, mass, premium and luxury this summer – but the difference in print complexity across those segments in marked. We're seeing early signs of uplift in asymmetrical dresses in the luxury market. Given Spring 2015's recent trends, retailers will want to drill down into this data.
To get more market insight on how dresses are performing
Download our FREE Market Report now.