How do US trend-led retailers decide how to breakdown their ranges? How much precedence should each category have within an assortment? Careful analysis of sell through rates, discounting, replenishment and margins feed into the fashion retailers' decision-making every day.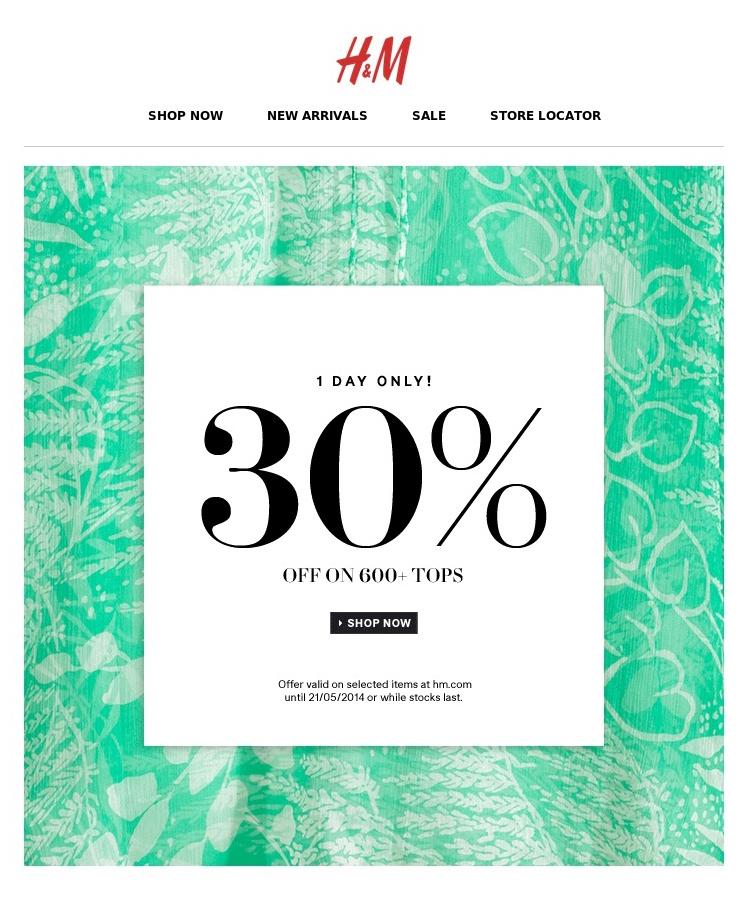 For the first time, EDITD's software is able to offer the apparel industry market visibility on brands' and retailers' assortments to better fuel those tricky decisions. Today we look at the way six key U.S. womenswear retailers in the mass market have broken up their ranges, and analyze the success behind their decision-making.
Tops come top, across the board
The six U.S. retailers we analyzed – Uniqlo U.S., Urban Outfitters, Nasty Gal, H&M U.S., Aéropostale and Forever 21 – all have tops as their largest category (data is based on all womenswear product available online on the 27th May 2014). This goes against the broader apparel market, where global analysis reveals accessories are given the highest weighting. These retailers are mainly focusing on the trend-led youth market, and tops are taking precedence. It's interesting to note the different weighting that all six retailers have – with Uniqlo offering a vast 49% of their womenswear in tops, and Nasty Gal giving dresses more precedence, as their second largest category, than any other retailer. So what works best?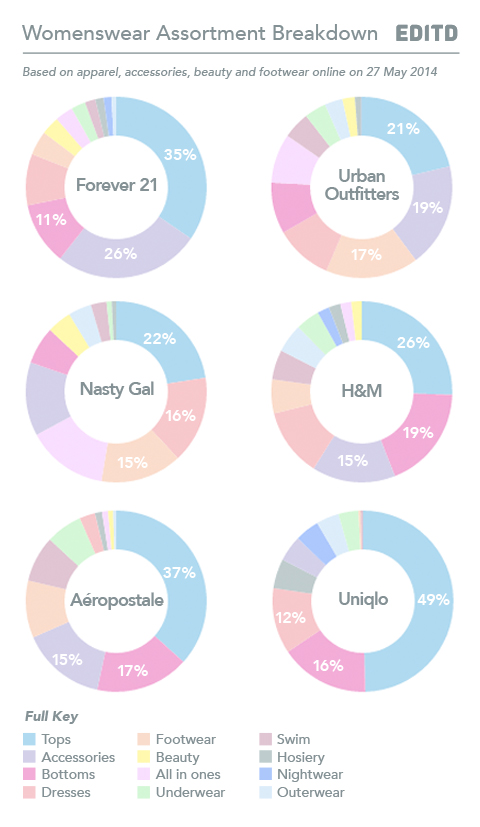 Uniqlo have a 37.5% replenishment rate on tops (37.5% of their current offering has been restocked, demonstrating high demand and successful design/buying decisions). H&M's tops offering has the highest sell through rate of any of their categories and a lower rate of discounting (9.6%) and higher replenishment rate (17.6%) than the average across their womenswear offering. The decisions to place tops as their most-stocked category seems appropriate for these two. Aéropostale however have a higher rate of discounting and lower rate of replenishment than their full range average – making their 37% weighting on tops seem questionable. Nasty Gal too have higher discounting, lower replenishment and lower sell through on their tops than the average of their range, but with only 22% emphasis, this should not be a cause for concern.
Urban Outfitters give footwear a higher weighting than the other retailers, at 17%. Currently 52% of their footwear offering is discounted, but the category sees high rates of replenishment and lower rates of sell through than the average of their range. This suggests that the buy depth may be too great on their footwear styles, with only core sizes selling through, requiring discounting to eventually shift stock.
Nasty Gal give their dress category more emphasis than the other retailers – justified through their higher rate of sell through and replenishment and lower rate of discounting on the category.
Can data spot opportunities?
Given the above, Nasty Gal may want to pull back on their tops, and build into their dress category. As their fourth largest group, all-in-ones are a niche category for Nasty Gal. This product has high replenishment rates and a 4.5% drop in discounting than the average for the retailer. They increased the weighting of new arrivals in this category for SS14 compared with SS13, which helped them achieve this growth.
Aéropostale should increase on their footwear, which has a 14.5% lower rate of discounting than average for their full offering – instead the past three months footwear arrivals have decreased when compared to the same period one year ago. Currently, they're putting too much emphasis on tops and should look at growing their underwear offering which has a lower rate of discounting.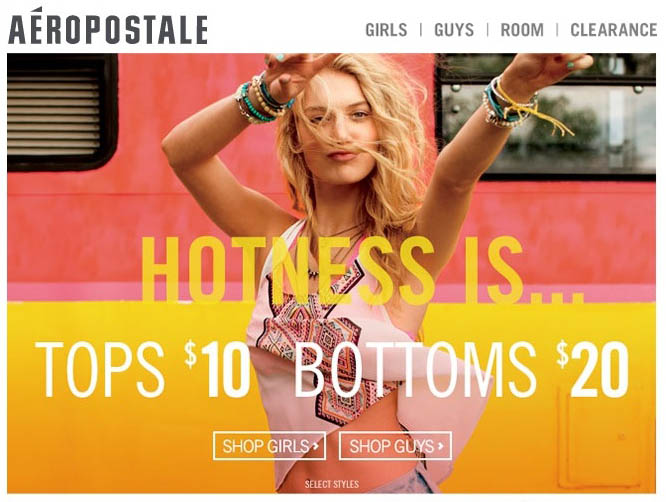 Urban Outfitters could increase the weighting on their bottoms category, which has lower discounting and higher sell out than their average, and ease back on their footwear, given the high rate of discounting. Outerwear could be a good growth opportunity for Urban Outfitters – it has a 10% sell through rate but currently only represents 3.2% of the range.
The breadth of the tops offering at Uniqlo is appropriate given their success in this category. But Uniqlo only have 73 underwear options currently. Given a zero percent discount rate and 52% replenishment, they could certainly capitalize better on this category.
The assortment at Forever 21 is well balanced – they've given their top three categories the same precedence this year as they did at this time last year. H&M meanwhile, have upped their accessories ratio from one year ago, allowing the category to gain 3.6% in the overall offering.
How brands communicate their offering
Analyzing the email outputs of these six brands offers insight into the way they communicate their strengths. H&M strike the perfect balance in their email newsletters in communicating the ratio of their offering – with even coverage given to tops, bottoms, accessories and dresses. Uniqlo also perfectly reflect their emphasis in their communications – featuring tops, bottoms, nightwear and dresses in proportion to the way they stock them.
Given how well Nasty Gal's all-in-ones (playsuits, rompers, overalls and onesies) sell, they under-communicate this category in their visual merchandising. Aside from this, their email newsletters give equal space to their largest categories: tops, footwear and dresses and link to these three specifically in sale promotions.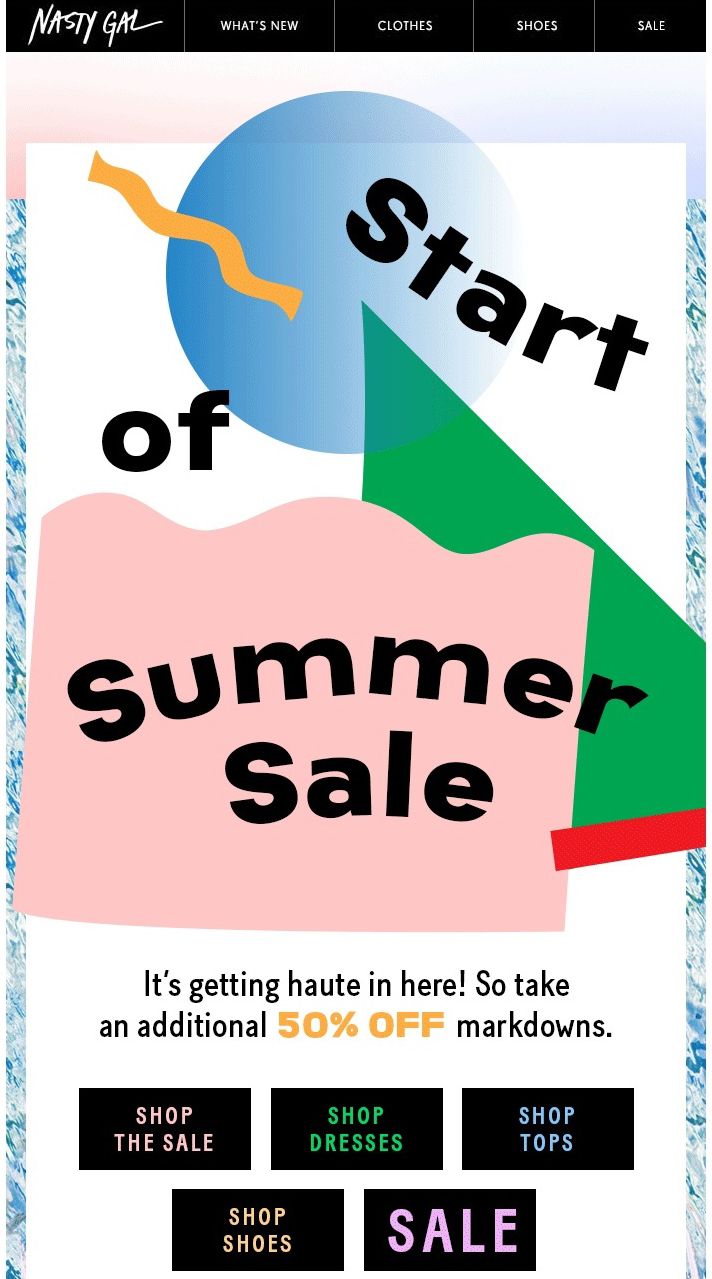 Aéropostale send too many 'blanket' discounts, offering reductions off "everything" and not driving their consumers' attentions to where they need them most. They also massively under-communicate their accessories range, given its size. Forever 21 do a very good job of communicating niche ranges like lingerie, swim and activewear, as well as building features around trend stories rather than focusing on categories. Given the low rate of discounting on their most heavily invested category, this strategy works well for them.
Urban Outfitters feature tops, bottoms, dresses, and homewares in their email newsletters. Given that accessories and footwear are their second and third largest womenswear categories respectively, each has seen only one designated mention this month: that could be increased.
Retailers and brands use this kind of data to gain full market visibilities and define their competitive advantages in a challenging marketplace. To find out more, take the tour.