There are more outposts for announcing new season trends than ever before, with magazine, online journals, bloggers and retailers all creating content to support the seasonal trends they're backing. But only data can show the true success of a trend – and let's be clear here: apparel retailers define success as selling well, as opposed to featuring in the highest number of glossy editorials.
So, what sold best during SS14? Here we've used data from new arrivals into stores between 1st March and 1st July to define the hits of high summer.
1. Floral dresses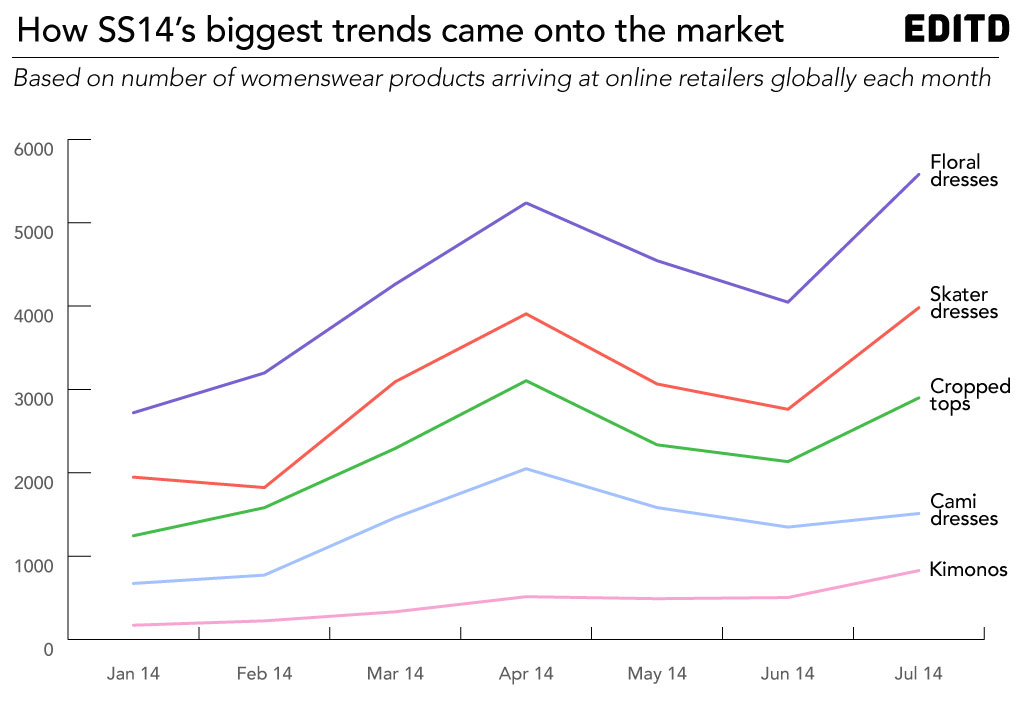 Backed on the runway by Vivienne Tam, Christopher Kane, Jonathan Saunders and Temperley London, floral dresses were the SS14 trend with the highest number of product arrivals. 18,267 floral dresses arrived at global retailers between 1st March and 1st July. A high number of these were replenished – 11.4% of products that sold out were brought back into stock. ASOS, Zalando, John Lewis, Lulu*s and Nordstrom were the global retailers with the most successful dress offerings. The average price of successful floral dresses this summer was $411. Multicolored, medium sized blooms and vintage florals sold best.
2. Kimonos

When a designer comes out of fashion week with the highest number of online mentions of the month, their collection should be scrutinized. It should be no surprise that the kimono has sold well this season, as Gucci, who were the most-talked about designer of the SS14 shows, included them in their collection. For many retailers this season, New Look included, kimonos have been a stand-out piece, featuring in visual merchandising. 16.5% of kimonos arriving March-July sold out at full price.
The line graph here plots the number of new drops of each trend arriving March-July, with the majority of new arrivals occurring in April, and trailing off during June's discount period. Of the five trends shown, the kimono had the lowest number of product arrivals (1,860) and the graph highlights that prior to SS14 the trend saw barely any activity. There is life left in this new market trend.
3. Skater dresses
Skater dresses are not a new trend for SS14, but continue to be a huge success for retailers across the breadth of the market. 12,939 new skater dresses arrived March-July, and had a 15% sell out rate. Skater dresses weren't given a huge amount of bandwidth on the designer runways – the skater skirt featured more heavily – but retailers gave the garment high weighting compared to other SS14 trends, as the pie chart shows. With an average price of $105, this is a trend the mass and value markets will continue to benefit from in future seasons.
4. Cropped tops
With 9,927 new products arriving online, cropped tops have been big retail news this summer. Runway was the driving force here, with cropped tops appearing in all forms – on long-sleeved shapes, shirts and shell tops at Carven, Alexander Wang and Balenciaga. Arriving onto the market, the average price of the cropped top was $95. ASOS, Topshop, New Look, Nordstrom and Missguided have had the highest numbers of cropped top sell outs. Though growth of this trend slowed in May and June, the July drops suggest a promising outlook moving into Fall with cropped knitwear and co-ords.
5. Cami dresses
Between February and April, the presence of cami dresses on the market climbed dramatically, pushed by the 90s trend which was so prevalent during SS14 fashion weeks. The cami or slip dress was seen on the runways of Jason Wu, Rag & Bone, Topshop Unique and Helmut Lang: an influential combination that prompted 6,488 products to arrive with retailers between March and July. $50-60 was the most common price point for this garment.
6. Ripped denim
Ripped denim is a trend, which has sold well, but has not yet flooded the market. The 786 new product arrivals between March and July have sold well – the second highest full-price sell through rate in this list, after kimonos. Ripped denim had the third lowest rate of discounting, again after kimonos and midi skirts. While the most optioned price point of $60-70 places this trend within the mass market, retailers in this space need not doubt this trend's continued success across the next two seasons.
7. Midi skirts
With 2,771 new products arriving during high summer, high slow through rate, and low level of discounting through the summer sales period, the midi skirt has been a hit. The average price point of new midi skirts styles was $177, but it's worth noting the $40-50 price bracket was understocked compared to other close price points. This skirt shape found friends on the SS14 runway in Matthew Williamson, Dolce & Gabbana and Mulberry and we're expecting it to appear in the SS15 shows next month.
8. Culottes
Culottes were a late arrival to SS14's trends, and with only 751 products dropping into stores between March and July, this season is certainly only the start of the trend's journey. An average price point of $186 and a large number of high-end department stores and retailers backing the trend (including Net-a-Porter, Saks Fifth Avenue and Harvey Nichols) are good indications of the future of this trend. Retailers who were swift to act upon demand benefitted: Topshop, ASOS, Net-a-Porter and New Look have all had fast sell outs of their culottes styles.
9. Color: Pink
Analysis the colors of each and every womenswear full-priced sell out between March and July shows pink to be the color story of the season. Coral, blush and peach tones sold best, with the occasional jolt of candy pink and fuchsia. Antipodium, House of Holland, Isabel Marant and Marni were all advocates of these shades on the runway.
10. Footwear
While Birkenstock-style flats saw high replenishment rates and high rates of sell-through, they were not a footwear trend with notably high numbers of new arrivals – only 515 styles between March and July. Espadrilles instead are the summer's success story, with 3,142 new styles arriving online, low rates of discounting and high rate of replenishment. House of Fraser, Farfetch, Nordstrom, Neiman Marcus and Kurt Geiger were the five retailers who gave the trend the biggest backing. The trend didn't receive much attention on the SS14 runways – proof that sometimes only data can plan for commercial movement.
Make sure you never miss our latest insights. Discover how SS15 runways translate into commercial success. Sign up for our free Insider Briefings here.