The last few months have seen one American Apparel headline follow the next: their $270m losses in the last 3 years, Dov Charney's suspension and the remade board, the $25m boost from Standard General and the reaction to the shocking, now removed, Lolita-esque ad campaign.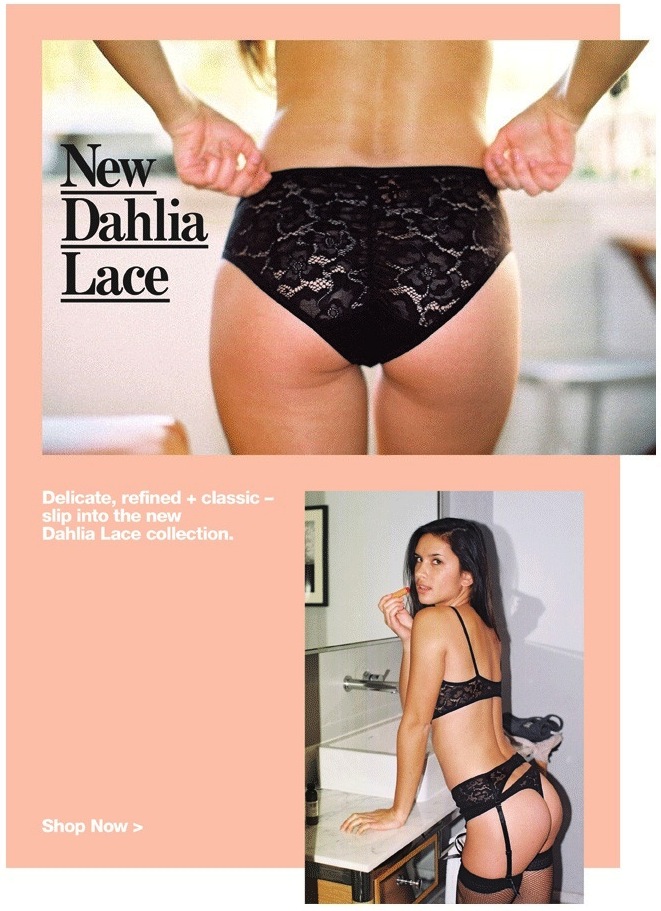 American Apparel are a unique vertical retailer: they manufacture in the U.S. and have their own Los Angeles factory which is the largest garment factory in the country. With such a compelling offering, can misogynistic undertones in marketing and Charney's behaviour be blamed for American Apparel's failings, or can data present a broader picture of the errors behind the headlines?
American Apparel gets it right:
1. Breadth of offering
With over 14,000 options currently available on their US site, American Apparel's offering is vast. Comprised of 78% womenswear, 13% menswear and 9% childrenswear, the retailer has a healthy rate of replenishment (21% of current products online have been returned to stock across more than half of their sizes), as well as low discount rate: only 5.7% of the entire offering is currently reduced by 21% or more.
American Apparel also invigorate their activewear basics with some well thought-through collaborations: currently striking print breathes life into the offering via artists Nathalie Du Pasquier, Peter Max and Kesh. These products sell well.
2. The largest unisex offering
26% of the more than 14,000 options at American Apparel are marked as unisex – the largest unisex offering in our database, and 8 times as many products online as the next biggest unisex retailer, Polarn O. Pyret, a childrenswear brand sold at House of Fraser.
Unisex garments are a benefit to a retailer, doubling the potential market of any product and therefore getting more bang for buck from the product development stage. For American Apparel, unisex garments play into their experimental youth culture, encouraging the customer to make the garment their own through styling, and a world of bloggers and street style stars have shown Gen Y shoppers how to do this. American Apparel have less creativity than their customers though, sadly: they under-sell their unisex offering by, on the whole, only showing the garments on female models…
3. Products which sell well
There are, of course, fast moving garments which nail the timing of a trend. This month's $60 Stockholm skirt – a high-waisted maxi with slits up either side – has sold out across three sizes having only been online 2 days. A $40 micro-poly cheerleader skirt, which plays into the wrap skirt trend, arrived in store on the 18th July, and was sold out by the 2nd August and a $58 rayon kimono took just one day longer to also sell through. American Apparel know their trends, and time them well.
Opportunities for American Apparel:
1. Price positioning
A key issue is American Apparel's price positioning. The retailer's entry and exit prices ($2-200) shown in the price architecture chart below, aligns them with H&M and Uniqlo and positions them in the fast-fashion, low-cost and mass appeal realms.
However, drill down further into their pricing with options charts (which display the number of products stocked at each price point, at the click of a button) and the way American Apparel weight their offering, does not suit them to this segment. Their offering is not focused on the lowest price bracket, like at H&M and Uniqlo. Instead, American Apparel's offering is spread through higher price points in a more even manner – as seen at Urban Outfitters.
This is where American Apparel really sit, and who they compete with. The plain-colored, simply cut active (but not too active!) clothing is not at bargain prices, nor does it compete with the trend complexity and brand assortment at Urban Outfitters. American Apparel need to realign their messaging to the mass market, follow suit with their pricing on these plainer items, and build into their offering with greater trend and garment complexity in order to survive.
2. Their hipster vibes no longer work
In retail, a 'cooler than thou' ethos can only get you so far. If you want to expand and appeal to a mass market, something has to give. American Apparel, with their aggressive marketing and hip staff, should have sussed this out three years ago. Their stores and products are now visible on a global platform and their product is designed to suit one and all. They must align their messaging if they intend to maintain this presence.
It doesn't mean all attitude needs to be stripped away; youth retailers like Nasty Gal and Urban Outfitters excel with punchy brand voices and zeitgeist imagery. American Apparel need to find something more compelling than their 90s indie imagery against a Brooklyn backdrop. Engage, delight, paint a larger picture: retailers must be creative storytellers in today's climate.
3. The Customer Experience
In addition to the unisex items mostly being photographed on females, and therefore tricky for males to understand fit, the overall American Apparel site is hard to navigate. The retailer provides numerous pictures with every style. Take the Easy Jean – there are studio shots, lookbook images, videos, even slideshows featuring different models (or staff, or bloggers? It is unclear). For many shoppers this is overwhelming, and attention is drawn away from the product, no doubt limiting basket adds. Strip it back and make path to purchase easier. If shoppers do want to engage with more content, direct them to social channels.
Same goes for in store, where layouts give the feel of a marketplace. And yet their price point does not reflect this kind of frenzied-search shopping. American Apparel should consider merchandising fewer colorways on shopfloor, instead implementing digital methods to searching the entire catalogue, blending online offering and in store experience.
4. Product offering
There are some noticeable gaps in American Apparel's product offering, which current and oncoming trends will highlight. American Apparel's Tri-blends and Nylons form the majority of products, and though run across different colors and prints, the resulting offering lacks texture. In the upcoming Fall 2014 season, texture, of all kinds, ruled. It will be interesting to see how, and if, American Apparel can interject some surface interest to their offering.
The activewear market is currently a huge focus for the apparel industry, with consumers exercising more and dressing more casually. For a basics and activewear company, American Apparel actually lack true sports-appropriate garments. There are no technical fibres beyond Spandex and Nylon, and key garments like printed leggings and tops with built-in support are missing from the offering. American Apparel should be owning this space.
Make sure you never miss our latest insights. Discover the best retail tactics and stay ahead of your competitors. Sign up for free, weekly briefings here.