Word is American Apparel wants to sell itself.
That's understandable. After working your way out of bankruptcy, dealing with a major (and very public) break-up with your co-founder and dodging salacious lawsuits – you might consider it too.
But in the face of all that adversity, there's so much that is, and has always been, great about American Apparel. For starters, its outspoken commitment to immigration reform, and its anti-discrimination and gender equality campaigns. Not to mention its LA-based manufacturing and ability to continually deliver perfect basics for the non-basic.
American Apparel is also synonymous with cheeky — sometimes overly — campaigns and risk-taking. And for a long time they connected, even while pushing a product targeted at mass appeal.
However, consumers changed and the retailer, like so many, didn't keep up. The internet delivered fast fashion to teens on a global scale. The speed at which teen shoppers chopped and changed their interests went into overdrive. Market saturation trained consumers to want more for less, challenging American Apparel's USA-made, and therefore higher priced, product.
But with Dov Charney out and the battle-ready Paula Schneider chalking up wins, the vision has solidified. This is how American Apparel is fighting back.
The Marie Kondo approach to assortment
American Apparel have scaled back on product offering a lot. So far this August, just 17 new styles have arrived online. That's right in the middle of the back to school season – critical retail prime time. Compare that to Urban Outfitters' 1,087 new items or H&M with 677.
Why would they do that? Frankly, American Apparel was dramatically over-inventoried. When we last wrote about American Apparel two years ago, it had nearly 14,000 products in stock. Today's it's got about a quarter of that.
Website has streamlined
Thanks to the assortment clear out, the website is now a much more agreeable place to browse. Formerly, every product had multiple images. Some were shot in house style, others seemingly featured staff, others still seemed to have been submitted by consumers – it was hard to tell.
Since the update, imagery for alternate color ways is only shown when you click into the color, and the home-style shoots have gone. They even replaced the former heavy-font logo with a softer version in March of this year.
Also gone is American Apparel vintage and its collaborations with artists. The vintage trend is ten a penny now, with every retailer riffing on their own kind of ready-made vintage look. Teen tastes and interests have changed anyways. They're onto the 90s, a decade driven by brands like Calvin Klein, Champion and Fila who have smartly added product lines to appeal to their new consumers.
Marketing tone has changed dramatically
In the past American Apparel flew a little close to the sun with provocative campaigns. No chance of that these days. The retailer has brought its campaigns right back inside the safe zone. Take the below email newsletters. They feature the same tennis skirt, but one is from May, the other from last year.
Recently, the suggestive poses and voyeuristic stagings have all but disappeared. These days, American Apparel's campaigns have a stillness reminiscent of Cos campaigns.
We'd hate to see American Apparel lose all of its chutzpah for fear of reprisal, but finding a new voice and the right balance takes time.
Price point
That new visual approach hints at a new consumer focus. And that could be sensible.
American Apparel says it has always gone after three consumer groups. The high school student who accesses the opening price points. The "party girl" – this probably means the shiny spandex shopper. And lastly, the "classic girl' who is 25-35 and doesn't want super short cuts anymore. It's this market that might be a smarter space to retail quality basics to. Just out of the reaches of the fast fashion teen markets and a consumer group whose workwear consists of casual and functional 'uniforms'.
That's reflected in American Apparel's current price architecture, where 28% of the offering is focused on the $20-30 price point. That's a higher weighting than other retailers give this price point. H&M, Uniqlo and Urban Outfitters put their emphasis beneath $20 and Gap evenly gives attention to $10-20 and $20-30. American Apparel sits somewhere between Gap and Everlane. They'll need a continued focus on quality if they want to maintain this positioning.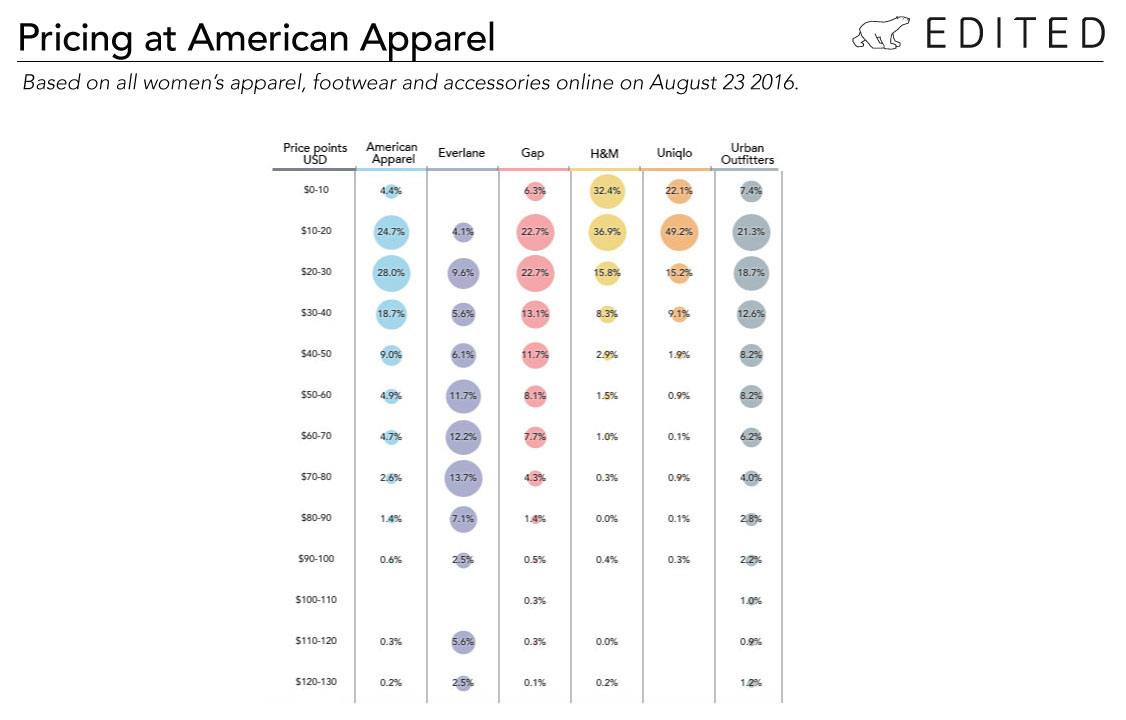 Product
Looking at the hit parade of American Apparel's bestsellers below, the stuff that sells is the bread and butter garments of everyone's wardrobes.
And because American Apparel owns its factories and manufactures many of these garments for wholesale it's able to not only replenish continually, but also have huge flexibility on pricing. That gives the retailer the ability to drop prices dramatically for promotions.
The retailer's task, if they're moving away from shock factor spandex, will be staying one step ahead of the fashion-forward basic shapes that 25-35 market will want.
American Apparel took a Marie Kondo approach to their assortment and got back on track.