Are you Cuba dreaming? It's the hot travel destination of the moment and with US diplomatic relations thawing, it's on everyone's mind. Even fashion is under its spell – Chanel hosted their Resort 2017 show in Havana last month. Step forward the Cuban shirt.
You may know this shirt under its other aliases: the revere collar (72% of the shape's current offering identifies as this) or bowling shirt (20% of the offering). But Cuba's cool right now, and there are travel themes aplenty coming in from the Spring 2017 menswear shows, so let's stick with 'Cuban'.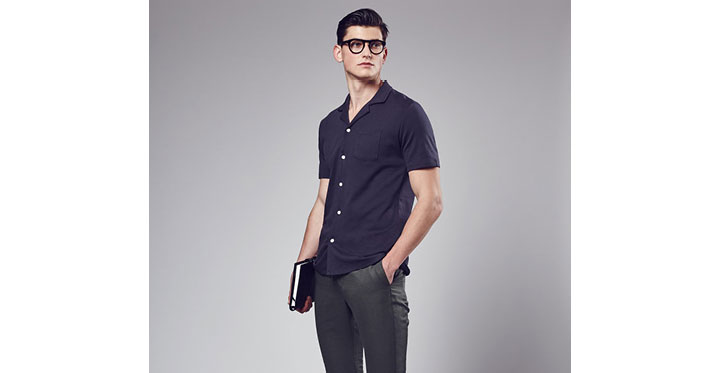 Just how hot is the trend?
Hotter than holiday sunburn. There's been a 376% increase in new arrivals of the Cuban shirt in the last three months, compared to the same time in 2015. Trend savvy retailers are leading the pack: ASOS, Topman and River Island have introduced the most new cuban shirts this season, which puts the current average price at a tempting $43.87.
If you want to buy-in, the bestsellers either carry prints (fruit and florals at ASOS, a retro print from H&M a bold red Japanese print for Gucci) or are in nostalgia-tinged neutrals like corn, light grey and pale blue. All have short sleeves.
Cuba: hot travel destination of the moment and even hotter trend. The Cuban shirt is up 376%.
The biggest day in this trend's life to date was April 20, when a total of 70 new styles arrived. Now June, does that mean the style has peaked?
In a word: No.
The current Spring 2017 menswear shows are loaded with this shape for next season. From mass market fun with Topman, all the way through to high fashion with Fendi, the shape is being shown with quirky prints, striped or in rich shades. Street stylers outside the shows have already taken note, wearing Cuban shirts with teddy boy styling.
High fashion's seal of approval and current retail statistics hint next summer will be bigger yet. EDITED analyst Emily knows a retail trend when she sees one: "Statement shirts are a sweet spot in men's retail. Priced correctly, they fly. With its retro undertone, which totally suits the menswear mood, this shape has staying power. Data suggests this is just the start of the trend's journey." Move now, look at what's in the market and working, and you'll ride with that success.
PS: Cuba is great and all, but don't worry, the Cuban heel isn't set to comeback. Until Fall. When it's all over men's ankle boots.
EDITED users, log in today to work out which Cuban shirts are selling best.