With six weeks until the Olympics, consumers are certainly warming up to a sporty summer. Taking pole position in retail are tracksuits and jackets. Here's the lowdown on this hot menswear trend.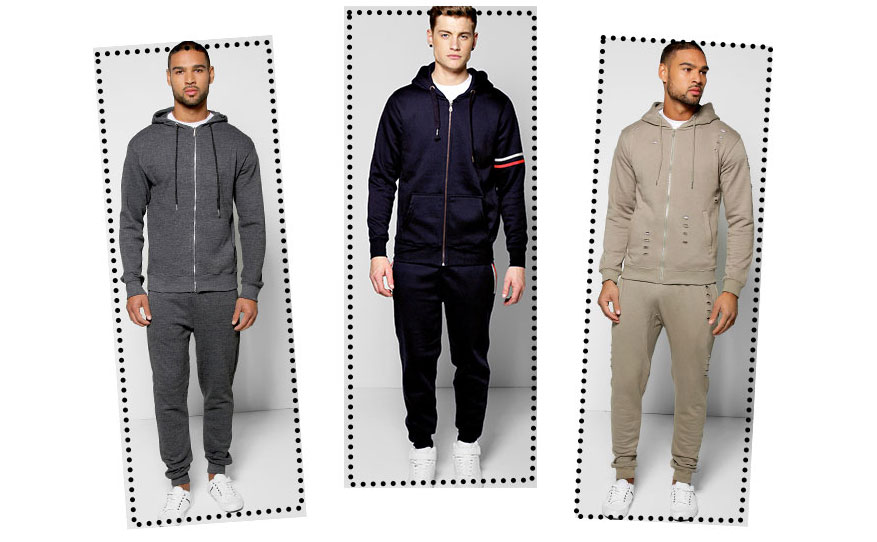 In the last three months the number of new tracksuits arriving online has rocketed by 48% compared to a year ago. Leading newness is the track jacket, which makes up 45% of new arrivals. Tracksuit sets account for 33% of the offering; track pants are 22%.
In the trend fast lane: men's tracksuits up 48% from last year.
There are now close to 9,000 tracksuits and track jackets online. In trend hotness, this places the tracksuit way ahead of denim jackets and biker jackets (which perform well year-round), but trailing behind the more established bomber trend. There are currently 34,000 menswear bomber jackets currently online – a somewhat saturated shape now looking for its trend heir. Enter the track jacket?
Why now?
This began with the Fall 2016 collections of Burberry and Neil Barrett, when styles leant towards the 70s. The shape is getting airtime at the current men's Spring 2017 shows (more on those here) in Milan and was a leader in London. There are two approaches. Either 90s sports functionality: the kind of items you could wear on the field, though at a designer price point you'd not want to get too sweaty in them. Or something glitzier: silks, embroidery, prints and stand-out color. Gucci leads this pack.
And this stuff sells. New arrivals in the last three months took on average 32 days to sell out and successful styles were replenished in 31 days.
EDITED analyst rebecca attributes this growing trend to key influencers on social media. "Driving consumers are urban-luxe kids like Jayden Smith and Justin Bieber, who reference sportswear in their relaxed, but ultimately designer, style of dressing." With the prevalence of the athleisure trend and a resurgence of the sneaker, "the tracksuit couldn't be better placed to tap into the consumer's current casual mood," states Milne. Could this be the MVP of your offering?
You'll be taking on the sports giants in this arena: the current most-stocked brands are Nike, Puma and Adidas. With an average price point of $82.48 on a full suit, $68.99 on a track jacket and just $13.41 on track pants, our advice is to stick close to trend to secure an attractive price point. When Spring 2017's designer styles hit retail, be ready with trend palettes, technical fabrics and unusual trims.
EDITED users log in today to view Spring 2017 trend reports and real-time market data on the tracksuit. If you don't have EDITED but it sounds like something you could do with, talk to us!