Black Friday is done but holiday shopping is far from finished. Sound the alarm; there's eighteen retailing days 'til Christmas!
So where do we go after the 'biggest discounting weekend' on record? In the final weeks before the big day, there's a world of fascinating behaviors to analyze.
We couldn't resist taking a look at the unique features of holiday retail post-Black 'Fiveday'.
Here's our pick of holiday retail trends in 2017
Goodbye to 'Christmas Creep'?
Naturally, retailers stock more stuff for the holidays. The second half of the year sees a 6.5% lift in new products arriving into store, compared to the first half.
The chart below shows a shift though. Where once retail used to bank up its holiday product from August (known as 'Christmas Creep'), the tables are turning. Building on last year, we've observed increasingly later lifts in product arrivals this year.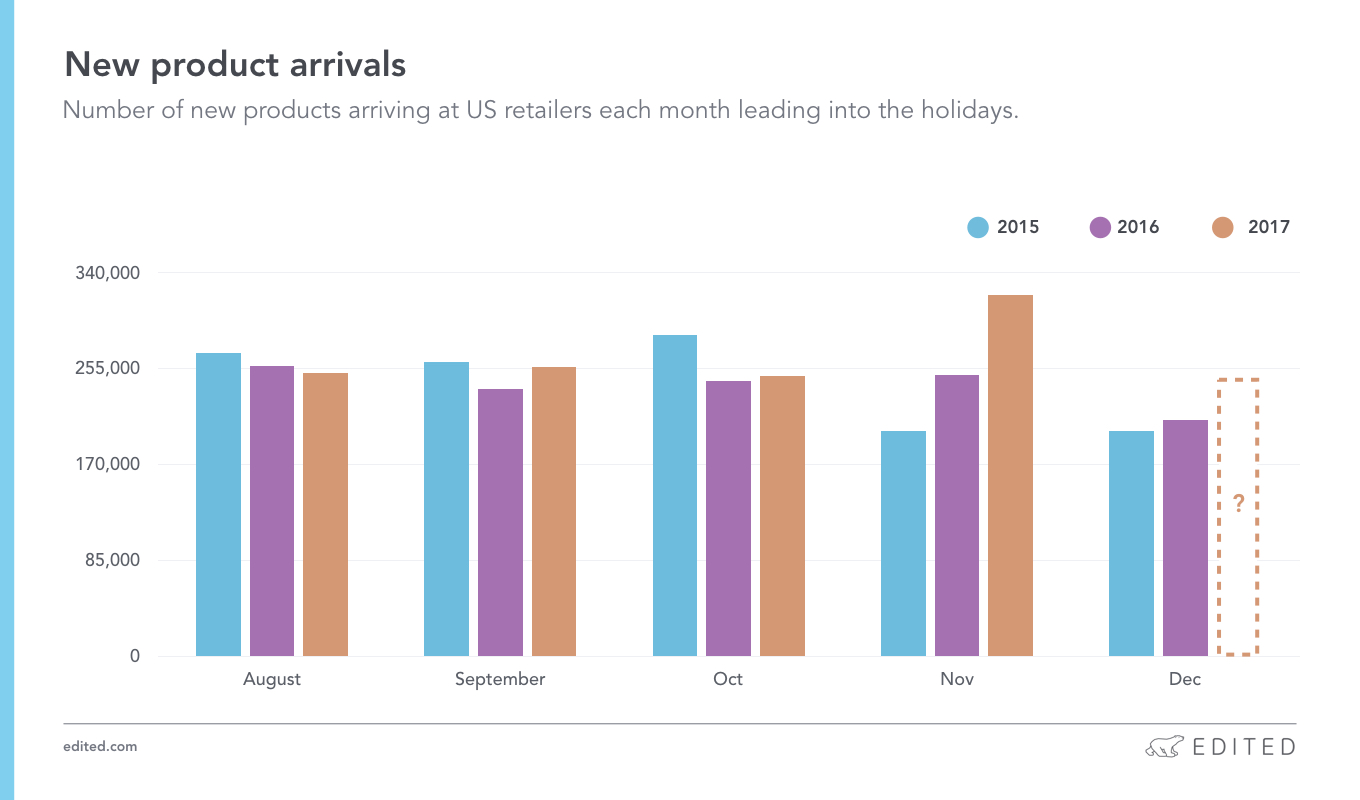 That's because retailers are becoming attuned to the consumer need to shop for the here and now. Customers thrive on newness – and it's where retailers can capture a full price sale. The longer stuff is in stock, the smaller margins become.
Because of that, we're seeing a decline in Christmas Creep – it feels unseasonal to today's customer to be thinking about heavy outerwear in September, let alone holiday gifting.
So, fresh is best!
This month, 19% of products on the US market arrived within the last month. Earlier in the year, this emphasis on newness is lower. In March, for example, just 14% of all that was in stock was aged six weeks or less.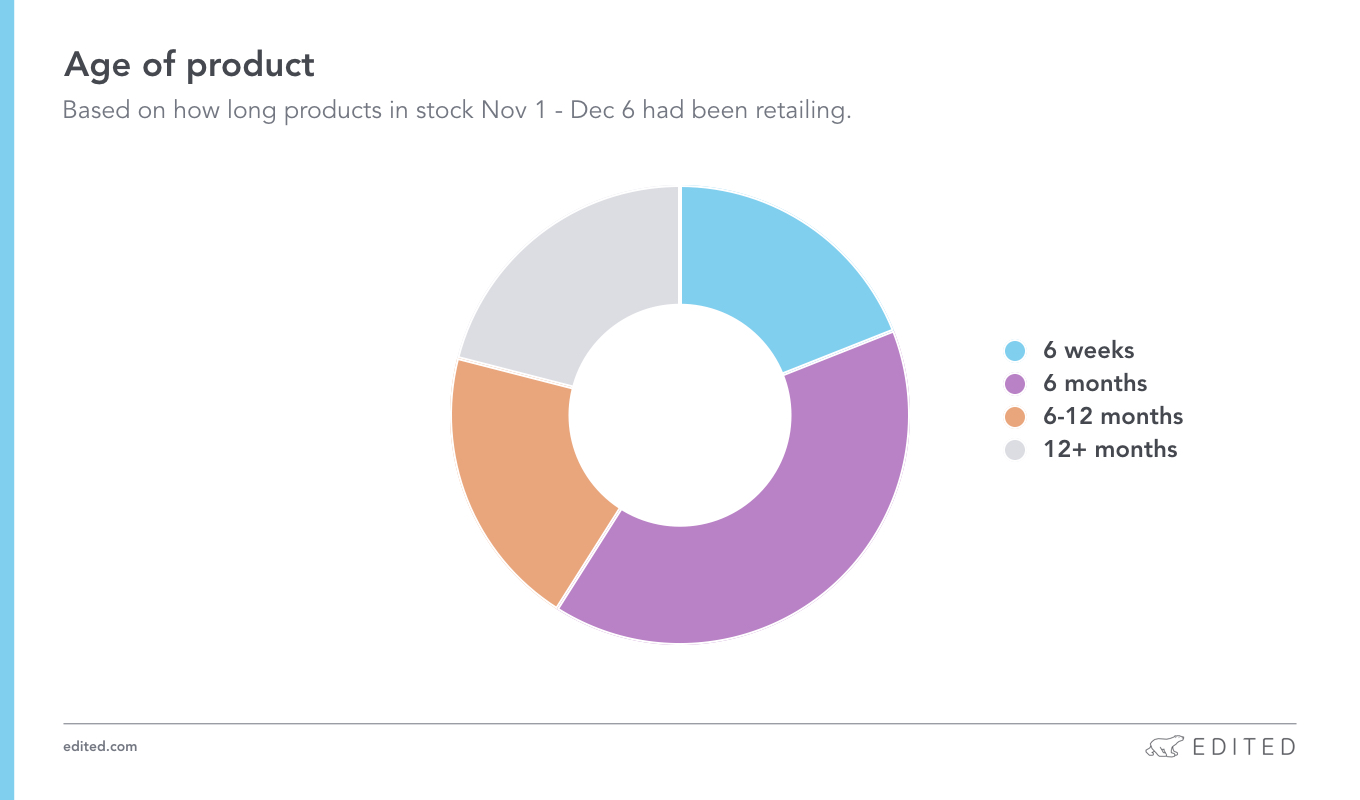 The orange segment in the chart above is the stock that's in firing line for heavy holiday discounts. Stock that arrived six to twelve months ago has the steepest discounts right now – with an average of 48% off.
Stock older than this tends to be core items that allows retailers room for promotional leverage. These oldest items have an average discount of 44% off right now.
So too does the younger stuff of less than six months. These items, specifically the trend-led, will be what retailers are looking to clear over the holidays before trends move on. However, they don't yet represent dead stock, so discounting is kept to an average 44% off.
The art of gifting
There are certain categories that get some special attention around the holiday season, as retailers know they're primed for gifting.
In the US, new arrivals in the following categories lift in November compared to March:
Tops increase by 16%.
Beauty increases 21%.
Accessories increase by 39%.
Meanwhile, new arrivals of footwear fall by 12.5% – perhaps one of the trickiest gifting categories!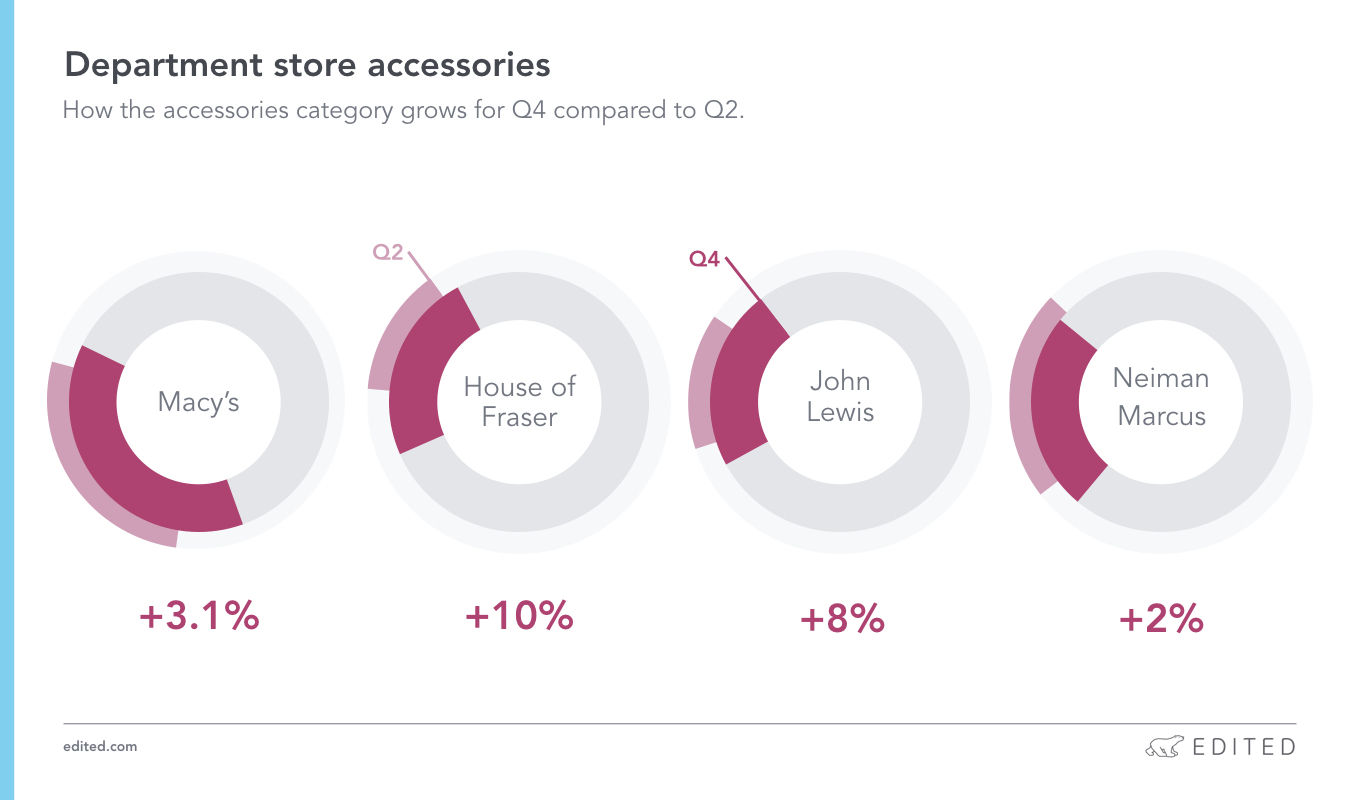 One category that benefits from some festive attention is accessories. Already, 4.5% of November's arrivals have sold out. Just 1.5% of arrivals in March sold out in the same time frame. That 3% uptick is significant when the average price on an item in the accessories category, in the US, is $394.60.
However, that's due in part to the coal retailers put into the fire. The word 'bag' was mentioned in communications 30% more often in November than it was in March, and 'jewelry' by 6% more.
The chart below shows how significant bags are within the accessories category at this time of year, specifically for department stores.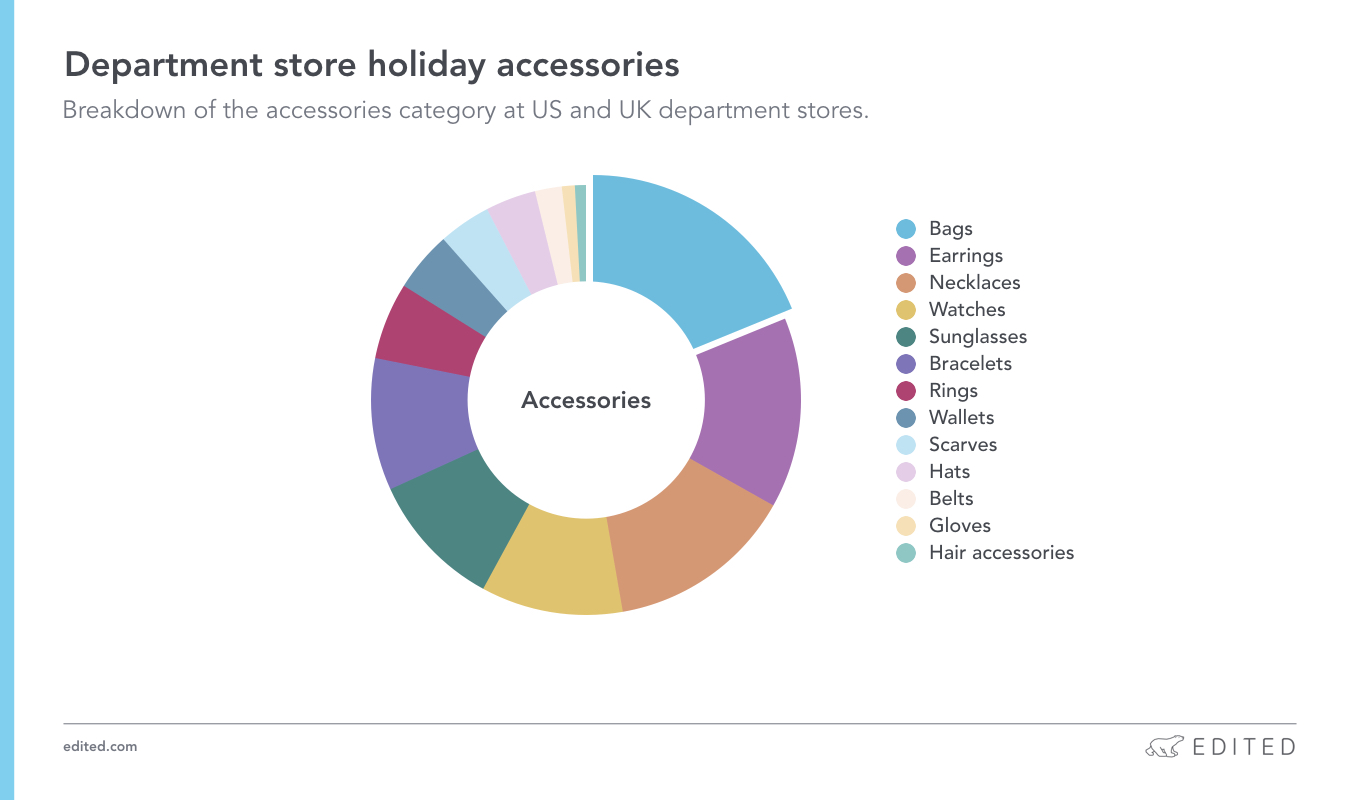 What's all this about self-gifting?
Christmas purchasing has shifted, according to NPD. A recent survey found that 19 percent of consumers "definitely" plan to spend more on themselves this holiday season, while 40 percent are at least considering doing so. By November 26, 52% of people surveyed hadn't even started their holiday shopping yet.
That means the majority of purchases are still to be made, but analysts are worried shoppers may leave it so late it happens in the New Year, putting pressure on Q4 revenue and sacrificing full price opportunity for retailers.
So why are we self-gifting more? For one, there's improved consumer confidence (belief that we're safe financially). On the other hand, we're living in fractious times – socially and politically – shoppers might feel they need to indulge themselves.
One way to track this is to follow the retail success of non-gifting categories, such as footwear and activewear, through the festive period.
Confess: you've been self-gifting. Data gave you away.
Footwear sell outs so far this holiday season (Nov 1 – Dec 6) are up 40% compared to 2015. And activewear is up 66%! Meanwhile, bags, a classic gifting item have only grown 22% in the same time. Self-gifting is likely here to stay. How will you plan for this change in mentality in 2018?
The data here comes from over 58,000 brands, across nearly 100 US retailers. If you want to know more, drop us a line here!