We're now in the fiercest period for retailers: it's the make or break selling phase for the year's financials.
If you're in retail, you've barely got time to be reading this, so we'll make it snappy.
Here's the US state of play as we charge towards Thanksgiving.
Current market read
So far this quarter there have been 6.4% fewer first discounts than the same period last year. However, retailers have introduced 3.2% more products and there have been 30% fewer sell outs.
That leaves US retail in a precarious position going into November.
US retail: down on sell outs & discounting but up on newness. Could discounting get brutal this year?
We looked at a sample of 99 US retailers. This chart shows, in blue, the number of products discounted each day up to November 11 2016. The big spikes are ASOS bulk sales.
The purple line shows how this year is tracking. Historically the week ahead picks up, so given sell outs are trailing and a surplus of stock on hand, we should expect aggressive discounting to begin ramping up.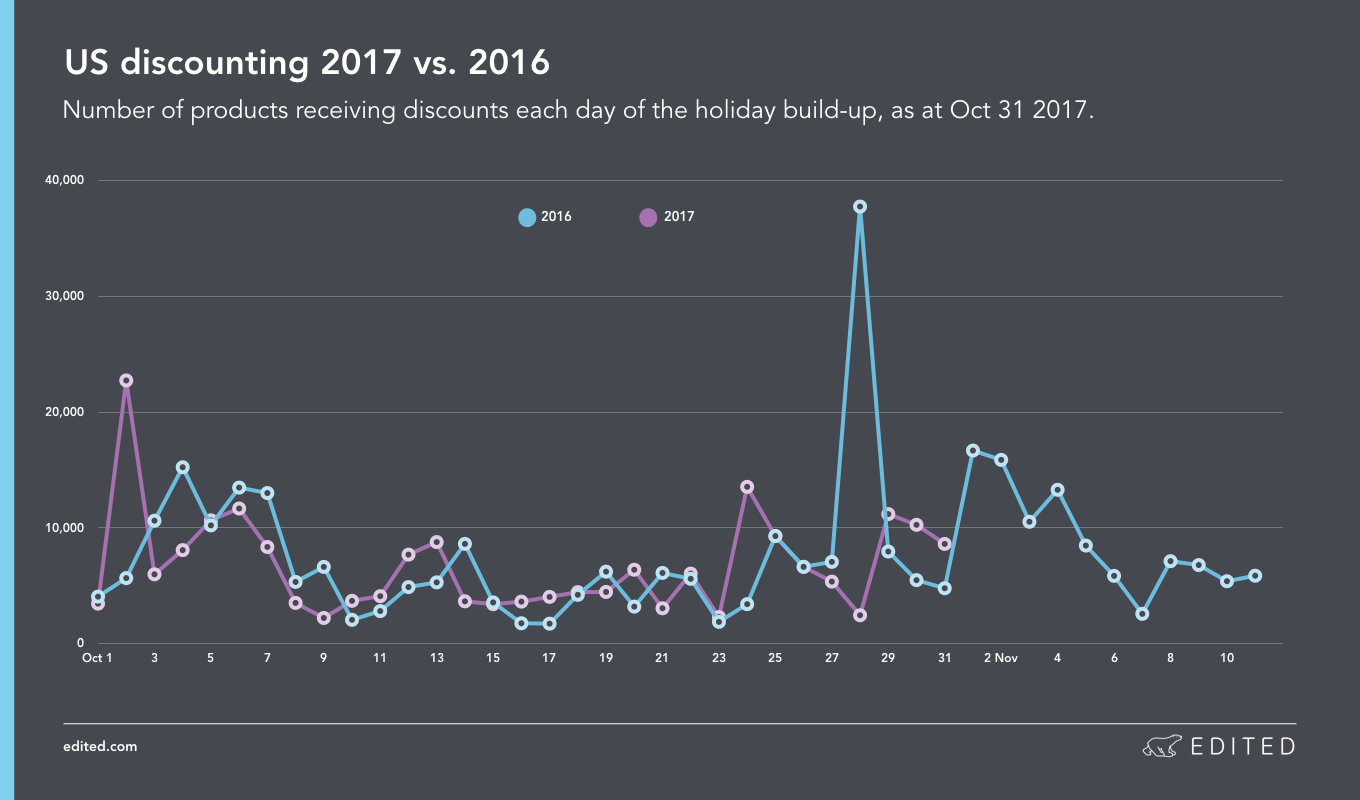 Below, we can see how ninety-nine US retailers have built upon their discounts each month of the holiday season in 2015 and 2016. The fact that 2017 is behind last year for reductions implies we'll see November shoot ahead.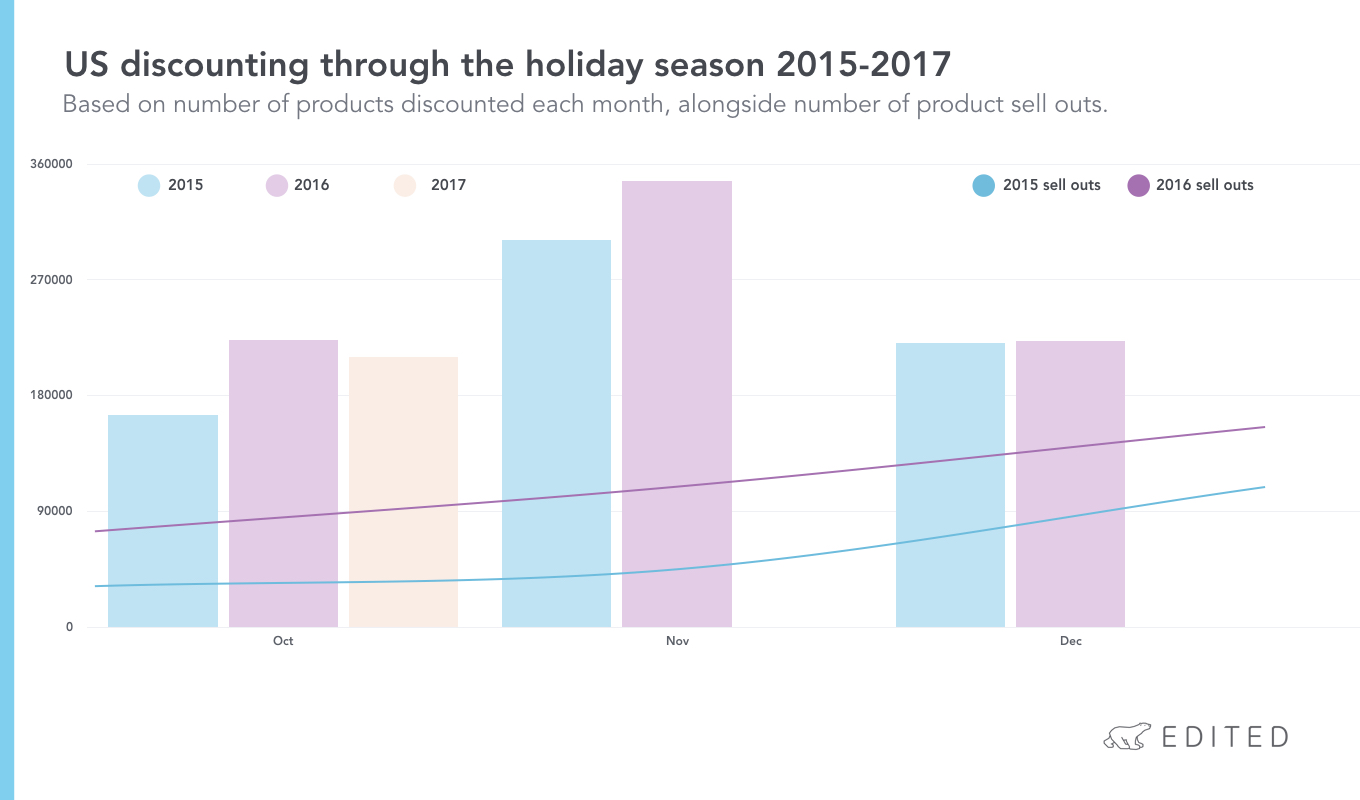 Last year's performance
Based on sell outs with discounts of less than 30%, here are the categories that performed best over the Black Friday-Cyber Monday period last year:
Tops – knitwear, shirts, t-shirts.
Acessories – jewellery, bags.
Footwear – sandals, sneakers, boots.
Jeans.
Midi dresses.
Outerwear – bomber jackets, puffer coats.
Key categories for discounting this year
So where can consumers expect to find bargains in the Black Friday sales?
Firstly, swimwear. This unseasonal item has the current highest rate of discounting – 58% of US swim is currently discounted, by an average of 51.3% off. Prices will crash further in the discounting frenzy.
Dresses also have high current discounting, with 56.2% reduced by 50% off.
Then there's super-seasonal items which have suffered due to unseasonably warm weather. Sell outs of outerwear were down 40% in October, despite a 7.6% increase in new arrivals year-on-year.
Retailers shouldn't be tempted to discount too soon on these items – give this item a full-price chance, holding out on the major discounting until Black Friday.
Data shows that retailers are trying to push content – there was a 66% increase in the number of times coats are mentioned in retailer newsletters in October 2017 compared to 2016.
With 33% of the current outerwear offering in the US geared toward cold weather, this is the category to watch in the coming weeks.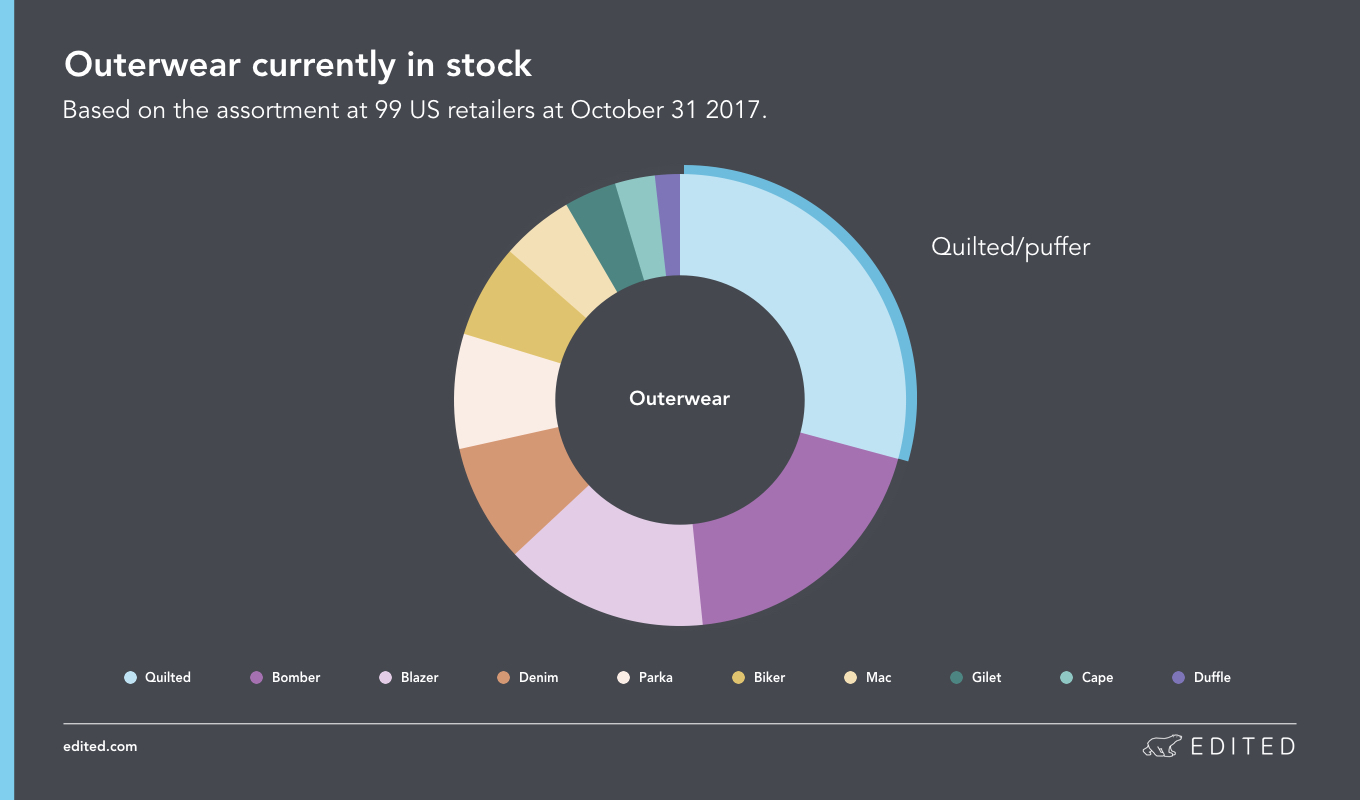 There was also 29.5% fewer sell outs on knitwear in October, but a 14% increase in new arrivals. That suggests a surplus of stock on hand, reflected in the 42% of knitwear currently reduced, by an average of 47.5% off.
Retail keeps getting stung by the weather. As an industry, we have to figure this out by:
1. Making stuff as close to season as possible so that it matches the weather and holding low stock quantities.
or
2. Make stuff that's so covetable, and represents such good value, that consumers want it regardless of weather.
Because people are buying less, trend has never been more important. Products need to have a reason to stand out.
They don't just need to look visually compelling, they also need to be priced to perfection – priced right the first time, so that the consumer feels the transaction is authentic.
There are styles of overtly wintery coats that sold out fast in October, despite the widely unseasonal weather. Here are the products that got trend and price right, despite the weather:
Singles' Day Strategies
So should retailers leap onto Alibaba's invention: Singles' Day? On November 11, the Chinese celebrate singledom with the world's largest discounting event, driving more sales than Amazon Prime Day.
In 2016, just 1.3% of the US market was reduced on Singles' Day, with the majority of deals focusing on 11% reductions, or $11 selections.
The holiday would never work in the UK, which hosts Armistice Day on November 11. Spin it into your social and email content as a last chance to indulge yourself ahead of a season of gifting and these smaller discounts could be a novel way for US retailers to shift unseasonal overstock ahead of more competitive reductions later in the month.
Here are some of the retailers who got involved last year:
Whichever route retailers opt for in the coming weeks, it's clear that discounting season is demanding smarter and smarter strategies to lure consumers and optimize margins. Being armed with competitor data and a real-time view of the market is an essential in retail today.