Look out, the H&M strategy is changing. Good job too, as the retailer has been troubled lately.
First there were the widely-reportedly marketing missteps. Next, a reported profit slump of 32% in the fourth quarter of 2017, and then the announcement that 170 stores will close this year.
But alongside those negative headlines there have been gestures towards the future from the retail group: yesterday, it announced a new off-price concept, Afound, launching later this year. That follows on from 2017's launch of Arket. And early next year has been slated for the arrival of Nyden, a pop-up formula brand focusing on collaborations.
That's already a lot to take in. But amid all these sprouting brands, its easy to forget the major environmental mission H&M set off on last April. The retailer plans to become fully circular by 2030, with an entire assortment made from recycled or durable materials.
That deserves some real attention in light of the recent headlines. What is H&M up to? What does this new strategy entail, and how is that reflected in product and pricing so far?
Commitment to circular
'Circular' for H&M means fair and equal renewable fashion – whether that's recyclable or incredibly durable. This is a huge deal. (If your industry friends don't yet know about H&M's circular mission, forward them this, pronto.)
Why? Because H&M has had the foresight to understand that as consumers' values are shifting, we're approaching a possible future where people are going to be buying less clothing.
All signs point to consumers turning away from an over-supply of suspiciously cheap apparel, because the world's resources are quite literally dwindling. Retailers are already seeing an increased demand to put their ethics front and centre.
H&M is positioning as a thought-leader in this space – and after years of being one of the world's largest manufacturers of low-cost clothing it's going to need every one of the 13 years to achieve its mission.
So how is it going about it?
H&M is positioning as a thought-leader in the eco space. It's going to need every one of the 13 years left to achieve its ambitious 2030 mission.
H&M is getting more expensive
The chart below shows the current pricing around six of H&M's most established brands. You can really clearly see the strategy it's taken to reach a broad range of customers.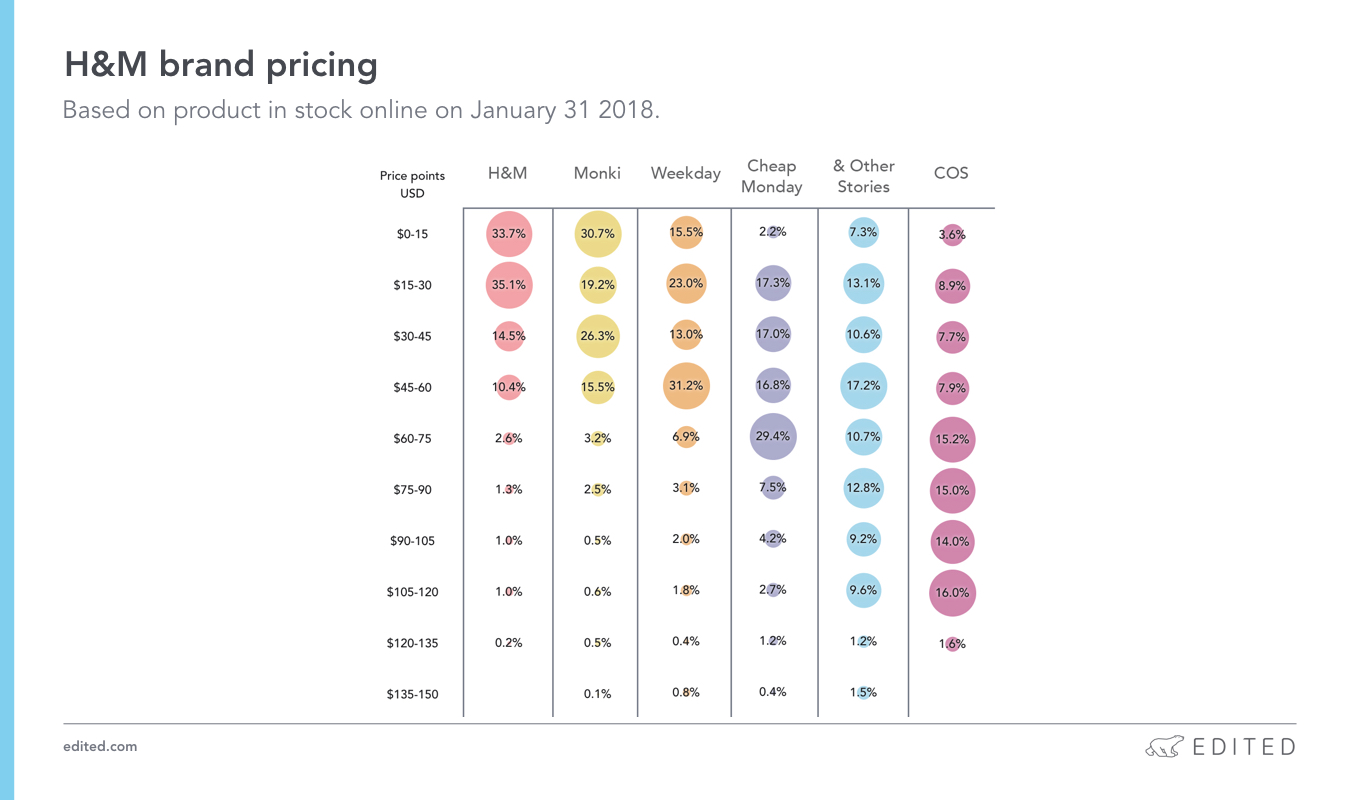 H&M, the largest brand within the portfolio (see below for a comparison of size brand mix) has the lowest pricing. However, over the last three years, it has steadily been raising its prices. Its average price point has gone from $23.90 to $27.04 in Q4 2017, despite growing emphasis on kidswear.
We can see that across key categories of t-shirts, jeans and sneakers in men's and women's, H&M has gently increased pricing. Women's jeans are up 15%, sneakers up 12% and t-shirts up 25%.
That's not enough to alarm customers – but certainly a movement in contrast to its biggest competitor, Zara, which has dropped prices on jeans by 7.5%, sneakers by 10.5% and t-shirts by 21%.
Zara and H&M are moving further apart.
Across all of its brands, H&M has made an interesting shift over the last two years to reduce the emphasis on the accessories collection. Instead, focusing on tops and bottoms as the dominant categories.
Moving too far away from accessories will impact styling and store visual merchandizing, but trimming back on accessories suppliers no doubt helps towards the 2030 mission.
Introducing eco lines
And that's where the new lines have come in. H&M's Conscious Collection added sportswear to its assortment this month. The collection will be a vital tool in achieving the 2030 goal, as it uses lyocell – a cellulose fiber that can be recycled and biodegrades. Its production uses less water, although it still requires chemicals to form.
And the great thing about Conscious Collection is its price parity with the mainline. Ethics don't come with a surcharge at H&M. However, the retailer isn't growing this collection as fast as they could be. Below you can see growth so far in Q1 2018 is on track to beat 2017, but lags behind 2015.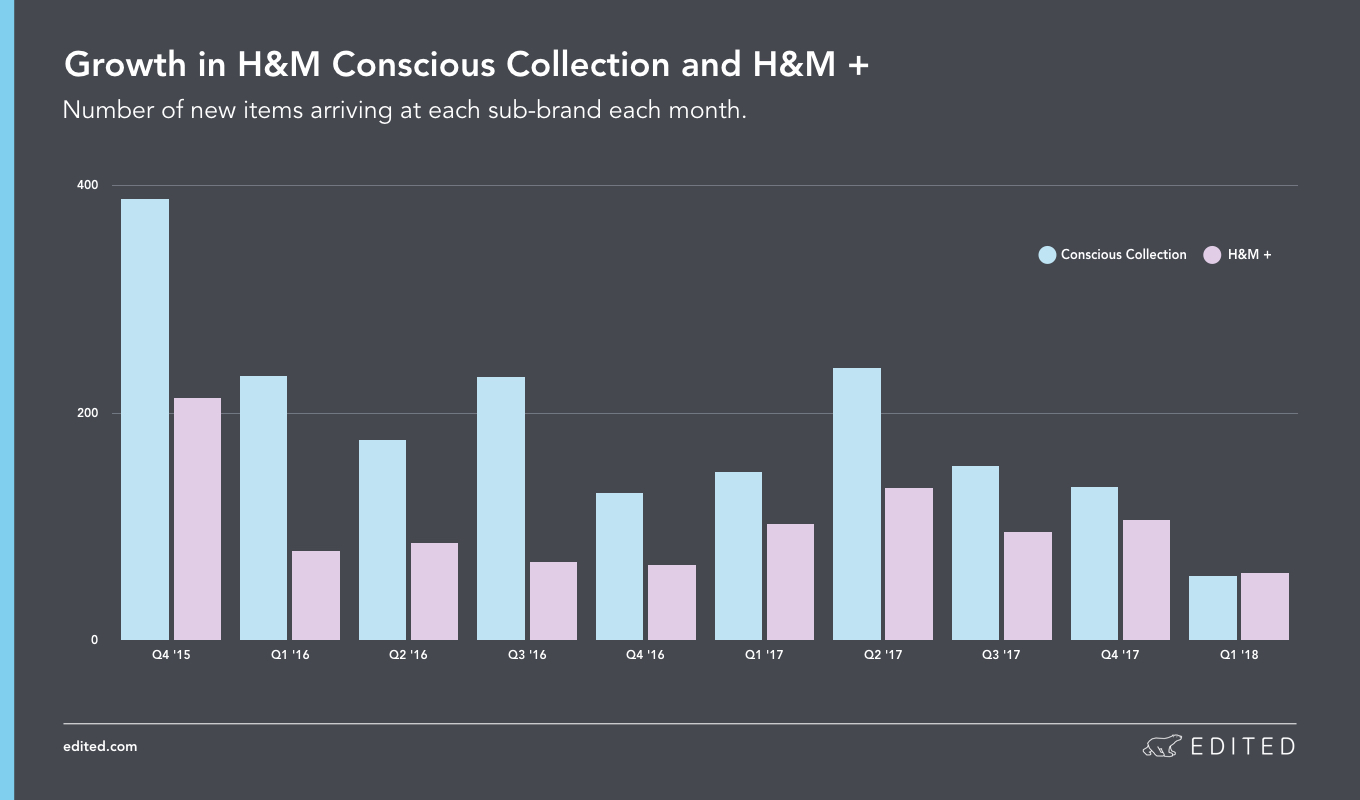 H&M have a real chance. Zara's eco collection 'Join Life' is currently small, just 230 items to H&M's 540 styles, with many items having multiple colorways. H&M pushes marketing around Conscious, whereas Join Life is under the radar.
Every single item in Mango's Committed Collection is currently discounted – double the rate of discounting as the regular Mango assortment right now. Meanwhile, discounting on Conscious Collection is in line with general discounting at H&M. This space is open for owning, H&M just needs to claim it faster.
So why are sales falling?
In two words: lacklustre digital
Quite simply, H&M hasn't executed digital well yet. The online experience is clunky and uninspiring.
Here's an H&M product page:
There's one image, of the garment flat-lay. The texture on the product is interesting, but the customer has no chance to see how it hangs on the body.
Compare that with a Zara page, below. There was a total of eight styled images on this product, linked suggestions to other products to style with the item and a chatbot to assist with selection.
The experience is a lot more compelling, and the garment more tempting despite being $10 more.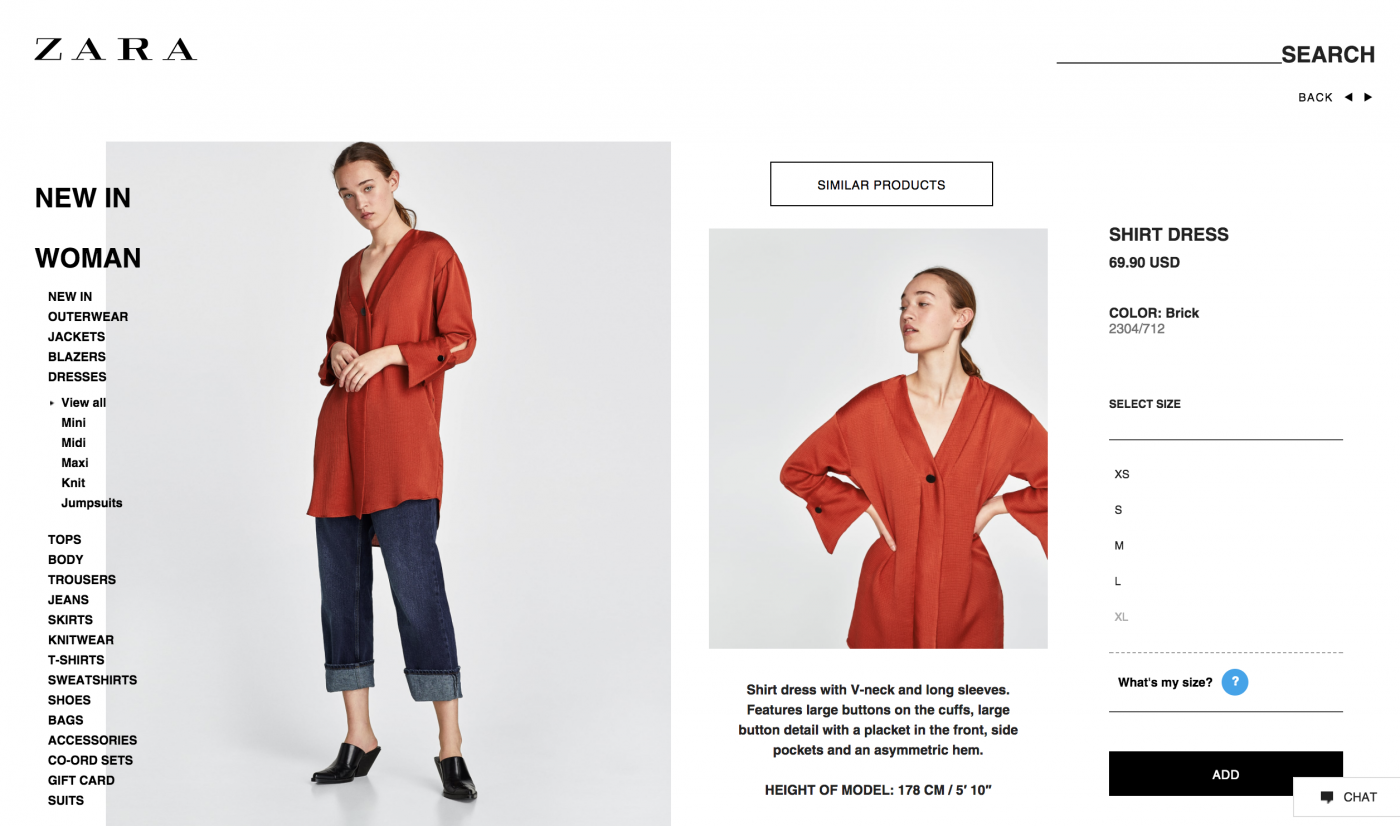 H&M needs to overhaul the way it shows product online and communicates. It's skipped the storytelling part that is so vital today. Which is a shame, because there is good product at H&M, but there's little being done to make it a style aspiration for the consumer – something Zara excels at.
Browse this gallery to compare recent newsletters from the two retailers, including work by Steven Meisel for Zara. H&M falls behind with its fashion component.
The launch of Afound
Afound's launch is puzzling. On the one hand, having an off-price channel fits with H&M's move away from the super-low prices, allowing the retailer to continue capturing the value consumer.
However, it seems to conflict with their 2030 circular mission.
It has potential as a channel to clear product that doesn't align with the strategy, and to provide cash flow to achieve it. But that implies it's a temporary solution.
What's not answered is how the retailer will phase it out again. Is the future of Afound an outlet for dead-stock, giving the impression of minimised wastage?
We'll be watching, no matter what!