Starting tomorrow 100,000 bejeweled festival goers will trek across the Inland Empire dressed in their finest distressed denims and pass through the golden gates of super-commodified super-hipness. Coachella, week one, day one is here. Get ready retail world, festival season is about to begin.
Once the domain of poi jugglers and people who own Grateful Dead shirts, music festivals have capitalized on the mainstream's (aka millennials) growing hunger for new experiences and exploded in popularity over the last five years. Considering that, in the US alone, almost 15 million millennials attend at least one music festival every year, it's no surprise fashion has it covered.
It's commonplace for retailers to plan for "festival season", to discuss "festival fashion" and spot "festival trends". The industry needs more ways to lure millennials to buy stuff, and festivals are a golden opportunity. Making direct correlations between product and experience puts apparel right in their line of sight. Plus, festivals are imminently more Snap- and Gram-able than smashed avocado toast on a bed of activated charcoal.
And, by the way, it's not just millennials. Another 17 million non-millennials attend festivals in the US each year (Oldchella, anyone?). In fact, each year 12 times more people attend festivals than succumb to death.
In both the US and the UK, retailers begin their festival communications in earnest in April. Email newsletter numbers take a nosedive around July time.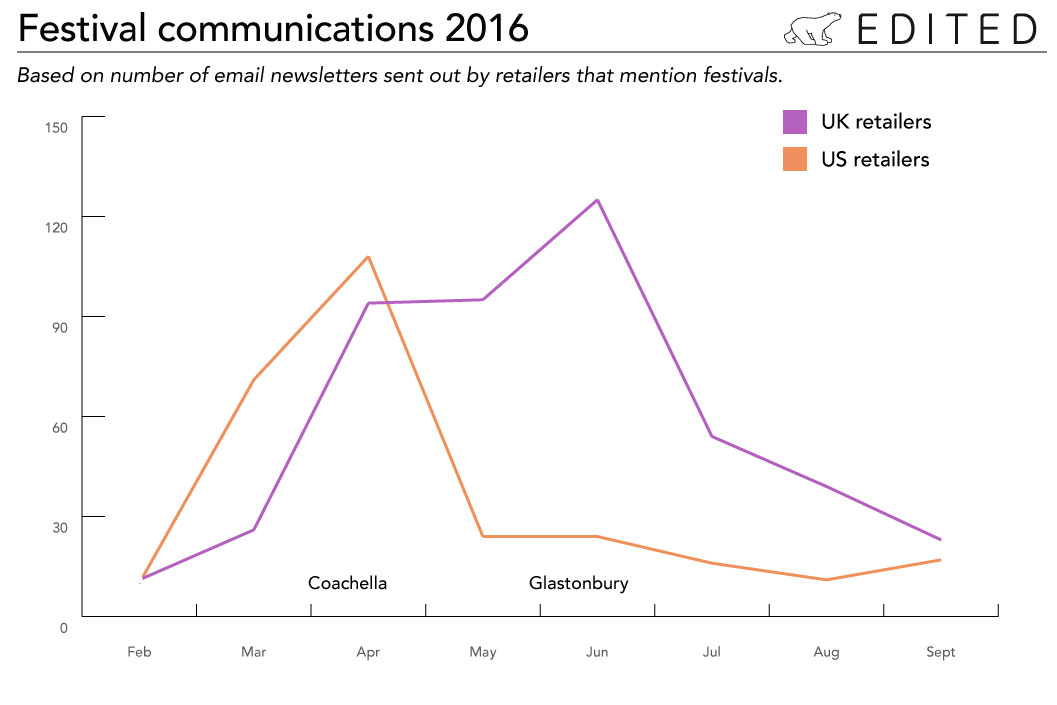 The US focuses heavily on Coachella, while the UK tends to keep up its festival promo throughout the full summer festival calendar. That's a strategy US retailers should consider mimicking since attention around Governors Ball, Bonnaroo, Lollapalooza, Electric Zoo, etc… would create more airtime for festival product.
And the data shows US retailers are building the attention they give to festival season. So far this year there has been consistent growth in festival mentions in newsletters and April is on track to more than double last April.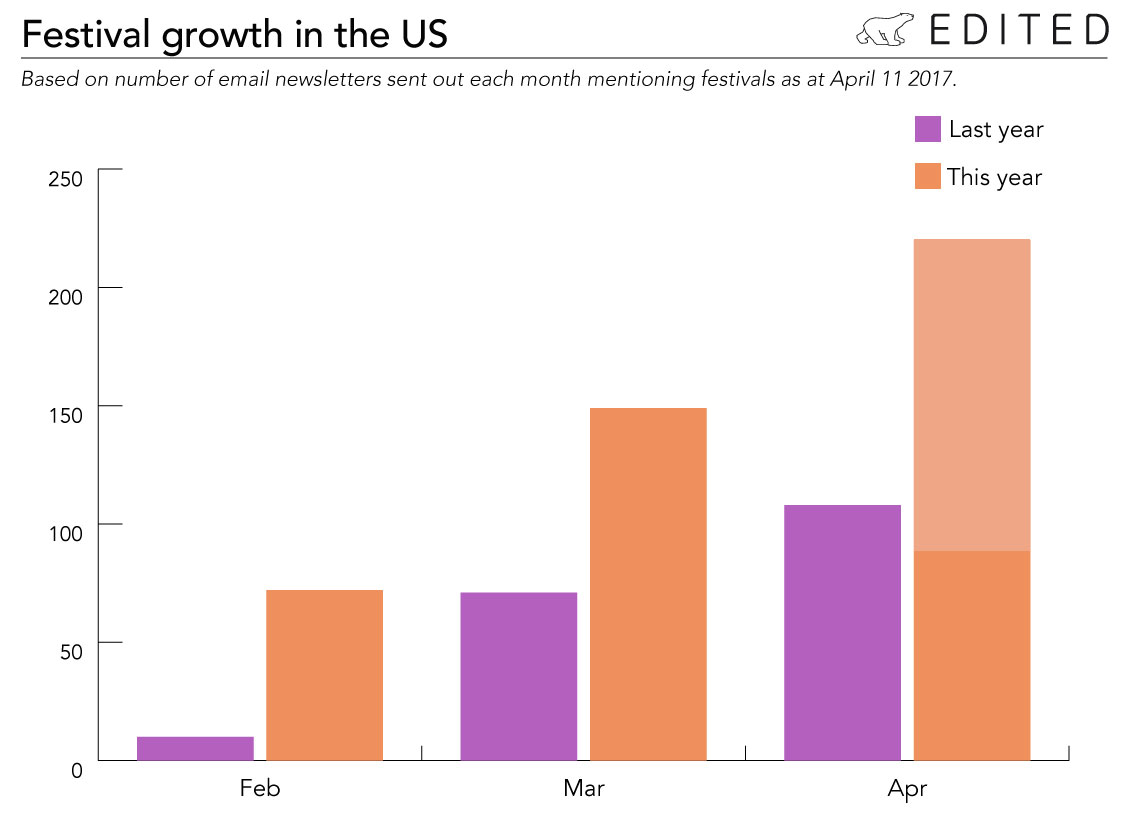 Though retail's spotlighting of festivals is increasing, product isn't necessarily following suit…
How much space are retailers giving to festivals?
While most teen and trend-led retailers reference festivals and build festival sections into their sites, the number of products in their festival sections varies wildly.
At the generous end of the scale is US retailer Aritzia, with a festival section featuring 10% of its entire offering, though the market average sits closer to 2%.
Boohoo has 2.2% of its men's and women's offering in the festival section. At ASOS, the festival apparel (which is currently live on the US site but not yet in the UK) accounts for 2% of men's and women's apparel. Topshop and Forever 21 are evenly pitted, focusing 1.3% of their offering on festival. Then there's the somewhat surprising 0.8% H&M attribute to its men's and women's festival selection. That, despite a"H&M Loves Coachella" festival marketing campaign featuring The Atomics and Coachella slogan tees.
Especially for the millennially ripe, trend-led mass market retailers, don't these figures strike you as a little small?
Denim cut-offs and fringing
Festival line-ups shift and change each year (Katy Perry playing Glastonbury?) but the typical 'festival look' hasn't changed a whole lot from Kate Moss's famed teeny shorts, studded bag and wellies combo. That was back in 2005. Twelve years ago.
Maybe retailers aren't emphasising festival because they feel shoppers aren't replacing their denim shorts yearly? Festival fashion suffers terribly from stagnant trends and retailers are partly responsible for that. It's true that sell outs of things like denim shorts lift around key festival dates: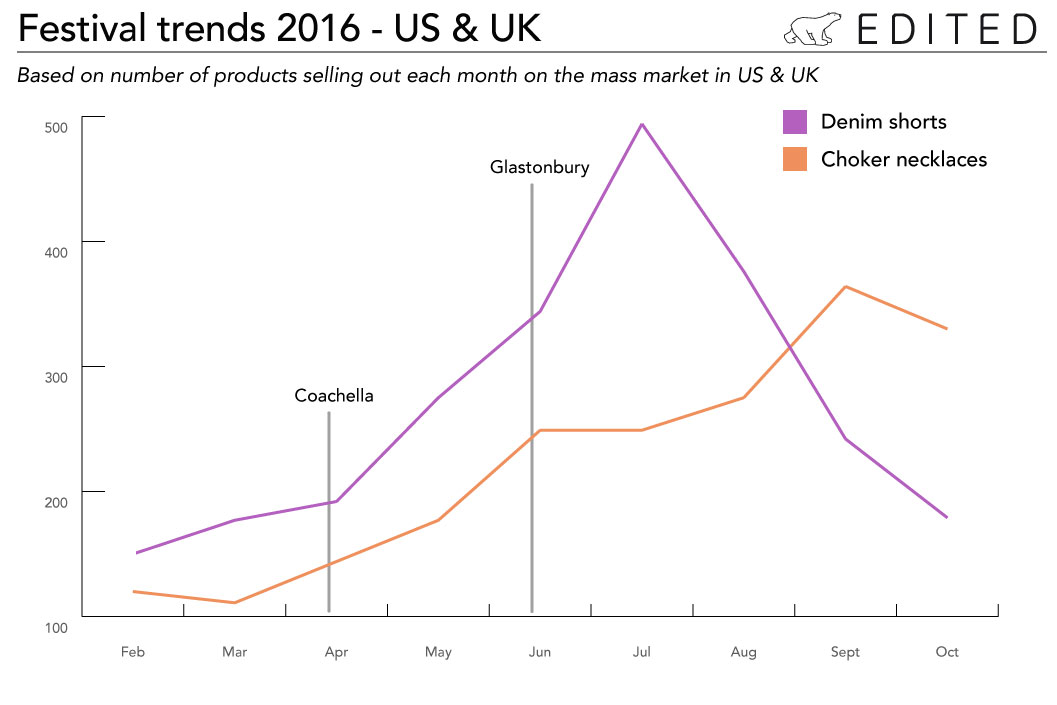 New arrivals of denim shorts are, predictably, up – by 13% in the last three months compared to this time last year. However, the growth has slowed: between 2015 and 2016 it was 29%. Retailers should take note that sell outs are also down by 14%.
Sell outs of denim shorts have dropped, suggesting we're about to see a new wave of festival trends.
It's the same story for fringing, with new arrivals in the last three months down by nearly 7% compared to 2016 and sell outs dropped by 34%. Even floral headbands this year are suffering from a 28% decline in sell outs. Playsuit sell outs are down too, by 7%.
Customers are over it. It's now time retail caught up.
What festival fashion needs is newness
The festival category is crying out for newness. And if millennials are focusing their energy on experience, shouldn't apparel be seeking tap into the creativity and delight of experience?
What it boils down to is: the festival category has to have more fun. We're seeing it in trends like metallic rainwear (new arrivals up 20% in the last three months, and sell outs up 26%) but why not push this category to full tilt? A shout out to Pretty Little Thing who are doing exactly that.
This is the space to test the most out-there runway and street trends to capacity. Create clothing that embraces the hedonism of millennials, they'll thank you in the selfies.
Other festival trends we've spotted in data:
So what is working? The big leaders this year are embroidered denim, with sell outs up 199%, chokers, up 172% and bodysuits/leotards, up 59%.
There's a growing focus on beauty. Millennials are clued up this category which is gaining pace. Retailers, including Urban Outfitters, are talking more about festival make-up and styling.
Men's retailers are increasing their festival emphasis, up 29% this year, which outpaces women's growth.
Daring swimwear sells out around key festival dates. Customers aren't finding enough newness in bodysuits and are looking to swim for the more daring silhouettes, willing to invest on the higher price point.
More luxury retailers are getting in on the festival game. Email newsletter mentions this year include Rebecca Minkoff, MiH Jeans, Barneys, Net-a-Porter, Saks and Matches.