For kids, it may represent the worst part of the year, but for retailers Back to School is anything but. In fact, it's big business, and it's only getting bigger.
This year, Back to School (BTS) is set to grow 2.6% to $829 billion. That makes it the the second-most pivotal retail event after the holidays. The Northern Hemisphere's Christmas in July. And good news for e-commerce: online is pitched to grow 11% from one year ago.
So will retailers use BTS to drive full-price sales or will they be forced by promo-trained consumers to discount their way into next season? Take it away, data.
When Back to School kicks in
The Back to School season hits its stride in July and loses its steam when classes start back up in September. However, with vacations occupying family life throughout July, don't expect the big BTS right away. In 2015, a survey by the National Retail Federation found that on August 9 just 50% of consumers had completed their BTS shop, while 20% hadn't even started. In other words, expect to play the long game.
It's also worth bearing in mind that consumers are increasingly shopping in the moment, so again that puts emphasis on late season. Add to that that university terms can start as late as October, giving youth market retailers like Urban Outfitters, ASOS and Abercrombie & Fitch the option to push the story into Fall.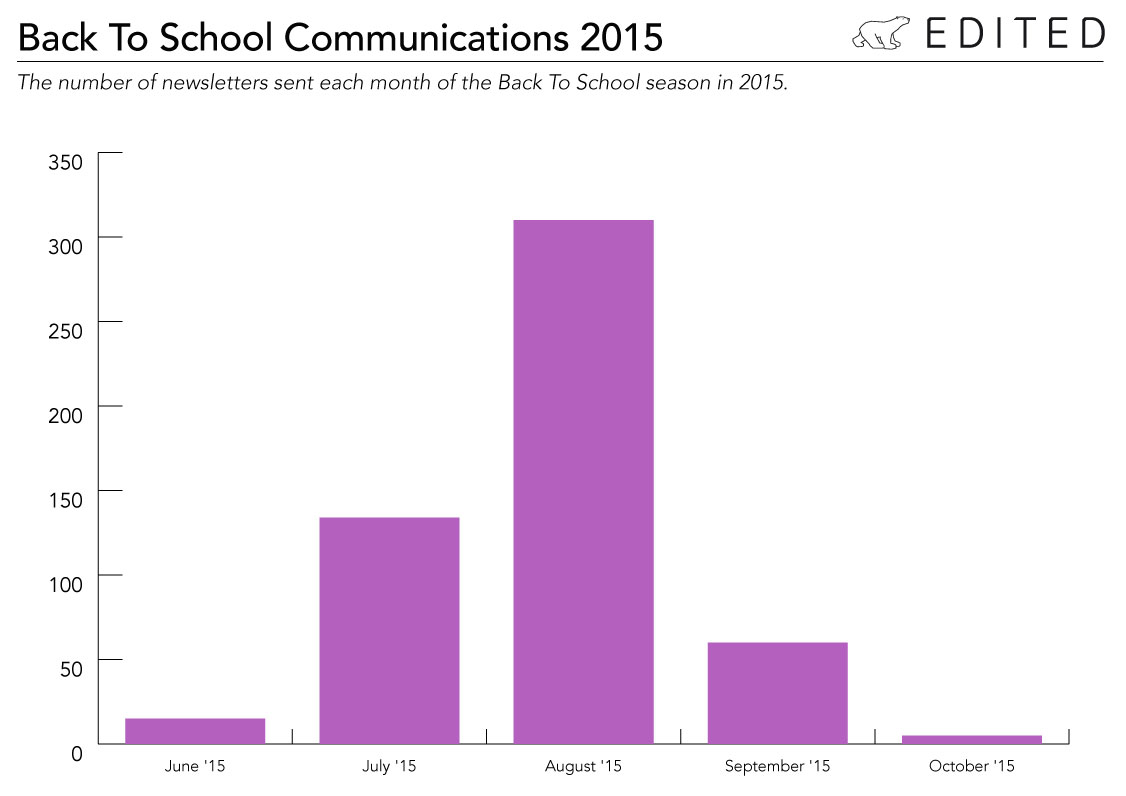 The leading campaigns of 2015
In 2015 The Children's Place launched its new BTS collection on June 23. Aeropostale updated its homepage with School Uniform Shop on July 7. Kickers updated its homepage with school offering on July 14. While Old Navy kicked off its BTS on July 6 with all uniform items discounted.
At the end of August 2015, Gap announced a 50% off promotion. Target started the month with a $10 off a $50 spend promotion, then kicked ran a 30% off college "must-haves" and ended the month with a buy-one-get-one deal on kids' clothing, accessories and footwear already discounted by 50%.
In the premium market, J.Crew knocked 25% off "select back to school favorites" on August 24. Gymboree introduced a 40% off everything Labor Day sale on August 31. In the UK, Petit Bateau incentivized spend with tiered savings at £75, £95 and £200 spends. Meanwhile, House of Fraser, Paul Smith and Chasing Fireflies held out strong, continuing to promote their full price BTS offering.
What sold best
Consumers respond well to BTS marketing. Sell outs mirror the pattern of communication, growing in July before they peak in August. In 2015, Zalando, Zulily, TJ Maxx, Target and HauteLook recorded the most sell outs. In August, 29% of sell outs were in the tops category, 20% footwear, 15% bottoms and 8% dresses.
Functional basics ruled in the form of product like J.Crew's merino elbow patch sweater, Matalan and George at ASDA underwear packs, two pack tees at H&M, Boys' Oxford shirt at Target and Clarks' Mary Jane shoes.
How 2016 is shaping up
So far this month, 28 retailers have referenced Back to School in newsletters a total of 56 times. That's down 43% from the same period last year, likely impacted by retailers holding out for later summer sale reductions and warm summer weather keeping summer stock front of mind. That will almost certainly result in a more promotional August, if there isn't a dramatic uptick in the next week.
Mentions of Back to School are down from last year. Why the delayed start to BTS?
Retailers with their campaigns already off the ground include Joules. They compete in a UK market where school uniforms can be purchased at the supermarket for £10, so it's smart that they've safeguarded their higher price point by steering clear of uniform apparel. Instead, the company's BTS edit focuses on innovative rainwear – bright printed jackets and fun wellies – as well as humorous backpacks and lunch bags which stand out in a crowded market.
Currently Hanna Andersson is offering $5 off the purchase of lunch bag with any backpack sold. Madewell have a thoughtful 15% off for students and teachers. H&M have buy-two-get-one-free on basics, across baby, boys and girls and free shipping on orders over $40. Chasing Fireflies started its pre-season sale, with 35% off, on July 6. One savvy kids' retailer in Edinburgh, Treehouse Childrenswear, is hosting free in store haircuts with shoe fittings.
Bags of potential
Since the start of this year's BTS season, 55 retailers have placed backpacks on their homepage. Our software has seen more than 2,000 new backpacks arrive online in just the US and UK, with a median price point of $27.95. Supported by the trend for backpacks that's still popular in the adult category, this will be the BTS star of the season. Licensed bags are popular – Nemo, Frozen, Ninja Turtles, Star Wars and Spiderman all feature on a number of bags. Target's well-timed $14.99 Pokémon bag will probably be sold out by the time you read this…
The teen market
BTS presents a great opportunity for fast fashion and teen retailers like Forever 21, Urban Outfitters and even Zara. Those with affordable homewares are able to create dorm room edits and all apparel retailers should think about content tailored towards the youth market who may be moving out of home for the first time. Eveningwear edits for induction weeks, trend-led pyjamas for the new share-house experience and transitional outerwear that will represent good value moving into winter.
Opportunity for a one stop solution and flexible delivery
Back to School is an incredibly competitive event in the retail calendar. Retailers are responding with free shipping, early onset of sales and coupon codes for larger spends. It would be great to see a retailer really owning the opportunity online, and thinking about their shopper's summer plans when they're starting to think about BTS. A bundle purchase of uniform items, backpack, lightweight outerwear, even stationary, could be a one-click solution for holidaying families who want to ensure sizing won't sell out before they return home. Make it deliverable for September 1 and the customer needn't even worry that no-one is home to receive the package!
EDITED users log in today to read our reports on what's selling best in childrenswear right now.