Male models wearing women's apparel and female models wearing men's apparel. London's message was clear: who cares? There's never been a better time to get into unisex. Let's look into that and the rest of the Fall 2017 trends.
Thanks to the near freakishly warm weather over the weekend show attendees got to do something they typically can't in dreary ol' February: revel in their Spring looks. Punk and gothic themes abounded, resulting in a ton of (often colored) leather, dark ginghams, metal hardware and corsetry mixed with plenty of denim. Oi!
We may not be able to tell you when they'll stop wearing their jackets half-off their shoulders, but we can tell you which Fall 2017 trends are going to be dominating season. So, without further ado…
Top London's Fall 2017 Trends
Haberdashery
A kind of eclectic haberdashery came through as a key theme in London. Craft-inspired trims, patches of crochet, naive-looking ribbons, tassels and fabrics that looked like the kookiest of swatches from the remnant bins. The look is in part hippie aunt, in other parts haphazard layering and asymmetric cuts
Key pieces include a patchwork update of the winter prairie dress, fluted sleeves and flounced midi-skirts. Patchwork is one trend warming up for this Spring, with new arrivals up 37% so far this year.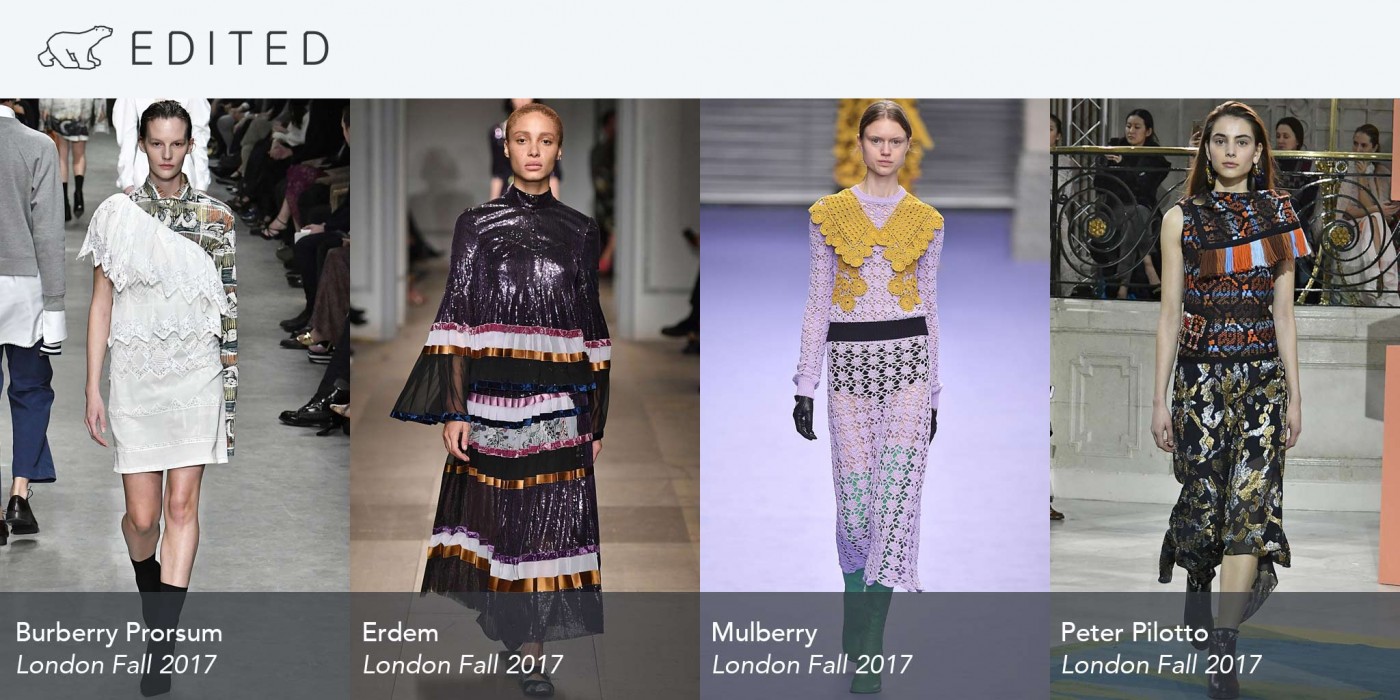 Super-sized Knits
Streetwear's influence on sweaters helped longline and oversized sweaters perform well for both men's and womenswear in the last three months. And there's nothing to suggest it's slowing down. So far this year, new arrivals of oversized sweaters are up 197%.
London didn't miss the chance to put its own spin on it with mammoth knit pieces that will be an easy win with consumers. Peter Pilotto and Topshop added surface interest with emblems and intarsia while Pringle of Scotland's dramatic roll neck with its contrast sleeve upped the sophistication.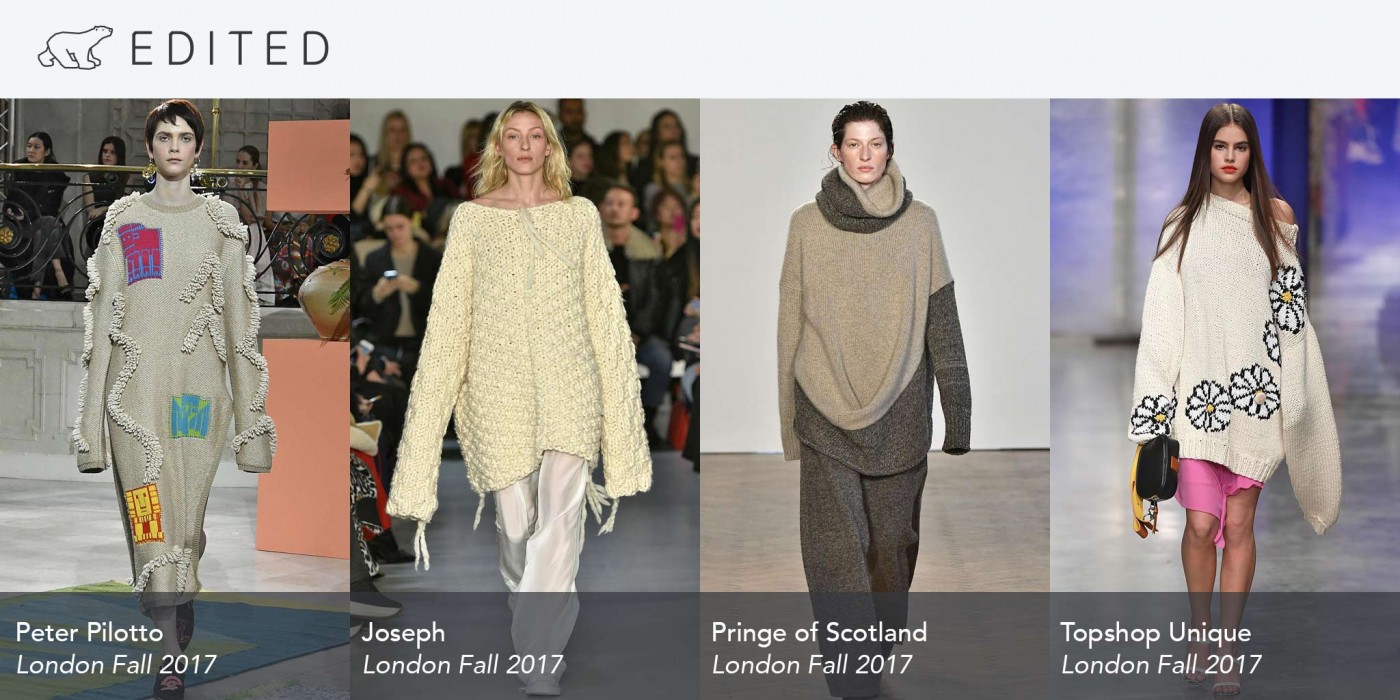 Quilting
Textured outerwear is popular. Puffer jackets sold like hotcakes for Fall 2016 – literally, with the season's best performers selling out in an average of just 21 days. London's designers came back with quilting for next fall. These pieces, though less bulky than the puffer jacket were still exaggerated in form: super-long at Roksanda, wide and cape-like at Mulberry and a boxy shape at Peter Pilotto.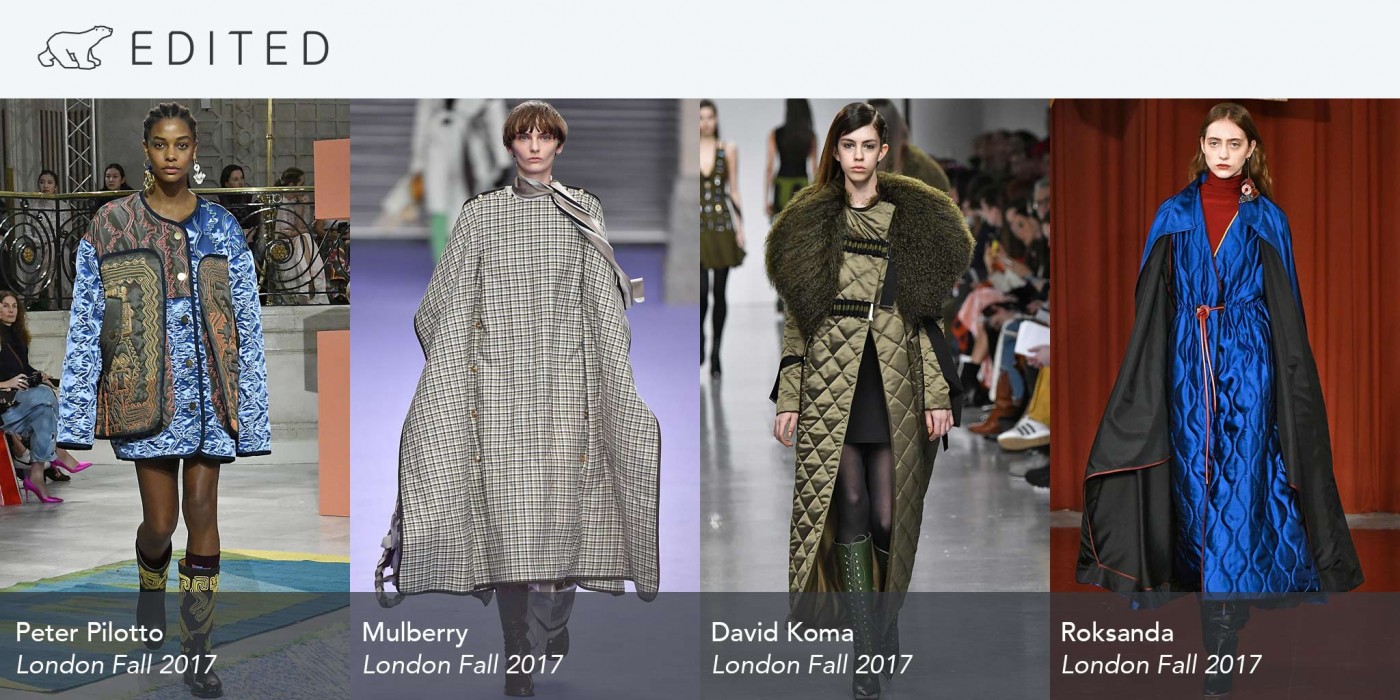 Wild Palettes
Unusual color pairings stood out as a uniquely London trend over the last week. Mary Katrantzou took direct influence from Disney's Fantasia and the effect was just as otherworldly, pairing lemon, spruce and mauve. Mulberry and Christopher Kane had fun with orange and a striking poster-paint green.
Non-typical color pairings will make for great retail content for Fall, contrasted to Spring's reds and pinks. There's potential for retailers to re-merchandise their existing buy to create striking campaigns.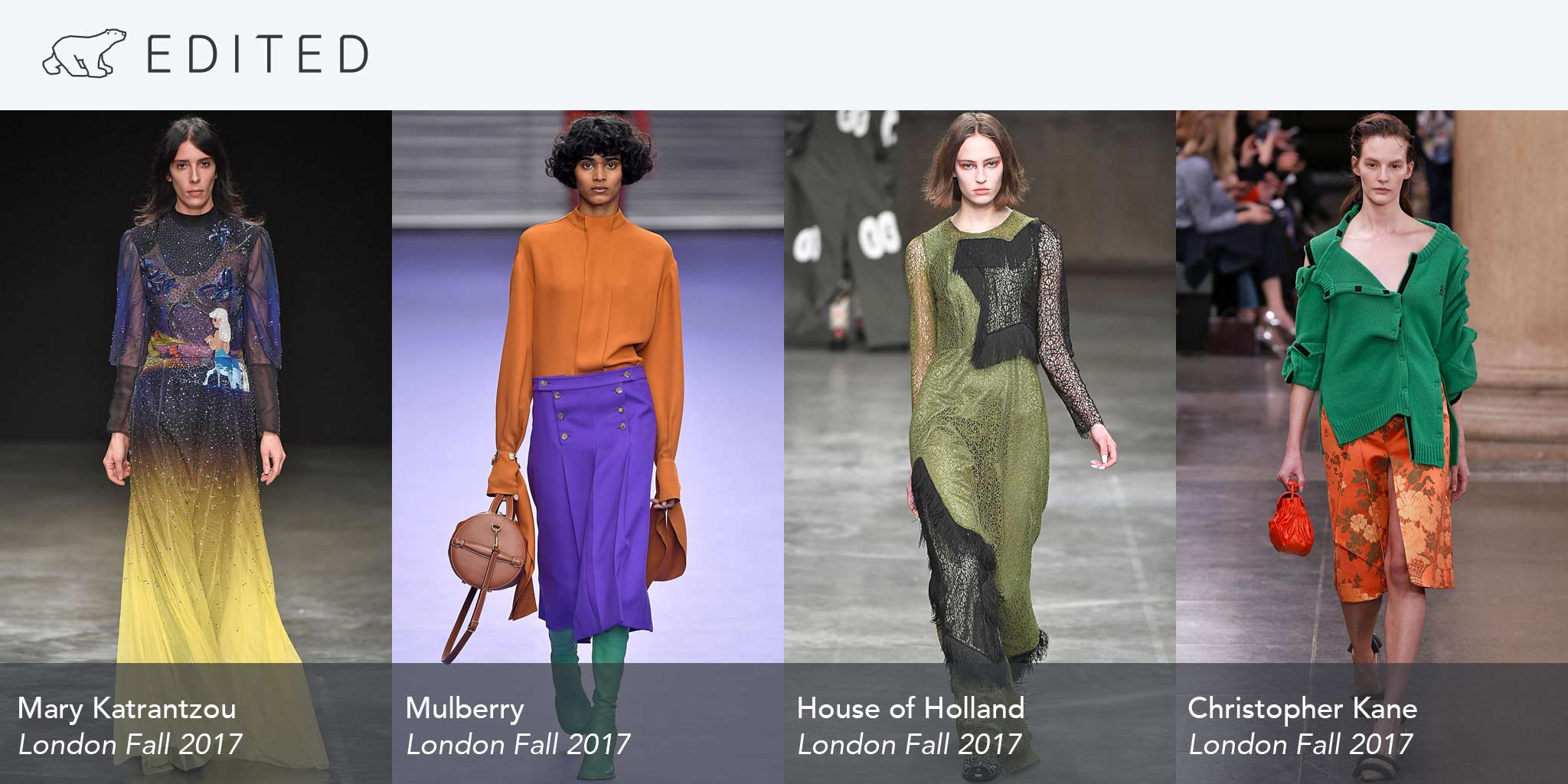 Cardigans
Deciding that one knitwear trend wasn't enough, London welcomed back the cardigan, which hasn't had a turn in the spotlight since mid-noughties indie. Really. Right now in-stock sweaters outnumber cardigans by 60%. When fall comes, the newness of this trend will stoke consumers.
Pringle of Scotland's oversize, textured version will house a family of four in the chilly months, while Burberry's structured version could pass as business casual.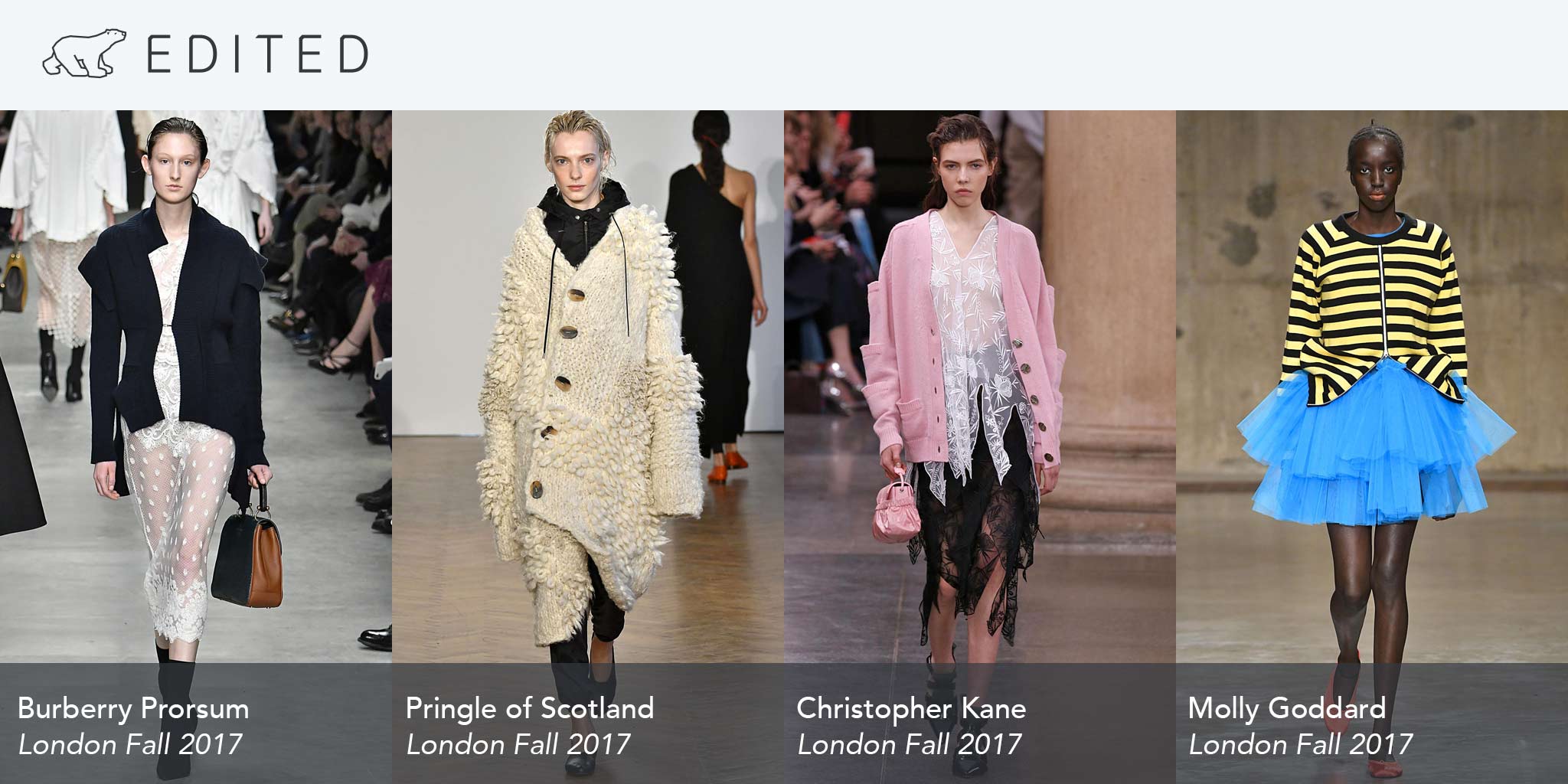 Outerwear Wars
Statement coats were a leader for Fall 2016, mentioned in a total of 377 retail newsletters since last September. Oversized puffers and shearling-lined aviators were favored by street style stars, but for Fall 2017 London decided to update the hero coat in unusual colors. Shrimps worked a line drawn print into its popular faux fur in a blush tone. Topshop's shaggy orange will stand out on the British high street. And the queen of striking color combos, Roksanda, sent electric shocks of blue down her runway.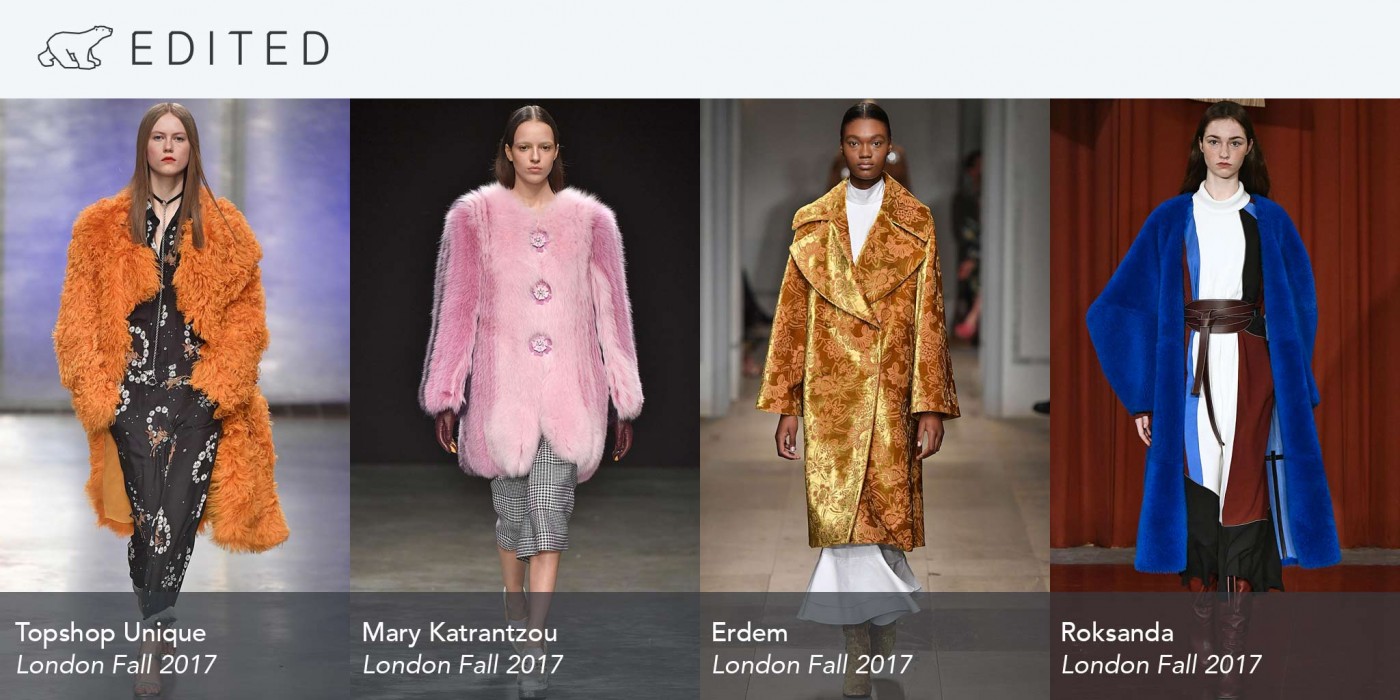 Proportion Play
New York already called it with its mega-sized blazers, and London's designers picked up the super-sizing baton. Play with proportion showed up in London's dresses and coats. Unexpected scale suggested a child's play – as if these garments were intended for bigger creatures. Flounces on boxy dresses added to the volume, expertly executed at Mulberry.
We've seen wide leg pants increase in luxury and premium retail by 32% in the last three months, by fall expect other categories will get the treatment.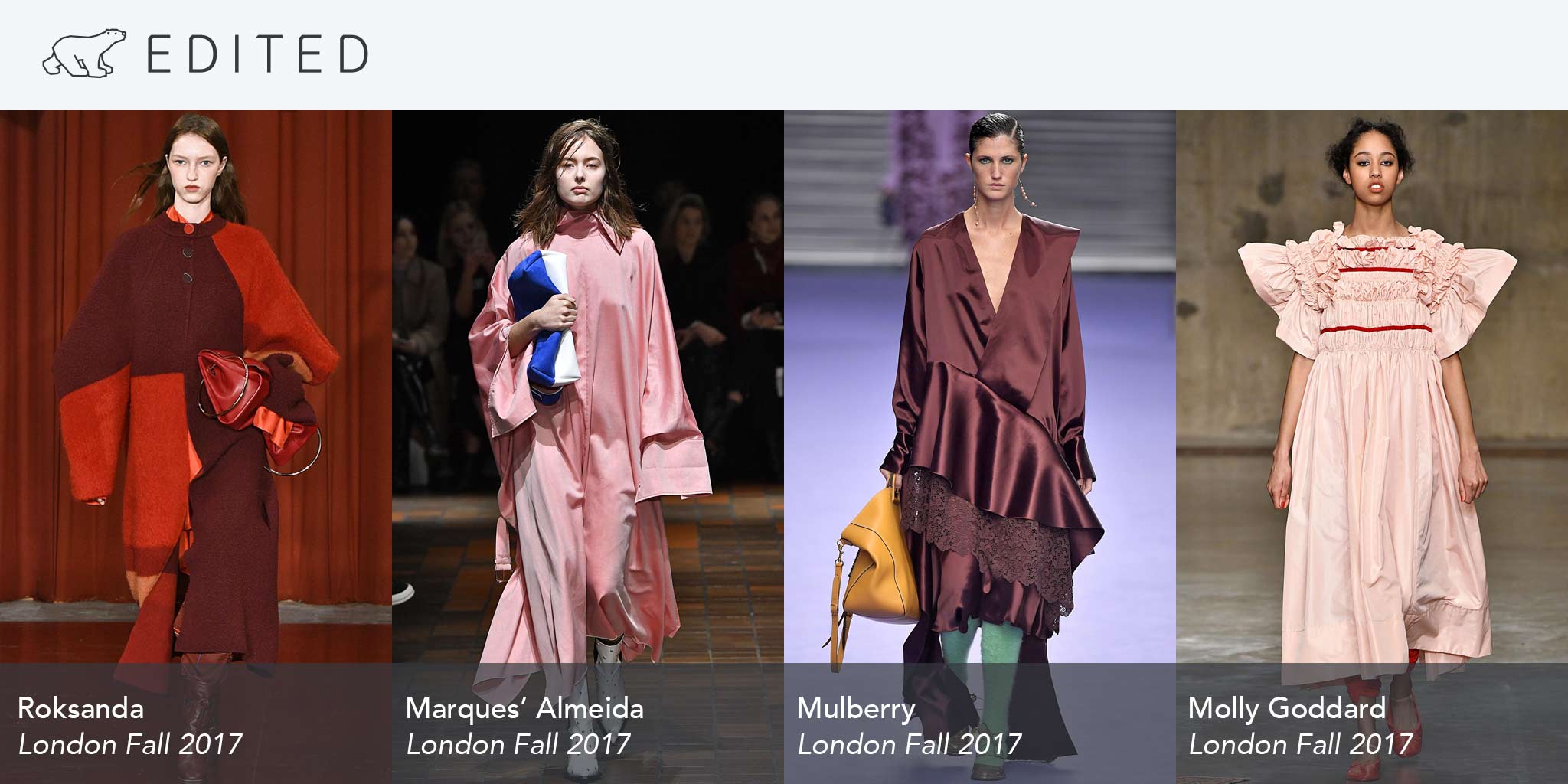 EDITED users: Find out about the Fall 2017 trends that work right now in this report. We pair up what's happening on the runway with how those trends are already impacting retail.
If you don't have access to EDITED data and want to know more about how it'll help you get the right trends to your customers then take a look today. See you again next week when we'll be back with our Milan round-up!