Adidas is on a roll. Coming off the back of a 26% revenue increase in Q1 and last month's groundbreaking contract with Kanye West, the brand's future looks as bright as a flame emoji. Has Adidas completely won back its cool?
This time two years ago, things weren't looking quite so hot for Adidas. The sportswear giant shocked the industry in July 2014 with a profit warning that sent its share prices tumbling 15%. Currency woes, overspend on Olympic marketing and dwindling interest in golf all shouldered the blame publicly. But the data suggests some errors around product and pricing hindered the brand too…
Fast forward two years and things are looking different. Kanye West is onboard (even writing diss tracks to Nike) and the Adidas line has scored the highest quarterly growth rate in ten years. So, how's it happened?
Gaining popularity with retailers
In Q1 of 2016, the 20 biggest global Adidas stockists tracked by EDITED increased the number of products they introduced by 14.5% compared to Q1 2014. That growth carried into Q2 as well, with 12% more products introduced than in Q2 2014. Today, the five biggest online stockists of Adidas product are Zalando, SportScheck, OTTO, Sportsdirect and Universal.
Closing the gap with Nike
In wholesale, Adidas is still behind its forever rival Nike. There are 17.6% fewer Adidas products than Nike products stocked by global retailers EDITED tracks. The way both brands perform at stockists is closely aligned however. Adidas's mean price point is $46 while Nike's is $51. Discounting is very similar: 45% of Adidas products are currently reduced, by an average of 29%. Nike has 43% reduced, also by an average of 29%. And replenishment matches up too: 13.4% of Adidas products are replenished, versus 13.7% of Nike products.
One improvement of note has been Adidas' fired-up approach to luring Millennial shoppers. Back in summer of 2014, we detected only nine Adidas products for sale at ASOS. In July 2015, ASOS begun to invest heavily in Adidas and Adidas Originals – resulting in more than 300 products arriving in just one month. They performed well too, with 21% of the Adidas Originals July arrivals being replenished.
This shift in focus comes from the top. "The momentum our brands are enjoying today is a direct consequence of our new consumer-obsessed mindset," said Herbet Hainer, CEO, in the Adidas Group's First Quarter Report.
Adidas has sharpened its fighting claws: retail data shows it's closing the gap with Nike.
Reviving its fashion credentials
The upper ranges of Adidas' price architecture are populated by design-led pieces that gives the brand an edge. Collaborations like the recently flawless Adidas Originals and its collection with Japanese duo HYKE have blown up fashion radar. And they've done it without losing any technical appeal. Adidas' highest price point is currently on a stylish Adidas Originals x White Mountaineering shell jacket at $881.
And of course, rapper and noted Pablo biographer, Kanye West has done everything but make Jesus walk again – this time in Gazelles. Not only has Mr. West announced his plans to expand his Yeezy collection into standalone retail stores stocked with men's, women's and childrenswear, he's also filled Madison Square Garden during New York Fashion Week, putting every Kardashian in the front row and buddying up with Anna Wintour.
And yet, the fashion-focus hasn't impacted the core of the offering and mean price point. Both of which still undercut Nike.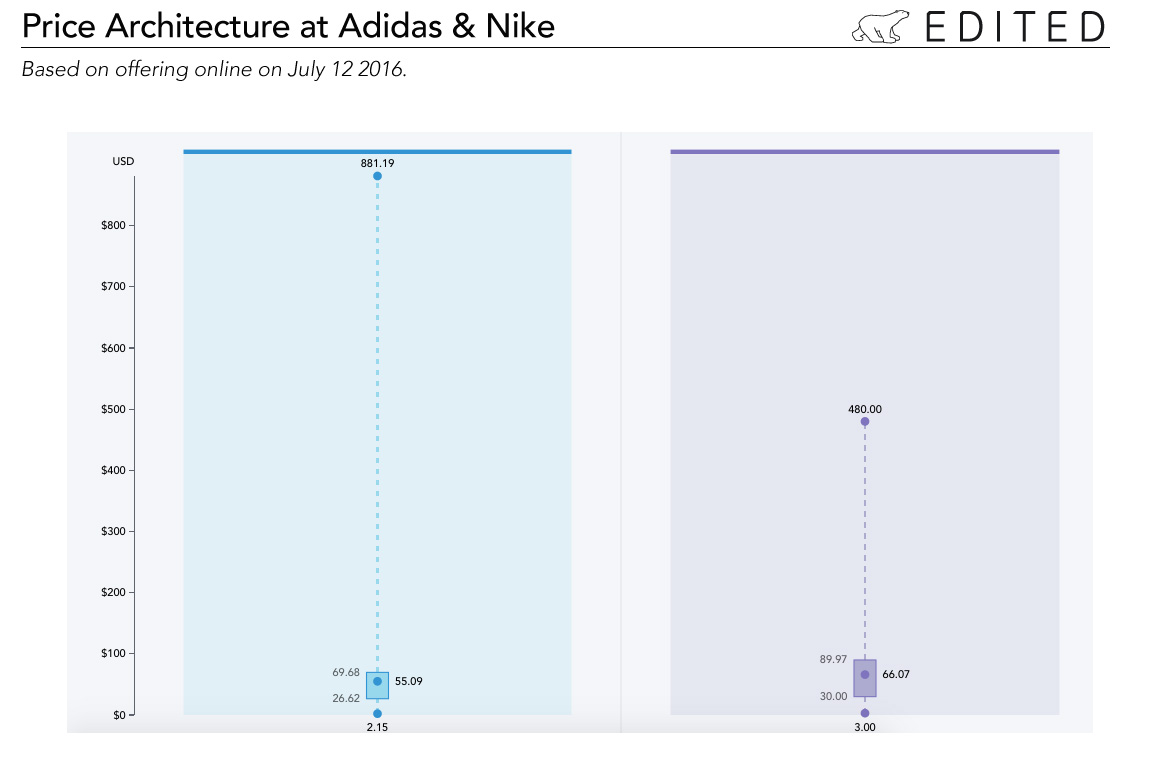 Fixing the way the market stocks its products
When we compared pricing on Adidas.com to the assortments' price points at Adidas stockists back in 2014, we found a big discrepancy between where the retailer placed emphasis and where stockists did. Across four key categories—tops, footwear, outerwear and bottoms—in each segment (women's, men's and childrens'), we found most of the time Adidas stockists placed their focus on higher price points than Adidas themselves invested into.
Take women's footwear, Adidas had the most options at the $70-80 price point. Meanwhile, stockists placed emphasis on $100-110. That's now under control. The below table shows Adidas is creating product at a price point thats reflected by retail and is positioning it perfectly, bar a couple of categories. Most notably in men's and women's outerwear, where retailers prefer stocking into the higher ticketed items – Adidas could capitalize on that demand with more innovative and directional items.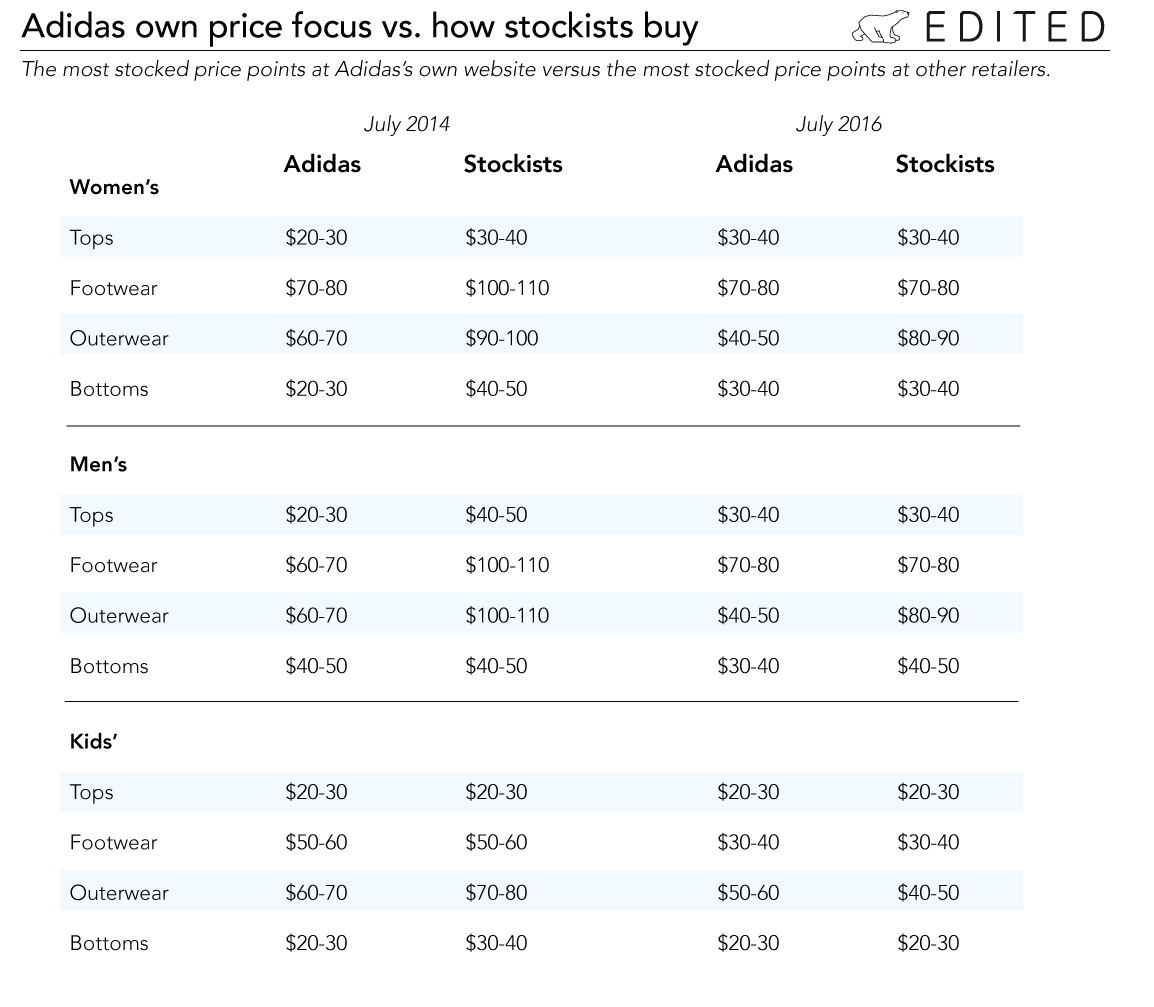 Fast-moving product
Product is selling fast. That pace suits the retail in the era of the new Millennial consumer, permanently focused on the new and losing interest fast. Items from the Adidas Originals by Jeremy Scott line on average sell out in 33 days. Pieces from the Stella McCartney line sell out in 92 days, the mainline Originals line in 101 days and the Adidas Neo line in 108 days on average. Adidas sneakers in general sell out in 110 days, compared to 122 days for Nike sneakers. Yeezy footwear? Just 1 day.
But, there are still threats
Under Armour is on the attack. It's got fewer products on the market, with a little over 5,000 in it's offering and 343% fewer products stocked globally than Adidas. But it holds the all-important second place in the US after Nike, shunting Adidas down to third. Its marketing is resonating with the consumer, where they've positioned themselves as the underdog partnering with Misty Copeland (who has fought her way through dance world stereotypes to the top of her game) and a lucrative collaboration with Stephan Curry, himself once thought to be an underdog.
Adidas, however, has outlined a different focus consumer to Under Armour, which could be its saving grace as long as it doesn't entirely alienate other lucrative consumer groups through its pursuit of the kool-aid.
Adidas is going to need to keep consumer-appropriate innovation at the core of everything it does. Now that it has the attention of the Millennial shopper back, the hard work begins. This is a demanding and fickle market, and Adidas had better ensure its internal processes are up to the challenge.
The data here doesn't include Adidas-owned Reebok or Nike's Converse. But we have that too! Just let us know if you'd like to see it.