Androgyny, a buzzword in fashion right now, will be the driving force behind one of Fall 2015's biggest trend stories.
Our report 'The Big 5 Trends for Fall 2015' reveals androgyny among five leading trends this Fall. And it's now ready for you to download.
From runway to real life
The Fall 2015 menswear shows added fuel to the fire that is the androgyny trend, not least because there were more women on the men's runways than ever before. Big houses, including Gucci and Prada, had female models walking, but not to pepper the shows with femininity or to contrast the menswear on offer as has been the case in the past, but instead walking as equals in non-gender specific uniforms.
Retailers are beginning to tap into consumers' shared tastes and desires. Selfridges have launched their gender-neutral pop-up store Agender this Spring enabling customers to "choose to shop and dress without limitations or stereotypes."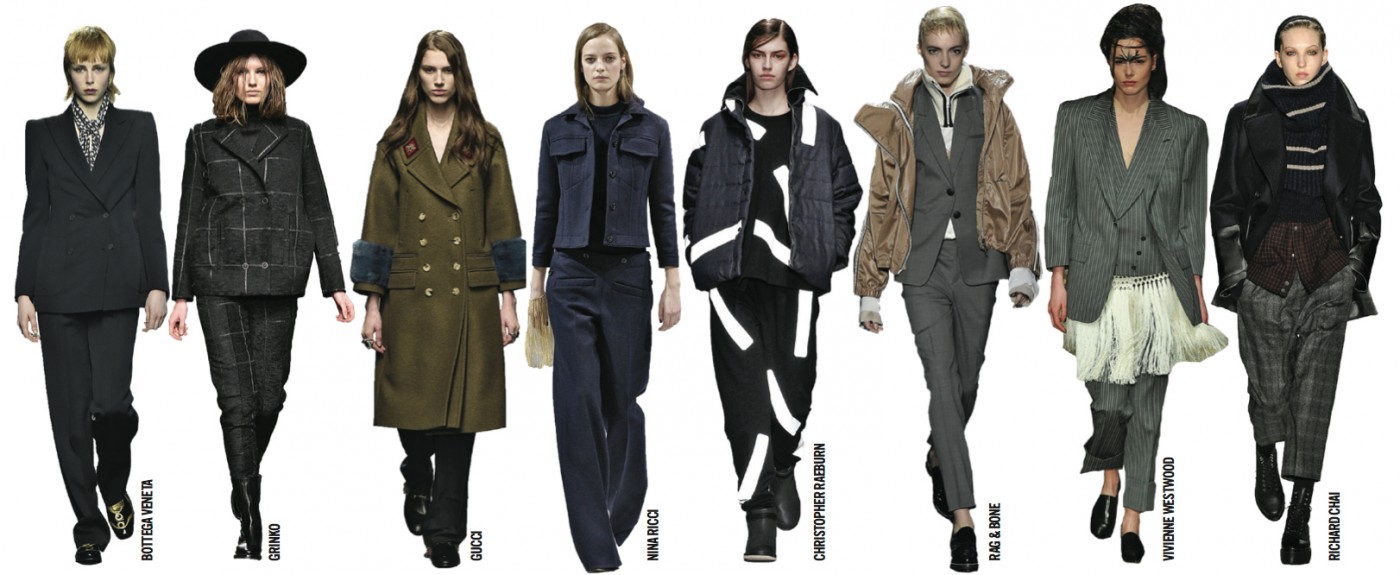 4 categories where androgyny trend will be successful:
1. Accessories
Masculine style accessories are the order of the day – think flat footwear, briefcase-styled bags and backpacks.
The accessories category currently has the highest number of unisex products on offer, so retailers would be wise to build into this with the items they stock for Fall 2015. Genuinely unisex accessories, like leather rucksacks, scarves, hats and totes, should be part of brands' communications. It is quality of craftsmanship of materials, which will attract attention across genders. Mass market retailers should stock into the trend in their footwear offering, and while sizing restricts the mass market from unisex footwear, shoe shapes should still be masculine influenced, like brogues and loafers, both popular on the runways.
Accessories have the highest number of products identifying as #unisex.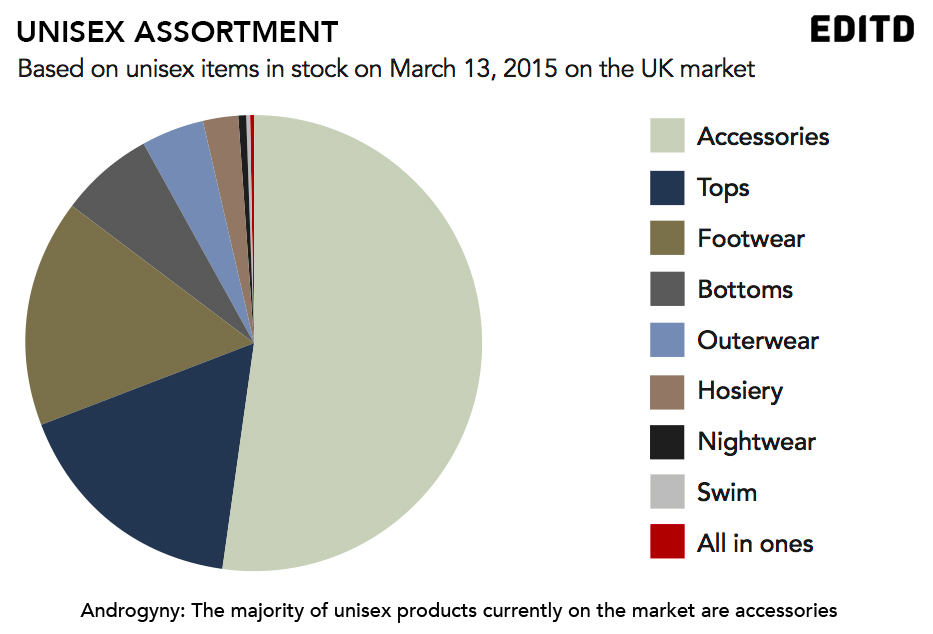 2. Outerwear
Double-breasted detailing is popular for Fall 2015, and works well for the androgynous trend in loose-fit blazers.
Expect to see arrivals of double-breasted blazers to grow until March and April 2015, before trailing off in May for the remainder of the summer season. In September, this style will be back with more force than ever, as a great trans-seasonal piece until heavier layers are called for. The most fashion-led retailers should team these blazers with matching wide-pants.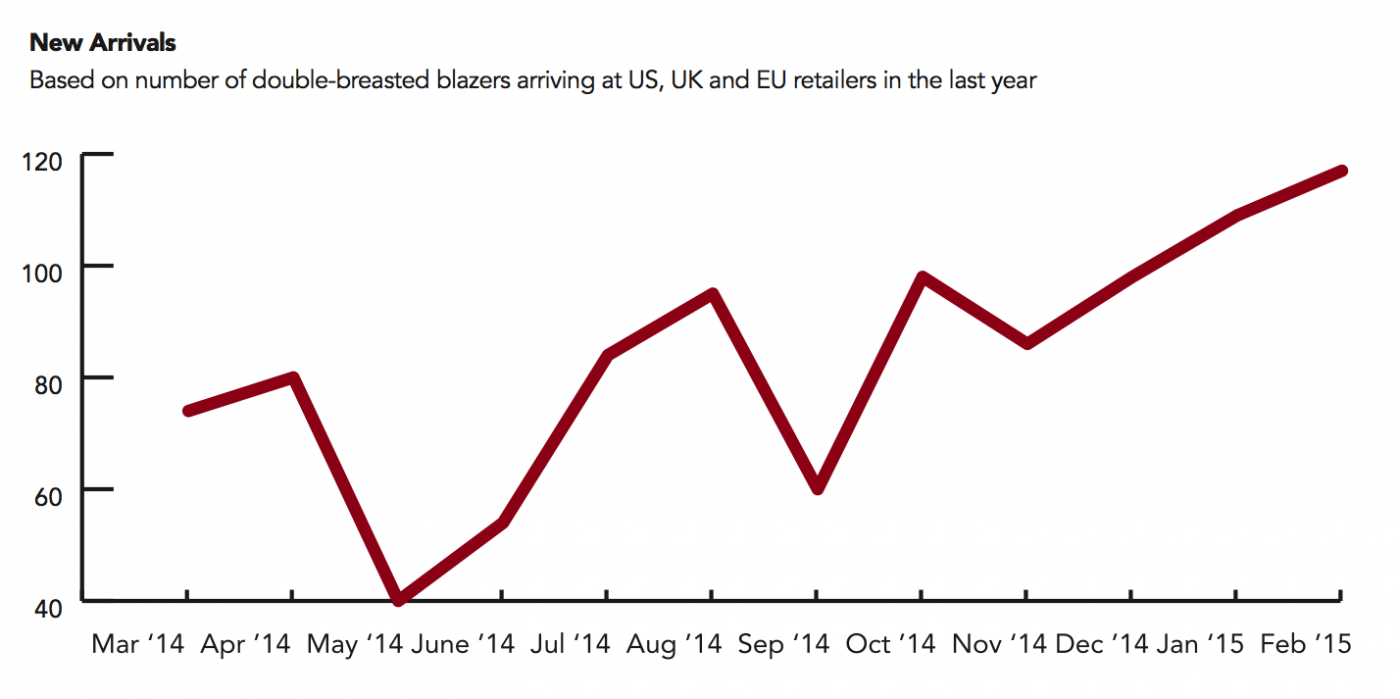 3. Bottoms
Leather pants will be a great layering piece destined for the luxury market, whilst wide leg pants are a good all-rounder.
36% of leather pants are currently retailing in the luxury market – this bodes well for their Fall 2015 arrival and lifespan. Wide leg pant shapes best communicate the androgyny trend, and are evenly split between the mass and luxury market currently, earmarking them as a good performer across segments. Meanwhile, boyfriend jeans will stick to the mass market, where 41% of current styles are stocked.
Leather pants are suited for the luxury market, boyfriend jeans for the mass market #Fall2015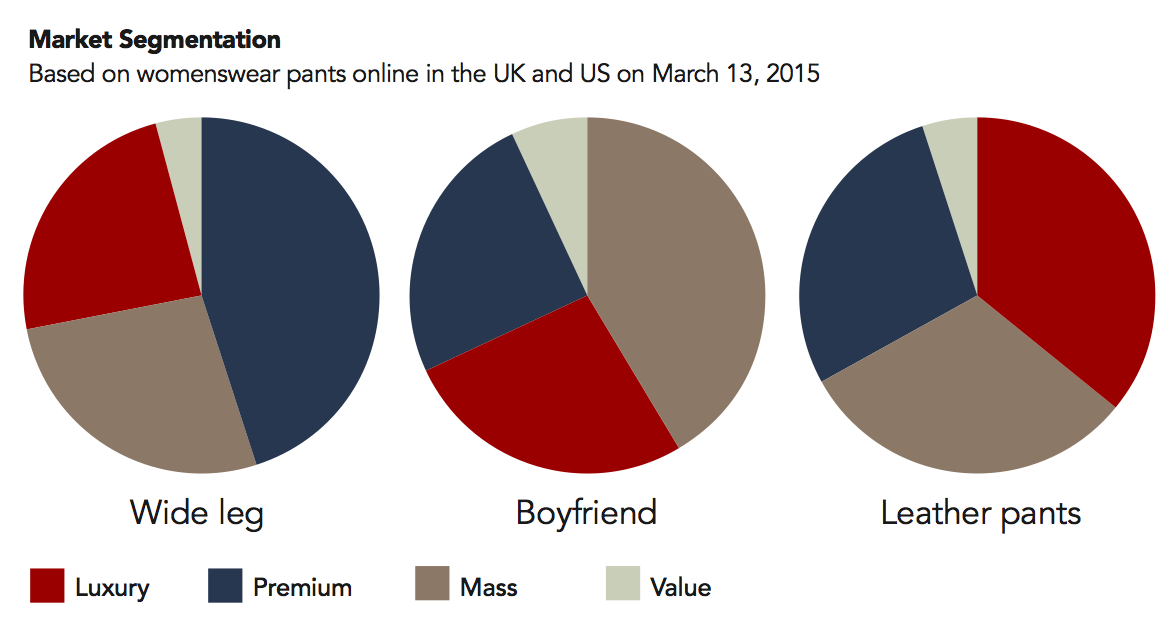 4. Prints
Plaid is in a strong retail position to become the androgynous print of the season, with the highest average price currently.
The current average price of plaids are higher than the florals and paisleys from the 70s trend – evidence that they have a broader appeal than the overtly retro stories. So stock androgynous prints across suiting, outerwear, pants and tops. Plaid is carrying the highest value currently and was backed for Fall 2015 by Chloé, 3.1 Phillip Lim and Mulberry. The best colors are red, black and grey or blue, white and grey.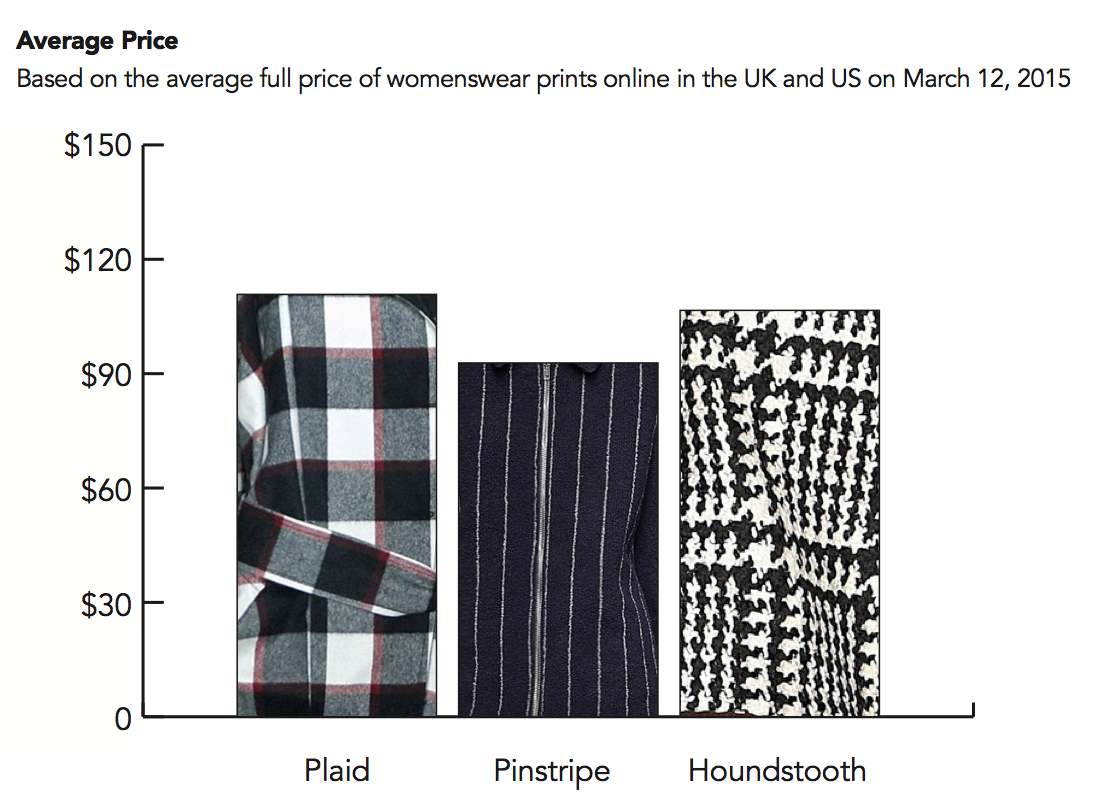 Androgyny beyond Fall 2015
Androgyny will continue to be discussed as a retail concept well beyond Fall 2015 as consumers continue to push the boundaries of fashion. Well-invested design time now can be revisited and built upon in future seasons, so you shouldn't think of androgyny trend as flash in the pan. Instead, nail the fit on uniform-like pieces, which can be added into your core offering.
Want to learn about the other four fall trends? Download your copy of our report today!
[editd-banner type="no-shadow" image="https://edited.com/blog/wp-content/uploads/2015/03/big-5-trends-fall2015.png" header="Free Report: The Big 5 Trends Fall 2015″ btn_link="https://edited.com/lp/fw1516-roundup-report-big-5-trends/" btn_text="Download your free copy today →"]Read the world's only wrap-up of the Fall 2015 season and get advice for how to price each trend and what month is best to introduce them to your customers.[/editd-banner]